Sundae wrote:Congratulations Heavenli, tis vera vera oscar worthy.
Alien_Friend wrote:Congrats on your nominations!! So well deserved.

I love your stories.
Thanks, guys

- I completely missed that you posted on here (I haven't checked this thread in months!)

.
Also posting that I got Runner-Up for Most Helpful Roswell Fanatic in the latest awards

: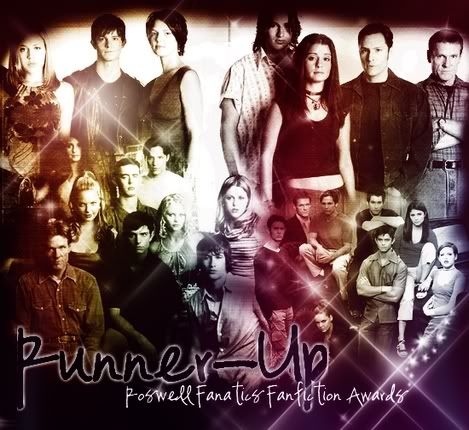 Thanks to everyone who voted

.
Just want to apologise for the lack of writing from me for the last few months

. I've been going through horrible writer's block, where I either can't write anything or I manage a page or two and then give up on what I was going to write. I know I still owe you that Auction Story,
Alien_Friend
, and I want to get it finished, I really do, but I just have no idea what to write for it at the moment

.
I've been getting so frustrated with not being able to write lately that I might just have to go with whatever story I can write... I've had a few story ideas, but I've barely got past a few hundred words of any of them - I've been suffering from a sort of fear of not being able to write anything worthy of posting

.
It really doesn't help that my new job has been crazy and I've been pretty exhausted the last few months. It's been 5 months of intensive training courses, lots of studying, exams, on-the-job training at a military air force base... and I've still got 6 months of training (in defence/military weather forecasting) left to go!