NEW STORIES:
******************************************
BOOK ONE OF THREE Triology
The Prophecy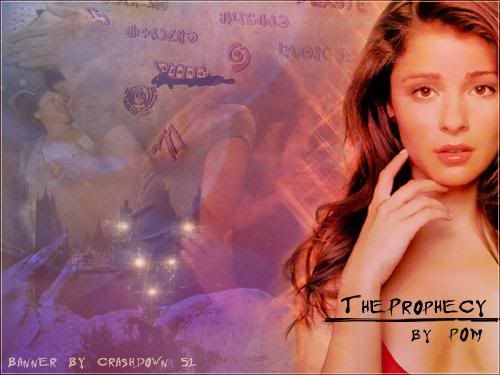 Made By: Crashdown 51

Title:
The Prophecy: The Begining
Disclaimer:
I owe nothing to Roswell or its creators
Rating
:
Mature
Pairings:
(CC)
*Max & Liz
*Michael & Maria
*Alex & Isabel
Summary:
Liz Parkers POV post pilot episode
Authors note
:
*Tess is not in this fan fiction because it turns out that Liz is Ava. Also, Liz's adopted Parents play a huge role in this fan fiction, they turn out being the podsters protectors.*
summary
:
Liz's expierence growing up...and finding out that everything she ever believed was a lie, she always thought she was alone! but then she realizes that once she thought she was different then it turns out that she not so alone anymore after a course of events unravel everything, and send her spinning out of control!! what will happen? [ read and find out

]
********************************************************************************
banner by: Chad
Title:
Odd One Out
Disclaimer:
I owe nothing...it's just being used in plain fun.
Rating:
Mature
Category:
AU without Aliens
Summary:
Liz Parker grew up with and is best friends with four guys....Max,Michael,Kyle and Alex.

She loves her boys dearly and they are more like big brothers to her than friends.But having said that to be honest they are without a doubt slowly driving her insane! They show up at her apartment at all hours of the day/night,eating her out of house and home and all around never giving her any free time.Too top it all off every guy she knows is too scared to ask her out due to their...mostly Michael's...over protectivness.

So in order to get the guys out of her hair a tad Liz has decided to find girlfriends for all of them.
**************************************************************************
Banner by: Ping
Title:
Practice Makes Perfect
Disclaimer:
I owe nothing to anyone. Just for fun.
Rating:
Mature
Pairing:
CC (M/L)
Summary:
Liz Parker is a doctor at a very nice/large hospital.She is a workaholic and her job is her life.Liz is one of those people who live to work.She's always on call at the hospital and is not happy unless she's there.Liz is a caring person but when she's a work she tends to keep her distance between the patients,the nurses and all the others.This has got her a rep for being a cold fish and kind of stuck on herself.But having said all of that Liz is the top dog at the hospital.

Well that was until now Max Evans entered the picture as a new doctor at the hospital.
*************************************************************************************
Coming Soon to a comupter near you!
Unreachable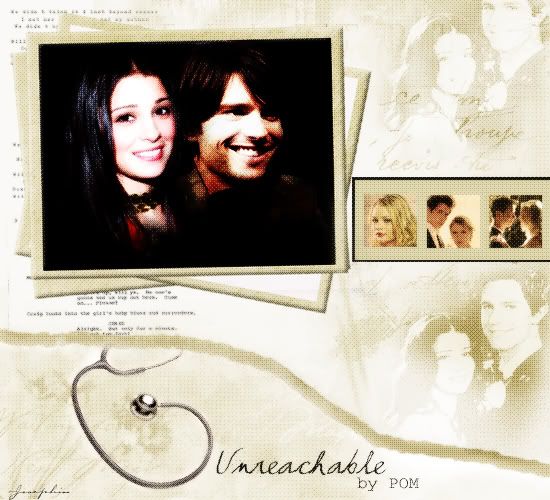 Made By:
max and liz believer
Title:
Unreachable
Rating:
Mature
Pairing:
CC/UC<---only in the begining

> Max & Liz Mainly

Authors Note:
This is Max and Liz's POV throughout the story!
Summary:
After high school everyone spilt to do there own things... Liz and Maria became Registered Nurses at the local hospital in Roswell, While still helping her parents out at the crashdown from time to time, Kyle joined the Marines. and has been with Liz off and on for the past 9 yrs., Alex and Isabel eloped and got married right after high school. Alex is a Lawyer, and they live in New York. Michael also lives in New York, and is also a lawyer and works with Alex. Max and Tess have been serious since High School, Sweethearts actually. Max is a Doctor in Boston, and lives with Tess... but ten years later they all come back to the town that they abandond for there 10 year Renioun of the class of 2002. When they all come back everything turns upside down...some more than others.
---------------------------------------------------------------------------------
Earth No More

MB:

Sally [ Anyanka]
Title: Earth No More
Author: Pomona
Rating:Mature
Category: CC
Summary: Liz, Alexx, & Ava-Maria are royality on Earth, but when their partents find out that their world is to be destroyed by another planet, they send their children away for the Summer. Tell them they will join them at the end--but knowing they will never see there children again. But for Elizabeth Whitman, her fate is not in her hands. Her fate was sealed before she was born, before her parents knew about the triplets--she is to marry, King Maxwell of Antar--but will he or she be willing to set romance on it's way when Tragety strikes?
************************************************************************************
*************************************************************************************
Title:
Love Between Time Lines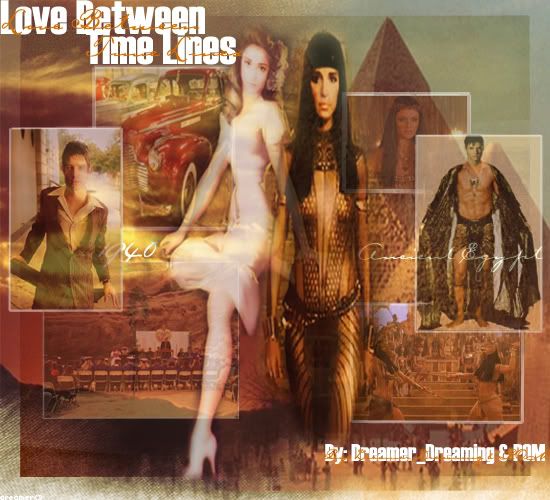 1940's Minipulations & Entire banner made by: Dreamer<3
Ancient Egyptian minipulations made by: Shiesty23
Author:
Dreamer_Dreaming & POM
Disclaimer:
We owe nothing of Roswell--
or story concept by author : Carline B. Cooney- 'Both sides of Time' <--- Loosley based.
Rating:
Teen/ some Mature
Category:
Alternative Universe W/out Aliens
Pairing:
CC
A/N:

Story takes place in the 1940's in the begining but mostly takes place in the ancient Egyptian times.
Summary:

not good with summaries---:lol: but main things is that Liz goes off to college--goes back in time to the ancient egyptian times, where she befriends and falls in love with the prince of Egypt Zanander. A week until his marriage to his betrothed to Princess Serephna--he must figure chose between the love he was destined to, or one he didn't expect.

While Liz has to figure out if her future in her time or the past.
************************************************************************************