Unless otherwise noted, my fics are Max/Liz centric, and take place in the canon universe.

hugs, Tas
Works In Progress
Splitscreen
Banner by LongTimeFan
AU.
Max POV. Inspired by the false spoilers for the season 3 finale (see The Bitter Dregs blurb below for description). In this alternate universe, Max begins having dreams of his life as it might have played out, and acts on them, changing his future. Fast forward to senior year of college... (ADULT)
Completed Works
The Forging of a Lifebond
Banner by Electro-Kat
Set after A Roswell Christmas Carol. The granolith does something strange when Max touches Liz's arm in the chamber, sparking a flash of Future Max that leads to Max and Liz's reconciliation. Strange events continue to unfold around the couple and their six friends. (ADULT)
Ch. 1-10
Ch. 1-45
Ch. 40-49/end
The Bitter Dregs
Banner by Blanca
Set after Four Aliens and a Baby and inspired by the false spoilers for Roswell's Season 3/series finale. There were a few different versions of those false spoilers floating around; the following are the ones heard by the author:

After Tess died and Max gave up baby Zan for adoption, Liz's powers began to affect her health dangerously. It wasn't something that Max, or any Earthly remedy, could heal. The group discovered that the piece of spaceship that Michael took from the military base (in Crash) was a fragment of the granolith. Max used the fragment to travel back in time and prevent Liz from getting shot, thereby preventing the changes due to her healing, which had resulted in her developing powers.

Having accomplished this task, Max kept his distance from Liz in the new timeline. She continued to date Kyle throughout high school. After graduation, the night before Liz was to go to school at Harvard, they went out for coffee. At the end of the night, Max stepped back and left Liz to move on with her life, alone.
*~*~*~*~*~*~*~*
The Bitter Dregs is a series of vignettes that begins on that night after graduation and continues through the years, chronicling Max and Liz's relationship and its evolution over time. (TEEN)
Reawakening
Banner by LongTimeFan
Takes place after Chant Down Babylon. Max's near-death experience has lingering effects, not only for him but also for the others as they all try to deal with the fall-out. (ADULT)
Veracity
Banner by fishish25
Post-Departure. Tess has just entered the atmosphere in the granolith, headed for the aliens' home planet. Or has she? Those left behind seek that and other answers as Max's behavior grows stranger and stranger, until finally all hell breaks loose and someone must make the ultimate sacrifice in order to save them all. (TEEN)
Firsts
Banner by Melodious1
Max/Liz/Michael; slash/het.
Post-Viva Las Vegas. One unseasonably warm late spring night, Max and Michael discover that their feelings run deeper after all. (ADULT)
Full Circle
(sequel to
Firsts
, in same thread)
Banner by LongTimeFan
Max/Liz/Michael; slash/het.
Max, Liz and Michael have finally all come together in love. But relationships are hard enough when only two people are involved; when there are three of you, things can definitely get interesting! (ADULT)
Silkening
(tag to
Full Circle
; also on same thread)
Max/Liz, slash implied.
Liz decides to play with fire on the first day of their senior year. (ADULT)
The Sweetness of the Leaving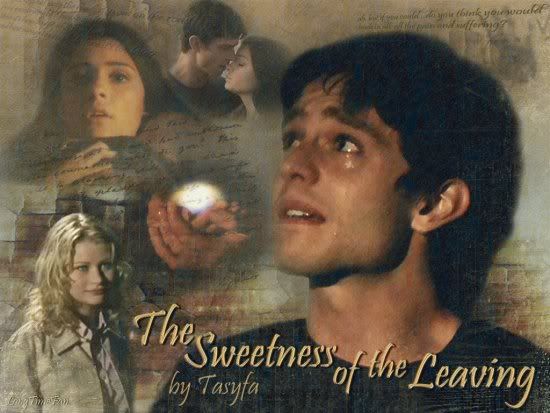 Lovely banner by
LongTimeFan
. Also available as a
wallpaper
!

Picks up mid-It's Too Late & It's Too Bad. Max/Liz alternating POV.
Liz is on her way to the airport, and Max has broken all of his relationships--all but one. But when he finds out what really happened to Alex, the consequences are events that no one expected or is prepared to deal with. How do they pick up the pieces and go on? (MATURE)
NOTE: Five chapters plus the outline and a bit of the end; this was not fully written but it's as complete as it's ever going to be.
Always and forever, for love of Max
Alternate ending to Max in the City. Picks up directly after Max asks the question, "Did you sleep with Kyle?" (ADULT)
The Natural Conclusion
Picks up mid-To Serve & Protect. The way Liz's dream should have ended! (MATURE)
Inside My Mind
Max POV; set just before Samuel Rising. (TEEN)
This Twinned Soul
Post-A Roswell Christmas Carol, poem. (CHILD)
Unanswered Prayers
Kyle/Tess.
Set after Viva Las Vegas. Tess realizes what it is that she really wants, and goes about getting it. (TEEN)
Always, Spaceboy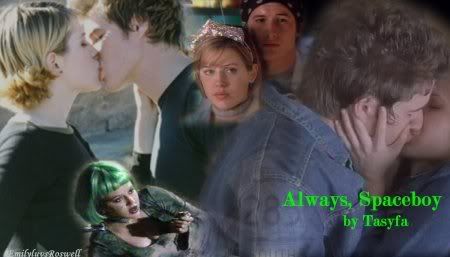 Banner by EmilyluvsRoswell
Michael/Maria.
Post-Departure fluff. (ADULT)