Moderators: Island Breeze, Forum Moderators
Roswell Fanatic
Posts: 2594
Joined: Fri Jan 28, 2005 1:34 am
Location: Alabama for now, but someday I'll be on a beach in Morocco
Contact:
It's the most inventive beginning I have read in ages. I can't wait to see what happens next!

Love is not finding the perfect person, but by learning to see an imperfect person perfectly.
Looking for a little magic?
Practical Enchantment
---
maybe what i'm about to recomend it's well known by everyone but someone new on the board might find it useful.

i have to thank LovinGuerin2Much first of all for mentioning DocPaul's Out Of Darkness because i went to Roswell Desert Skies to find it and fell in love with that person. there's no candy in the entire world like his, in my opinion.

i like Applebylicious' Out With The Old a lot, and April's Stimulation is also good. About CC fics with good candy i have three favourites: Carol000's Chameleon, Angel's Happenstance and Taffy's Those Meddling Fates Series. really good stuff.

i'll keep searching and sharing...
---
Addicted Roswellian
Posts: 292
Joined: Wed Aug 06, 2003 8:49 pm
Location: I'm behind you.
Contact:
---
Enthusiastic Roswellian
Posts: 12
Joined: Fri Mar 14, 2003 5:56 am
Location: In my bed with Michael AND Alex.
Contact:
For all the newbie Candies, I definitely recommend "Routines" by Chicky. I recently reread it, and it's one of the best fics I've ever read.

~Perhaps you notice the absence of love only when you have learnt to expect its presence~
=Githa Hariharan=
---
Roswell Fanatic
Posts: 1557
Joined: Tue Sep 28, 2004 9:32 am
Location: Somewhere. Anywhere.
Contact:
I've gotta drop by to recommend DocPaul's fantastic series, The Day We Never Kissed. It's long, and I mean looooooong. It seems completely canon at first, but soon shifts to something else. It's good. I love it. I've read it three times. I know. I have no life. You can find it on Roswell Desert Skies. Frelling awesome.
LOVE IS MICHAEL AND MARIA.
---
Just wanted to tell you that on the fanfics/recommandation fics threads, I have posted links to some good fics. If you have fics to recommand, go there. Or if you want to read "la crème de la crème" as we say, then you can go there too.
Michael : From day one, I knew you were the girl for me, I never wanted anyone else.
---
Enthusiastic Roswellian
Posts: 15
Joined: Sat Jun 03, 2006 6:14 pm
Location: Milwaukee, WI
Contact:
---
Enthusiastic Roswellian
Posts: 39
Joined: Sat Dec 17, 2005 11:22 am
Location: trapped in a room with Emile Hirsch
I love that one too April. Any of DocPaul's fics are amazing. All on Roswell Desert Skies. All M&M
-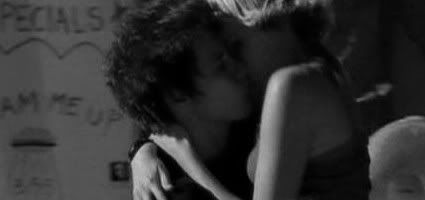 Michael to Maria--
I try my best but I don't suceed
I need to be loved but I fall on my knees
You keep me sane in the craziest moments
Your warmth your beauty will always hold my heart the closest....
---
Collision, by Crowkisses, is a long and interesting fic. It can be found at CID and FF.net. It deals with past life on Antar and its consequences in the show (season 2).
Michael : From day one, I knew you were the girl for me, I never wanted anyone else.
---
Enthusiastic Roswellian
Posts: 25
Joined: Tue Oct 09, 2001 4:58 pm
Location: United Kingdom
Thanks for the recommendation, tequathisy, it was of the best fics I've read in a while...
---