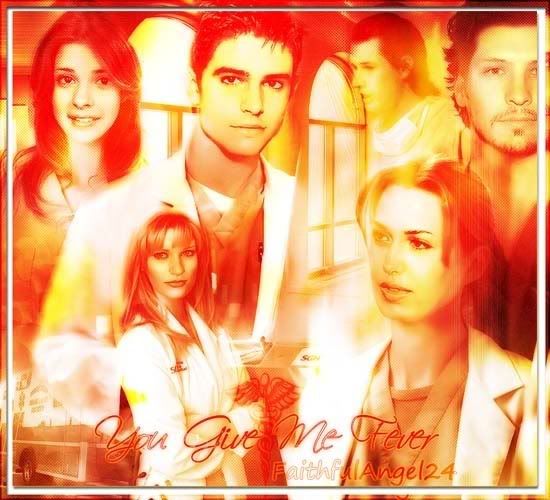 The Banner is By: To Kiss a Frog. Thanks ever so much!
You Give Me Fever
Rating: Adult
Disclaimer: I do not own the Roswell characters nor the Grey's Anatomy plot line. Please do not sue me. All you would get is this incredibly slow computer and the two bucks I've got in my pocket. It's not worth the effort. Trust me.
Category: Completely AU. No aliens.CC
Summary: Think Grey's Anatomy done Roswell style.
Under NO circumstances can anyone under the age of 17 read or participate in this RPG. NO ifs, ands or buts...
If you click on the character's names it will bring up the picture. Thanks Liz_Parker for making such gorgeous photos
Maxwell Evans
A world renowned Neurologist comes home early from work one night to find that his wife, Tess is tearing up the sheets with his best friend, Kyle. Without a word to either of the two he packs up all his belongings and moves back to his hometown of Roswell, New Mexico. Right away he finds a job at Roswell Grace. The town's only hospital. His old mentor
James Valenti
is the Chief of Surgery. The aging veteran makes Max an offer he simply can't refuse. Valenti assures Max that if he joins the surgical team he'll receive the much coveted title of Chief when he finally decides to retire. Little does Max know that the spot has also been promised to the hot shot cardiovascular surgeon Michael Guerin. They quickly become friends as well as competitors. The night before Max's first day he meets a mysterious brunette at a bar across the street from the hospital. They hit it off and end up having a drunken one night stand. Max is still reeling from the betrayal of his previous relationship. Tess and Kyle were his family and now he feels utterly alone. Still throughout all this hurt he still has hope for a better tomorrow. His faith is justified when he finds himself falling for the ever elusive and captivating Liz. He makes the difficult decision not to inform her that technically he's still married for fear that it will scare her away. Imagine his shock and surprise when his cheating ex shows up at his new job and blows the lid off his secret before he gets a chance to explain.
Elizabeth Parker
has an overwhelming fear of commitment. If you want to see her bolt simply mention the word 'exclusive' and watch as she runs for the proverbial hills. Her parents divorce caused her to have more than a few issues with intimacy. Her self destructive behavior causes her to make the same mistakes over and over. Getting smashed and sleeping with inappropriate men is her thing. That is until she jumps into bed with an amber eyed hottie whose piercing stare seems to look right into her very soul. On her first day as an intern at Roswell Grace she wakes up within the strong arms of last nights conquest. She has no idea that she has in fact bedded her boss before she even starts work. She is just getting used to the idea of dating her superior when a blonde bombshell shows up claiming to be his wife. Things are about to get complicated.
Marianna DeLuca
decided that she wanted to be a doctor when she watched her father bleed to death after a horrific car accident. Losing the only man in her life at such a tender age left a lasting impression on the overachiever. Never wanting to experience the unrelenting pain of loss again Maria vows to never get close to another person again. To say she doesn't befriend easily would be quite the understatement. In fact she concentrates fully on her work and rarely ever takes the time to examine all that she's accomplished. The vivacious siren has never even been close to having a serious relationship. Her motto is 'Get Some ;Get Gone' That philosophy has served her well over the years. It's only when she meets her new supervisor Dr. Guerin that she realizes how flawed that logic really is.
Michael Guerin
the self proclaimed 'Stone Wall' is not only a pretty remarkable man but also an immensely gifted surgeon. If you need a second opinion just ask him. Self confidence has never been an issue for the up and coming resident of Roswell Grace. In fact it's pretty much his only downfall. He doesn't allow himself to get close to his patients and he only does what's expected of him. Nothing more. Nothing less. Work is his one and only priority. In fact you could say he is the job. This devastatingly handsome doctor lives his life by the textbook. That is until a chance encounter with a radiant blonde who questions his every action. Intrigued by his own body's response to the sassy intern he immediately decides to sleep with her in a blatant attempt to get her out of his system. The act itself has the exact opposite effect and now try as he may he can't seem to get her out of his head. After serious contemplation he decides that maybe getting personal won't be so bad after all. Unfortunately for him Maria won't be as easy to convince.
Kyle Valenti
screwed up real bad. Not only did he sleep with his best friend's girl but he fell in love with her in the process. What started out as just a drunken mistake turned into so much more. Now Max has left New York with a broken hearted Tess nipping at his heels. With them goes all of Kyle's hopes and dreams of a bright love filled future. He's lost everything that ever meant anything to him. You'd think a widely popular plastic surgeon would know better. Needing some guidance he returns home to see his father and get some advice on the doomed situation he's created. He's astonished when he returns to find his childhood friend has taken his place at Roswell Grace. Would his father really deny him the position of Chief in favor of his ex best friend? Can Kyle smooth things over with Max? Will Tess ever realize what they had was real and not some meaningless fling? I guess only time will tell.
Tessa Harding-Evans
married Max right out of medical school. She was the wild child city girl and he was the laid back small town guy. It was an interesting dynamic that worked for a while. They both cared about each other very much there but there always seemed to be something lacking in their relationship. That enigmatic spark. The couple was comfortable but not really satisfied. Tess ,unable to ignore what was missing, searched and found it but in the arms of another man. Her husband's best friend to be exact. She never meant for it to happen ,but it did and then there was no turning back. Feeling inebriated and lonely she sought refuge in Kyle and was caught in the act. Guilt is an ugly emotion. It makes you see things that aren't really there. After Max left the feeling consumed her every waking moment. Desperate for the past Tess tracked down Max's location and moved to the tiny town in hopes of winning back her estranged husband. Once there she simply decides to ignore the surge of desire she feels whenever Kyle is near. Will she be able to fight these urges forever or will it only be a matter of time before she slips and let's Kyle back into her bed and heart again?
The scene starts when Max and Liz wake up together and realize they are both late for work. Unbeknownst to them they are headed to the same place.
I have yet to add Isabel and Alex because I was afraid casting could be a problem. If you'd like to play either one just let me know.
(Beginning Couples)
Max/Tess *Married but separated*
(Ending Couples)
Max/Liz
Michael/Maria
Kyle/Tess
~The Players~
Dr. Evans-Madroswellfan
Dr. Parker- Liz_Parker
Dr. Guerin- Fehr's Bear
Dr. Deluca- FaithfulAngel24
Dr. Valenti-FallenMagic
Dr. Harding-lizandzackfan