Under NO circumstances can anyone under the age of 17 read or participate in this RPG. NO ifs, ands or buts...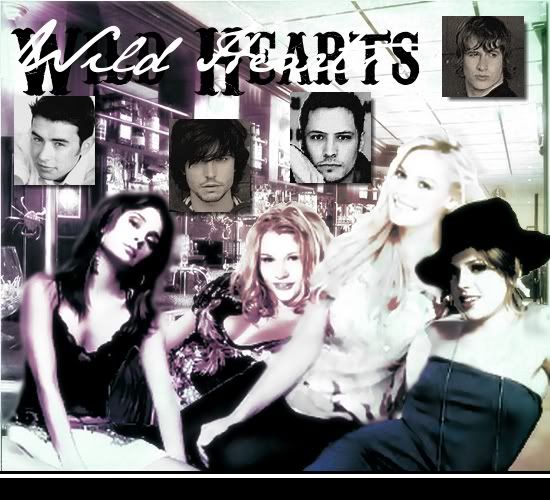 Banner by RosDude
Title: Wild Hearts
Author: Dream Weaver
Rating: Adult
Coupling: CC
Disclaimer: I own no rights to Roswell, Coyote Ugly or movie plot of Coyote Ugly.
Note: This Role Play will be loosely based on the movie Coyote Ugly. The Wild Hearts Salon will be the name of the Coyote Ugly Bar in this story. The Wild Hearts will work the same as the Coyote Ugly Bar.
Liz Parker is an aspiring singer/songwriter. She decides to travel from her small town home of Roswell, New Mexico to follow her dreams. Liz has never enjoyed her small time life and has decides to make it count for once in her life and leaves for New York. When she arrives in New York, she finds that the land of dreams she was hoping for is nothing but slamming doors and unhelpful people. Unless you are a somebody, nobody will listen to you or give you an opportunity.
Liz, at the end of her rope, decides that she needs to look for a job to pay the rent while she's waiting for her big break. She sees an ad for the Wild Hearts Salon for a performer/bartender. Liz was a waitress at her parents' café in Roswell all her life, so how hard could this job be right?
Maxwell and Isabel Evans are siblings who own the Wild Hearts Bar Saloon. Max is just a silent partner who helps Isabel with the finances. He works at the bar as a bouncer, hiding the fact that he is filthy rich and the silent partner financing the Wild Hearts. Isabel is a rough tough gal that doesn't show emotion or weakness well. She runs the day to day operations of the bar, including selecting all the girls for the bar.
Maria Delcua is a quirky, fly by the seat of her pants party girl. She is a little filly that just can't be tamed. She's trying to put herself through college at is also an aspiring singer/songwriter.
Tess Harding was the perfect, studious child growing up, but once she got to college and hanging with her gal pal Maria turns into your regular party girl. Yet she still has her mellow exterior and goes to college, majoring in Theatre, aspiring to be an actress.
Kyle Valenti is Tess's boyfriend. He is a frequent patron to the bar and helps out with the riff raff, keeping tabs on his girl secretly due to the rule that the bar maidens have to look detached and obtainable. He is a NY fire fighter.
Alex Whitman is an aspiring musician as well. He is friends with Maria and Tess. He also frequents the bar in order to steal glances on his current crush, Miss Isabel Evans.
Michael Guerin is a new bouncer recently hired by Max who needs extra muscle since the bar has gotten so popular. He is very quiet and laid back, unless he looses his temper.
Cast Pics and Bios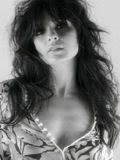 Elizabeth Rae Parker
Alter Ego is Lizzie
Age 23
Liz has never enjoyed small time life and has always dreamed big aspiring to make it big as a singer/songwriter. Liz is finding that the land of dreams she was hoping for is nothing but slamming doors and unhelpful people. Unless you are a somebody, nobody will listen to you or give you an opportunity.
"Lizzie" presents herself as outgoing and charismatic on the outside, but she is very shy and guarded when it comes to the real Liz Parker. She always tries to lead a vivacious social life, but remains untouchable, never going out with a guy more than once for fear that when they see the real Liz that they will be disappointed and abandon her. Will she be able to hide her true façade working at the Wild Hearts or will she be unmasked.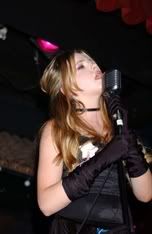 Marianna DeLuca
Goes by Maria or Ria
23 Years old on a good night
Bartender at The Wild Hearts Salon
This vivacious spitfire is a colossal force to be reckoned with. She has a short temper and an even shorter attention span. The radiant blonde goes through guys like some women go through tissues. When she gets through with one she just throws him away and picks up another. Her independent nature causes men to instantly feel the primal need to divide and conqueror.
She's the woman that every fellow wants but is always just out of reach. The sultry siren lures the customers in by using her mesmerizing voice. Before they know what hit them they are addicted to her dazzling emerald eyes and that slender curve of her hip that beckons for the right man's expert touch.
Maria may not take men seriously but she feels very differently about her education. The ever elusive woman of mystery would shock the whole place to the core if they knew she goes to college during the day and only performs at the bar for the exposure and for tuition money.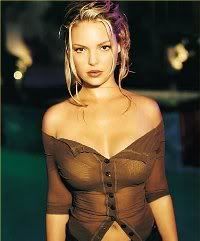 Isabel Evans
Age 25
Owner of Wild Hearts
Before Isabel opened the Wild hearts Bar with her brother, Maxwell, she had a family. She was happily married to her high school sweet heart, Jason Lee Craft, and they had an adorable three year old son, Damen Richard Craft. All of that changed in a blink of an eye though.
A year ago Jason and their son went out to surprise mommy with breakfast in bed. It was a cold winters day, the streets were icy and on their way to the grocery store a deer had ended up getting into the middle of the road. Believing that there wasn't any ice patches on the road Jason swerved not realizing at the time that there had been black ice. As Jason swerved the car spun out of control and hit a nearby post head on killing both passengers instantly.
The next couple of months were the hardest on Isabel, the only person that kept the twenty-five year old blonde bombshell motivated was her brother, Max. Believing that she needed to something to keep her mind off of things he decided that they should open a nightclub, for it had been one of Isabel's dreams since they were kids. He also hoped that it would bring out his happy-go-lucky sister once again.
When the nightclub had finally opened though she still hood behind the walls that she created but some of the fire had come back once again into her eyes. Though Isabel is tough on the girls that she hires, expecting them to be the best and being able to rally up a crowd in just a few seconds, she is also very protective and easy going.
Tess Harding
Age: 22
At first glance Tess may seem like a quiet, closed off young women, but that couldn't be furthest from the truth. Throughout her school years she was always very conscious of what her parents expected of her, and she was very aware of how she presented herself to the people around her. She never wanted to be the mousy, A-Student girl, but somehow it happened. She wasn't happy, but what was worse, everyone believed that she was.
A few months after graduating high school, she was out from under her parent's roof, and the fact that she could do whatever she chose was almost a shocking revelation. Instead of misusing this new-found freedom she set out to do the things she never allowed herself to do. Her great passion was always acting, so she began taking classes in Theatre, getting good grades while still making friends and having fun.
Tess has a great wild side that she likes to flaunt at the Wild Hearts Saloon; she is still very much the quiet girl who likes to keep to herself, and although she has to stay aloof at her job she has eyes only for one man.
Name: Maxwell Evans
Max is 25 years old.
Max Evans is your every day guy. He loves woman, but won't get attached to any of them as he is afraid of getting too serious with a woman. He is always up for one night stands, it's what he loves doing whenever he sees a pretty gorgeous Goddess walking his way. Max is very romantic, flirt, and good looking guy. He will make any woman feel truly special.
Max is a bad boy type from the start. So when he opened Wild Hearts Bar Saloon as Secret Financial Adviser and Bouncer with his sister he was really happy about it. He loves to drink and smoke. He doesn't care about anyone but his sister Isabel. She is the only one woman in his life.
Max is silent around the bar and hides to himself, but once he is out of the bar he shows all of him, and sometime a little too much. He loves having fun and enjoys life. He believes that you only live life once, so why don't you live to your fullest? This gets him in trouble with the law, but he always comes out of it with no charges on him. Maybe owning the hottest bar in town has some advantages.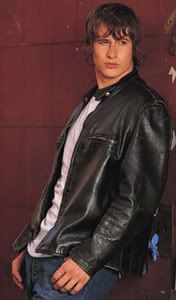 Michael Guerin
Age: 26
Michael Guerin is an aspiring artist who finds himself right at home in the city. He loves the lights, cars, and millions of people that reside there, never one to have liked the quiet. His prize possession besides his leather jacket is his Harley. He is known for his good looks, his brown hair is slightly longer in the back, piercing brown eyes that make women believe he is looking into their souls, don't mess with me attitude and a temper when someone gets on his bad side which makes him the perfect bad boy.
Michael heard the rumor that having your tongue pierced can make a woman squirm which had him getting his tongue pierced with a silver barbell that has a skull head with ruby red eyes. He has a tattoo of a dragon that looks like it is crawling up his back and digging his claws right into the flesh on his back. He wears a black leather coat, tight fitting jeans and tight black T-shirts which do nothing to conceal the muscles underneath since he spends a couple hours a day in the gym.
His bad boy image along with his looks can get him any woman her wants, which he has had plenty. Not caring to settle down, he believes in one night stands. Often jokes that he hasn't met a woman yet that has him wanting a second round though secretly he wants to eventually settle down.
Alex Whitman
Age: 24
Alex is the big brother you always wanted but could never have and unfortantly that's how girls see him. He can get to friends level but ends up staying there. His two best friends include Maria and Tess.
Alex's parents live in Upstate New York and refuses to ask for help for his career- the fact that they wouldn't give it to him is another matter. They wanted their (only) son to become a sucessful lawyer and follow in his fathers footsteps not dilly dally with a "silly" music career.
During the day he works at a local hotel as a porter and when not doing that he's trying to get his name out by sending out home recorded CD's during the night he's happy hanging at the bar with his friend's and keeping an eye on a certain blonde bar owner...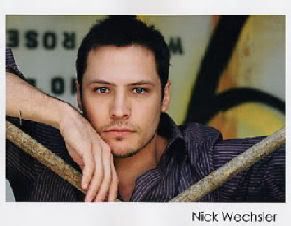 Kyle Valenti
Age 24
Kyle has had a rough life. He grew up an only child after his mother died of cancer when he was 8. His father, a now retired police detective always pushed Kyle to follow in the foot steps of his family. The last two generations were police officers and he was not so happy when his only son decided to be a NY Fire Fighter.
Kyle throws caution to the wind. He loves life and is a risk taker. He has always been a rebel at heart and a lady's man. He never saw himself as a familyman with the whole wife, kids and the house with the white picket fence. That is until recently, after meeting the full of life Tess Harding.
He is a frequent patron to the Wild Hearts Saloon and helps out with the riff raff, keeping tabs on his girl secretly due to the rule that the bar
maidens have to look detached and obtainable. God help any of them if they put their hands on her.
CAST:
Liz Parker:
Dream Weaver
Maria Deluca:
FaithfulAngel24
Isabel Evans:
rpchick2006
Tess Harding:
Alizaleven
Maxwell Evans:
Dreamer Dreaming
Michael Guerin:
RiaRath101
Alex Whittman:
Luvya
Kyle Valenti:
Dream Weaver
Couples (None at the start of RP, but ending)
Max/Liz
Alex/Isabel
Maria/Michael
Tess/Klye
Rules:
1) Long posts (at least two paragraphs) with expression.
2) I would like pictures and bios for all who get casted.
3) No rushing! No drastic changes to the story line unless you've contacted me and other players involved.
4) If you aren't going to be a round for a while, please say so I can arrange a temp. If we don't hear from you for a while and you don't tell me I will recast.
5) Have fun!