Moderators: jbangelo, Forum Moderators
---
Made small art with Liz and Spike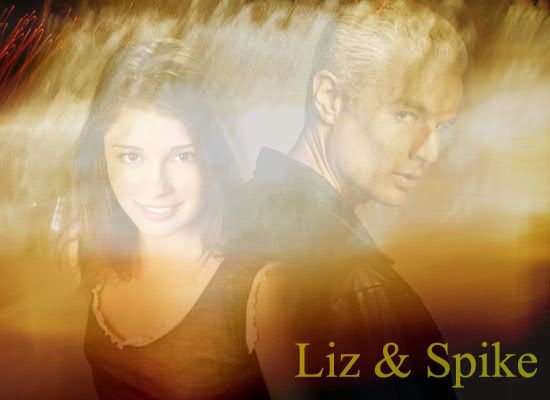 texture by Denrito
---
Enthusiastic Roswellian
Posts: 29
Joined: Sun Apr 06, 2003 2:01 am
Location: singing in the rain <3
Contact:
Beautiful Onarek! Hey I was wondering where to find some Liz/Spike fan fiction. Anyone know? xD
---
Enthusiastic Roswellian
Posts: 14
Joined: Sun Apr 17, 2005 1:06 pm
Location: Virginia
I'm all for Liz/Alec they make a great couple and the storys are awesome. I have questions. Are they any sites about Liz/Alec. ( I already have katastrophee.com one) And where did x-tremers come from?

Thanx
Pix
---
I love to read Alec/Liz but i wish there were more Mi/L crossover fanfic

KaT
X5-723
---
Enthusiastic Roswellian
Posts: 2
Joined: Sat Jan 07, 2006 2:04 pm
mike and liz totally!
Every time I needed you, you were there.
Every time I cried, you were there.
You were there, through my hardest times.
You were there to hold me as I cried.
You were there to comfort me when I needed it most.
You were there, when I just needed to talk.
You were there, when I needed a shoulder to lean on.

When I go to you, you're always there,
never shoving me away.
You just wrap your arms around me.
You make the world just slip away.

You were there, to show me I'd never be alone.
You were there in my joyful days.
There's something I have to let you know.
You were the reason for it,
yet this is something I cannot say.

You were there when I need someone to love me.
The day you told me you loved me was the best day of my life.
It gave me my biggest joy,
yet I didn't know why.
I just laughed when you told me.
because I only saw you as a friend.
I never knew how wrong I was.
not even back then.

Now It's all been lost.
Now I know what I was too blind to see.
I cry for the pain I caused.
I cry for my lover's loss.

And now there are no arms to wrap around me.
Yet I have joy, because I have been loved.
And even though you are now gone, I'll never be free.
You were there when it counts the most,
In my heart. and in my soul.
I was to blind to see,
because I always thought you'd be there for me.

a poem for them byme and Gaudicia
---
Addicted Roswellian
Posts: 347
Joined: Wed Dec 12, 2001 5:03 am
Location: My Imagination
Contact:
Pixie_Stix wrote:And where did x-tremers come from?

Thanx
Pix
Do you mean the name or who wrote the pairing first?
If you like Liz and Dean, check out this community on lj:
Drifter Love
Like my stories and want to hear more about ideas? Visit me here:
My LJ
---
*sticks head out from behind computer*

Please don't throw stones but I haven't seen a single episode of Dark Angel so I have no clue who this Alec is.
I've glanced through some crossover fanfic that had him and Liz as a couple but dropped out of it because I mostly didn't know that much about the DA universe.
I'm a huge Clark/Lana shipper so that leaves Clark out.
So I'm going to have to go with Spike as my first choice.I hated Buffy and the way she treated Spike in season six

So I could go for a good Spike/Liz story.Maybe she shows up in season six and saves Spike after one of Buffy's many beatings?
---
Enthusiastic Roswellian
Posts: 12
Joined: Fri Oct 28, 2005 2:17 pm
Location: Dean's Impala
My first choice would be Alec/Liz, with Dean/Liz (Supernatural) as a close second, followed by Cole/Liz (Charmed).
---
Addicted Roswellian
Posts: 120
Joined: Thu Jul 21, 2005 10:52 pm
Location: Florida
perfect pair
LIZ and DEAN

---
Addicted Roswellian
Posts: 120
Joined: Thu Jul 21, 2005 10:52 pm
Location: Florida
Can someone tell me where i can find dean/liz stories please
---