His Kiss
Disclaimer:
I don't own Moonlight or anything linked to it.
Category:
Moonlight fanfic
Rating:
ADULT
Pairings:
Josef/OC, Mick/Beth
Summary:
Breanna Mabalot has had a shaky past and the only person she has made a point to be close with is her "sister" Ally. When Ally sees that Breanna is taking life too seriously, the girls venture out for a night on the town, and Brea ends up meeting someone who shakes up her world. As life goes on from her earth-shattering experience with Josef Kostan, she finds that more and more peculiarities start to jump out at her- and the well kept secret of her blood will be revealed.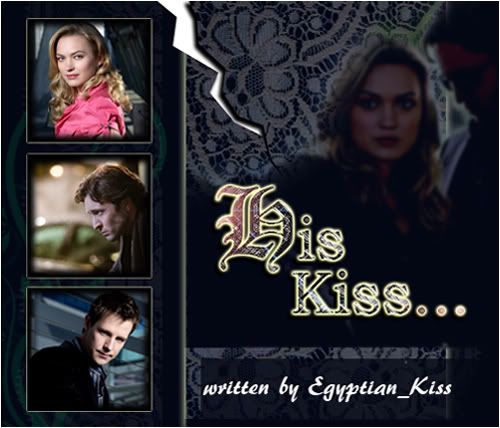 Thank you so much to pijeechinadoll for this gorgeous banner!
Chapter One
"When was the last time you got out and lived a little? God Brea, you are twenty-four, not a hundred and twenty-four." Ally lectured as Breanna rolled her eyes, reading the book laid across her lap. Ally Deveau had been the closest thing to a sister that Breanna had had since she was seven and had run away from foster care. The two had found each other when put back into the system, and neither would allow the other to leave their side.
"I don't see the point in going out when we both know that I have to study. I'm working; you know how important tomorrow's test is." Breanna reasoned, fighting to keep a hold of her book even as Ally overpowered her. Ally had always been the party girl, the one to make Brea let loose.
Glancing up at Ally, Brea noticed that her hair had yet again changed color- an intense dark red- and this one made Ally's rosy complexion all the more flawless and beautiful. That was another thing about Ally that Brea loved, the other girl, despite her rather plain features- brown eyes, thin lips, small nose- she had a style that flared toward on the side of extravagant.
Feeling the book leave her hands, Brea finally stood up, towering over Ally's five-foot-nothing by a good nine inches. "I can't go out tonight. We both know what happens when we go out, and I can't afford to lose this time."
Snatching back her book, Breanna collapsed gracefully back onto her chair. The next moment she was squished beneath the weight of her current adversary. "Just for a few hours, please? Come on my birthday is coming up, and we both know how busy you have been. Do this for me. No, do this for you. You can't keep sulking in our apartment just because of Brian."
Another thing about Ally was that she didn't mince words, and she considered tact an artful way of lying- something she insisted she would never do. Shoving Brea a bit to the side, she sighed. Brian had been her on-again/off-again boyfriend of two years, but when Breanna had walked in on him with some nameless girl in a more than intimate position, things had ended right there.
"Promise me that we'll be back by two." Brea finally mumbled, pushing back a fallen strand of dark brown hair.
"Deal." Ally said. Then exclaiming her excitement, Ally launched off the couch, and started tearing up the stairs to Brea's bedroom, obviously intent on picking out their clothes.
"Not too much skin, please!" Brea called after, knowing it was fruitless to offer suggestion. She did agree with Ally on needing to get out more, but agreeing and doing were usually two different things.
Closing her book on the comparative study of English and British literature, Brea stood up, and stretched her back. Getting out of the apartment after a month was a good way to break up the monotony of her everyday habits.
"Silver or green?" Ally yelled down.
"For you or me?" Brea asked.
"Me."
"Green, it'll make your hair pop." Brea replied. Picking up a few papers, she organized everything into a neat pile of the glass top coffee table.
"Then you have to wear the black and silver stripy thing with the ties, and the buckle straps for the shoulder straps." Ally informed her.
Brea had no idea what she was talking about, but made a sound of assent. It was weird how little Ally had changed since they had picked up and moved from New York to LA after graduating high school. Both had eventually ended up in the same home for the last two years of their education, and while neither liked their previous foster parents they had at least been allowed to stay together. Living on the West Coast hadn't been that big a change for Ally, she had adapted to the new clubs and the different shopping experience while Brea had taken a year to adjust.
Gradually, Brea had worked her life back into order, and found a job bartending at a bar, and stayed long enough to earn money to attend UCLA two years later. Ally had taken an entirely different route, putting her initiative and bubbly attitude to work for a slew of boutiques downtown before settling in as a high end buyer for thirty-something women with too much money and a constant case of ennui.
Deciding to face the music, Brea climbed the spiral staircase up to the second floor landing, and walked the ten feet to her bedroom.
"It looks like something exploded in here." Brea stated, pretending to be disgusted when secretly she loved when Ally worked up an evening.
"How do I look?" Ally sauntered out of Brea's walk-in closet wearing a strapless emerald green top with Seven jeans, and Brea's favorite black, strappy heels.
"You look great." Brea flattered as her best friend did a spin to show-off her outfit.
"Now you. Here." Ally tossed Brea the "black and silver stripy thing with the ties, and the buckle straps for the shoulder straps" as earlier described. It turned out to be one of Brea's more daring dresses; silver with black strips that flashed metallically in the right light and had thick black straps with silver buckles on them, and a trendy belt around the waist. The skirt of the dress felt to mid-thigh in a ruffle. Breanna shook her head for a moment, glanced up at Ally, and determined that there wasn't a way of getting out of wearing it. The only reason she had bought the dress in the first place was because it had been so out-there for her usual fashion sense, and even though she never intended to wear it, Brea had needed to buy in that moment.
"Oh and I found these to go with it." Ally exclaimed, running back into the closet, and then returning with what Brea had deemed her "hooker heels"- they were an accompaniment to the rest of Brea's Pretty Woman hooker costume that she had worn on Halloween.
"Those are for my Halloween costume." Brea explained, rolling her eyes.
"So? They will look great with that dress."
They argued back and forth for a while, but finally Brea caved, and an hour later after make-up and hair fixes, Brea found herself being hauled off to The Rave, a new club.
"Remember, two o'clock." Brea reiterated, taking stock of her watch and the fact that it was a little after eleven.
"Alright grandma, we'll be back by curfew." Ally teased.
There wasn't much of a line for the club, and when they got to the doors they realized why.
"This is a private club, by invitation only." The bouncer said. His brawny arms had Brea raising her eyebrows while glancing sideways at Ally.
"My boss mentioned it to me, Hannah Fleishman." Ally remained cool, she was in her element- she lived for the rush of name-dropping, and power plays.
The bouncer glanced down at his list, and then back up at Brea and Ally, assessing them before opening the door. "Tell Ms. Fleishman that all future guests need to be called in with more notice." Obviously their names had been added last minute.
"Sure." Ally said with a smile, then grabbing Brea's hand tugged her inside.
The club was fairly standard except despite the lack of a line outside, people were milling around in packs. The music was techno-ish and drinks-a-plenty were drifting around the room. Brea noticed a second level that was less populated and the moment that she got the chance she was going to escape up there, away from so many people being pushed up against her.
"Here." Ally spoke into her ear, and Brea jumped before turning to face the other woman who had disappeared moments before. Ally was holding two shot glasses, one for each of them .
"I don't know if that's such a good idea." Brea replied, but then her more wicked side- the side of her teen days- came out, and together they both took the shot of vodka. "Yuck, I can't remember the last time we did vodka shots."
"I thought about buying you a sweet drink, but I thought 'what-the-hell' and went for the shot. Come on let's dance." Ally insisted.
The dance floor was close quarters with everyone dancing and soon Brea lost sight of Ally. Letting go for a bit, Brea found herself dancing with a few random guys, and only when she started to sweat did Brea make her way off the dance floor and back to the bar. Ordering a White Russian, Brea scanned the crowd for Ally, but when she didn't see her friend, she decided to check out the second level.
Grabbing up her drink, Brea wended a path through the crowd, and to the staircase. A velvet rope and another bouncer stood in her way.
"The lounge is for VIP members only." Came the haute remark before Brea could even open her mouth.
"Fine." Brea snarked in reply, giving the short, greasy looking man before her a look of condescendence. She was about to walk away when another voice called out to her. Turning back, Brea paused at the sight of the man before her. She knew this man, he was in the newspaper almost everyday in the business section. It was Josef Kostan- self made millionaire.
"I'll vouch for her." Josef was stunningly handsome with a boyish charm that had Brea blushing for no reason at all. He didn't know her from Adam, but the smirk on his lips said that that didn't matter to him.
"Thanks." Brea practically whispered as the annoying bouncer moved the rope, and Josef made a sweeping gesture for her to go first. Immediately Brea felt stupid, the music was far too loud for him to hear her, but as she moved passed him he smiled as if he had.
The second floor lounge was filled with a number of chairs, and a plush couch or two. There were twenty people max occupying the space, and as Brea made her way to a chair, she found that there were at least five waitresses holding trays full of drinks.
"So who are you, doll?" Josef asked from behind her.
"Breanna Mabalot." Brea turned to shake his hand, but in a gallant gesture, Josef kissed the back of it. A shiver went through her at the touch of his lips, and Brea took a seat to steady her racing heart.
"Josef Kostan, pleasure to meet you." Brea noticed that his eyes had flickered a pale silver blue, but took it for a trick of lighting. Taking a sip of her drink, Brea crossed her legs as Josef took the seat beside her. "Is this your first time here?"
"Yes. I came with my sister, Ally." Brea said, then noticed that she had drained her drink. Josef made a motion with his hand to one of the waitresses, and a girl- maybe nineteen years in age- came over, swinging her hips dramatically.
"Yes, Josef?" Brea's opinion dropped of the girl at the simpering tone of her voice and the tremendous amount of makeup she was wearing.
"Miss Mabalot needs another drink." Brea handed the girl her empty glass and ordered another White Russian. Before Brea could reach for her money, Josef had already dropped a twenty onto the young girl's tray, and shooed her away.
"You didn't need to do that." Brea stated, shifting her body to face Josef.
"I've got money coming out my ears; trust me a few drinks aren't going to break my bank."
"Still." Brea said. She felt the alcohol taking effect already; it always made her relax into her environment.
"Tell me, Breanna, what is it that you do?" Josef leaned in a bit closer, turning on the charm, and Brea felt her heartbeat speed up a bit.
"I'm a student at UCLA. I'm majoring in English and British Literature while minoring in Microbiology." Brea detailed, then accepted her drink upon it's expedient arrival.
"Minoring in Microbiology? Isn't that more of a major?" His smooth voice was like silk, and as Brea drank more of her drink she leaned closer to Josef.
"It's always been an interest of mine, not so much a passion. I thought about reversing my major and minor, but I'm more literary than scientific." Josef's right hand was playing with some of Brea's dark hair that was spilling over her shoulder, and the more he played with it, the thirstier Brea became. Her second White Russian was replaced with a third, and Brea felt a rush of heat flare in her cheeks.
"How old are you, Breanna?" The way her name rolled off his tongue was an enticement, and the way that Josef's eyes kept flashing that incredible pale silver had Brea spellbound.
"Twenty-four. How old are you?" Brea asked on a whim. The question seemed to amuse Josef somehow, and Brea found herself smiling.
"Twenty-six." The waitress arrived again and Brea realized that she had finished off yet another drink.
"Maybe I shouldn't. I don't drink often anymore. Ally's always been the wilder one." Brea confessed, biting her lip, then looking back at Josef who's eyes were on her lips and neck.
"Would you like to go somewhere else?" Josef offered.
"I…Yes." In a spilt second decision, Brea decided that Ally would find her way home as usual, and that studying could wait till the morning. Josef stood before her, holding out his hand to her in a courtly manner, and before she could think they were on their way out of the club.
Brea's eyes widened when Josef led her to a 2008 Bentley Continental GT Speed. Brian had been obsessed with cars, and his one dream car was the one she was being handed into. The seats were so comfortable Brea found it hard to believe that she was sitting in a car. Josef slid in beside her half a second later- or so it seemed to her though it surely couldn't have been- and then they were driving.
Josef handed the car as if it had been made for him, or by him- either way they were maneuvering at a blurring speed far into a ritzy upscale area. The houses stopped being houses and transformed into mansions, and the view began to change from city to seascape. Brea knew that she had had more than her limit to drink, and she knew that the idea of being alone with a man she had just met, especially this powerful business mogul, should bother her, but it didn't. She usually felt uncomfortable around money, having grown up without much of it, but her mind was less focused on the gestalt views of the night, and more in tuned to Josef.
They arrived at one of the largest mansions that Brea had ever seen, and she was escorted through his foyer, his main room, and into a cozy parlor that was tastefully decorated in Victorian style.
"This is amazing." Brea stated, allowing Josef to pull her gently onto the nearest couch. Painting hung in gilded frames along every wall, and a plush carpet was wall to wall.
"Thank you." Brea nodded then turned to Josef and watched his eyes flicker that enchanting color before she pressed herself against him in a sudden and impassioned move. Josef smirked for a moment, but she didn't register it as she pressed her lips to his in a fevered kiss that was long awaited.
His lips were cool against hers, but smooth and a stark relief to the flush of her body. Brea felt her eyes slid shut and her arms come around him. Josef allowed her to control the beginnings of the kiss at first, but soon Brea found she was swept away on a current of experience and channeled desire. The haze in her mind only thickened as his hands caressed her body.
Brea's mouth broke free of their kiss and she gasped for air. Josef's mouth ran down the column of her neck, her naturally pale and milky skin stretched out before him, and Brea inhaled with want.
"Brea, I won't touch you without your permission." It sounded as if he was asking for something more, but Brea couldn't figure out what, all she knew was the desire rushing through her veins, urging her questing hands, and causing her body to tremble.
"I want you." It was so foreign to her, stating what she wanted, being aggressive, but it was empowering.
The next moment, Brea distinguished the pinching of pressure on her neck, but with her next gasp it turned to an onslaught of pleasure. His hands had danced along her boots, had played with the ruffle of her dress, and then ventured between her thighs. An explosion of her senses overwhelmed her mind, and Josef's intimate touch had her bucking and whispering demands as she bit her lips.
Brea registered somewhat that she was laying beneath him on the couch, and that this was quite possibly the most sensual sexual experience she had ever had, when every thought in her mind blew to pieces. As she rode tidal wave after tidal wave of erotic ecstasy, Josef pulled back from her neck, kissed her lips, and held her tightly.
Brea's eyelids were fluttering, her heart was pounding, and every tingling nerve in her body was holding her full attention. It felt like hours until her orgasm pulled back, and her by that time her breathing was incredibly hard.
"Thank you." Josef said, and Brea passed out.
Author's Note:
So what do you think? Worth continuing? Let me know. EK!