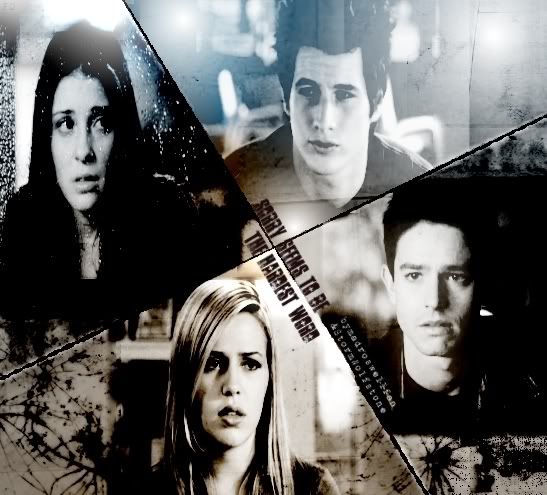 banner (And siggies) by FrenchDreamer
Our other
Brilliant banner
made by Drogyn
Title - Sorry seems to be the hardest word
Authors - MadRoswellFan and Stormwolfstone
Disclaimer - We don't anything Roswell related. Nor do we own the beautiful song by Elton John, "Sorry seems to be the hardest word"
Couples - Max/Liz, Michael/Maria - AU With Aliens
Rating - Adult - Warning - This story deals with Depression, Self Halm and suicide. Also contains sex scenes.
Summary - Max and Liz have been married a year, and already the marriage is breaking down. Maria is desperate to be married but Michael is completely afraid of commitment.
Author's note from MadRoswellFan
This story was based on an idea I had that was originally going to be an rpg but with only a small amount of interest, Storm and I decided to write it together. For the readers of my "Three Letter Series", I absolutely intend on updating in April....its a lot easier to joint roleplay and write a story that way with Storm whilst working than it is to create a long chapter of RRR! I just wanna say a huge thankyou to my co-writer for writing this with me!!! Your ace storm!
In general, Liz and Michael things are written by me, and Max and Maria will be written by Storm.
If anyone knows of anyone who could make us a banner we would much appreciate it!
We're planning on updating this with short chapters when we can

Thank you guys for reading and we hope you enjoy!
Prologue
Liz sat on the couch, staring at the perfect wallpaper they had picked out just eleven months ago; the perfect wallpaper that matched the perfect room. She just wished she could say that the life she lived was as perfect as the house. When the only light she had lit in the room five hours ago finally burnt out, she was left alone in the dark, just as she had felt alone since the first month of their "perfect" marriage.
He was late; the dinner was cold. The radio station that played romantic classics when he was expected in, was now playing sad depressing songs. Liz's heart sank as a new song started making the atmosphere around her echo the sadness that played in her heart.
What have I got to do to make you love me
What have I got to do to make you care
What do I do when lightning strikes me
And I wake to find that you're not there
Max was always up and out of the house early in the morning before his wife awoke, it was this way six out of seven days. It wasn't that he didn't want to spend time with his wife, he did, but he was determined to make her a good life. He wanted to be able to give her everything she could ever want so he worked fourteen hour days most times. Today he was supposed to be done early but he'd been tied up yet again.
Nearly five hours of struggling to finish the current case load and he was finally walking up the stairs to the house. He smiled, thinking that without Liz to come home to he'd probably never get out of the office but he was successful now. He was on his way to being a Vice President of the firm if he continued. Trying the knob, he found it still unlocked and sighed in relief. It meant Liz was awake.
Stepping inside, he closed and locked the door behind him. Placing the briefcase down, he kicked off his shoes, removed his dress jacket and tie, hanging them over the rack before calling out, "Liz, honey. I'm home, I know I'm late. I didn't have the chance to call."
Liz sat in the dark as she heard her husband enter the house. She sat alone in the dark at the dining table. She didn't call out. She didn't tell him where she was. She just sat there, waiting. Waiting for the moment when she told him.
Max sighed, that was odd. Liz always answered him. Shaking his head silently, he started toward their room; maybe she had fallen asleep waiting for him. He wonders about the lower floor being seeped in darkness as he makes his way along, the only light coming in was from the street lamps outside.
He was just passing the dining room when the small bit of light allowed him to make out a form and he reached for the light switch beside him. "Liz?" He looked at her in question, glancing at the table and felt guilt tug at him. Dinner was neatly placed along the table and he knew she'd had to have worked hard.
Stepping over to her, he placed his hands on her shoulders and leaned down to kiss her cheek. "Why are you sitting in the dark, Liz?" He questioned softly as he kneeled beside her chair to look at her.
Liz had to hold her self in place so she didn't flinch as his lips touched her. She closed her eyes for a moment as she tried to form the words she needed to say in her head. But she couldn't. She couldn't form anything. The only think of was four little words. And they echoed around her head like a train in a tunnel. And the more she tried to think of something else to say the faster the locomotive in her mind rushed around until she couldn't take it anymore. She snapped open her eyes, allowing them to settle on the wallpaper once more.
She took a small, soundless breath in before the words came out of her mouth quietly, yet powerfully.
"I want a divorce."
What do I do to make you want me
What have I got to do to be heard
What do I say when it's all over
And sorry seems to be the hardest word
What?" Max felt all the air rush out of him as though he'd just been punched in the gut with those words. He'd never expected to hear those words. Removing his hands and standing, he began pacing as he looked at her, "Why do you want a divorce? Have you decided you made a mistake marrying me? That you never loved me? I don't understand, Liz. Where is this coming from so suddenly?" The thought of losing Liz was already beginning to tear him apart but he knew that in the end, if it was really what she wanted, he'd let her go.
But, he wouldn't let her go without some sort of fight. He was working all these hours for her. For the life he wanted to give her. For the time when they had children, so that they wouldn't have to worry.
Liz was unable to speak. Instead of four words in her brain…she now had absolutely none. She had no way to describe…anything. Wordlessly Liz stood up, her petite body shaking slightly. She moved slightly from the room and walked upstairs to there bedroom. She felt light….like her footsteps made no imprint on anything; like she made no mark on anything or anyone.
With trembling hands, Liz started to open the cupboards to get her things. She didn't hurry like part of her was telling her to. But she wasn't going slowly either. She worked her way methodically, keeping everything as folded and neat so they appeared as untouched, beautiful and…. Perfect as they appeared in the wardrobe.
Max remained silent and watched his wife move away wondering what there was to say, what there was to do. He stood there for several long moments before he shook his head and made for the stairs, leading to their bedroom. He wanted some sort of answers, something that would help him know what he'd done wrong. He'd fix whatever he could.
Upon reaching their room, he stood in the doorway watching her, "Liz, talk to me. Where will you go? What will you do?" He had to know how much she'd thought this out. If this was a new idea, she wouldn't have any idea, but if it wasn't... he'd have to wonder how long this was going on.
Liz swallowed as she continued with her neat and tidy packing. After a few moments, a quiet voice that lost its sparkle in the last few months said, "Maria's… I'll go to Maria's," She continued her packing in silence, not having a clue what to say to his other question. Even if she had been planning this… she knew she could never have answered that question right now. Parts of her deep down were planning this. Parts of her however…
Her mind was a whirlwind of confusion right now. But her heart….her heart had hit a barrier it couldn't break through and right now all she knew was she had to get out of this house. Whether it was impulse or planned… Liz couldn't think straight. As she finished the wardrobe, she moved to the dresser and started to remove her jewellery and make up. Her eyes flittered to her engagement ring… but she couldn't bring herself to touch it. Instead she left it sitting in its box, and worked her way around it.
His heart aching at seeing her being so methodical as she packed her things, Max leaned on the door uncertain about what to do. "If this is really what you want, I won't stand in your way, but... I want to know why." And, he told himself quietly, he wouldn't give her a divorce until he knew the reasons, because somehow he would find a way to win her back.
It's sad, so sad
It's a sad, sad situation
And it's getting more and more absurd
It's sad, so sad
Why can't we talk it over
Oh it seems to me
That sorry seems to be the hardest word
With her he had always believed that love was possible, that love could conquer anything and he wasn't going to stop thinking that now.
Liz finished the dresser. Was there anything else she should take? She couldn't think of anything…. She swallowed as she knew that Max probably wouldn't let her leave until she gave him something…anything. Looking down at the floor, she tried to come up with something…something that was true… but deep down she couldn't tell him. She couldn't tell him everything. But she couldn't lie either.
"I want a proper family and I don't think you can give me that." She swallowed knowing that Max was going to interrupt with some sort of way to make her see that he could, so she forced herself to continue. Her body shook more as she added, "Your in love with your job and… I hardly ever see you." She knew she would break down if she didn't get out of here soon. But Max was in the door way. Yet she knew she had no other choice. Still looking down, she took hold of her suitcase and moved towards the door.
"Can't you give us some time, Liz? I'm not going to have to be at work so much soon. I'm doing this for both of us. I want to give you a good normal life. I love you, Liz." Max said, even as he spoke he stepped out of the way because he knew that she would have to make her own decision. "I am working this much for you, me and our future."
Then the words proper family finally his his mind and he felt his frame drop with sadness. "This is because you aren't pregnant yet? I told you before I don't know how pregnancies will work with the fact that I'm not completely human..."
Liz didn't know what was worse. That he hadn't even said sorry for being late… or that he wasn't even going to fight for her. Tears stung her eyes as she kept walking slowly. "Bye Max…" she murmured quietly as she walked past him and headed down the stairs. She saw her keys by the door hanging on the correct hook. She moved to take them.. and then stopped in her tracks. She looked at them for a moment before letting her hands meet. Slowly she took her wedding ring off her finger, sliding it off gently. She then placed it delicately on the hook with the keys.
She moved away slowly, and turned towards her coat and shoes. Carrying a sensible pair of shoes in one hand, she quickly put a pair of trainers on, followed by her coat. This was it. It was time. A pair of shoes in one hand and her suitcase in the other, she walked to the front door and opened it. She walked through the door, but turned back to have one more glance at her home for the last year since their wedding. She shut her eyes as she turned around once more, letting the door shut behind her. The cold night air hit her face, and she didn't know whether to feel relieved or to cry. So she did neither. Instead she started to walk down the driveway. She passed Max's car…she had never needed one. She swallowed as she turned and started to walk down the street.
What do I do to make you love me
What have I got to do to be heard
What do I do when lightning strikes me
What have I got to do
What have I got to do
When sorry seems to be the hardest word