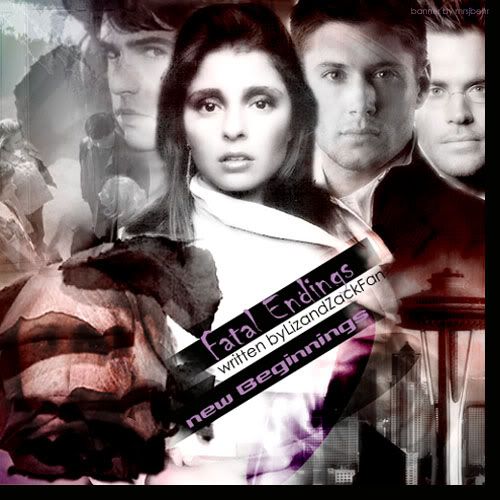 Title: Fatal Endings, New Beginnings
Author: lizandzackfan
Pairing: Alec/Liz
Rating: Mature
Category: Roswell/Dark Angel X-Over
Disclaimer: I don't own any of the "Roswell" or "Dark Angel" characters from either shows.
Summary: This takes place after Departure in Roswell, and after The Berrisford Agenda in DA. Liz is Logans cousin, so what happens when a drastic even causes both worlds to meet? Read and find out.
*************************************************************
Part 1
(Roswell)
(Liz is in her room, she had just gotten back from the pod chamber and she could not believe Max had let Tess go knowing she was the one to kill Alex. Liz winced at the thought of how Alexs death was her fault, she had believed Future Max and that had cost Alex his life. If she wouldn't have listened to Future Max, Alex would still be alive. She tried to fix the future but instead she made it worse, ever since Alex had died she had nightmares of him blaming her for his death and of the others finding out the truth and saying it was all her fault. She had killed her best friend, she
had helped Tess stay in Roswell and let her kill her best friend. Then there was Max, the first time she needed his help he turned away from her
and straight to Tess and got her pregnet. And now he had a son with Alexs
murderer. Not able to stand the pain any longer she stood up and walked into the bathroom, shutting the door behind her, she grabbed a razor blade and as she sat down on the edge of the tub she let the tears run down her face at what she was about to do. Liz took the blade and brought
it to her wrist and she began to press it down on her skin. She didn't even wince at the pain, pain she knew she deserved as she cut her wrist and did the same to the other one. Things started to get blurry and Liz slid off the edge of the tub to the floor as her world went black, her last thoughts being of Alex).
*************************************************************
(3 Hours Later)
(Roswell Hospital)
(Max, Maria, Isabel, Micheal, and Kyle ran into the hospital and up to the information desk).
Maria: We're her for Liz Parker (quickly)
Nurse: Are you family?
Micheal: We're her friends. (his face was pale, he had thought of Liz as a sister and he couldn't even think of never getting a chance to tell her).
(Before the nurse could respond they heard a voice behind them).
Voice: Maria (they turned to see Nancy Parker)
Maria: Mrs. Parker (she hugged her) How is she? (she asked as she pulled away)
Nancy:(wiped at her tearstained face) Not so good Maria.
Isabel:(paled face) What happend? (all she knew was that Nancy had called Maria saying Liz was in the hospital and they all rushed over).
Nancy: We.. (paused and took a deep breath) Me and Jeff had waked into her room to make sure she was ok. She hadn't been doing so good after Alex, so when we found her she was unconcious on the floor. Maria.. (as more tears slipped down her face) she tried to kill herself. She had slit her wrist. The doctors said she lost alot of blood causing her to slip into coma and she still hasn't woken up. (As she finished Jeff walked in)
Jeff:(looked at the others) Thanks for coming.
Maria:(nodded) We will be here as long as it takes. (Jeff smiled a sad smile and hugged Maria)
Jeff:(as he pulled away from Maria) We're going to the cafeteria. Does anyone want anything? (they shook their heads, none of them could even think of anything else except Liz) Ok. (Jeff and Nancy walked out)
(Neither of them said anything to worried about Liz to talk)
End Part.