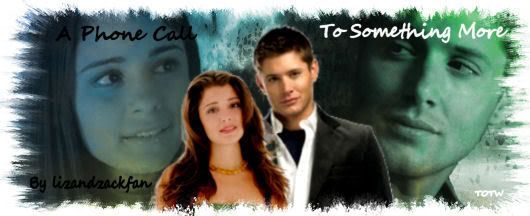 Title: A Phone Call To Something More
Author: lizandzackfan
Pairing: Drifter
Set: After "Destiny" in Roswell, and After "In My Time Of Dying" in Supernatural.
Rating: Mature
Category: Roswell/Supernatural X-Over
Disclaimer: I don't own any of the characters from "Roswell", or "Supernatural"
Summary: How just one phone call can change everything.
Authors note: This idea just popped into my head and I wanted to give it a try so let me know if you like it and if I should continue.
*************************************************************
Part 1
(Liz walked into her room, covered in dirt and if anyone took a look at her it would be obvious that she had been crying. She had walked all the way from the pod chamber and was exhausted, not just physically but emotionally as well. She couldn't believe that Max and Tess were meant to be together or that they were married in their past live, it was too much to think about right now. Every time she thought about it, tears started making their way down her face. So shaking her head she stood up, knowing she needed to take a shower before her parents came in and saw her, she had managed to avoid them by coming through the back door while they were in the front talking to some customers. As Liz stood up and started to make her way to the bathroom she was stopped by the ringing of the phone. After a moment's pause she decided to pick it up, knowing that if it was Maria, or Alex and she didn't pick it up they would just come over. So it was probably best to get it over with then, so taking a deep breath she picked up the phone)
Liz: Hello.
Man: Hello?
Liz:(frowned) Who is this?
Man:(confused) I'm looking for Ellen or Jo.
Liz:(shook her head) I think you have the wrong number.
Man:(cursed under his breath) Sorry. (He hung up the phone and Liz just frowned at the phone in her hand. She just sighs and hangs it back up and is about to go to the bathroom when once again the phone rings, and letting out a sigh of frustration she picks it up)
Liz:(trying to sound nice) Yea?
Man:(clears his throat) I just called and umm…look I know this is going to sound weird but I kind of need someone to talk to and you seemed nice.
Liz:(confused) Why would you want to talk to me though?
Man: Because I don't know you and the only person I have here is my brother, and least I can hang up and never talk to you again. (He said honestly)
Liz:(thought about it for a moment, as weird as it was and a bad idea also, she needed someone to talk to too. Someone outside of this crazy alien abyss. So taking a deep breath she replied) What's your name?
Man: Dean. Yours?
Liz:(couldn't help but smile) Liz.
End Part.