Against My Programming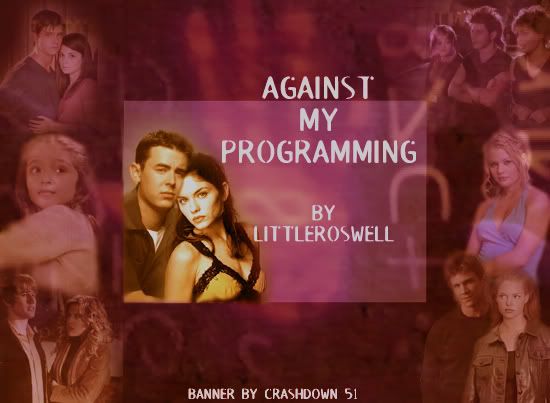 Thanks to Crashdown_51 for the beautiful banner!!
Disclaimer: I don't own anything. The characters, the music, the movies referenced, none of it is mine. Please don't sue me!
Rating: TEEN
Category: All CC except for A/I. I have someone else in mind for Alex and also for Isabel.
Author's Note: This fic was originally to save Alex. That was my mission. It grew into a huge monster after that because I wanted to address all the issues the show left for me. I kind of feel that all fan fiction is AU because when we change what happened to the original story, it is an alternate ending. Anyways, I don't think there are enough fics that feature Alex in his true, well, "Alexness". I don't know how well I'll do with it but I'm gonna try.
Therefore, this fic is a tribute to every girl's dream come true, a great friend that is male. It will also feature Max/Liz relationship, Michael/Maria, Isabel/? and Kyle/? relationships. I am starting this fic somewhere around the time of "Independence Day". It will jump forward at one point and I will let you know when that time comes. If you don't remember what has happened around that time, let me refer you to the transcripts at
http://www.crashdown.com
. Now on with our story. Enjoy!
Part 1
Alex Whitman sat in his room, working on his music. He had been working on his homework, but somehow Geometry just didn't have the same appeal as his guitar. He heard his mom coming up the stairs and then a knock on his door. He called out for her to enter and she came in carrying a load of clean laundry.
"Alex, here are your clothes. Please put them away today and not next week," She said, setting the basket down with a smile.
"Mom, I'm 16 not 12. I'll put them away as soon as I'm done working on this song," Alex groaned while picking at his guitar.
"Ok, sweetie. Hey, have you seen the new neighbors that moved in yesterday? I saw the truck and the movers yesterday, and they were back again today. There was a lot of stuff for only the two people that I saw."
Alex raised his eyebrows in surprise. "New neighbors? That house has been for sale for as long as I can remember. What did they look like?" He asked.
"Like I said, I only saw two people that looked like they lived there. There was a woman and her daughter. The girl looked about your age. She's cute but kind of into that semi-goth look that so many of you kids are into these days. You could be a gentleman and go introduce yourself. I'm sure the girl could use a friend, you know with being in a new place and not knowing anyone," his mom answered.
Alex rolled his eyes at her. "Mom, don't push. Maybe I'll go over there, maybe not."
"Ok, ok! I'm not pushing; I'm just suggesting. Dinner will be ready in about 20 minutes so be at the table ready," she told him as she left the room.
As soon as the door had closed behind her, Alex jumped off his bed and ran over to his window. He moved the curtain aside and craned his neck to see around the side of the house to the front door, hoping to get a glimpse of the new neighbors. Damn! He couldn't see anything. The movers must have left because the truck was gone.
He pushed the curtain back and opened the window to let some air in, as it was a nice day for February. As he did so, he looked up through the tree that was in between the two houses and saw a girl that looked about his age walking around in the room just on the other side of that tree. She had long hair that was pulled up in a strange way and it was obviously died as black as she could get it. She had on a long black sweatshirt that reached to her knees and baggy black jeans. She had at least 3 pairs of earrings in her ears and a lone hoop at the top of her right ear.
"Hey," Alex called to her. When she looked up questioningly, he asked, "Moving in?"
The girl gave him a look that clearly said, "Duh!" but she just nodded instead of answering him. She turned back to the boxes. Alex didn't get the hint. He decided to keep talking.
"It'll be kind of strange to have somebody in that room now. I mean the Robetelli's had used that room for a study or an office or something, and they moved out months ago. Good thing I've got curtains up; I wouldn't want to give you a peep show or anything," he said. Inside, he cringed. Did he really just say that?
The girl just kind of glanced at him, and he could tell that she was trying really hard not to roll her eyes at him. Unable to stop now, however, he plowed on. "My name's Alex, Alex Whitman. I go to West Roswell High. I'm in the 10th grade, and I'm a single man," he babbled.
"Thanks for the bio, Alex," the girl said sarcastically. Then she went over to her window and pointedly closed it. She walked away and went back to unpacking.
"Great job, Whitman," Alex muttered to himself. He closed his window and started to put his clothes away.
* * * * * * * * * * *
The next morning, Alex was coming out of his house to leave for school, when he saw the girl opening the front door to the house next door. She almost ran out of the house with a woman trailing her to the door. The girl did not look back but kept walking toward the street.
"Leslie! You forgot your lunch," the woman called after her with her hands on her hips.
"I'll buy my lunch," the girl threw over her shoulder as she neared Alex.
"I want you to come straight home, Leslie. Straight home, do you hear me?" The woman called after her.
The girl didn't acknowledge her. Alex assumed that the woman must be her mother. He decided to seize the opportunity that had presented itself. With a silent prayer that he wouldn't completely humiliate himself, he cleared his throat and spoke up.
"Uh, Leslie? Would you like a ride to school? I mean I know you don't know me or anything but . . ." he started.
Instead of really answering, Leslie just opened the passenger car door and climbed in the seat. Alex was so surprised that he just stood there staring at her for a moment. She brought him out of his daze with the words, "Are we going to school or what?"
"Huh? Oh yeah, yeah," he stuttered and climbed in the driver's side.
He started the car and pulled onto the road, heading for the school. As Leslie didn't seem eager to start a conversation, Alex decided to try. "So that was your mom, huh?" He asked.
"Uh huh," she answered, looking out the window.
"So is it just the two of you? I mean I didn't see anybody else move in with you guys," Alex rattled off.
"Uh huh," she said again, still not looking at him.
"So why did you get in the car with me? I mean you don't know me at all and yet you decided to accept a ride from a total stranger. Is it because I look so trustworthy? That's gotta be it. I've been told that I've got an honest face," Alex babbled on.
Leslie finally interrupted him. "Look! I took the ride because my mom expected me to take the bus. Right now, my number one goal in life is to do the opposite of what my mother tells me."
"Oh," is all that Alex could think to say. Her voice was much older than her face. She had one of those voices that wasn't that of a young girl's, not that of a teenager, not that of a smoker, but that of a woman. Alex couldn't help but wonder where a girl in high school got a voice like that. Before he could think of anything to say, however, she continued.
"And you know what? I'm not really into the whole meeting new friends thing ok? So let's just get to school and you can go to your classes and I can go to mine, ok?" She told him.
"Um, sure," Alex finally got out. They drove the rest of the way to school in silence.
* * * * * * * * * * *
Alex left his locker and made his way over to Liz and Maria's lockers, where Max was already there, trying to talk with Liz. Michael and Maria were already in an argument and it wasn't even 8:30 yet. Isabel was chatting with one of the girls in her little clique and looking beautiful as always. Alex sighed as he approached; Isabel was never going to go for him. He should just give it up but every time he saw her, alien or not, she was hot and he couldn't help but notice.
"Good morning, Isabel," he said good-naturedly. He smiled at her, but she just ignored him as usual and walked off with her friend. Then Alex turned to Liz and Maria. "And how are my two favorite girls this morning?" he asked. He acknowledged the sort-of-boyfriends with a nod and a "Max, Michael."
Liz's eyes never left Max's as she answered, "Great, Alex, just perfect," in a flat tone. She just couldn't seem to get over the whole blind date incident and couldn't forget how Max had made her feel when he had said that he really wanted to be with her. She turned away from his questioning look and looked at her friend with a genuine smile. "How're things with you?"
"Ok, we got some new neighbors that moved in over the weekend," Alex began.
Maria butted in with, "Alex, how would you like to be a gentleman and walk Liz and I to our classes and you can continue your story?" She asked with a glare at Michael and then a bigger one for Max.
"Uh, sure," Alex said. He put an arm around each girl and started off down the hall, leaving Max and Michael staring after them.
As they headed to their respective classes, Alex rattled off his story of the new girl next door. Maria and Liz were only half listening as he yammered on about what an idiot he had made of himself. As the first bell rung, Liz and Maria quickly excused themselves from Alex and made their way hurriedly to their classes.
Alex walked himself into his English class and sat in his chair towards the back. As the second bell rung, everyone dived for their seats and Alex leaned down towards the floor to dig his notebook out of his bag. The teacher called for everyone's attention. As Alex looked up, he sunk down in his seat so as not to be seen by the girl standing next to the teacher.
"Class, we have a new student that just moved here from Atlanta, Georgia. I know you will all make Leslie Terrell feel right at home here in Roswell," the teacher said. Then she looked around and Alex held his breath. "Ah, there's an empty seat next to Mr. Whitman as Mr. Carson has had to change his schedule."
Leslie did a double take as she heard Alex's name. "I'm sorry, did you say Mr. Whitman? As in Alex Whitman?" she asked.
"Great! You already know Mr. Whitman then. That means you already have one friend here already," the teacher said. "Now if you will just have a seat, we'll get started."
Alex smiled as she sat down next to him and said, "Well, looks like we were actually going to the same class."
Leslie didn't look at him as she muttered, "Shoot me now."