Double Empire
Author(s): Double Trouble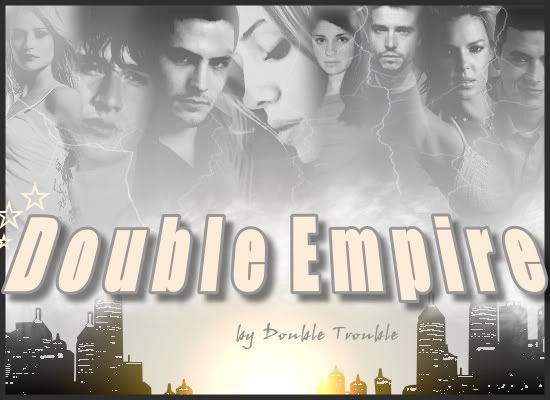 Banner by:
Us
Disclaimer:
All characters and plot lines that appeared in the series or in the books are not ours. The concept of Roswell does not belong to us either. They all belong to Melinda Metz, UPN, yada, yada, yada…
Pairings:
M&M, M&L, K&T, and A/I
Rating:
Adult
Summary: (AU with Aliens)
In their early 20's people have a tendency to expect a carefree existence but all too often life has a way of circumventing those plans and forging a completely new and unexpected path. At such a young age people do not expect to be rulers, warriors, unwilling captives in a war that is not theirs to fight, or seeking to put themselves in potential danger in order to escape a life that has become a prison…
Author's Note:
This fic will contain references to graphic violence in times of war. If we extend any of these scenes to include details we will post a warning.
Link to Our Trailer – Made by us:
Double Empire
Part 1
"What is this, Mommy?" five-year-old Lina asked and pointed at a picture at the wall as her mother carried her down the long corridor towards her bedroom. The heavy door was opened by a sentry and the woman nodded at him politely in thanks.
"That is Earth," she answered the little girl's question.
"Earth?" Lina tried the word out and frowned. "What is Earth?" she asked as she was placed down in her bed safely. Blankets were wrapped around her securely to protect her from the colder temperatures at night.
"It's a planet, just like Antar," her mother explained patiently. She was used to her daughter's curious questions and it was almost surprising that she had held back with that question for so long.
"A planet," Lina said in confusion. "Where is it?"
"In the universe, sweetie. Very far, far away from here."
The girl sat up again, making her mother sigh with a smile when the blankets were all messed up again and her stuffed animal fell to the floor. "Were you there, Mommy?"
"Um… yeah. I was born there, Lina."
"Really?" she gasped and looked at her mother with big eyes. "An' Daddy too?"
"No, he's from Antar."
Lina's confusion grew even bigger with all this news and her brain was working fast for this time of a day. "How is it on Earth?"
"Well," her mother tugged the blankets around her again and stretched out next to her, closing her eyes to remember some of the details from her former home planet, "there was only one sun."
"Only one?" the girl asked excitedly. "Why?"
"I don't know. It just needed one I think," she answered. "The water was more liquid… Like soda." Actually soda was an invention from Earth and probably one of the few things the Antarians had imported from the other planet back then.
"Wow," Lina said, her tone amazed. "What else, Mama?"
"Well, there was also snow…"
"Snow?" the girl asked, using the word for the first time in her young life.
"It's white and really, really cold."
"Like ice cream?"
Her mother chuckled. "Yes, a bit like ice cream."
"Mama?" Lina rolled onto her side and looked at her with her big brown eyes – eyes that matched her father's exactly. "Can we go to Earth?"
"No, honey," her mother denied gently and her tone held a note of sadness. "That's not possible."
"Why?"
"Because Earth doesn't exist anymore," she explained to her daughter. It probably wasn't the right story for a goodnight story, but she knew that lying to her would just come back on her later anyway. "Not the way it used to, I mean."
"Why?"
"Because the people who lived there destroyed their nature, they destroyed who they were."
"Why?"
That was her favorite new word,
her mother thought with some amusement. Why? Why? Why? She heard it several times a day.
"I don't know, sweetie." She kissed her little nose.
"Is that why you came here to Daddy, Mama?"
"Yeah," she answered.
With a few detours along the way,
she added in her thoughts.
"Daddy protects us," Lina said and snuggled deeper into the mattress when sleep finally started to pull her under.
"He does."
"He says we are always safe with him, Mommy," the girl mumbled with closed eyes.
Her mother glanced down at her and smiled when she realized that sleep had won over curiosity for tonight. Yes, they were safe now, but what her daughter didn't knew yet was that there had been a time when Antar hadn't been a very secure place either….
Six years earlier….
She kept her head down as she hurried through the rundown neighborhood, ignoring the catcalls and the lewd comments as she prayed she would make it to her apartment without any trouble. It had become routine, working double shifts at a local restaurant and then coming home at the ungodly hour of four a.m. There were always a handful of local gang members lurking in the shadows and the fear that they would eventually hurt her in the most unthinkable ways terrified her.
Those fears had pushed her into a decision that had the capability of changing her life and every single morning she prayed that her salvation would be in her mailbox when she returned home. It had been more than two months since she had submitted her application and she knew that the chance of her being accepted was slim, but she had run out of viable options. It wasn't exactly a position that would lead to wealth or fame, but it would guarantee her safety and remove her from the constant veil of danger that she lived under.
Behind her she could hear the scuffling sound of shoes on the sidewalk and the fear rising in her chest made her clumsy. She ran up the steps, fingers fumbling with the ring of keys as she tried to insert the correct one into the lock. She released a relieved sigh as the key slid in and she turned it as she shoved the door in, leaning back against it as she quickly slapped the lock into place again.
As soon as her heart started to calm she moved to the bank of mailboxes built into the far wall and she checked her slot, pulling her thin stack of mail out and waiting to flip through it until she stepped into her tiny apartment. She turned the light on and looked around, checking the fire escape and the windows to make sure that nothing had been disturbed while she had been away. She sat down on the single chair in the corner and sighed as she separated the bills from the junk mail. It was the last envelope in the pile, thin and sterile, and she tore it open as she fought to contain her excitement; a thin letter meant a positive response and she knew before reading it that change had finally found her.
*****
The woman walked along the long corridor, willingly escorted by one of the guards as she was taken to the commander's quarters. It was considered an honor to be chosen to provide an evening of companionship for the tough military man. Unfortunately it also meant that her time at her present duty station would be over when morning came because it was a well-known fact that the man didn't keep women around once he'd taken his pleasure from them.
She drew in a deep breath when the guard knocked to signal their arrival and a moment later they were instructed to enter. The guard opened the door and stepped back, motioning for her to go in, and as soon as she was inside the large room he moved back and pulled the door closed behind him. She waited patiently as the commander studied her, his hooded eyes glittering in the darkness that shadowed him. After several moments he motioned for her to follow him and as they entered his bedroom he ordered her to strip and then stood back to watch her.
The commander's appetites were legendary and she shivered in anticipation of a night of carnal pleasure at the man's skilled hands. He was bare from the waist up, the white bandage high up on his shoulder a stark contrast to his bronzed flesh; he had been injured during an earlier battle but the wound wouldn't keep him from seeking satisfaction with one of the many willing females that populated his domain.
*****
She moved through the large airy rooms, her intent gaze scanning everything around her for the slightest mistake. She was looking for a reason to find a problem with something, anything, because she wanted someone to pick a fight with. The vast majority of people who surrounded her would never dare to do such a thing and there were consequences to rising to her baiting tactics, so it was rare to find anyone to verbally spar with.
The servants were being unusually thorough and that only served to annoy her further. She was so sick of being told what to do, tired of dealing with the everyday, mundane details that went into planning a wedding to a man she could barely tolerate on a good day. Her mother and the mother of the man she had been promised to were making her life miserable and she hadn't found a way to make them stop.
She had no intention of marrying the harsh man; she despised everything about him from his boorish attitude to the freedom he had to take lovers at his convenience. The rules dictated that she was to enter the marriage untouched and she rebelled at living her life under such regimented structure, taking lovers in a discreet manner as she sought freedom and a satisfaction she had yet to attain.
One of the servants entered the room where she stood, lost in thought, and spoke up to inquire if she was ready for her afternoon meal. She whirled around to face the woman, seeing that she was already waiting for the verbal flaying that would come at interrupting her thoughts and, since some things were to be expected, she tore into the servant for daring to speak to her without invitation. Even though a servant would never dare to challenge her, she always hoped that she would discover one who would provide her with a worthy opponent, but as expected, the woman simply took the verbal abuse and nodded before walking away.
*****
He rubbed his eyes tiredly as he took a moment to look away from the laceration on his forearm. Dawn was breaking over camp and for the first time in days the arrival of early morning wasn't accompanied by artillery fire and the pain-filled screams of the dying. He sighed as he turned his attention back to his wound, barely wincing as he finished stitching it closed.
He had chosen to leave his home, searching for a way to make a difference somewhere, and he had ended up taking a path he had never even considered an option for him. For almost three years he had been fighting a war that had quickly become his and being a soldier had become second nature to him.
He looked up when one of his lieutenants approached him; the man's face remained expressionless as he waited for his superior to acknowledge him. He motioned for the lieutenant to speak and the man relaxed fractionally before giving his report. He listened to the man's report concerning the soldiers they had taken captive and gave his consent to the request that they be transported to a more secure containment facility.
He weighed the pros and cons, quickly determining the best course of action, before speaking to the lieutenant and ordering him to separate the highest ranking officials from the foot soldiers before transporting them. He wanted those with the most information moved to the high-security facility closer to the main city, knowing that the commander would want to interrogate them personally.
The man snapped off a sharp salute before taking his leave and his superior slowly stood and stretched as he reached for a bandage to cover the wound. With any luck he would be able to enjoy a long soak in a hot bath, a hot meal that actually tasted like food, and a night in his lover's arms.
*****
She leaned over and tickled the baby, enjoying the rare moment to relax and tease happy giggles from the little girl. She spent so little time with the child and that was a shame because she was missing some of the most important moments and she regretted that. The child was the only legacy she had and she was gone so often that many times it took the little girl a day or two to readjust to her being around when she returned after extended absences.
The little girl's chubby features were soft and sweet and she wondered if she looked more like her father or her mother. The child was already beginning to exhibit some of the characteristics of the man raising her, which made him ridiculously proud. She smiled when the little girl took a few unsteady steps before dropping back to sit on her bottom, clapping her hands together happily.
She had never expected to be so enamored with a child, had never expected to feel the bond forming between them, but it was undeniable and strong. Now she couldn't imagine her life without the little girl in it and that only made the fight to get back home even more intense than it had been before.
The sound of footsteps approaching caught her attention and she quickly moved in front of the little girl, instinctively putting herself between the child and potential danger. She relaxed when she recognized the man who stood in the doorway, not coming any closer until she motioned for him to enter. She listened as he rattled off the newest threat, sighing at the knowledge that their enemies were attempting to encroach upon their territory once again.
With a sigh she ordered the man to gather her unit together and as soon as he had gone to do that she called for the child's caregiver. Once the little girl had been turned over to the woman who cared for her in the absence of her parents she went back to her personal quarters to don her uniform and arm herself for the coming battle.
*****
He leaned over the table, studying the map laid out there as his eyes constantly moved between the newest intelligence reports and the locations of the enemy's armies. He was a scholar and a teacher, but he had accepted the position as an advisor to a man that few really knew. He had been looking for a way to change his situation and while the choice to accept the position had meant things would be different, he hadn't expected such a drastic change.
It had taken time, but he had worked his way up through the ranks and he had become the most trusted advisor to the ruler of the country he now resided in. They had forged an unlikely friendship and he was one of the few people who could get away with arguing with the man when they disagreed on how to handle certain situations. His gaze scanned over the indicators as they lit up, signaling the beginning of yet another battle.
He ran his fingers over the flat surface, calling up a new screen to appear on the table before him. Pages of information flew over each other until the one he was looking for settled and he moved to enlarge it. He sighed as some of the lights flickered before completely going dark and his fingers quickly moved to match the biometrics scan to the list. He had become familiar with death in a way that he had never expected to, and it still saddened him to see that the passage of time and history's lessons hadn't taught them a better way to deal with territory disputes.
He pressed a button, looking up when one of the sentry's came inside, standing across from him as he awaited his orders. He informed the man that he was to notify their leader that he was needed immediately and just as quickly he dismissed the sentry. He no longer thought twice about ordering people around; when he had first taken the position he had been hesitant about that part of the job, but over time he had adjusted and now it was second nature.
*****
She had taken the job because she wanted to help people, to heal them, to help restore hope when they returned from battle, broken in both body and spirit. She had been warned of the dangers that existed, but she had naïvely thought that she was prepared to face the risks; that she could handle anything that she was faced with. She had been a fool.
At first it had been difficult, learning to deal with the soldiers as they were carried back to camp in various states of injury, but she had adapted quickly. She wanted to find ways to ease their suffering, to help them begin to recover, even if it was in the smallest ways. She had become a favorite among the men, always ready with a smile and encouragement as she tended to their wounded bodies and souls.
When the field camp she had been assigned to was attacked she had become just another captive in a war that wasn't hers to fight. It hadn't taken long for the leader of the enemy camp to discover that she was a medic and he had separated her from the other prisoners and put her to work in his own field hospital. She had disliked him immediately; he had watched her in a predatory way that made her nervous and her instincts had screamed at her to avoid him at all costs.
She had fought hard when he had sent his guards for her, terrified when they had deposited her in his personal quarters and left her alone with him. He was cold and cruel, taking his pleasure in exerting his power over those weaker than him, and he had enjoyed her defiance at first. He had quickly tired of it though, and his weariness had brought his sadistic nature to the surface; she was no match for someone with his abilities and he had taken pleasure in breaking her. He had enjoyed destroying her confidence and watching the fear enter her eyes when he returned to his quarters each night.
The expectations she'd had when she had accepted the position had been taken destroyed and her dreams of a future with a man who loved her and wanted her had been shattered as the soldier had viciously taken what she would not willingly give him. He was brutal and harsh, cold and calculating, and he had taken pleasure in her struggles, but it wasn't in her to just give in without a fight and so she fought back as long as she could.
*****
He stood on the balcony off of his personal quarters and stared into the distance. Beautiful, rolling hills, lush with a carpet of thick green grass, the fields dotted with a multitude of trees, stretched out as far as he could see, but his dark eyes were only seeing scenes from an earlier battle. At his age he was responsible for the lives of too many people, he had seen too many of them die at the enemy's hands, and he had memorized the names of every single one of them.
He had been arrogant enough to think that he was ready to assume his rightful position, to lead his people, and wipe their enemies out. Most days he struggled to stand upright, to fight against the overwhelming fear that he wasn't the man his people needed him to be. He needed someone who believed in him to tell him that he was making the right decisions, to love him and fight with him, someone who would tell him in no uncertain terms when he was being too arrogant.
He was engaged to a woman he didn't love, required by law to marry her and produce children with her despite the fact that the thought of bedding her gave him no pleasure. He didn't want to spend a lifetime with her and he knew she felt the same way; the truth of it was that they couldn't stand each other, but unless the law was changed a future of misery loomed on his horizon.
The sound of a knock on the doorway behind him drew his attention and he turned to look at the head of his personal guard detail. He knew the man was there to escort him to yet another meeting with the delegates from one of their neighboring territories. Another afternoon spent debating policies and treaties, arguing over territory rights and laws with the knowledge that little if anything would be accomplished. He sighed and nodded, moving to gather his things together before joining his guard where he waited patiently at the door.