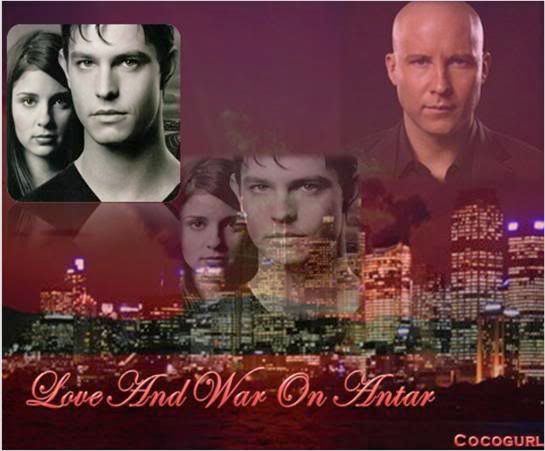 Banner by the very talented hunter. Thanks so much, Hunter!

Title: Love & War on Antar
Author: Cocogurl
Rating: Adult
Pairing: M/L
Disclaimer: I own absolutely nothing. I'm just borrowing the characters for my own pleasure. Please don't sue.

Summary: Inara (Liz) is madly in love with Zan (Max), but he thinks of her as a little sister. What happens when Inara comes back to Antar and Zan suddenly finds himself falling in love with her? And what if it's too late? This is my very first fic, so please be gentle. And I don't have a beta for this story yet. If anyone's interested, please let me know.
********
Character Names:
Zan -- Max
Rath -- Michael
Vilandra -- Isabel
Inara -- Liz
Ava -- Tess
The Five Planets:
Antar
Valeria
Zantar
Solaris
Aquaria
Prologue
After hours of screaming and pushing, the healers finally announced that Queen Amara of Antar had finally given birth to a beautiful, baby boy. Lying back in her bed, Amara held held her arms out as one of the healers handed her baby to her. She stared at her son in complete awe before she looked up and saw her husband, King Garok, rushing over to her.
"Isn't he beautiful?" She asked as Garok made it over to her side. She looked up at his face and could see the love in his eyes as he looked down at his son.
"He's perfect," Garok answered gently. "Now Vilandra will have someone to boss around," he joked.
Amara laughed as she thought about Vilandra bossing her baby brother around. But she knew that if he was anything like his father, Vilandra would have her hands full.
"So, what should we name him?" Garok asked.
Amara looked down at the beautiful baby in her arms and thought about it for a moment. Finally, she looked back at her husband with a bright smile on her face. "Zan," she said happily. "After my father."
Garok smiled and gave his wife a sweet kiss on her forhead before he gently took the baby from her. "That's a wonderful name. Zan. The future king of Antar.
~ * ~ * ~ * ~
Three years later...

Zan - 3 years old
Inara - 1 year old
Rath - 3 years old
Vilandra - 4 years old
Serena - 6 years old
After checking on his daughter, Serena, who was sleeping soundly in her bed, Jarek silently walked into his son, Rath's room and watched him sleep. Jarek loved his children more than anything in the world. Serena was the cutest, little girl with a real passion for life. And Rath was such an adventurous boy. It was hard to keep up with the energetic child.
He'll make a perfect General,
Jarek thought with a smile before stepping out of his son's room, the doors sliding shut behind him. He walked back into the library and took a seat by the fireplace, returning to the book he had been reading.
"It's been a long time, Jarek," came a familiar female voice. A voice he hadn't heard in almost two years. Lara.
His entire body was tense as he stood up from his seat and turned around to face her. He looked into her deep, brown eyes and could remember every single detail of the night they spent together--it was the one and only time he'd ever been unfaithful to Vienna, his sweet and beautiful wife. Suddenly anger began to surge within him as he looked at Lara. How dare she come back after he'd made it very clear that he never wished to see her again? He began to stalk towards her when he notice the little bundle she was holding in her arms.
"What is that?" He asked.
"I thought you'd like to meet your daughter. Inara," Lara said as she closed the distance between them and showed Jarek the little girl in her arms.
Jarek looked at Lara in horror before looking down at the baby in her arms. "You're lying!" He shouted as he turned his back on Lara and placed his hands on the mantel above the fireplace. This couldn't be true. He couldn't have created a bastard child.
"You know that this is your daughter," Lara said firmly. "You felt it when she was born."
Jarek closed his eyes in shame, knowing that she was right. He had felt it when Inara was born, but he tried to ignore it. He didn't want to believe that he had actually created a child with a woman who was not his wife. He knew he sounded like an evil man, turning his back on what he knew to be true. He felt anger and frustration build up inside of him again. Lara was trying to ruin his life, he just knew it. "Are you sure she's mine?" He asked coldly, wanting to hurt her the way she was hurting him right now.
"I'm not a whore!" Lara spat.
Jarek whirled around to face Lara, his angry eyes piercing into hers. "Aren't you?" He shot back.
"Well, you certainly knew what you were doing when we made love in
your
bed, Jarek."
He hung his head down in shame, not saying another word about what happened between them. He knew that she was right. He was just as responsible for what happened that night. When he looked back into her eyes, he could see the regret and shame in them. He felt the exact same way. What had they been thinking when they slept together? It wasn't love, they both knew that. The only two things that brought them together that night was lust and solace. And it resulted in the creation of this little girl.
Jarek walked over to Lara and could see tears starting to form in her eyes. He hated that it was like this between them now. They had once been very good friends. Besides king Garok, she had been his best friend. Then one stupid night destroyed what they had. Not wanting to dwell on it any longer, he gently took Inara and held her in his arms. As he looked down at the little girl, he could feel himself falling in love with her.
"You named her Inara?" He smiled as he looked back at Lara.
Lara smiled back at him. "It's a good, strong name. Isn't she beautiful?"
Jarek could see the sparkle in her eyes as she talked about Inara. He could also see something else in her eyes as she looked at him. Sadness. He wanted to ask what was wrong, but decided against it. Instead, he turned away from her and walked closer to the fireplace so he could get a better look at Inara. "You're right, Lara. She's gorgeous."
When he didn't get an answer, he turned around to see that Lara was no longer there. And he knew that she wouldn't be back. Jarek shook his head in shock and anger. He couldn't believe that Lara would just abandon her own daughter.
I guess I don't know her as well as I thought I did,
he thought bitterly.
But it didn't matter. Not while he held Inara in his arms. He looked down at Inara, sleeping peacefully against his chest, and examined every single feature on his daughter's face. She was absolutely breathtaking. Any other thoughts of Lara were long gone. All he could focuse on was Inara. He silently vowed that he would do everything in his power to be a good father to her. He just prayed that Vienna would be able to forgive him for this. He knew it had taken her a lot to forgive him for his infidelity. When she found out that he had also created Inara in the process, this could possibly destroy her.
But he couldn't abandon Inara. He wouldn't.