Surrender
Author(s):
Double Trouble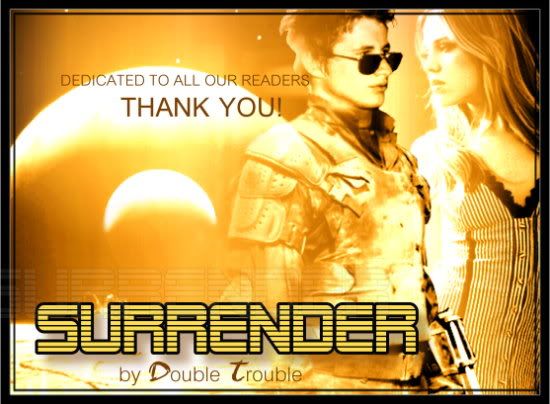 Banner by:
Us
Disclaimer:
All characters and plot lines that appeared in the series or in the books are not ours. The concept of Roswell does not belong to us either. They all belong to Melinda Metz, UPN, yada, yada, yada…
Pairing(s):
M&M
Rating:
Mature
Summary: (AU with Aliens)
Living on Antar can be pretty exciting when you're under the protection of Michael Guerin… it'd be a lot more exciting if he'd just surrender to you though.
Author's note:
This fic was written for all of our readers – You guys rock!
Just as a reminder, the final voting results came in for a fic with the following requirements:
M&M/AU with Alien/Funny/Romantic/Sexy
… so, here's what we came up with…
Part 1 - Capture
The small group of soldiers moved through the forest silently as they made their way to the clearing by the river where they would make camp for the night. There were six people in all, five soldiers and the woman they had taken captive several hours earlier. She talked incessantly and seemed to take pleasure in striking out at the most unexpected moments, making their trek an aggravating and often painful exercise. The man leading them paused a moment and the others stopped when he held his right fist up, demanding silence.
The woman, of course, refused to acknowledge his orders or comply with them. "I hope you know just how worthless your life is," she snarled. "When my – "
"Silence her!" the leader snapped under his breath.
22-year-old Maria DeLuca bit the hand that was about to cover her mouth, taking great pleasure in the man's pained grunt. It only irritated her further when one of the others wrapped something around the lower half of her face and knotted it at the back of her head. She glared at the leader when he turned to face her, his golden eyes flashing dangerously as he cursed in his native language.
She mumbled around the gag, informing him that she knew exactly what he was saying and that she wasn't the least bit afraid of him. She held herself straight, mutinous expression in place as she did her best to make sure he couldn't so much as sense her fear and after several moments he shook his head and backed away from her.
How did she get herself into these situations?
"It would be much easier if we silenced her," the man she had bitten stated. "There would be no permanent damage… she would simply sleep until she is turned over to the Hunter."
Maria swallowed hard. The Hunter was the leader of her stepfather's enemies and a man who would have no qualms about hurting her to make a point.
"Do you know what the penalty is for harming the daughter of the king?" one of the men hissed.
The daughter of the king… a year ago such a statement would have made her laugh. She looked around at her captors as they discussed what the Hunter wanted with her, amazed that she was no longer shocked to find herself surrounded by aliens.
Her mother had met and fallen in love with an alien who had been visiting Earth and she had been positive that the woman had lost her mind when she had introduced the man as a king from another planet. Things had happened so fast after that and before she had known it she had found herself living on a planet called Antar with a stepfather who was an Antarian-human hybrid and also the king.
His kingdom was at war with another part of the planet inhabited by full-blooded Antarians who wanted to extinguish the hybrids because they felt that Antar shouldn't be ruled by a king who was half-human. Not all of them believed that the hybrids were a lesser species and she had gotten to know many of them since her arrival. While her father's kingdom welcomed full-blooded Antarians she knew that his rivals didn't tolerate the hybrids and if caught they were dealt with quickly and harshly.
The hybrids were easy to distinguish from the full-blooded Antarians because through the process of hybridization their skin lost its distinct blue color, their hair didn't grow in white and their eyes weren't golden, instead their hair and eyes took on its color based on the genetics of the human donor. The men surrounding her were full-blooded Antarians and while they hadn't harmed her she knew that their capture of her with the intention of turning her over to the Hunter meant that they weren't from her father's kingdom.
"The king's rescue party has moved on," the leader stated. "We must hurry."
Maria smirked at the flash of concern visible in his golden eyes.
Yeah
, she thought,
you'd better be worried. You're dead when my protector gets his hands on you.
A feeling of calm washed over her at the thought of the man who had been charged with her safe-keeping since shortly after her arrival on the alien planet.
Michael Guerin had not taken on the role of her bodyguard with the slightest ounce of enthusiasm, but he had taken his job as her protector with extreme devotion. He was a hybrid, a man who carried out his duties to king and country without question and their attraction had been immediate. He had fought it, determined to keep his distance, and remain unaffected by her presence but she had made it her personal goal to knock his walls down and make him accept that he couldn't just ignore her.
He was stubborn, irritating, and so sexy it made her heart beat faster just thinking about him. He had dropped his defenses on several memorable occasions and his concern that he was going to lose his edge and effectiveness as her protector had made him take measures that she felt were drastic. She had overheard her father's conversation with the head of his security detail and as soon as she had realized that he was searching for Michael's replacement she had gone looking for him to demand an explanation.
It had taken her several days to track him down and when she had cornered him he had been angry that she was questioning his decision. She didn't believe he was angry at her though; he was angry at himself for falling for her. She was certain that he was hiding behind his anger because he didn't want to admit that he was running from her. He had accused her of taking too many risks, willingly putting herself in danger, and she couldn't exactly deny the truth in his words.
She could just imagine what he would have to say about her latest escapade. She had staged a capture, intending to lead his security team on a merry chase that would end with him making a rescue that would show her father how invaluable and most importantly, irreplaceable, Michael was. But, those plans had gone right down the drain when she had slipped out without her bodyguards and she had been captured by a group of men that she didn't recognize.
She consoled herself with the knowledge that Michael would find her and he would severely punish every single one of them for daring to kidnap her. And when he found out that they intended to turn her over to the Hunter? Oh, it was so over for them! He wasn't a man who took things like that lightly, and the fact that she was the one they had captured… they would regret the day they were hatched.
She stumbled along between the guards as they made their way down the side of a hill and two of them reached out to steady her when she slid on the loose gravel beneath her feet. She jerked her arms free as the ground leveled out and she looked around at the forest that surrounded them. The river, red water choppy and foaming as the waves beat against the shoreline, stretched out in front of them and she knew it wasn't a viable escape route.
The moons were rising and their silvery light washed over the forest, illuminating the thick foliage and reminding her that the woods of Antar weren't safe at night. There were several wild animals that inhabited the forest and while they wouldn't attack full-blooded Antarians they were known to stalk both hybrids and humans. Hybrids had several advantages over humans though; they were super sensitive to sound, they could see in the dark, and even though they weren't full-blooded Antarian they still possessed powers, three things that came in very handy if one was going to brave the woods at night when the predators came out.
With none of those advantages she knew running into the forest was foolhardy and would most likely end up with her being some predator's dinner. That left the beach that stretched out far as she could see to the west, but there was no cover, nowhere to hide when her captors pursued her. She looked out at the water again, wondering if there was any chance that she could survive the violent current if she chose that as her means of escape.
"It would tear you to shreds," the leader warned when he saw where her gaze was. They had been warned that she would do her best to escape and that she wasn't afraid to risk her own life. She was a fighter, a survivor, and he could respect that, but he had a job to do and turning her over with the slightest injury would likely mean severe punishment for him. He reached up to remove the gag and he motioned to the fire his men were building as they set up camp for the night. "We will eat shortly."
"What? You're not gonna tie me up or anything?" she demanded.
"Why?" His tone was amused as he gestured at their surroundings. "Escape is possible but not advisable in these conditions. The river, the forest, the beach… your options are limited and while you're welcome to try, escape would only lead to another capture or death."
"You do realize who I am, don't you?"
"Why else would we have captured you?"
"My protector will come after me… matter of fact, I'm sure he's already looking for me." She smirked. "You have no idea what you've unleashed by taking me captive."
Kanan smiled and his golden eyes flashed with humor. "Ah, of course, you speak of the hybrid Guerin, correct?"
She glared at him, her green eyes icy daggers. "You won't be smiling when he gets finished with you."
"Have you forgotten that as a hybrid he is prone to the same dangers of the forest at night? Even he will not be able to navigate the river at this location. His only choice would be to approach us from the beach… and as I'm sure you've noticed there is no cover, which would leave him open to attack. We're safe here for the night and only a fool would attempt an escape knowing what awaits her outside the safety of this camp." He turned and glanced at the fire that was now burning brightly. "We will eat within the hour."
Maria snorted. "You might eat within the hour… I intend to be on my way home within the hour."
Kanan shrugged. "Run, your highness. My men could use the exercise."
His smug tone infuriated Maria and her right hand clenched into a tight fist that she put all of her weight behind as she suddenly turned and punched him. The fact that he barely moved at the impact only angered her more and she moved several feet away to stare at the river as she weighed her options once again.
The leader chuckled under his breath as he turned and walked back to the fire. For just a moment he lifted his head and peered out into the darkness as if searching for something and then he settled in the sand near the fire to clean his weapon.
On a nearby ridge Michael Guerin watched as Maria paced beside the river and he could practically see the wheels turning in her head as she considered her options. Her options were limited to two that were extremely risky and a third that would only lead to her being captured again within minutes of her escape. Oh, he knew she'd make her captors regret chasing her down, but it would only anger her if she attempted to escape only to be caught again.
She knew the beach wasn't going to provide her with an escape and that's why she was staring at the river as she paced restlessly. She would risk it, she would attempt to survive the rapids that had killed too many to count because she knew entering the forest at night would mean certain death. The nocturnal dwellers became agitated by the scent of humans and she had no way of defending herself against them so she would choose the option that she thought would have the best potential for escape.
He had learned of her plan to stage a capture by her father's 'enemies' before she had fully put it into motion and on the eve of her 'capture' he had spoken with several of his most trusted men and they had stepped in to replace her little group of would-be kidnappers. He smiled to himself when she moved back several feet to study the water. She hated the water on Antar because of its color and since he had never seen water of a different color he didn't really understand it, but for now it was making her hesitate. He snorted. The rapids could shatter bones and it was the color of the water that was making her take pause.
Crazy girl
, he thought fondly.
He straightened up from his crouched position and rolled his shoulders back as he prepared to make his 'rescue'. He knew she would expect nothing less from him and the truth was as much as he prided himself on being a soldier, on being emotionless and a stonewall that no one could scale, she had breached his defenses and he had fallen for her.
He had fought his attraction to her, but she had managed to find his heart and flip some hidden switch on the stupid thing and now he couldn't get her out of his head. It was what had prompted his decision to approach the king and request an assignment that would provide more challenge and put some distance between him and Maria.
Not that anything could possibly provide more of a challenge than Maria
. Of course he had been careful not to mention the situation between himself and the man's stepdaughter because he hadn't been looking to be on the receiving end of the king's wrath. He was a soldier, a commoner, not a man who would ever be suitable for the daughter of a king. He had long ago accepted his station in life and he had never had any bitter feelings about it… until now.
He sighed as he watched Maria, knowing that she had staged her little plan in order to keep him there and to prove to her father that no one could protect her the way he could. The thing was, he wasn't leaving because the king felt that he could no longer protect his daughter, he was leaving because he couldn't continue to guard her and remain distant and closed off. He was going to reveal his true feelings for her one of these days and then he would be forcibly removed from his position… if he didn't screw up first because he was distracted. He wouldn't be able to live with himself if she ever got hurt on his watch and the fact that she had been able to make him give in on several occasions gave testimony to his weakness where she was concerned.
He checked his weapon once more before turning to follow the path back down the ridge and into the small valley that separated him from the others. He had intended for her capture by an unknown group of soldiers to strike fear in her and to make her see how foolish her actions were, but as usual, the only predictability to Maria's actions was her sheer unpredictability, and instead of being scared at the prospect of being turned over to the king's worst enemy she was pissed off and expecting him to come in and save her.
Michael gripped his weapon firmly as he skirted along the edge of the treeline that bordered the beach, knowing that Kanan would know he was coming. He and his men would put up a 'fight' that would end with his escape with their captive and he and Maria would spend the next couple of days evading their pursuers before they arrived back at home where he would turn her over to her parents and he would accept whatever position the king had arranged for him.
He forced his expression into a fierce mask as his thumb switched the setting on his weapon from lethal to merely immobilizing and he hoped the soldiers around the campfire had remembered to do the same on the off chance that one of them missed and actually hit him. The men were under strict orders to ensure Maria's safety, so if someone was hit with a blast from their weapons, it would be him. He had been on the receiving end of such blasts before and it was anything but pleasant.
He took aim at one of the soldiers standing furthest from the fire and pulled the trigger, wincing at the pained yelp the man gave as he fell to the ground. He shouted for Maria to run to him even as he was running towards her and he took out another of the soldiers as Kanan chased after Maria.
Michael waited until Kanan was inches from Maria and he saw the pure trust in her eyes as her gaze never wavered from him. He took aim on his old friend and at Kanan's slight nod he pulled the trigger and watched as the man was thrown backwards from the impact of the blast.
"Run!" Michael shouted when Maria reached him, following after her as soon as the last soldier standing fell to the ground. He motioned to the path he had taken, the foliage bent and broken as it lay on the forest floor where he had trampled it on his way down. "Go!" He gave her a rough push as a blast shot past him and hit the sand, sending thousands of the tiny grains into the air around them.
He grinned to himself as they dodged several more blasts before being cocooned in the darkness of the forest.