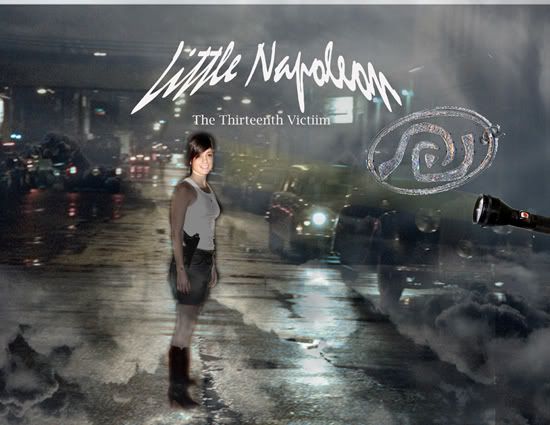 Title: Little Napoleon The Thirteenth Victim
This is the second part of Little Napoleon. You should read the first part to understand all the references in this one.
Little Napoleon, part one
Author: ken_r AKA Kenneth Renouard
Disclaimer: Once again I am using the characters belonging to someone else to tell a story. The city, Metropolis is completely made up. I mixed the landscape around Albuquerque with rolling hills like you might see in the Ozarks. The West Mesa Murders are real and the Police Department of Albuquerque NM is working hard to solve them. There is nothing in my story that is like the real case. Liz found another set of remains that are in the same general location as the real ones, but they are completely separate and slightly alien.
Rating: Mature
Couples: CC
Summary: Another story of Little Napoleon and her squad of strange cases. Liz has to solidify her relationship with the king. The king has to better bring the different groups of aliens together. I don't think this story stands alone very well. I highly recoment you read
Little Napoleon, part one
.
The Thirteenth Victim
Counselor Raymond Donald Richards had lost his son. His wife had died when Donnie was nine. Ray had found a second love, but Donnie never had another mother. It wasn't that Kathy didn't try with Donnie. Donnie never could accept her. Kathy tried with Ray and she succeeded in filling that emptiness that his wife had left. Ray now found happiness for himself. For Donnie, he tried to give him everything he wanted.
As Donnie grew into an adult, selfish and spoiled, Ray began to wonder if he had been on the right track. Donnie got a fixation on the police department. Deep down, Counselor Richards wondered at this. Richards believed as did many, that the police required a dedication and a selfless desire to serve. Ray was sure Donnie had been impressed by the uniform and the power, he perceived in the police. Deep down, Ray knew that this wasn't right. Those impressed with power got into trouble sooner or later with the department. The department might embrace the skills of individuals, but those individuals all were part of a greater team. Anyone seeking celebrity could cause others to be put in danger. The grandstanding of Donnie, with that first hostage, could have easily caused the hostage to get killed and several other officers to be hurt besides.
Yes, Ray wasn't totally clueless. Like any politician, he could be blinded by fame. Donnie, his son, was now a decorated officer. Donnie complained that he was still treated like a rookie. His action with Fred German, while observing Nicholas, showed that Donnie was not yet ready to accept that, maybe, he didn't always have all the information available or all the answers. He had been commanded to watch, not attempt to arrest. Donnie thought there was nothing different here, than had been with his first hostage situation. He was wrong. He knew nothing about aliens and by the result of his action, he was not able to learn anything more, ever. All Ray could do was strike out against the police department, especially that woman, who didn't have that many friends in the department anyway.
Don't try to say that all towns have one. There was no one else like Simon Ortiz. No one knew how old Simon actually was. No one knew what his title actually was. There were a few who knew what Simon could do. Simon had an office in a dark corner of the top floor of the police building. He might even have similar offices in other cities. No one knew how far his power reached. It would be later that the department would learn that there were several, dark, mysterious organizations, much like the restaurant Max had taken Liz to, that answered to no public nor government.
Councilor Richards had heard that Simon was the man to get something done. No one knew how; they didn't have the foggiest of an idea where his special grease came from. He wasn't a cop or an ex-cop. As far as anyone could tell, he didn't have some high placed rabbi to take care of him. He just was!
A few weeks into training and Donnie was in trouble. He had allowed an accidental discharge of his weapon on the practice range. No one was hurt, but the bullet had barely missed one of the training sergeants. This was a serious breach in discipline, even this early in training. This was the first time Ray faced Simon, but not the last.
Knowing that Donnie didn't follow instructions very well, the sergeant held little hope for his improvement. For reasons unknown, Donny only faced in house discipline. Demands for leniency came from somewhere above.
Clean all the weapons in the armory under the watchful eye of a sergeant. Make no mistakes where the weapons were pointed. Make no mistakes in the assembly of each weapon. Donnie was given a weapons manual and told to get at it. Donnie cried to his father, but thankfully Ray held fast. Donnie wouldn't accept how close he had been to being removed from the class. Little Napoleon had been removed at the start of her rookie class, but that was because she didn't appear big and strong enough. Little Napoleon proved them all wrong. The sergeants still were worried about Donnie. He didn't listen very well. Unfortunately, he didn't seem to be proving anyone wrong.
----------
Douglas Shellow was FBI. He had a background in anthropology, accounting and a few classes in law school. In the academy, he was said to be dedicated, capable and cold. That last label was what worried some of the instructors. He came out of the academy in the top ten percent. He was good. As rookie, those he was partnered with wrote him as very good at following instruction and when the plan fell apart, he was very good at improvising. They all voiced, in their own carefully coached comments, that he did not have deep emotions, dedication, yes, that difficult to describe human feeling, no. Some commented that Douglas was especially good at interrogating women. That comment was looked at as a plus and no one was inclined to follow it any deeper. If he had appeared before a shrink it would not have been found that he hated women. It would take a lot more probing for them to ever discover that Douglas just didn't care about women or anyone else, as far as anyone would be able to tell. Many of the secretaries and some of the female agents could have testified that it wasn't a matter of orientation. Douglas looked at the women he was with, as tools. He used them and then, walked away. That was okay, because he didn't have any close emotions with anybody. Some might try to say he was a lot like Kyle. No one knew what Dong's issues were with women. Kyle's issues were mistrust because of his mother leaving. Kyle had deep emotions. Witness how he defended his men, even if they were wrong and then, to undertake their harsh discipline, personally. When Kyle learned to trust Tess, he became a new man. To date, Doug didn't have any thing to change him.
Sitting before his superior, agent Shellow heard, "Doug, we have a report given by one of our older agents about an anomaly rising in the southwest. Agent Stevens, was exiled to New Mexico many years ago. At that time, he was believed to have a fixation on UFOs and aliens. He had been supported by agent Pierce. Pierce became rogue while working in this area. He seemed to contaminate all who worked with him. Pierce disappeared in the 90s. No one knows what happened to him. Time and politics let Agent Stevens be reinstated back in Washington. Recently, Stevens came across an old acquaintance from Roswell New Mexico, Jim Valenti. When Pierce was in Roswell, Valenti was mixed up to his neck with aliens. Pierce has disappeared, probably dead by now. Stevens has run across a story about Valenti who is now on the Metropolis Police Commissioner Board. When Stevens ran across him this time, Valenti was a deputy chief of the largest city in New Mexico's police department. Stevens doesn't want anything to do with Valenti or aliens ever again. He did make a report. There is a woman who was involved in several murders, which could have alien involvement. The director wants you to go down and sweet-talk her. Find out what you can and bring a report. She ain't that bad looking and from what I can tell she is all cop. Charm her, boy. Let us see what you can do." Doug's boss had said.
----------
Max, Michael and the two Valenti's made it clear, they wanted nothing to do with the Feds. Lieutenant Whitman met both shifts of detectives and warned them about his distrust of the Feds. To Liz, this smacked much of what she had always fought. The department had always discriminated against her as a woman and they were doing the same to this person sent by, what after all, was just another law enforcement agency. Unless they could prove civil rights violations, the feds had no interest in murder. Now, if this was a serial killer and there were incidents in other states, that might be another story. Liz felt that they should, at least, give the man a chance. Liz found herself alone in this. Maria, probably with the influence of Michael, had put her self on guard, against this intruder. When Counselor Richards heard about the fed, he thought, "How can I turn this against that woman and get revenge for Donnie?"
When Liz first met Agent Shellow, she saw his good looks, his suits coming only a close second to those of Max's and his apparent sunny disposition. Liz was impressed. He reminded her a lot of Max, Max, without all-of-the-king-stuff. Doug read all the official reports. These were the ones, Liz had written without any of the alien things. Only Big Jim had a copy in a vault that was exactly what Little Napoleon had done with her squad of aliens. Actually, the aliens had been led by the then, Lieutenant Whitman and Captain Kyle Valenti.
After Max and Michael had returned to their former work for Alex, Liz had removed their two desks from her cramped office. Now, only she and Maria had desks there. Liz noticed that Maria made herself scarce, while Agent Shellow was there, so Liz allowed Doug to take over Maria's desk.
---------
Maria was sitting on Max's desk. Alex and Michael were standing nearby. "She is supposed to be your fiancée. Can't you do anything about that!" Maria exclaimed.
Max shook his head, "The fiancée thing is only on my part. She has the sign of the queen, but she has to accept it without coercion," Max stated.
Maria was still out-spoken. "Coercion, my ass! She is blabbing everything to that fed and we aren't ever going to get them out of our hair," Maria returned.
Max continued to shake his head. "Maria, Liz was chosen. She was chosen by a careful selection. Remember, I had nothing to do with it. The choice was made that Liz would be queen because she would do what was best for both alien and humans," Max replied.
It was seen that Michael said nothing, but it was Alex who was frowning. "Max, perhaps we need to know more about how Liz was chosen," he said.
This was inevitable. Max had put off talking about the selection of Liz because he didn't understand or know enough about it. That excuse wasn't going to work any longer. "Agent Shallow is probably going to ask Liz out to dinner tonight. Lets meet back here along with Tess and Kyle Valenti as well as Isabel. Maybe, we four can make sense out of this. It affects all of you. There is a lot more going on than just the selection of the queen," Max explained.
----------
Doug put down the copy of Liz's report. "This is a very well done report, but it doesn't tell me enough. I need to know more about those mentioned. What about the civilians Valenti saw fit to deputize? What was the relationship between Detective Guerin and Sergeant DeLuca? What was your relationship with Detective Evans? I need to know these things to make the report clear. My boss wants to know if we can expect to have another occurrence of this type of murder. I need to be clear in my mind about how all of this went down," Agent Shellow explained.
Liz started to reply, but Doug raised his hand. "Enough of the formal talk. How about supper and we talk over a quiet meal?" Doug asked. Then, he continued with a twinkle in his eye, "I also want to know how you got the moniker of Little Napoleon."
Liz laughed. That was good. She hadn't laughed like that in a long time. She had probably never laughed about her nickname before. "Okay, Agent Shellow, pick me up at eight tonight," she said as she handed him a card with her address and phone numbers on it.
---------
The desk sergeant nodded as he saw Captain Valenti, the lieutenant, two detectives and several civilians take the elevator to the third floor. It was rumored that the captain was scheduled for promotion soon. Also, it had been said that Big Jim was going to play hardball with the police commission. The old sergeant chuckled; now they would see if Kyle's papa, Big Jim, had enough grease to get past Councilor Richards. Richards came down on every thing the police did, now days. You have to feel for a father's loss, but that little bastard, Donnie, was a problem and the police department more than gave him a chance.
No one else was on the third floor so, they all trooped into the lounge to see what Max had to say. "First of all, I need to address the humans in our company," Max started. "Each of you has paired up with an alien. Are you happy far beyond your dreams?" he asked.
Max noticed that Kyle, Alex and Maria all looked at each other as they nodded in agreement. "I think that you all have heard from your lovers about us being cloned and sent ahead to prepare a place for alien refugees here on Earth. You, also, have figured out that many things went wrong." Max took a deep breath because some of what he was saying was conjecture that he and Isabel had put together. "We were supposed to all be adults when the first ships arrived. We were supposed to be raised and educated to help the aliens join your Earth society or as some have said 'to foment revolution to take over Earth.' First, the crash caused our maturing from the pods to be delayed for some twenty years. Then the crash threw three very young children into your society without any supervision or guidance. The queen mother, miscalculated the rise of the despot. She never believed in the relocation of loyal Antarians, anyway. When we did become of age, the refugees had already found their way peacefully into their new world. They didn't need us. They have though, accepted us as peaceful representatives between our two cultures. For most of the alien community, revolution was not their answer, witness those who helped us against, Nicholas." Max looked around, everyone was listening, but they seemed bored with what he said so far. This had become common knowledge to those in this group. "There was something else in the ship containing the three incubation pods." Max turned to Tess. "This addition might have been why the queen mother removed your pod. Maybe, she wasn't discriminating against you. Maybe, she did intend to send you later. Maybe, it wasn't even she who removed you. Max now addressed the whole group. "The granolith has power far greater than any of them realized. The granolith is a machine of unknown origin. For years, it governed the royals of Antar. It was after the last king became old, that his queen refuted its advice. She had not been raised in the courts of Antarian royalty." Max was sorry that he hadn't had this discussion when Liz was present. She would have had interesting questions about the origin of the machine. She might have asked questions that none of them had even thought of and of which they had no knowledge of, questions that needed to be researched. Max was sure that Liz would have pounced on what he said next.
"The machine is an artificial intelligence far beyond anything on Antar or Earth. We call it a machine because it appears to be made of metal. We have no idea of what it really is. It was believed in writings, that Isabel and I finally discovered in the pod chamber, that the machine would sample time futures and choose the best line. For years, those who governed Antar followed it. The worlds prospered. When the royals, led by the queen mother, turned from its advice, the despot rose up. The machine didn't want to land in the hands of the despot. So it caused itself to be sent with us. It nurtured us and protected us until it deemed time to bring us forth. Does this sound like I believe the machine can think? At a level it does. It makes choices based on something we don't understand. For reasons of its own, it paired us with each of you. You were gently moved to favorable acceptances of relationships with aliens. I hope you are not disappointed." Max sat down.