Winner Round 12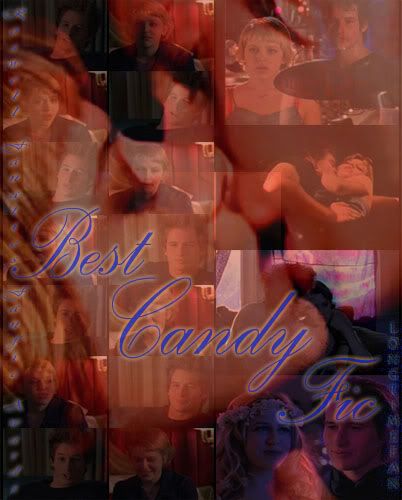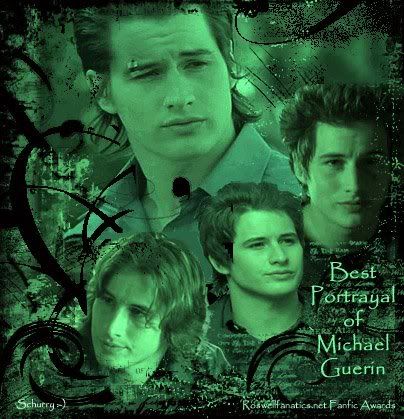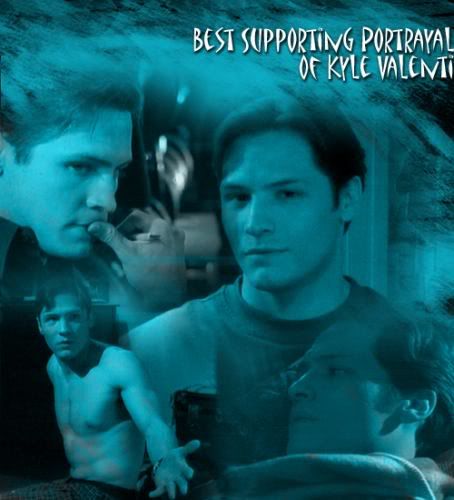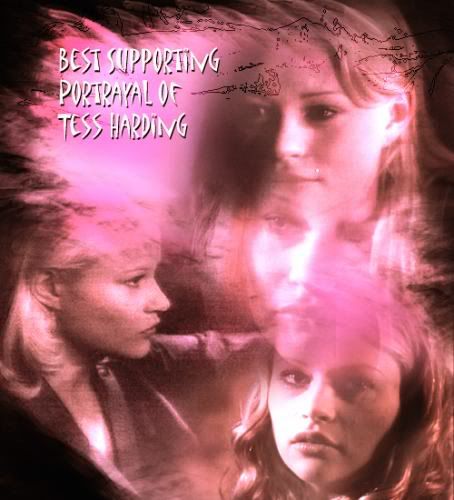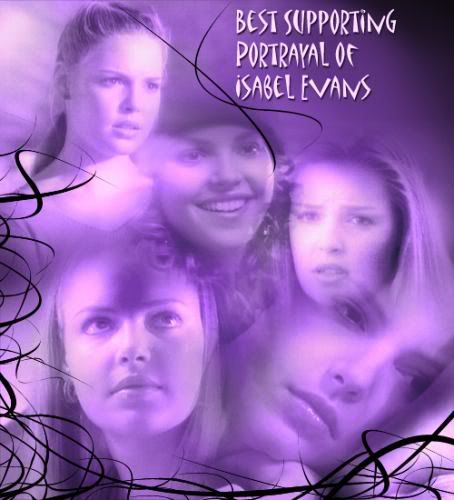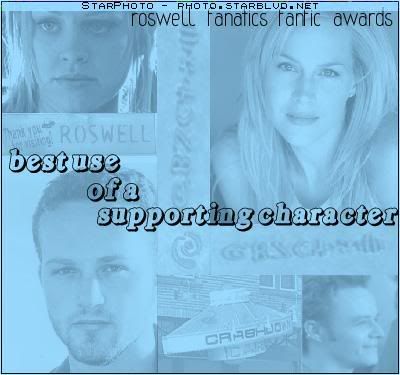 (for Amy DeLuca)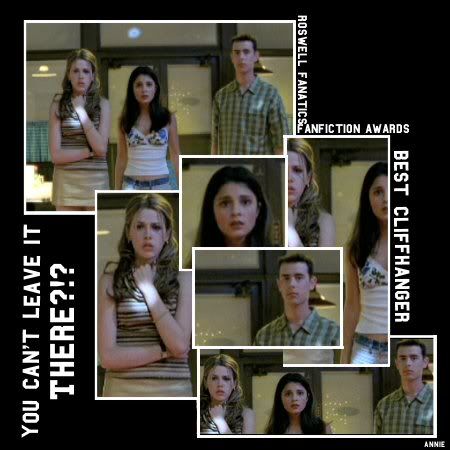 Cover Banner Made By: singerchic4
Round 12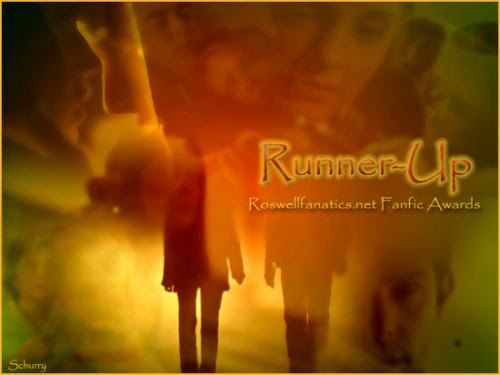 for Best Supporting Portrayal of Liz Parker
Best Supporting Portrayal of Max Evans
Favorite Alternate Portrayal of a Canon Character (Tess)
Favorite Unconventional/Unique Friendship (Michael/Alex)
Most Talked About Fic
Most Memorable Scene (Michael and Maria make out on the kitchen counter)
Most Dependable Updater
Title: Passion

Author: April

Disclaimer: The story is mine; the characters are not, as usual. Bummer.

Summary: At the University of Santa Fe in New Mexico, things can get pretty wild . . .

Promos: You can view two of the "promos" I made for the fic on Youtube!
http://www.youtube.com/watch?v=yreTSXpbpgw
and
http://www.youtube.com/watch?v=-qW2BI8Tzt8&feature=user
Category: Michael and Maria AU, with some definite UC pairings thrown in there

Rating: Very Adult

Warnings: Some UC elements, overt sexuality/language

Author's Notes: I cannot state enough that this fic is totally NOT some epic romance. It's college. Crazy, complicated stuff happens in college. Sometimes its a little explicit, sometimes a little over-the-top, probably very often frustrating. But if you read it, hopefully you'll like it. It's going to be another long one, folks, but I promise that updates will be frequent.

Feedback is totally appreciated. I thrive on it.

One more note . . . it's AU, so I figure it's okay for the characters to be a little--or in this fic's case--a lot different than they were on the show. Bear with them. They're not perfect by any means, but who is these days?

God, enough rambling from me. On with the fic! Sorry if it's not a very intriguing start. Stick with it. I promise sexiness.

~*~*~*~*~*~*~
My name is Maria DeLuca, and I just graduated from the University of Santa Fe. If you know me, congratulations. If you don't, you're one of few. You see, my friends and I are practically the most popular people ever, and even that's an understatement. I don't want to sound like I'm bragging, but we're pretty much campus legends. Their names are Kyle, Max, and Michael, and even though they're idiots, I've lived with them for four years. They've been my best friends twice that long. And nothing's ever changed that simplicity . . . until this year.

I thought I knew who I was; I thought I knew what I wanted. But I was completely wrong.

The irony is, I spent most of my college career
not
paying attention in class,
not
studying for tests, and I ended up learning something huge, something that completely changed my life. So what is this mysterious life lesson, you might ask? Well, it sounds kind of weird when I say it out loud, but . . . I learned that it's one thing to have sex. It's quite another to have passion.
~*~*~*~*~*~*~
Michael Guerin turned on his hand-held video camera and pressed the record button. He made his way through the living room and kitchen and crept slowly down the hallway, anxiously anticipating the footage in store.
He stopped in front of the bathroom door and listened to the sounds of running water coming from the shower. Chuckling, he turned the camera on himself. "You hear that? Someone's in the shower," he said in a sing-song voice. He waited a moment for an indicator as to who that someone might be, and it wasn't long before he got it.
"I'm shaking at your touch! I like you way too much!" an unmistakable voice sang out over the sound of the running water. "My baby, I'm afraid I'm falling for you."
"Better," he said to the camera. "
Maria's
in the shower. That's good stuff." He turned the video camera back and around and filmed himself placing his hand on the doorknob and quietly easing the door open. Steam poured out from inside and fogged up his lens for a moment, but he wiped it off quickly and kept going.
"I'd do 'bout anything to get the hell out alive!" Maria kept singing. "Or maybe I would rather settle down! Down! With you! You!"
He shook his head, amazed that her taste in music just kept getting worse, and stepped forward slowly, quiet as a mouse.
"Down! Down! With you! You!"
And when he was close enough, he reached out and took hold of the shower curtain . . .
"I'm shaking at your touch!"
. . . and when the moment was right . . .
"I like you way too much!"
. . . he yanked the curtain back.
"My--you
fucking
asshole!" she shouted, throwing her arms in the air, knocking his video camera out of his hands and onto the floor.
"Language," he cautioned, always amused by her reaction.
She violently pulled the curtain back into place and demanded in a shrill voice, "What are you doing, perv?"
"Oh, you know, the usual," he replied, bending down to pick up his camera.
"Haven't you ever heard of a little thing called
privacy
?"
"No."
"Oh, my God, you're
such
a guy," was her response.
He sat down on the toilet seat and examined his camera because, as always, its well-being was his first priority. A video camera was an aspiring director's best friend.
"Are you still here?" she shrieked.
"Yeah, I'm not leaving 'til I find out if you broke my camera."
"Oh, shut up, I didn't break it."
"Bet you did." He pressed the power button, and it turned right back on again, worked perfectly. But of course he had to give her heck about it. "Oh, yeah. Yeah, you did."
"I did not!"
"Yeah, you did. It won't even turn on," he lied as he rewound through the footage he just filmed. "Can't do anything with it now."
"Oh, yeah right!"
"Nope. It's done. Seven-hundred dollar video camera, right there." He reached into his back pocket and took out a wrinkled piece of scrap paper and a pen that barely worked. "I'll just make a little . . . thing here. IOU." He wrote down the letters big on the paper. "Nice letters, huh?"
"Can you just leave?"
"No, I gotta put . . ." He wrote down the amount below the letters. "Seven-hundred dollars. There we go." He started doodling then, just to egg her on even more. "A smiley face. That's cute."
"Michael, I swear to God!"
"Alright, I'm done," he said, reluctantly rising to his feet. He stuck his pen back into his pocket and started for the bathroom door. "So, I'll just—I'll put this on your bed, where you'll see it, okay?"
"Whatever."
"Seven-hundred bucks. I know you're good for it. We'll, uh, we'll set up a payment plan later, alright?"
"Screw you!"
He chuckled. "Alright." He left the bathroom and shut the door, smiling. He never got tired of doing that. That had to be the fifth time he'd bombarded Maria in the shower that month, and the month wasn't even halfway over. But the best part? She never expected it, even though she should.
He walked back out into the living room, a grin he couldn't hide plastered on his face. His other roommates and friends, Max Evans and Kyle Valenti, were in the kitchen, and they seemed to know exactly what his grin meant right away.
"Man," Kyle said knowingly. "You filmed Maria showering again, didn't you?"
Of course he had. "Ah, she likes it."
~*~*~*~*~*~*~
Maria wrapped a towel around herself and exited the bathroom cautiously. Sometimes Michael was waiting for her, waiting to seize her towel and leave her wandering naked around the house. He was such a freak like that.
She looked both ways like a child crossing the street and, once she was certain the coast was clear, she sprinted down to the end of the hallway, to her bedroom. The first thing she saw was Michael's stupid IOU note lying on her bed. Grunting, she crumpled up the note, tried to toss it into her trash can, and missed. Whatever.
She went over to her dresser, then, and examined her appearance in the mirror. Hair: soaked but sexy. Body: still in shape. Face: designed to make men crazy. She loved how hot she was.
She glanced down at her cell phone next and saw that she had one new text message. She knew already before even checking it who it was from. Greg, the clingy guy she'd made the mistake of sleeping with a few weeks back. He wouldn't leave her alone. She was about to tell him she had cancer and was going to die so he'd stop bugging her, but that would probably only make him pay more attention. She could definitely picture him coming over with flowers and a homemade chemotherapy kit.
She sighed and quickly texted him back.
fucking myself right now, thinking of u
. That was what she told all the guys she never wanted to see again. Eventually, they gave up hope of ever
really
getting together with her again.
She set her cell phone down and had just started running a comb through her wet hair when it chimed. Another new text message. Again from Greg.
plans 2nite?
it asked.
She groaned. Could this guy not take a hint? Texting was all they had done for two weeks. When a girl didn't bother to see you in person or at least talk to you on the phone for two weeks, she clearly wasn't interested.
sorry sick
she texted back. Really, she had every intention of hitting a club with Michael, Max, and Kyle that night and going home with a new boy-toy, but she couldn't tell Greg that. He was too fragile.
"Texting lies again?"
She set her phone down when she heard Michael's grating voice. She looked over and saw him standing in her doorway. Just the way he stood . . . oh, he was so self-assured. It really annoyed her.
"Why do you always come into my room without knocking?" she asked. "Wanna catch a glimpse of the goods?"
"
Another
glimpse," he corrected. "Why do you always leave your door open? Want me to see?"
She laughed out loud, amused by the completely irrational thought. "In your dreams."
"Well, I'm just saying . . ."
"You know what, Michael? Say it somewhere else. 'Cause this is not working."
"What's not working?" he asked.
"You, having you here. You're, like, contaminating my room."
"Oh, really, I'm
contaminating
your room?"
"Well, yeah, you're gross."
"
I'm
gross?"
"I don't remember ordering an echo."
He walked further into the room and pointed to the crumpled up piece of paper she tossed onto the floor. "What, is that my IOU? That's a formal document, Maria."
"I didn't break your stupid camera!"
"It's not stupid! That thing's my life!"
She laughed just a little, then let it turn into a smirk. "Sorry," she said. "It's sad because it's true."
"Well, at least I have some direction, unlike somebody. Let's just call her Smaria."
"Oh, yeah, you have direction," she agreed, quickly adding, "to the nearest slut."
"Huh, must be why I come to your room."
She made a face of outrage and picked up the first thing she could find, her cell phone, and stupidly threw it at him. He jumped out of the way, and it crashed onto the floor. The screen cracked.
"Crap," she cursed.
"Butterfingers," he teased. "You gotta watch out for that."
"You know what?
You
better watch out for
me
!" she warned.
"For you?"
"Yeah!"
"Why?"
"I'm gonna kill you!"
He gave her a thumbs up as he walked out the door. "Can't wait."
She clenched her jaw and shook her head once he was gone. How she hadn't killed him already was a mystery. Michael Guerin drove her absolutely crazy.
~*~*~*~*~*~*~
One of the nicest things about living in Santa Fe was the nightlife. It wasn't a city like Los Angeles or New York by any means, but it was big enough to have clubs and other fun things to do. Michael, Maria, Max, and Kyle always took full advantage of it. Although The Lightning Strike, one of many clubs in the area, wasn't Michael's favorite place to go in terms of alcohol, it was a good place to pick up chicks; and in the scheme of things, chicks were much more important than anything else.
He stalked through the bar that night like a predator searching for his prey. He wasn't
really
a predator, just a hormonal guy looking for a girl to satisfy him.
Meeting girls was never hard. Convincing them to spend the night with him was even easier. He couldn't explain it; he'd just always had a way with women. Women of all ages. All types of women. Maybe it was his good looks. Or his subtle charm. Or one of his many other irresistible qualities.
So he was a little self-righteous. Any guy who'd slept with as many girls as he had would be.
Oh, the redhead at the bar.
She caught his eye right away. Although he usually went for blondes, she was just hot as anyone else he'd slept with during the past month. And she looked easy. She was wearing a denim mini-skirt, so she couldn't be too prude; and even if she was, he'd have her panting his name in an hour or so. It was inevitable.
He bypassed a couple of other girls who were making eyes at him and sat down on a bar stool next to the redhead, preparing to work his magic. "Can I buy you a drink?" he started out.
She looked him over a moment, then smiled shyly. "I'm not old enough."
"That's why
I'm
offering to buy."
Her smile grew in size, and she blushed a little. Oh, this was going to be even easier than he thought. "Sure," she said. "Why not?"
~*~*~*~*~*~*~
Maria found a strategic place to stand in the club that night, right by the performance stage and under the spotlight. It was a place where everyone could and would see her, and that was exactly what she wanted. No way was she going to walk around and pursue men. Men pursued
her
. That was the way it worked.
She'd had a few offers, guys who had come up to her and offered to buy her a drink. But please. Was she stupid or something? Every girl with half a brain knew that 'Can I buy you a drink?' was code for 'Can I fuck your brains out?' She didn't want that. She didn't want to get fucked.
She wanted to do the fucking.
She was starting to get a little impatient and panicked for a moment, fearing that she'd lost her mesmerizing mojo somehow. But just as she was about to leave her spot by the stage and start pursuing, a well-muscled Hispanic guy came up to her. He looked cocky, arrogant. Totally not her type, but he was good-looking enough to get away from it.
"Now why you standing here alone, lookin' all fine and shit?" he asked right out.
"Oh, just waiting for a hot guy to come and sweep me off my feet," she replied. "Too bad he hasn't showed."
And just as she'd expected, he took that as a challenge. "Oh, I can sweep," he promised. "Swept up four girls just this week."
"Only four?" she teased.
"
Only
?"
She laughed a little, quitting before she scared him off. "Can you dance?" she asked him.
"Hell yeah, baby," he answered confidently. "Can you?"
She grabbed him by his shirt and pulled him out onto the dance floor with her. "You bet your ass I can."
~*~*~*~*~*~*~
Five minutes into the conversation and Rachel---or was it Rachelle?---was already done with her first beer. Michael ordered her another, happy that she appeared to be a lightweight. At this rate, he'd have her home and in bed before 10:00. That would leave him time to head back out and find another girl tonight, too.
A double-header. Awesome.
"You're a s-senior, huh?" she said, already starting to slur. "That's
s-so
cool! I wish I was a senior."
He could already tell she was a sophomore just by looking at her, but he played his usual win-over tactics. "You're not?"
"No. I'm . . . another one."
"Junior?"
"Nope. Sophomore."
"Really?" Duh. "You don't look like a sophomore."
"Well, what do sophomores look like?"
He shrugged. "Oh, you know, immature, a little overweight 'cause they spent all of freshman year drinkin'."
She laughed. "Well, I'm glad I don't look like that. I'd hate to look like an immature fat girl."
"Yeah," he agreed, "I'd hate to look like an immature fat girl, too."
She laughed loudly, then grabbed her next beer and started chugging for no apparent reason. Oh yeah. This girl was putty in his hands. Just the way he liked it.
~*~*~*~*~*~*~
As it turned out, Maria's Hispanic hottie couldn't dance at all. She considered ditching him for a moment but decided against it when she brushed up against the bulge in his pants. Impressive.
She pulled out all of her usual moves, the kind that sent guys running into the nearest bathroom to jerk off. Guys were so easy. A little hip shaking and hair flipping and they were ga-ga. Add in a little bumping and grinding and they were like dogs, horny and drooling. Lucky for them, she actually liked horny and drooling most of the time.
She pressed her ass back into his groin, giving him a feel for what the night might—correction
would
—have in store for them if—correction
when
—she got her way. Sex of the wildest variety, numerous times, various positions. He couldn't dance, but hopefully he could fuck. If not, she'd steer him around the curves.
"Damn, bitch," he breathed into her ear. "You
can
dance."
She whirled in his arms to face him and smiled confidently.
Always
confidently. "I know."
TBC . . .
-April
(by the way, the song Maria's singing in the shower at the beginning is "Falling for You" by Weezer. Thought I should give credit.)