SoulMates in CyberSpace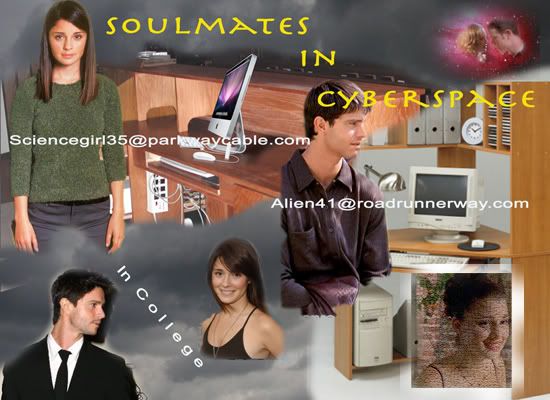 Author
: Ken r, AKA Ken242, AKA Kennth Renouard.
Rating
: Teen
Coupling
: M/L M/M A/I
Disclaimer
: The characters are from the Roswell series. I am just borrowing them for a personal distraction.
Summary
: Max and Liz are part of a high school project in their sophomore year. They go to different schools and even live in different towns. They are to never reveal their identities or to reveal their locations. They find that having anonymous partners is liberating as they grow up, discover sex and have relationships and breakups. They discuss what they both want in soulmates.
Max is not an alien he uses that as his user name because he lives in Roswell. There are no aliens in this story.
SoulMates in CyberSpace.
Alien41@roadrunnerway.com
Dear Alien
Doug Shallow asked me to the prom today. Mom took Maria and me to the store to look at prom dresses. Doug is a senior who I have known for sometime. I haven't had a regular boyfriend since Kyle and I broke up. I don't really know why, but Kyle doesn't stay with any girl very long. He has a reputation, Kyle that is, of being a super stud. I wasn't into that so, I guess, he moved on to pastures where he felt more comfortable. I was afraid that I wouldn't get to go to the prom. Doug came by at lunch to ask me. I am so happy, I just had to tell you, my best friend.
Science Girl.
---------------------------------------------
Sciencegirl35@parkwaycable.com
Dear Science Girl
I am so glad that you are getting to go. I know it means a lot to a girl in her junior year to attend her prom. My sister, Isabel, is going of course with her boyfriend, Alex. They have been talking about this all week. I do not really want to go. I have no one I would enjoy going with. Maybe next year I will find someone to ask. Send me a picture of you in your dress. Have a good time.
Alien