Title: Unbreakable
Authors: Itzstacie & Behrsgirl77
Category: M/L
Rating: Mature-Adult, when it becomes Adult we will warn you.
Disclaimer: We do not own any rights to Roswell. If we did I am sure there is more entertaining things we could have done with Max Evans. Joshua, Kevin and Chris are from our own imagination
AN: We have been wanting to co-write a story for a long time and we are exicited that we finally get the chance. We have been working on this for a couple of months now. Updates will be every Monday, for the time being I will be writing for Liz and Tanya will be writing for Max.
Winner Round 12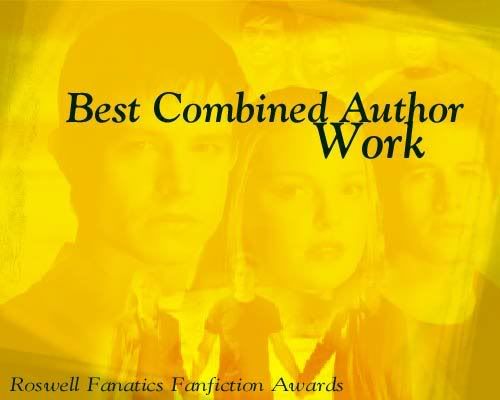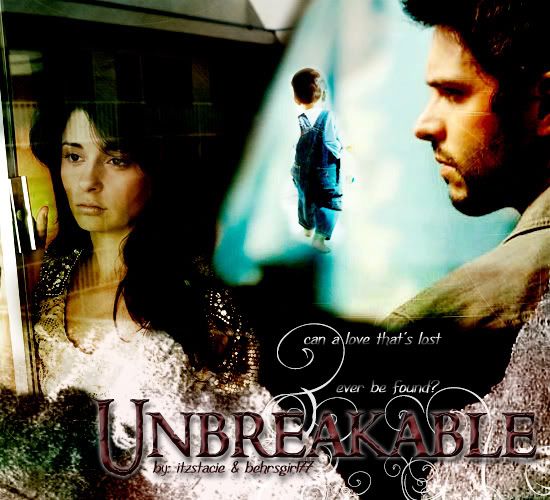 Banner made by Tanya
Summary: They said they would love each other forever, but when tragedy strikes will their love be as unbreakable as they once thought it was?
Chapter One
Good news…takes a turn for the worse
Congratulations Mrs. Evans, you're pregnant!
Smiling, Liz reached down placing her hand on her abdomen for the hundredth time since she'd left the clinic. She couldn't believe it, there was actual life growing inside of her.
Stopping in front of the mirror she raised her shirt and turned to the side, she knew it was impossible to see anything this soon but she just couldn't get over the fact that she was going to have a baby.
Liz had just about given up hope of ever having one of her own. They had been trying for a couple of years now and every time she would get her hopes up thinking it had worked, mother-nature came and forced her to face the cruel fact that she wasn't.
She didn't even go to her regular doctor this time; she couldn't take another talk of adoption or medical treatments she could try if she wasn't pregnant. She found a free clinic in the yellow pages and didn't tell anyone she thought she might be because she couldn't bare the disappointed looks if it turned out she weren't.
Rubbing her hand softly over the place that would carry her child for the next nine months she thought of her husband, Max. She couldn't wait to see the look on his face when she told him the news.
She thought about picking up the phone and calling her brother, Chris, to tell him the good news. They were closer than any brother and sister could be. They were only a year apart, but didn't start hanging out with the same group of people until they were older.
The minute she laid her eyes on his best friend Max, she was a goner. Of course every single time she saw him and talked to him she was too shy to tell him how she really felt. Too scared of rejection because he was the best looking guy in school and she couldn't see anything about herself that he would be interested in.
Naturally Maria, her best friend did it for her. Soon it came out that Max felt the same way. After that day nothing could pry them apart, their once separate circles became full circle. When their parents died, Max practically lived at the Parker house and refused to leave Liz's side.
Chris was not happy about the relationship that developed between the two of them. She loved her brother for stepping up and taking the role of caregiver, always making sure she was well taken care of, pushing for her to go to college. She didn't want that, as soon as high school was over with she married Max and pushed college aside for the time being.
Everyone could tell they only had eyes for each other. There were plenty that tried to come between them but those that did found out quickly that nothing was going to tear these two apart. As her best friend Maria would always say, "When two halves of a soul find each other, not even death could be able to separate them." Shaking her head she released her shirt, no, she wanted Max to be the first to know. They'd waited too long for this.
Liz walked over to the closet opening it up she grabbed his favorite pair of jeans and a t-shirt, reaching to her side she grabbed herself a pair of jeans and a tank top. Walking back to the bed she folded them up and put them in an overnight bag.
She had big plans to kidnap her husband and steal him away for a romantic weekend, where she would tell him he was going to a daddy. Turning to head to the bathroom she stopped and looked at their wedding photo that sat in a picture frame on the side of the bed.
Picking it up she traced her finger over his smiling face; she loved this man with everything that she had and then some. He never once made her feel inadequate; all this time that they'd been trying he just keep reassuring her that it would happen.
Telling her that if it came down to it and they couldn't have children, they would adopt. He didn't care what kind of family he had as long as it was with her because that was all he ever wanted or needed. It made her love him even more, if possible.
She would do it if it came down to that, but deep down inside she wanted one of her own and now that dream was coming true. She would have thought she was dreaming if it wasn't for the fact that each and every one of his touches were real and made her feel it all the way down to her toes.
Grabbing their toothbrushes and other toiletries, she walked back to the bed and threw the items in the bag, zipping it up she turned off the lights and walked out of the bedroom. Walking around the house she made sure everything was turned off and headed towards the door.
Driving down the highway she rested her hand on her abdomen. "I know you're no bigger than my pinkie right now, but I want you to know how much I love you already. You're going to have so much love it's going to drive you crazy. Your daddy is going to be so happy I'm afraid he might bust."
She gave a little laugh to herself and rubbed her stomach, "We've waited so long for you and you're our little miracle. I can't wait for you to get here, for me to hold you and kiss you. You my baby are going to have the most wonderful life."
Pulling up into the parking lot she checked her hair in the mirror real quick before stepping out and walking into the building. She wondered if people could tell just by the way she couldn't wipe the grin off her face.
Stepping into the elevator she tried to mask her features, she was going to have to sneak past her brother's office. If he saw her there was no way she would be able to hide it from him. Chris was the only other person besides Max that knew her inside and out.
It was times like this that she wished they didn't work for the same company. Michael, another friend from high school, his father owned the company and after high school he gave both Chris and Max a job. Both of them exceeded fast and before they knew it they were made partners and the named changed to CGM Architectural Design.
The doors chimed and she blew out a breath, hiding her smile she stepped out and headed towards Max's office. She saw Lisa, the receptionist, behind the desk talking on the phone. Lisa told the person to hold on and put the phone down. "Hey Liz, which one are you here to see?"
Liz smiled at her, "I've come to kidnap my husband is he around?" she asked. Lisa pointed towards his closed door. "He's just in there with Veronica, I'll buzz him."
Liz shook her head, "No I want to surprise him. He's not in a meeting is he?" She didn't want to interrupt if he was, she would just take a seat and wait for him.
Lisa shook her head, "No, I think they are just going over some drawings for the new complex."
"Thanks," Liz started to walk towards his door then stopped, "Where is my brother by the way?"
"He headed out for a lunch meeting about thirty minutes ago," Lisa told her.
"Okay…have a good weekend," Liz told her heading towards Max's office.
Stopping in front of it she tried to calm her nerves, it was taking everything in her not to go running in and just blurting out the news. She wanted this to be right, a weekend getaway somewhere in a nice cabin with a fireplace. Where she could tell him by the fire and then proceed to show him just how much she loved him.
Opening the door she prepared to surprise him, but what she saw surprised the hell out of her instead. Her eyes grew wide and it felt like something slammed inside her chest. Closing the door quickly, soundlessly, she hurried past Lisa not saying anything, practically running she punched the elevator button praying it hurried up before he could come out and see her.
Running out into the harsh sunlight she jumped in her car and sped away. She tried to reason with herself that what she saw had to be a misunderstanding; there was no way her husband would cheat on her.
Her heart kept telling her over and over he wouldn't do that, but her eyes saw something totally opposite. What could be the reason behind him sitting on his desk with that bitch standing in-between his legs kissing?
Her vision blurred until she couldn't see the road anymore, skidding into a gas station she buried her head inside her hands and cried harder. Had she done something wrong, was he lying to her all this time telling her that it didn't matter if she couldn't have children?
Was he just buying his time looking for a replacement, someone who could give him the family he wanted? How could a day that started out so perfectly end in total devastation? She rested her hand on her stomach trying to stop it from jumping as reached into her purse to grab her cell phone.
Flipping it open she scrolled through the numbers until she found her brother's, before she could hit dial she closed it and threw it on the floorboard. She couldn't call him. Did he know? Did he know that his brother-in-law was cheating and didn't tell her?
He had to know right? After all they worked in the same office building. They saw each other every weekend. She started to get angry, were they both in on it? She had never felt so alone in her life, the one person she thought would never hurt her managed to take her heart out and stomp all over it.
Closing her eyes she rested her head on the headrest trying to think. She couldn't go home; she couldn't go to her brothers. She didn't want to face any of their friends right now; she wouldn't be able to explain what she saw.
Opening her eyes she saw a sign for the hotel down the road, she could go there. She could check herself in for the night and in the morning get the courage to confront him and find out what was going on.
Stopping at the gas station on the side she opened the car door stepping out prepared to go inside to buy something to drink, halfway there she cursed under her breath. She couldn't even think straight, running back to the car she opened the door and leaned inside to grab her purse.
She never saw them coming, only the feel of cold hard metal pressing into her back and a harsh voice in her ear, "Get in the car lady, you're our ticket out of here!"
TBC…