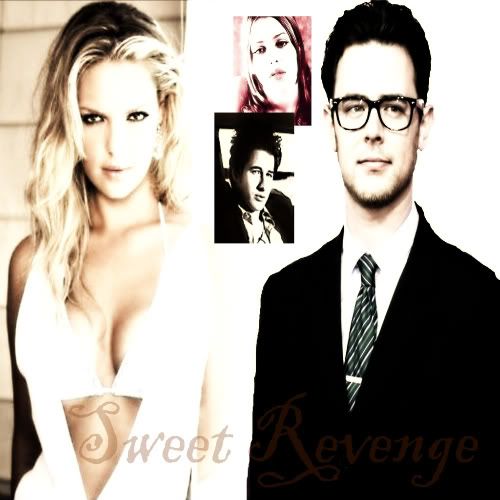 TITLE: SWEET REVENGE
AUTHOR: chanks_girl
DISCLAIMER:
Roswell isn't mine. I own nothing of this show, buuuuut if I would some things wouldn't have happened. Alex would have been the stud.
GENRE: AU without aliens
RATING: ADULT
COUPLES: A&I; M&M
SUMMARY: Isabel has to learn to not judge a book by its cover.
Author's note:
This is the fic Eva requested when she won me at the last AUTHOR AUCTION SUPPORT STACIE. Yes, she paid money for me. She owns me. Anyway, I have finally written the fic. As little reminder, the next auction is coming
September 11th-14th Support Stacie. Please take part and tell others. It's for a good cause. There are other fantastic writers.
Author's note:
I wanted to use music for this fic. So here it is. JET "She's a genius", I love it; just click on the stars *** when it appears. I don't own the song. I just use it.
I hope you enjoy the story. Eva, I hope you'll like it as well. Otherwise…haha, you already paid.
Chapter 1: Hail to Isabel Evans
"Isabel, turn to us."
"Smile for us. Show us your beautiful smile."
"Isabel, who designed your dress?"
"Michael, stand next to your sister. We want you together."
It was unbelievable how loud it was. Too many people wanted too much of him. He couldn't understand how his sister could take all that people. Everyone wanted a piece of her. It wasn't that he wouldn't begrudge her her fame but sometimes it was just annoying the whole circus about her person.
"Little sister, we should get going or the flashlight will blind me."
Michael Evans whispered into his sister's ear. He was getting annoyed by all those photographers. Moreover, his sister's behaviour was annoying him. He knew she enjoyed every little second in the spotlight but enough was enough. Sometimes she really overdid it. Sure, she was a famous model, who just started her career. It wasn't that Michael was complaining. Having such a famous sister was only for his benefit. He met her hot supermodel friends, he was getting invited to the best parties, and he didn't have to wait long in the queue of clubs. Life was good for Michael Evans, thanks to his sister.
He met beautiful women, who couldn't resist him. Add to that, he was famous as well. Not for being a model or any other activity in the show business; he was famous for being Isabel's brother. It couldn't get better. Thanks to her, Michael had both things he loved in life: women and fame.
The price he had to pay was that Isabel was the number one. She was everything to the outside world. She was the star. It was her face, what was known. He was just a bystander with benefits. So he wasn't going to complain. He would enjoy it. His sister opened doors for him. He had the life many other men would love to have. Secretly, Michael Evans was the number one.
Michael knew that Isabel paid a high price for her success. She didn't have any privacy, men objectified her and she had to give away her personality to be someone else. The business was hard. Any model had to fight a daily battle to survive in that world. Isabel was an exception. She didn't have trouble getting jobs. It was pretty easy for her to get the high paid jobs. But mostly the guys involved always turned out to be major assholes. They thought Isabel was easy to get or that she had to re-pay them for giving her the job. Michael thanked the man above that Isabel wasn't that naïve. It was funny how fast a fee could raise when you threatened to sue the said perverted men.
Michael wasn't dumb; he was a man knowing what other men thought about his sister. They wanted to get into her panties. Normally, Michael would break those guys' faces but he couldn't do it. Any interference by Michael would put Isabel in a bad light. As hard as it was he resisted the urge to protect his little sister. The only thing he could do was preventing any man coming near Isabel. So he went with her to the events. He was something like her bodyguard without her paying him. Though Michael knew, Isabel appreciated it. The only problem was that she had funny ways to show her appreciation.
Isabel loved being the centre of attention by behaving like a prima donna.
Sometimes he asked himself why he accompanied her.
"Stop being annoying, Michael. This evening could be my breakthrough. Do you know how many important people of the show business are here? They're powerful and I could use that power to my advantage." She got out while she was still smiling broadly at the photographers.
"As much as I'm concerned, I'm interested in the hot models inside. So hurry up your little show here. I want to go in."
"Michael, you shouldn't forget that everything you are is because of me. When I want to be the centre of attention, then I will be it."
"You're so self-sacrificing. It must be a pleasure to work with you on the sets."
"Don't get smartass with me, Michael. You shouldn't forget that thanks to me the so hot models pay attention to you. Otherwise they wouldn't cast a glance at you."
With that said Isabel turned slightly away from her brother walking towards to the entrance.
*********************************************
The festival room was filled. A swing band was playing tunes from the 1950's. There wasn't a dance floor but people created there own dance area. It was obvious that this event was more a chance to increase the personal business net working than having fun. Moreover, it was the perfect night to increase the use of alcohol. So far it looked like everyone had a good time.
It surprised Michael every time how fast Isabel adjusted to her environment. For him all those people were shallow, superficial and idiots. It was that simple. Those people didn't know anything about life. They lived in their own world. A world that had no depth or special meaning. It was a world Michael would never get used to. He just wanted to date the women from this alienated world. It didn't take much to get a phone number or a date or a quickie with one of the models. They always thought, Michael would help them with their career. Error. He helped no one. Michael Evans only helped himself.
He observed his sister how she mingled with the different people. A shallow laugh here, a fake smile there, perfection was the fundament of Isabel Evans' image. She was perfect in playing her model ego Isabel Evans. Beautiful, sexy, smart Isabel was what the people wanted. They adored her for her beauty and didn't care for her personality. At times like these, he hated that his sister was a model. He hated that her professional life was just based on her looks. He hated that people didn't see what a wonderful person his little sister was. Moreover, he hated that he couldn't say that to her.
He wasn't better than the others. He used her as well. He used her to get other women. He wasn't better.
Michael took a gulp of his scotch while his eyes were still trained on his sister. He could see that she felt kind of uncomfortable. He would feel uncomfortable as well if he had to talk to those people all the time. She was his sister. Michael knew, Isabel wasn't stupid considering the model business. She knew that there were shady characters around. She knew that as woman she was an easy target. But no one knew that messing with Isabel Evans was a bad idea. It was like kicking Satan in the nuts. In the end it was your end and such a bad idea.
With the next gulp, Michael finished his drink deciding it was now his turn to mingle. Meaning the female guests should meet the great Michael Evans.
Isabel tried to listen to the other model, Pam Troy, but it was impossible. First, the girl was thin like a sheet. Second, her voice was so shrill even Isabel was sure in the next few minutes dogs were going to enter the room. Third, she was boring. Talking about fashion and upcoming fashion shows was no problem for Isabel but it wasn't everything to her. There was a difference for Isabel between business and private life. A conversation with Pam troy wasn't considered as business talk and neither was Isabel Pam's friend. Isabel wasn't interested in finding new friends. She was interested in becoming more famous. She knew tonight was her chance to promote herself and her career. She just needed to meet the right people, who had the ultimate power in the business. She was sure after tonight things were going to change. It was just getting better.
"Oh my God, did you see the new fall collection by Burberry? I so want to be in their show. Do you think I have a chance at the castings?" Pam asked Isabel.
Isabel cringed inwardly. How can you tell a model that she can't model? The fact was Pam couldn't walk like a model was supposed to. Isabel knew the girl from several castings for fashion shows and truth to be told, walking wasn't her strength. It was like watching an anorexic elephant on the cat walk. It wasn't beautiful at all. The girl had no charisma, personality, charm and no skills. Accordingly, it was a bless that the young girl was the daughter of one of the most powerful fashion designers. Isabel did the first thing she learned in this business. She lied.
"Of course, sweetie. If they don't take you for that job, they're idiots." Isabel replied producing a fake smile on her lips. It was getting easier for her to be like that. It was all getting easier to keep them away from her by being fake.
Isabel's words of encouragement were rewarded with a smile by Pam, who also engulfed Isabel in a hug. As fast as possible Isabel tried to hide her stiffness because of the sudden contact. It seemed like time didn't want to pass by; Isabel had the feeling that the girl didn't want to release her. It made Isabel cringe inwardly being that close to Pam. Normally it was Isabel's first priority to avoid such contact to other models. Having model friends in this business was bad because they were all competition. Trusting them was like putting yourself into a cage with hungry tigers. No one wanted something good for you; they just wanted to see you failing. So they could be you.
Just as she was about to say something, the girl released Isabel and went into the other direction, probably going to the restrooms to 'powder' her nose. It was not a taboo anymore that on such parties the number of drug use increased. If you want to see snow in Roswell, visit the restrooms. Isabel grabbed a glass of champagne of the trail when a waiter walked by. A drink was needed after the experience with Pam Troy. The liquid went down her throat, the sparkling burnt her throat but the coolness of the drink and its sourly taste calmed Isabel. It made her focus again. Focus on her aim. She needed to mingle to meet the really important people.
"You know after talking to Pam I'd also need liquor to come over this trauma." A sweet voice reached Isabel's ears. A smile broke out on her face. The first real smile tonight.
"If I would always drink after such encounters, I'd be an honoured member of the AA." Isabel countered with the smile still in place.
"True. Modelling has this effect. Anyway, you look great tonight. Are you on the hunt for new jobs?"
"You know me Tess. This job has no time clock. If I want to become more famous, I need to work for it but it shouldn't be hard. The majority is already drunk though the food hadn't been served yet. Were you successful in getting in touch with some people?" Isabel asked with a slight tinge of nervousness audible in her voice.
Tess Harding was the second most important person in this business for Isabel; the most important person was Isabel. Tess was her agent. She knew how to get the right castings or how to get Isabel into a show without even auditioning. Tess was in the modelling business for like 20 years. She saw a lot of girls who wanted the breakthrough. Most girls wanted to be the next Linda Evangelista, Tyra Banks or Heidi Klum. The majority thought it was enough to be pretty, taller than 5'8 and having a thin body. It took more than that. To survive as a model you had to be unique, ambitious, have a strong personality and you had to have the killer instinct. You had to be ready to be merciless. Mostly showing no regard of consequences; you had to be the superior person. Tess saw a lot of girls breaking apart because of that roughness. They were too young for the world of modelling. In addition, they had a false impression of the life of a model. It wasn't all about glamour, money and luxury. It was particularly worse.
Tess looked at the woman beside her. Isabel Evans was an exception. She had the whole package: the beauty, the body and the ambition to be a model. When she walked into a room all eyes were on her. Tess knew from the beginning that Isabel was made to be a model. She had that special something. No matter where Isabel showed up, she enlightened the whole room. People weren't able to tear their eyes off her beauty. There were a lot of beautiful women on this planet but it was a gift to know how to use that beauty. Therefore, Isabel was one of those women. She knew exactly what she did. Isabel knew what was needed to be on top of the modelling business.
"Do you think people will bid a lot on you? The representatives hope to maintain a lot of money out of the auction. And they hope that you will get them a lot of money." Tess inquired.
She knew Isabel was going to get the most bids and probably the highest on the auction later on. Nonetheless, it was fun for Tess to get a rise out of Isabel. Tess was certain that Isabel was hoping as well to get a lot of money. It certainly was an advantage that people could buy Isabel for three days. The question was who the (un-)lucky person would be who had Isabel. It was no secret that the model Isabel Evans was a diva.
Slowly a smirk formed on Tess' lips; on the one hand she was happy that Isabel agreed to participate in the auction. This was great publicity for Isabel.
"Please Tess…of course people will bid on me. It's not a question of how many people want to bid but as well how much people will to bid on me. I think it was a good idea that I'll be available for a whole weekend. Who can resist such a chance with me?" Isabel responded in her typical perky way. She knew it could happen that no one bid for her. But that would just happen in an alternate universe.
"Nice attitude. Do me a favour and be nice to whoever gets you. You can't afford it to have bad publicity. I still have to fight with the rumours of you being Satan's replacement when he's on vacation."
"I did one mistake. Can't you forget about it?" Isabel was starting to get annoyed. She couldn't stand it when people reminded her that she wasn't as perfect as she wanted to be.
"Because of you a group of little girls was crying. There was no reason to make them cry but you found a way. Moreover, on that given day the press was there to witness it. Do you know how hard it is to get the image off you being I quote 'The evil, modelling child hater'." Tess was getting annoyed by Isabel. Due to the fact Isabel didn't see her mistakes, she also thought the world revolves just around herself, the great Isabel Evans. Sometimes Tess wished Isabel would get a hard reality check.
"Shit happens. That's why I have you. Your job is to make me look good in the press and getting me jobs."
"You told little kids that Santa Clause doesn't exist...on Christmas Eve" Tess felt as if she was talking to a brick wall.
"Tess, what's done is done. Now excuse me, I'm going to mingle with the people. Wish me luck." With that said, Isabel turned and walked into the mass of people.
Tess should be used to Isabel's prima donna behaviour but tonight she wished Isabel would be the girl she met years ago. Therefore, Tess really hoped that Isabel wouldn't get herself into trouble. Not to brag, Tess thought she was one of the best model agents in the country. She knew the right people and had the best connections to the media. But having to deal with Isabel's attitude was sometimes just too much. For tonight, Tess wished that her protégé wouldn't get into trouble.
In the last hour an old, bald man, an old, fat bald man, five male models and three female models had hit on her. Isabel was getting fed up. It wasn't possible to start a conversation with anyone without them goggling at her chest. It didn't matter with which gender she wanted to talk. It was just about her bust size. Granted their business was just about looks but it was also about money and power. Isabel wanted to achieve more. She wanted to become more famous than now. Therefore, she needed to get to know the right people.
The impression was that everybody on this party was here to party instead of getting down to business people were all over the liquor. Isabel was getting the impression that she was invited to a huge college party which would end in a huge orgy. Isabel let out a deep breath. It was a habit she did when she needed to calm down. It was making her nervous that since she had arrived she wasn't able to talk one of the big fishes. It was the right place and the right people were there as well. The problem was that no one was interested in talking about business. Isabel needed a plan.
She could start conversations with the several photographers. Yet the possibility was high that those guys thought she was easy and would sleep with them to get a job. The next group would be actually the designers. A straight and direct approach could work wonders. Get straight to the ones, who could be useful. As fast as the idea came to her mind, Isabel dismissed it. It would look too pathetic if she had to beg for a job. The next and probably most profitable group were the fashion journalists.
It was all about them. They decided who was hot or not. They were the actual rulers over the fashion world. It was set. Isabel needed to talk to them.
Just as she was about to approach her new targets, Isabel was startled by a hand on her shoulder. She could imagine what was going to happen: some greasy guy or woman hitting on her. First, there would be a compliment about her beauty, then telling her what a great model she actually was and finally telling her that she should come by for a casting…probably on the couch. No way was that going to happen. The more Isabel thought about the last hour, which contented idiots, freaks and more idiots; she was going to put a stop here. She was Isabel Evans, who didn't need to put up with shit like that. Actually, she didn't need anyone. She was a supermodel. People would line up for her so she would grace them with her time. Isabel Evans was known but no one knew the others. She didn't need anyone.
Determined, Isabel turned around to face the person, whose hand lingered over her shoulder. Isabel was inwardly shocked that the man looked normal. He was slightly taller than her and had a slender physique. Nonetheless the normal ones were the real freaks. The talk was going to end with a bad pick up line. That was certain. As if guys like him had a chance with her, she wasn't going to let him ruin the night for her. By his look, she was sure it was going to end with a sorry attempt by him to socialize with her. Isabel decided that this person was a loser. Before the man could say anything more than he intended, Isabel decided to show him who had the upper hand.
"Hello Miss Evans, I'm…."
"Look Mister, I don't care who you are. I'm not interested in anything you have to say. Probably it's going to be something boring or idiotic. I'm assuming you came to tell me how beautiful and talented I am. That would be such a great pick up line. Guess what? I already know that I'm great. I don't think that there is anything you have that I would want. I don't know what you actually have to do in the fashion business. Let's be honest, you don't look like a male model. In addition, I doubt that you have the required fashion sense…judging by your look. So do yourself and me a favour and fuck off."
Isabel didn't wait for any reply by the man. She just walked away from him. Leaving him behind with his jaw dropped to the floor. So far no one ever dared to talk to him like that; he didn't know how to react. Normally he wasn't the calm one but Isabel Evans made it. He was speechless.
***********************************************
Isabel walked into the women's restroom. She wasn't the slightest surprised seeing some models doing drugs. Isabel always wondered how those said models could fuck up their lives so bad. They were so high; Isabel was baffled how those girls could still be able to act.
Ignoring the group of girls, Isabel occupied the last free mirror in the restroom. Just as she was about to refresh her make-up, Tess burst through the door with a panicked look on her face. Isabel wasn't sure if it's panic or rage in her eyes she saw. Tess Harding was taking deep breaths to calm down. It wasn't smart to run into a room when you wanted to say something, what Tess just realized. It took her a few moments until she could focus on her protégé. Her protégé, who loved it to make her life a living hell. Her protégé who had messed up.
"Isabel, sweetie, we need to talk." Tess tried very hard to stay calm. She didn't want to hurt Isabel but there chances were high that someone was going to get hurt.
The sweet underlying tone in Tess' voice made Isabel nervous. She never saw her agent in that state. Additionally it was hard to make Isabel nervous yet so far Tess was doing a great job. Nevertheless, Isabel hid her nervousness. She wasn't about to let Tess know about it.
"Tees, what can I do for you?" Hopefully her voice sounded as normal as possible. Maybe the extra dose perkiness was too much.
"What can you do for me? Tell me who that man was you have talked to just a few minutes ago."
"Uhm…I don't know why it's important to know…"
"Tell me, Isabel." This time Tess pressed for an answer. She didn't want to be harsh but right now she was trying very hard to suppress her homicidal feelings towards Isabel.
"I don't know who that freak was. He was probably going to hit on me because no other poor woman on this planet is talking to him. I just told him to fuck off"
"You told him to fuck off. He should fuck off because he was about to hit on you. Does the name Alex Whitman tell you something?" Tess was now on the brink of committing homicide.
"Yes, I know the name. Alex Whitman is the owner and editor of the fashion magazine 'Taille'. Why do you…? Oh no, don't tell me."
"Ding ding ding, we have a winner. You have insulted Alex Whitman. You insulted the man, who has more power than Anna Wintour in the fashion world. God, he wanted to talk to you about a job. I just met him and told him you were there as well. He was eager to meet you to offer you a job."
"Oh fuck."
"That's all you can say. You fucked up, missy. I don't know if I can help you this time. When I approached him after your talk with him, he was enraged. Isabel, no one and I mean no one dares to talk to him the way you have done not even his mother does it. His own mother doesn't anger him. You're done. Your career is over. I'm done. I can forget my agency. He'll ruin us. Me. Oh god…my life is over. How could you not know who he was?"
"I didn't know it was him. And you know that there are hardly pictures of him. How should I know that this loser was Whitman? He looked like a freaking loser." Isabel was beyond freaking out. She had messed up. She probably ruined her whole career. This was bad. It was beyond bad.
"Loser? Did you call him a loser? I told you to behave tonight. I told you that tonight was important. But you couldn't shut your big trap. I'm ruined. Oh god…" Tess went from being enraged into the state of freaking out.
"Tess, you need to calm down. It's not as bad as you think. I'll see what I can do. Maybe he'll forgive me."
The last comment came along with a snort by a woman who stood behind Tess. Tess eyes went wide when she saw who it was. However she couldn't stop Isabel from expressing her opinion about nosy people.
"Look lady, it's impolite to listen to other people's conversation. How about you turn around and leave us alone?" After that said Isabel ignored the third woman and focused on Tess who looked more freaked out when the woman left the restroom.
"Tess, focus on me. We have to do damage control."
Tess winced when she heard 'damage'. It was more than a simple damage. It just became a night mare.
"Isabel, I may introduce to the impolite woman Maria DeLuca, Alex Whitman's personal assistant. Congratulations, we're fucked."
~TBC~