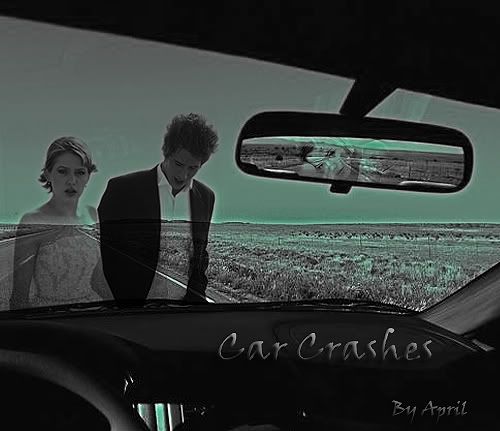 (Banner made by me)
Title:
Car Crashes
Author:
April
Disclaimer:
The characters of Roswell are not mine. No copyright infringement intended.
Category:
Michael and Maria AU without Aliens (Michael's POV)
Rating:
Mature
Author's Note:
This is written for Sarah, who paid
way
too much for me at the September Support Stacie author auction. I had actually considered writing this as a novel-length story until I decided to write the sequel to 521. I think it works better as a short story. It's only about 16 pages long, but I wrote it all in one day. (I felt very inspired, for some reason.) I hope you like it, Sarah!
~*~*~*~*~*~*~
Prologue
They say airplanes are safer than cars. I believe that.
I should've just taken that factory job my uncle's boss offered me after I graduated high school. That would've been the simple route. But no, I decided to go to college. My grades were somehow good enough, and even though I was high as a kite and pissed off as hell when I took my ACT, my score was astronomical. Go figure. Standardized testing at its most inefficient. It seemed like a waste to get accepted into college and not go, so I went with the full intention of leaving the last craptastic year of my life behind and starting anew. And I did.
I partied my way through my freshman and sophomore years, joined a fraternity, and stupidly blurted out "English" when my advisor began pestering me to choose a major at the start of my junior year.
English.
What the fuck? I didn't even like to read. It was because of this spontaneous decision that I ended up in classes with book-talk freaks and wannabe poets analyzing shit like symbolism and metaphors and themes. Great.
It doesn't matter if you're a grad student or not. If you're trying to get an English degree at this university, you have to write a thesis. Doesn't have to be that long, doesn't even have to be good from what I've heard. My advisor said it was supposed to be a research paper, but I said "Screw that." That would have required going to the library, and I've never stepped foot in that place in all my life. I wouldn't know how to use the card catalogue and I'd probably get lost and starve to death. No thanks.
It was out of this reluctance to pick up an actual book and flip through it that I decided to compose a memoir instead. This memoir. No research required. That's my kind of thing.
I'd rather be watching porn. Oh, well. Start your engines.
My name is Michael Guerin, and I firmly believe that all the significant moments of my life were accompanied by near or head-on car crashes.
TBC . . .
-April