Mountains So High
Author(s):
Double Trouble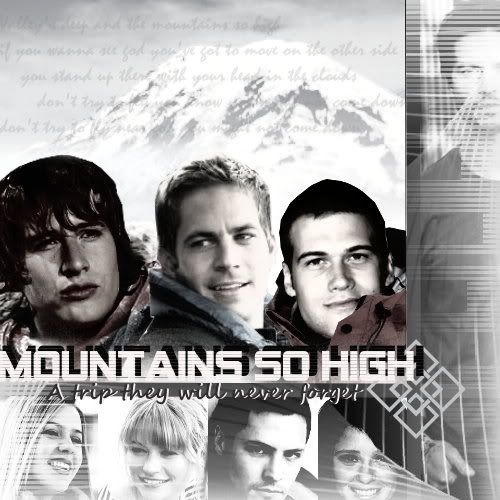 Banner by:
Us
Disclaimer:
All characters and plot lines that appeared in the series or in the books are not ours. The concept of Roswell does not belong to us either. They all belong to Melinda Metz, UPN, yada, yada, yada…
Pairing(s):
M&M, M&L, and K&T
Rating:
Adult
Summary: (AU without Aliens)
Six people going on a vacation, searching for adventure end up getting more than they expected.
Author's note:
This fic will post one new part per week on Sundays.
Link to our trailer – made by us:
http://www.youtube.com/watch?v=tRmgYdWfsxc
Part 1
The shocks on the jeep were in serious danger of permanent damage as another bag was loaded into the back. Max Evans shook his head as he turned back around and leaned against the spare tire, wiping his brow and fervently hoping that the culprit wouldn't bring anything else out to take on the trip with them. That hope was short-lived, however, because within moments of that thought the screen door slammed shut and his best friend and the woman of every secret fantasy he harbored bounced down the steps and handed him another bag.
Liz Parker grinned at her roommate and best friend as she held another bag that was 'necessary' to her enjoyment of their pending trip. "Max, be a sweetie and find space for this, would ya?"
"Liz, we're not gonna even be able to haul half of this shit up the mountain," he muttered, exasperated. "If it doesn't fit in your pack, it's not even gonna make it to the base camp." The two of them were going on a week long mountain climbing excursion with some of their friends and despite the training camps they had been to Liz had obviously not paid any attention to the equipment list.
"Max, we're supposed to be havin' fun on this trip." She made a face at him. "You're gonna start the trip by sucking the fun out of it before we've even left the driveway."
"Fine, why don't you toss the kitchen sink in here, too? You add much more crap and I'm not gonna have room for you."
"Hmmm…" She glanced at her best girlfriend when she came outside, already shaking her head negatively at something her boyfriend was saying. "Well, if you're really runnin' short on room I'm sure Maria can have Mark make some room."
"
If
I'm runnin' short on room?" he repeated incredulously.
"Max, everything here is essential to this trip. We're gonna be at the lodge for a couple of days before we even head out to the base camp and I need to be prepared for anything that might come up."
"Like what?"
"Like meetin' a hot guy and getting laid!" She nudged him with her elbow. "Y'know how that goes… you've gotta be prepared. That means necessary things like sexy lingerie and – "
"Hey, Parker, did ya leave anything in your closet?" Mark Patterson yelled as he opened the back of his SUV and loaded a couple of bags inside.
"I wish I could say you," she muttered, rolling her eyes.
"Looks like you've run into a space issue over there, Evans."
"Nope, we're good." Max raised his hand and gave a confident wave. "What the hell does she see in that guy?"
"He must be good in the sack 'cause he doesn't have anything else goin' for him," Liz said as she cast one last disparaging glance at Mark.
Maria DeLuca ran over to them and looked over the packing job Max had done. "Looks good, but you did bring an awful lot, Liz."
"Since you took up at least half of my packing space you have no business lecturing me on how much space my luggage is taking up."
"I think we can keep that between us. I'm not interested in getting into an argument with Mark before the trip starts. Besides," she winked, "despite the amount of underwear you brought, it didn't need that much space."
Max bit back a groan when the girls launched into a detailed discussion about different pieces of sexy underwear. He shared a house with both of them so he had seen them in various states of undress, but did they have to talk about it, too?
"You guys ready to go?" Mark asked as he joined them.
Liz glanced at Max. "Did you say you were ready to go?"
"Nope." He really enjoyed it when she got pissy, especially when he wasn't the one she was pissed at.
"We'll let you know when we're ready to go."
Mark brushed his dark hair back off of his forehead and rubbed his sunglasses against the front of his shirt. "We need to get movin'."
"I don't recall anyone nominating you to be the leader, so go back over there and when we're ready we'll let you know."
He glared at Liz and started to say something but a warning look from his girlfriend had him holding his hands up in defeat. "Fine, keep yakkin' it up and we're gonna get there late, miss our check-in time, and lose our reservations."
"Oh, my God, Maria," Liz hissed. "What do you see in him?"
"And we're not getting into that argument again either. We've still gotta swing by and get Tess and Kyle, so we should get goin'."
Liz nodded. "I'm ridin' with Max." She turned to look at him, batting her eyes flirtatiously. "You don't mind, right, Max?"
"Huh-uh."
"It's a long drive; we could've all rode together," Maria said.
"We could've, but Max won't bitch about me havin' somethin' to eat and drink in the jeep, he'll let me pick out what we listen to, and he'll talk about things that I know he has no interest in simply because he knows they're topics that are of interest to me."
Max turned to secure their bags and gear so she wouldn't see his expression. She didn't realize why he'd do anything for her; they had been friends for so long and he had his doubts that she would ever see him as anything other than her best friend and roommate.
"Okay, let's go get the others so we can hit the road," Maria said as she glanced at Max. She had her suspicions about his feelings for their roommate, but she figured that he wasn't ready to let that cat out of the bag since he had never said a word.
*****
Kyle Valenti glanced between his longtime girlfriend and the pile of luggage sitting on the driveway between them. He and Tess Harding had been together since high school, through two years of college, and they were still going strong. It was moments like this that made him question her sanity though. Her expression was mutinous and he knew from experience that meant they were not leaving without a single item that she had deemed necessary to their trip.
"There's no way even half of this shit is on the equipment list, babe," he tried once more.
"No," she explained patiently, "but we're gonna be stayin' at the lodge for a couple of days before we head up to the base camp to meet our guides, so that means I'll need clothes to wear for whatever we might decide to do."
"We should've just skipped hangin' out at the lodge before headin' out to make our climb."
"I don't know what you're complainin' about, Kyle." She rolled her eyes and reached for one of the bags, tossing it on the tailgate and motioning for him to get up in the bed of the truck and start securing the bags. "You and Max are the ones who suggested extending our trip so that we could all hang out together."
"Yeah, to go hiking or to hit the hot tub… with all the crap you're bringin' it looks like we're movin' up there." Despite all of his complaining he was busy securing the bags as she tossed them to him. He stood up and pointed to the street. "Hey, look who's finally here!" He hopped down off of the tailgate and joined Tess as she walked down to greet their friends when they pulled into the driveway.
"You guys were supposed to be here 20 minutes ago. What happened?"
Liz rolled her eyes as she stepped out of the jeep and hurried up to hug her friends. "Pretty boy got into it with Max when we stopped to fuel up on the way over here."
"About what?"
"Who knows? Whatever it was pissed Max off though and now he's not talkin' to anyone. Any chance we can ditch Mark before we hit the road?"
"I could back over him," Max offered as he joined them.
"Hey, gimme a hand with Tess' luggage," Kyle said, taking his old college roommate's arm and dragging him back up the driveway.
"Give him a couple shots of SoCo, Kyle," Liz hollered before they could get too far away. She waved when Max turned to look at her. "What? That always mellows you out and I am perfectly capable of driving us to the hotel in Eugene." They had planned to drive a little over halfway the first day and being at the lodge near Mount Rainier National Park to check into their cabin by afternoon the next day.
Max held his hands up in defeat, stopping her rant and then tossed his keys to her. "We'll get this knocked out and be ready to roll in ten." He winked at her as he turned back to follow Kyle.
"When are you gonna put that poor man out of his misery?"
Liz lifted her right eyebrow as she looked at Tess. "What are you talkin' about?"
"Girl, he's totally hot for you!"
"What? Tess you are sooo wrong!"
"What's Tess wrong about?" Mark asked, voicing the question before Maria could get it out.
Maria shot an annoyed glare at him and grabbed his arm to stop him before they could join her friends.
"What?"
"Cut it out, Mark. You're deliberately tryin' to pick a fight with my friends."
"I just don't get why we had to all bunk in together when we get to Mount Rainier."
Maria rolled her eyes. She was tired of going over the same subject again and again. "For the last time, Mark, the whole point of a group vacation is to go and hang out as a group."
"I just think it would've been a lot more fun if we'd rented individual cabins; your friends don't even like me."
"You haven't given them a chance to get to know you."
"We've been together for several months now, Maria… how much time do they need?"
"Get off it, Mark! You don't exactly go out of your way to make an effort with them." She held a hand up as she took a step back and took a deep breath. "We're not gonna fight about this. The whole point of a vacation is to relax and that is what I intend to do."
Mark bit back his response when she turned and walked over to her friends, exchanging hugs and immediately jumping into the conversation.
He didn't know why he had agreed to this stupid trip,
he thought as he went back to his SUV, brushing a smudge of dirt off of the front fender. Oh, well, it didn't really matter. Sure, he had to put up with the group of delinquents she called her friends for the next couple of days, but after that they'd spend a week on the climb. He smiled to himself. A whole week of nights that he could spend snuggled up with his girlfriend and not have to worry about anyone knocking on the door or making so much noise that he couldn't concentrate.
"Last minute checklist, babe," Kyle shouted as he and Max finished packing and securing everything. He ran through a list of things like music they had chosen for the trip, cell phones, chargers, drinks, and munchies. As soon as his list had been checked off he and Max exchanged a high-five and headed to their respective vehicles.
"Alright, let's rock an' roll, people!" Max yelled as he hauled himself up into the passengers' seat. "Liz, c'mon, girl!"
"What's the hurry?" she asked as she pulled his keys out of her pocket.
"Last one to get there pays tonight's bar tab!" He grinned at her when she hurried to jump in and start the engine. He stood up, holding onto the roll bar and saluting Mark as Liz backed up, the back bumper barely a whisper from impacting with the other guy's SUV. "Looks like the drinks are on you, Patterson!"
Kyle stomped on the brake when he reached Maria, bracing his weight on his left foot so he could lean out through the window and kiss her cheek. "Didn't mean to ignore ya when you got here. Better tell ol' tight-ass to step on it; y'know how ugly our bar tab was the last time we did this!"
"I've already mapped a shortcut that'll have you eatin' our dust, Valenti!" she shouted gleefully and ran across the manicured lawn to climb inside the SUV. "C'mon, Mark, let's go or we're gonna be payin' the bar tab tonight!"
"What?" he demanded. "I didn't agree to that!"
"This isn't the first you've heard of this game, now c'mon!" She huffed impatiently when Kyle backed out of the driveway and pressed down on the accelerator, throwing up bits of dirt and gravel in his wake. "Just roll with it, Mark," she insisted when he got behind the wheel and started the engine, quickly following Kyle's route. "We've all worked hard this past year and we deserve to get out and cut loose."
He shook his head. "You'd better be tellin' the truth about knowin' a shortcut," he muttered.
Maria leaned back in her seat as he took the ramp that would lead them out onto the Interstate and she grinned and waved when they passed Kyle after several miles. Things were a little bit rocky, but despite that they were getting off to a good start.