Not a Question at All
Author(s): Double Trouble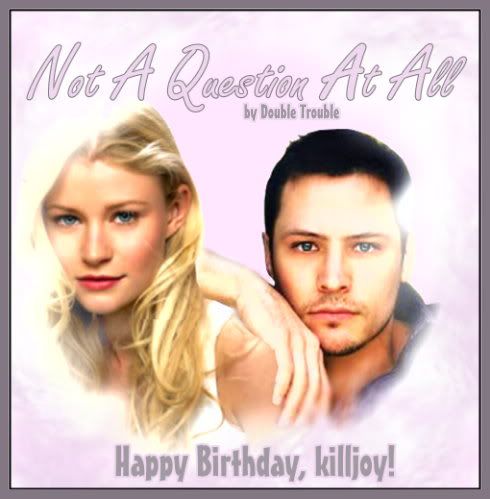 Banner by:
Us
Rating:
Adult
Category:
AU without Alien
Pairing:
K&T
Type:
Comedy / Smut
Disclaimer:
All characters and plot lines that appeared in the series or in the books are not ours. The concept of Roswell does not belong to us either. They all belong to Melinda Metz, UPN, yada, yada, yada…
Summary:
Just a little two-part prequel to Mountains So High. In the fic we learned that there was a marriage proposal of some sort for Kyle and Tess, and both of them have their version of how it happened… but as we all know, there are three sides to every story: her side, his side, and the truth.

Author's Note:
This fic was written for
killjoy
– Happy Birthday, buddy!
Part 1
Tess parked Kyle's truck in the driveway of the one-bedroom house they had rented four months earlier, dropping down and reaching in to grab her backpack. Her lecture at the end of the day had been rescheduled at the last minute so she had sent Kyle a text to ask if he'd mind if she took the truck and went home. He had replied a minute or so later and told her to go ahead, he'd catch a ride with Max.
She smiled to herself as she unlocked the front door and walked inside, glancing around at their home as she dropped her purse and keys on the hall table. They had been lucky to find the house when the lease on their apartment had been close to the end of its term and they had jumped on the opportunity to get out on their own.
It had been the right decision,
she thought as she kicked her shoes off and walked into the living room. They both loved their friends dearly, but they were a couple and they needed their own space.
They had been together for almost six years now and they had a good solid relationship that flourished because they knew how to talk and neither of them shied away from dealing with the problems that had a tendency to creep up from time to time. They were dedicated to being together and making their relationship work and while they certainly weren't perfect, they were giving it everything they had.
She wandered into the kitchen, deciding to get dinner started. She pulled out what she needed to make spaghetti, knowing that him catching a ride home with Max most likely meant that they'd end up with the rest of the gang over for dinner. Not that she minded. They were her best friends too and they all knew each other well enough that there would be no complaints when it was time for the evening to end.
Their friends were very supportive of their relationship and she knew how important that was. Keeping their friendships thriving was good for them individually and as a couple. While the guys would drive her crazy on weekends when they all gathered at the house to scream obscenities at the television or gawk over the cheerleaders, she and the girls would have their own get-together and talk about anything and everything while rolling their eyes at the guys' behavior.
She knew one day they would be married… if he ever got around to asking. Kyle just tended to do things at his own pace and at times that was good, but at others it just drove her out of her mind. She had thought he was going to pop the question on Valentines Day because he had set the entire evening up and it had been elaborate and romantic. She should've known better though because that was just the way he was, especially when it came to holidays, anniversaries, or other special occasions. She smiled. Of course, he could also be spontaneously romantic too, so she had no complaints.
It was after dinner that night while she was leaning against his side on the couch, watching some movie that she had picked out when she decided to ask the question that had been on her mind earlier that day. "Kyle?"
"Hmm?" He was staring at the screen, wondering why he had ever let her choose the movie because this was torture.
"We've talked about marriage in the past, right?"
"Sure," he said with a nod. He turned to look at her, finding her much more interesting than the movie. "Why, are you ready now?"
"Am I…" She stood, hands on her hips as she glared at him. "What do you mean 'am I ready now'?"
"Well, just that if you're ready then I'll go an' get the ring."
"You'll go and get the ring," she repeated stupidly. "What, you've already bought it?"
He shrugged. "Well, yeah."
"Were you plannin' to ask me anytime soon?"
He was teasing her. He had to be. Right?
"Ask you? We've been together for six years, babe. I think it's pretty much a given that we're gonna get married, so – "
"You just assumed I'm gonna marry you? How can you be so romantic in every other way, but when it comes to the marriage proposal you just
assume
I'm gonna marry you?!"
"So, you're not gonna marry me?" He really was just screwing with her. Yes, he'd bought the ring, and yes, he had planned to ask her, but he had always planned to ask her when the right moment came up. He was not a stupid man. This was
not
the right moment. He didn't have a death wish and he knew asking her now was only going to end up being very painful. For him.
*****
Kyle rolled over onto his side, blinking a few times against the sunlight that was coming through the small gap in the curtains. He lifted his head slightly to glance over his sleeping girlfriend where she slept next to him to look at the alarm clock on the nightstand.
8am
, he thought gladly. Tess had some sort of internal alarm clock or something, and on days when they were both off, she would wake up at almost 9:00am in the mornings. It was still a riddle to him how that was even possible, but at least it told him that he had at least 30 minutes to prepare breakfast for her. He leaned in to breathe a kiss against her temple, smiling when she wiggled her nose in response but didn't wake up.
Rubbing his eyes one last time, he sat up slowly and climbed out of bed, trying to not make so much noise. He grabbed his jeans that he had just dropped the night before on his side of the bed.
Tess had been in an awful mood after the marriage talk,
he thought in amusement as he slid his legs into his pants. He decided that the jeans were all clothes he needed for now.
Kyle made his way downstairs quietly, stopping at the bathroom for a moment to throw some water into his face and brush his teeth before going into the kitchen to start breakfast. He glanced around the shelves of the open refrigerator for several long minutes before he decided what to prepare for breakfast. Something that would hopefully lighten his girlfriend's mood again, and quickly. As much as he loved her, a pissed Tess was a bad Tess and the sooner he got back on her good side, the better.
He was just about to take the first pancake out of the pan when he heard the toilet flushing upstairs. "What the hell?" he muttered and leaned back to glance at the clock on the microwave. It was only 8:33am, she wasn't supposed to be up so
early
. Something had to be wrong with her.
"Shit," he muttered when he saw that the pancake had turned out a little bit too dark on one side. He quickly turned it over on the plate so that the more delicious-looking side was facing up.
She won't notice, will she?
he thought, before deciding that it would still work and it wasn't like it was really burnt or anything.
Small tapping sounds on the stairs announced her arrival and he turned around to look at her when she entered the kitchen. He rested his back against the counter and wrapped his hands around the edge on either side of him. "Whatcha doin' already up, babe?" His eyes went over her delicate, slim body, which was only covered in one of his football jerseys. He felt himself harden just from her looks and wondered if it would still be the same in the next six years.
She lifted one eyebrow, knowing exactly what affect she had on him. "It's almost 9am, Kyle, when did ya expect me to get up?"
"Well, in about 15 minutes or something…" he shrugged.
She rolled her eyes. "I am not a mechanical alarm clock, goofy. So whatcha doin' in the kitchen?" she asked, wandering around the counter towards him. "Burning breakfast again?"
"Hey, I can make them," he told her, pointing at the plate.
"Uh-huh," she said, leaning down and using the fork to stick the pancake and turn it over. "Cheater," she accused with an amused smile.
He had to laugh slightly. "It's not that bad. It's still good to eat."
"Hopefully the others will turn out better," she said, making a shushing gesture with her hand to get him back to work, while she wandered around to pour herself a cup of coffee in the mug that said: I AM FUNKY, I AM SEXY, I AM ON A PUB CRAWL in big letters. They had gotten the mugs a few weeks ago, when they, along with Liz, Max and Maria – thankfully no Mark – had been out on an organized pub tour through the city.
"Wasn't a bad idea to buy the coffee machine with the timer," she admitted. Now the coffee was always ready when they got up.
"Uh-huh," he said, shaking his head. It had taken him several looooong conversations to convince her that it would be a rewarding investment.
She placed her hot drink on the counter and hopped up to sit on it, while she watched her boyfriend fighting with the next round of pancakes.
"So…" she started after several moments of comfortable silence.
"So?" he turned around to look at her questioningly.
"When are ya planning to give the ring to me?"
He focused his attention on the pancake he was trying not to burn to a crisp, biting his tongue as he listened to her nails tapping out a rhythm on the side of her mug. He shrugged one shoulder and flipped the pancake over.
A nice buttery golden color, that was more like it.
"Um, well… I mean, I didn't really have anything special in mind."
"Okay, Kyle, I thought about this for a long time last night," she said patiently. "You said you've already got the ring, right?"
"Uh-huh." He kept his expression under control and turned his head to look at her.
She huffed impatiently. "Well, if you've already bought it you must've intended to give it to me at some point."
"Sure, yeah."
"Well, it can't be Valentine's Day 'cause that was months ago. Unless you were plannin' to wait until next year. No," she said, shaking her head, "a holiday would be too cliché."
He nodded. That much was true.
"Besides, that's like more than half a year away. You didn't intend to make me wait that long, did you?"
He smiled at the suspicious tone in her voice. "Tess, I honestly didn't have a specific date in mind."
"So you seriously bought a ring 'cause you just assumed that we'd get married?"
He slid the pancake onto a plate and held it out to her, holding his other hand up. "Always be prepared."
"This isn't the damn Boy Scouts," she bit out, ignoring the plate.
"Babe, when I saw the ring I knew it was the one. Did I know the exact date I was gonna ask you? No. I just knew that we were gonna be getting married one of these days and I wanted to be prepared when – "
"Okay, this conversation is officially over." She crossed her arms over her chest and met his humor-filled gaze directly. "I wanna see the ring."
"What, now?"
"Yes, right now, Kyle."
"What about breakfast?"
"Somehow I think I can find it in me to wait a few more minutes."
"Well, alright." He tore a piece of the pancake off and popped it in his mouth, chewing slowly as he left the room.
Tess rolled her eyes as she crossed her left leg over her right and took another sip of her coffee. She had no idea how he had managed to get this all wrong. Even in high school Kyle had been a big romantic. Okay, back then he hadn't been as open about it around their friends or his football buddies, but as time had passed he had become more comfortable showing it without worrying who was around.
Kyle hurried back downstairs, catching himself just before he reached the kitchen and slowing down to a casual pace. He walked over to her and held the velvet box out on his open palm. "You're gonna love the ring."
She took the small box and lifted the lid, inhaling when she saw what lay inside. It was an elegant engagement ring with a matching band featuring blue sapphires and round diamonds channel-set in 18k white gold with a respectably sized Marquis-cut diamond at the center. "Kyle," she breathed. "It's beautiful."
He watched her face, taking in every nuance of her expressive features. Yeah, the ring was gorgeous, but it couldn't hold a candle to her beauty. She lifted it up out of the box, sliding it on her finger. He knew it would be a perfect fit, he had made sure of that. "So, I can get down on one knee if you want," he offered.
"You're forgiven for your lack of romance as far as the proposal is concerned," she said after turning her hand back and forth, looking at the ring from different angles. "But now I need to think about the proposal."
He groaned when she removed the ring and safely tucked it back in place. His mouth dropped open when she closed the lid on the box and handed it back to him.
"You're givin' it back to me?" he asked, looking from the box in his hand back to her.
"Of course! You didn't ask me to…"
"I can ask you now?" he interrupted her.
Tess shook her head as she lifted her mug to her lips to take a sip of her coffee.
"No?" Now he was getting irritated.
"That would be a little bit too easy, wouldn't it?"
He tried to not roll his eyes. Sometimes she was just so confusing.
One moment she wants to see the ring and the next she tells me this would be too easy,
he thought, frustrated. "Alright, if you don't want it now," he shrugged and shoved it into his pants pockets.
"You know you don't have to wait for a special day, right?" she said, making sure he understood that since there wasn't a single special day she could think of in the next couple of months.
"Tess," he complained. "You don't want it now, you don't want it on a special occasion… Ya know..." he grinned, "now I'm gonna decide when I'll ask you, deal with it."