Cupid's Revenge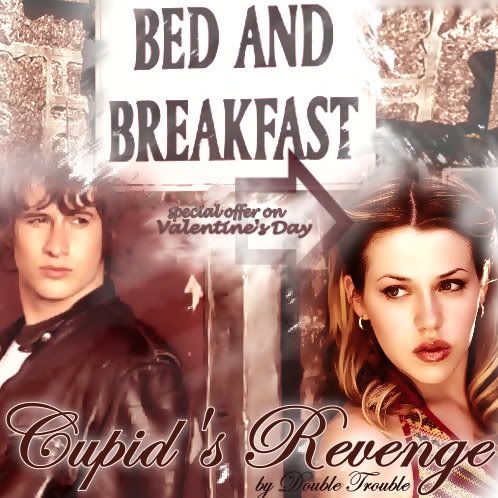 Author(s):
Double Trouble – aka Angel (ArchAngel1973) & Steffi (candysteffi)
Banner
: By us
Disclaimer
: All characters and plot lines that appeared in the series or in the books are not ours. The concept of Roswell does not belong to us either. They all belong to Melinda Metz, UPN, yada, yada, yada…
Pairings
: M&M
Rating
: Adult
Category
: AU without Alien
Summary
: A determined Cupid + two people with a passionate hate realtionship + a romantic bed and breakfast in Virgina Beach + Valentine's Day = Cupid's Revenge

Author's Note
: Hey guys, we are starting to post our Valentine's fic "Cupid's Revenge" today. While we are posting this fic, we will slow down the updates of our other fics MSH, TIC TAC and ITCOAL.
So today, we will post the first part of CR and a new extra long part of MSH! Next week we'll continue with CR and one extra long update for one of our other fics (not decided which yet, lol).
CR will only have a few parts, once we are finished with is, we go back to updating all three fics on Sundays.
Happy Valentine's Day!
Angel & Steffi
Part 1
Cupid was livid. The tiny cherub who was normally so cheerful was on the verge of beating his charges over the head with his bow. For more decades than he cared to think about he had been responsible for bringing couples together. His arrow had pierced the thickest hides and the most stubborn hearts. Or so he had thought.
He settled on top of the bank of file cabinets in the corner of the large room and his wings fluttered in agitation when they entered his line of sight. Tall, brusque, but somewhat charming under the right circumstances, Michael Guerin crossed the room and threw his things down on his desk before dropping down in his chair in a lazy sprawl.
The winged Roman god turned his head to the side to watch as Maria Deluca, short, bubbly, and who had a tendency to get excited about almost anything, moved along the perimeter of the room, heading for her own desk. Consequently, it was also the desk that sat directly across from, and facing, Michael Guerin. She shot a glance at him as she set her laptop up, shrugged out of her coat, and hung it on the back of her chair.
"What's with the turtleneck, Deluca?" he asked as he propped his feet up on the corner of his desk. "Hot date last night?"
"Like I'd tell you," she answered automatically.
"Hey, you tell me an' I'll tell you."
"Ungh, like I wanna hear who or what you've been doing."
"You're soundin' frustrated over there." He grinned unabashedly and shrugged. "Vibrator's not doin' it for ya anymore, huh?"
She started to tell him that's what she got for naming it after him, but the jackass would take it as a compliment.
Couldn't he have come up with anything besides vibrators to comment on? Bastard! It was like he knew she'd been going through batteries like crazy… and it was all his fault!
"Well, you'd know what frustration sounds like, wouldn't you? Guess life's been hard since you broke your right hand." She pulled up the story she had been working on and made a face at it.
It sucked.
And therein lay the problem
, Cupid thought morosely. He had managed to get a direct hit on Maria, but Michael, on the other hand, was a slippery devil and he had avoided every arrow shot in his direction.
"He hasn't avoided them, my friend."
A deep voice rumbled beside him and Cupid turned to look at its owner.
Eros, of course
. He sighed and once more cursed the Fates, certain that they were responsible for his appearance. Eros, his Greek counterpart was not forced to carry on through the ages in the body of a chubby winged infant. No, Eros was the embodiment of virile male sexuality and perfection and he had escaped the aggravation of hauling around a pair of wings.
"Then how would you explain his refusal to fall under her charms?"
"You've spent too many centuries being sucked into this romantic nonsense humans have contrived to give credence to their desires."
Cupid arched one eyebrow. "Fight with Psyche?" he asked at his old friend's cynical words.
Eros threw back his head and laughed boldly. "Gods, no! All I'm saying is perhaps you need to accept that some of your humans would benefit from one of my arrows as well as one of yours.
His wings quivered at the thought of getting this duo to cooperate so that he could turn his focus to his next pair of humans. "Will you be on this plane long?" It wasn't often that Eros wandered into the realm populated by humanity.
"Long enough."
"You may not be fighting with Psyche, but you're certainly hiding from her," Cupid mused with a grin at the Greek god.
Eros grunted and rested one sculpted arm on the file cabinet next to his winged friend. "I blame it on you, old friend. She's suddenly embraced the romantic notion of Valentine's Day and has decided that she would like more romance." He huffed indignantly and held his arms out at his sides. "Apparently my sexual prowess needs to be enhanced with more," he made a face, "romantic gestures."
Cupid chuckled gleefully at the annoyance on Eros' face. The statuesque god reminded him of someone in this mood. Someone… he turned to look at the man who was easily the most difficult human he had ever been charged with matching and a slow smile lifted the corners of his perfect mouth. "So, Psyche wants you to learn to be more romantic?"
The Greek god was suddenly suspicious. "Why?"
"In exchange for one of your arrows… I will show you my most successful romantic couple currently in this realm."
"Hmm, observe the humans." He nodded to himself as he held his right hand up, closing his fingers around the golden arrow that suddenly appeared there. "Very well then, Cupid." His muscles rippled as he tossed his longish hair over his shoulder and he reached up to hand the arrow over to the miniature Roman god.
Cupid motioned to a door on the wall across from them when it opened and a tall dark-haired man appeared. He called out to Michael and Maria, asking them to join him in his office. "When he leaves today, follow him." He slid Eros' arrow into his quiver and his wings fluttered as he straightened his shoulders. "Time to find out what they think of their next assignment."
"You already know what it is?"
He chuckled merrily. "It was my idea."
"You know we're not supposed to interfere more than necessary," Eros said as he settled back into a slouch.
"What I know is that Michael Guerin and Maria Deluca are not cooperating. Their situation required extreme measures."
Eros laughed heartily. "Don't let me keep you then, old friend. I'll return to follow the human around later today." His smirk was the last thing to fade as he disappeared from sight.
*****
Cupid materialized in the office, alighting on the credenza sitting behind the desk. He sat down, left elbow propped on his raised knee as he watched one of his successes settle into the large leather chair.
Max Evans regarded his two most competitive reporters over his steepled fingers and he lifted one eyebrow when Michael shifted restlessly. "I have a new assignment for the two of you."
"Wait just a minute," Maria said slowly. "What d'you mean you have an assignment for the two of us?"
"No way, Evans," Michael denied. "I don't work on fluff pieces for chicks. I'm a sports reporter so unless Deluca's gonna put a bikini on for a story I don't see us workin' together."
"Yeah, like I'd model a bikini for your sorry ass," she tossed back at him.
"Oh, c'mon, bet you'd rock a little red thong bikini."
"We're not doin' a swimsuit layout for Valentine's Day," Max said before the two of them could get into an argument. He had expected resistance from both of them, so he was ready. He had been certain his wife Liz was out of her mind when she had suggested he send them on a joint endeavor for a story but somehow she had convinced him to do it.
Michael shrugged. "I'm not goin' then. Unless it's got somethin' to do with sports or hot women in bikinis then you can forget it." He paused and held his forefinger up. "I would be willin' to sacrifice myself for a story on topless beaches."
"Oh, yeah, big sacrifice for you, Guerin." Maria rolled her eyes at him. "Do you know that there is more to a woman than the physical package?"
He shook his head at her. "Yeah, sure. And you probably think there's more to guys than their packages."
"Well, in your case I sincerely doubt it." Okay, in the realm of her personal fantasies he was a caring, intelligent man with the stamina and package a god would be proud of. Unfortunately in reality he was about as romantic as a pile of dog crap and while he was smart, the only things he cared about were sports, women, and sex… not necessarily in that order.
Max leaned forward and tossed two folders on the desk in front of them, motioning for each of them to take one. "That right there is your assignment." He sat back and waited for the storm to break. It only took seconds for them to react.
"No fuckin' way, Max."
"Are you outta your fuckin' mind, Max?"
It was times like this he really loved his job and hated his name. He forced down the look of amusement that wanted to surface and merely met their disbelieving gazes head on. "You are both journalists, correct?"
Michael threw the folder down and snorted in disgust. "You want us to spend Valentine's Day weekend at some crappy bed and breakfast in Virginia Beach?" He smacked the offending folder. "Huh-uh, Max. I'd suffocate with all that lace an' shit all over the place. Not to mention, the two of us in the same room?"
Maria's gaze moved over the pictures of the beautifully decorated suites. Canopied beds, Victorian lace, candlelit dinners, and long walks on the beach. Yes, she could easily picture enjoying that with her fantasy version of Michael, but with the version of him sitting beside her? It would be torture.
"Yeah, as much as I hate to agree with him, Max, I'm gonna have to this time. I'm not sharin' a bed or anything else with him."
Michael snorted and slouched down further in his chair.
Max just smiled as he shook his head. "You're professionals and our readers will enjoy a story from your perspectives in our next issue. Spend three days enjoying the peace and quiet of coastal Virginia; good food, a relaxing atmosphere, an on-site spa, swimming pool, and I do believe the suite we've booked for you has its own hot tub. Gear up and be ready to go on Friday morning. You'll arrive at the Cupid's Cove at 2pm and we'll see you back here on Monday around noon. The two of you will be sharing a suite but the king size bed can be converted into two twin beds. So, as you can see the worst thing you'll have to do is put up with each other for three nights."
"Okay, the dossier says we'd be posing as a married couple," Michael complained. "And again, I remind you it's fuckin' Valentine's Day weekend."
Max was unconcerned and unsympathetic. "And you've both made it known that you have no plans for this weekend." He grinned and nodded at the folders. "Now you do. You'll be paid double time and there will be a bonus."
"That's just great, you want me to spend the most romantic weekend of the year with the most unromantic man on the planet," Maria muttered.
"Not one of my fantasies either," the cretin next to her growled as he got up.
Problem was it could easily be one of hers
, she thought. "Fine, Max, but just so you know, I'll be expecting a very nice vacation package this year." She got up and leaned over the desk, bringing her face close to his as she lowered her voice. "You tell Liz that I know exactly who came up with this ridiculous idea and payback's a bitch."
Michael reached up to rub his shoulder, rolling it to work the brief, stinging pain out as he cursed the old baseball injury. He pulled the door open and turned to shoot one last glare at Max but instead his gaze was drawn to a pair of gorgeous legs and a damn near perfect ass when Maria leaned over the desk.
Ungh, hell, what was wrong with him?
he wondered, doing his best to force his eyes away from the tempting sight. He quickly shoved away all thoughts of a weekend in a suite with a king size bed and her for a companion.
There was no way he was attracted to Deluca. No way in hell. She was all about romance and love and everything that led to that ironclad commitment know as marriage.
He shook his head and hurried out of the office, heading for the relative safety of his desk.
Cupid smirked as he plucked the string on his trusty bow and shimmered out of existence to reappear at another location to observe a more cooperative pair of his charges.
*****
"I told Max we should've rented a car," Michael muttered as he paced back and forth at an exit near their gate. They had landed more than half an hour ago and they were still waiting for their ride. They had been informed upon landing that a bad accident on the freeway had caused the driver to run behind but that he would be there as soon as possible.
Maria stared at the congested traffic around the airport as she snorted. "Yeah, and the whole reason he nixed that suggestion was because he knew you'd never stay for the entire weekend if you had your own transportation." She turned her attention back to the brochure for the bed and breakfast so she didn't start staring at him. It was bad enough that they had to do this together; did he have to look and smell so damn good? He had driven her absolutely crazy on the flight, and it had nothing to do with his constant stream of negative rambling about spending the weekend pretending to be a couple while forced to stay someplace he would never go on his own.
"Yeah, well, I still think we should've told him where to stick this stupid assignment. You know where he got this idea, don't you?"
"Um-hmm," she murmured, forcing her gaze to stay on the pictures of the little romantic getaway.
"And that whole pretending to be a couple thing?" He shook his head as he finally became stationary in front of the window where he scowled at everyone and everything. This was about the stupidest thing Evans had ever come up with… and he'd covered some pretty odd stories in his time with this company. The magazine catered to no specific demographic, there was a little something for everyone, and he had no problem with that. But going undercover as a married man and spending Valentine's Day in some ridiculously overpriced bed and breakfast was just going above and beyond the call of duty.
"You guys wouldn't happen to be waitin' for the shuttle from Cupid's Cove, would you?" a breathless voice asked from behind them.
Michael turned his head, gaze raking over the new arrivals. "Yeah, damn thing's caught in traffic."
A couple a few years older than them was rushing towards them. They looked harried as they finally stopped, dropping their luggage on the floor next to them.
The man was average height with dark hair that was receding and green eyes that were set too close together, he thought uncharitably. The woman with him was just a bit taller with blue eyes and short blonde hair that would've been better suited to a shaggy dog.
"Whew, our flight was late and we just knew we'd missed the shuttle," the man said as he took a step closer and held his hand out. "I'm Kevin, this's my wife Abby."
Michael forced a smile and shook the man's hand. "Michael," he nodded at his 'wife', "that's Maria."
Maria ignored his less than enthusiastic introduction and smiled at the sweet couple. "Try to ignore him," she advised. "He tends to run on a schedule and he gets uptight when we're late for anything."
Abby chuckled as she sat down next to Maria. "I gave up being on time for much of anything after our third child was born. By the time our fifth came along I knew it was either be early or be late." She wrinkled her nose. "I'm afraid we're late for most things. Trying to organize five kids and a husband takes a lot of work."
"I can imagine."
"You have five kids?" Michael asked.
Maria could've kicked him when his question came out sounding like an accusation.
"Five," Kevin said proudly. His expression softened as he looked at his wife. "And number six on the way."
"Wow, congratulations," Maria said with a smile. "Is this your first time at Cupid's Cove?"
"Oh, no, we've come up here for Valentine's Day for the past four years. It helps to get a break from the kids, but these little romantic retreats are so good for you as a couple. Do the two of you get away very often?"
Maria shook her head. "It's our first time here."
"You'll love it." She reached over to pat Maria's hand. "And so will your husband. It's a wonderful place to stay and the people who run it are absolutely the sweetest couple on the planet."
Michael was saved from giving his gag reflex a workout when Kevin suddenly pointed outside and spoke up.
"The shuttle's here." He brushed his wife's hands aside when she reached for one of their bags. "I've got it, honey."
Maria rolled her eyes when Michael picked his bag up and headed for the door.
Well, no one was gonna accuse him of being a gentleman
, she thought as she grabbed her own bags.
"Hey, bud," Kevin said as Michael rushed to the exit. "No need to make a run for it. We'll let the driver know about the two of you so he doesn't leave before you get on board." He motioned back to Maria where she was trying to get a good grip on the heavier of her two bags. "Give that woman of yours a hand, we're not gonna leave ya stranded at the airport."
Michael watched them walk out to the shuttle, greeting the driver by name and he rolled his eyes as he walked back to Maria. "Gimme that damn bag," he muttered.
"I can carry it myself," she insisted.
"Yeah, you're doin' such a great job of it." He leaned over and their eyes locked as his hand closed over hers on the handle of the bag. "I've got it," he muttered, pulling it away from her.
She had been driving him crazy since they had boarded the plane and he couldn't explain his sudden overwhelming attraction to her. Okay, if he was honest with himself, it wasn't that he'd never noticed her before. Hell, she had been sitting right across from him for the past two years. He'd have to be an idiot to have overlooked her… and he wasn't an idiot. He had even considered making a move on her several times but then she'd do something to remind him that she wasn't fling material.
He just wasn't interested in getting entangled in a relationship and Maria Deluca had relationship written all over her. She was a romantic who had all kinds of ideas about marriage, weddings, relationships and romance… and that was fine, it appealed to the women who bought the magazine every month just for her articles. It wasn't fine for a guy who had turned bachelorhood into an art.
In the van he crossed his arms over his chest and rested his head against the window, pretending to sleep so he wouldn't have to participate in the conversation between Maria and the nauseatingly happy and fertile couple riding with them.
*****
"Oh, it's simply gorgeous!" Maria enthused as she bounced around their room like a three-year-old hopped up on caffeine.
He stood against the closed door, his eyes roving over their suite in disbelief. "It looks like the Valentine's Day Massacre happened in this room," he grumbled. Everywhere he looked it was red and white, frilly and lacy.
"This room is beautiful."
"This room is a nightmare."
"Kevin didn't seem to be complaining about the decor."
"Of course he's not complainin'. What's Kevin got to complain about? He's getting laid," he bit out.
She rolled her eyes at him and set her bag on the bed, opening it up and starting to hang her things away in the closet. "Abby was very sympathetic while you pretended to sleep all the way out here. She seems to think we'll benefit from the romantic atmosphere."
He shrugged. He had only pretended to sleep for the first half hour. That last 20 minutes or so he really had been sleeping. "I'm only doin' this because Max said I had to and I need my paycheck." He shoved her half-unpacked bag out of his way and he stretched out on the bed.
Maria glanced at him and froze when she saw his skin where his tee shirt had ridden up when he folded his arms under his head. She wondered what he would do if she just shoved her bag on the floor and crawled up over him to taste that skin. She had spent many hours fantasizing about doing that and so much more. She shook her head in a vain attempt to rid herself of that image. "Why don't you make yourself useful and turn this thing into two beds," she said, trying to ignore him.
"Scared you won't be able to stop yourself from jumpin' my bones if we sleep in the same bed?"
She snorted. "You couldn't handle me, Guerin."
He raised himself up to rest on his elbows at the challenge in her tone. "That a fact?" he asked.
"You have no idea what I'm lookin' for in a man."
He shrugged and lay down once more. "Just because I'm not interested in marriage to you or anyone else doesn't mean I don't know what women want. You, my friend, want all the crap that Cupid slings with his little bow an' arrow. You want that little fairytale with a husband, a couple kids, the mortgage, and whatever else goes along with it."
"I may want those things, but I stopped believing in fairytales a long time ago." She studied him for a few moments. "What is it about marriage, or just commitment, that scares you so much?"
He shook his head at her. "Nothin' scares me. I just don't buy into that crap. Someone needs to give Cupid a lesson in reality. It's all hearts and flowers at first and then it goes south, one or both parties want to end things and you're stuck with divorce lawyers and custody issues. No thanks. Someone oughta just take his little bow and shove it up his ass 'cause that myth ain't helpin' anyone."
"Wow, aren't you just the happy little ray of sunshine?" She leaned over him and poked him in the chest. "Don't go around spoutin' all of your anti-commitment, anti-love and anti-marriage opinions to the happy couples spending their weekend here."
"Why?" He looked down at her finger that had stopped poking him and started to rub against his chest instead. "Worried that the truth will scare 'em stupid?"
"You are so cynical."
"I'm a realist, baby." His breathing became shallow when he realized she was staring at his mouth. Her finger relaxed and her hand flattened against his chest, sliding over the muscled wall. His eyes darkened and her gaze lowered to her hand, eyes widening in surprise when she realized what she was doing.
"We should get ready for dinner. They said dinner's at 6pm," she babbled as she snatched her hand back and moved over to the closet.
God, Maria, just molest the man why don't you? Could you be any more obvious?
"Wanna shower first?" He grinned when her back stiffened and he realized how she had taken his question. "Maybe a cold shower would help the frustration factor. I'm gonna assume you didn't bring your vibrator since we're sharin' a room an' all."
"My vibrator is none of your business," she snapped as she jerked clothes out of the closet.
He snickered. "Jeez, Deluca, little oversensitive aren't you? If it's just a case of frustration I can help you with that," he offered with a wicked grin.
"I do not have a problem with frustration." She made a face at him and her gaze slid over him, lingering for a moment on the impressive bulge in his jeans.
"Yes, you do," he said in a sing-song voice. "Hell, we're already married, might as well take advantage of it."
"I'm gonna go take a shower," Maria said, going into the bathroom and slamming the door. She leaned back against it and fanned herself as she swallowed hard. "Yeah, if the man had any doubt that you wanted him that's shot all to hell now." She stared longingly at the large tub before opting for a cold shower. She turned the water on, making it as cold as she could stand before stripping and standing under the icy spray.
On the other side of the door Michael was grinning as he leaned against the door and listened to her chattered cursing.
Maybe this weekend wouldn't be a total bust after all
, he thought as he sauntered across the room and threw himself on the bed again.
*****
Maria glanced at herself in the mirror.
This weekend is going to be a nightmare
, she thought bitterly. Hanging out at work with Guerin was bad enough, but being around that hot… um, annoying guy 24 hours a day, no that was just too much.
"Suck it up, Deluca," she told herself quietly and brushed over her freshly washed and dried hair one more time before leaving the bathroom. "Didn't I ask you to separate the beds already?" she asked when she saw that he was still lying on the bed lazily while watching TV.
He straightened up and looked at her, almost disappointed that she was already fully dressed. He reached down to lift the blanket, which hid the frame of the bed, and used his free hand to knock against it. "As you can see, Deluca, this's in one piece, so unless you brought a saw in your luggage I doubt there's a way to separate it."
She rolled her eyes at him. "Max assured us that it was possible... figure it out."
"Figure it..." he muttered. "What part of 'one piece' did you not understand?"
She stared at him, trying to decide if he was deliberately being difficult. "Max would not have lied about that because he knows I'd tell Liz and then she would kill him for me."
"Then call Max instead of buggin' me."
"Yes, because I would bother him on the most romantic weekend of the year." She narrowed her eyes at him for a moment before suddenly shrugging. "Fine, leave it in one piece... but you're on my side of the bed, so move it or lose it, Guerin."
"Your side?" he echoed.
"Did I stutter or did you just not understand?"
"I didn't know we'd already decided on who had which side of the bed."
"You can sleep on the floor for all I care, but that is my side of the bed." She shook her head at him.
"I'm sure as hell not sleepin' on the floor."
"God, you really are this difficult, aren't you? When we came in here, I put my bag on this side of the bed, thereby staking a claim on it."
He rolled his eyes. "Can we go get somethin' to eat now? I'm starvin'."
"This isn't an all-you-can-eat buffet," she said, hiding her exasperation with him by speaking to him the way she would to a small child. "It's a romantic getaway for couples who actually like each other. We don't just go down and start chowin' down... no, we don't do that," she shook her head at him. "They have a schedule for meals."
Good grief, why had he agreed to this again? Oh, right, because he needed his paycheck.
"And what time can we go and eat?" he ground out.
She walked over to the nightstand to snatch up the schedule. "I forgot, you can't read." She glanced at the clock on the mantle above the fireplace. "It's nearly 4pm, so..." she glanced over the times, "they serve dinner at 6pm."
"Two more hours," he grumbled.
Great, that was just great.
"You are such a baby. It's not like you're gonna starve to death in the next two hours." She glanced at the pictures in the brochure, smiling at the intimate dinner settings. Cupid's Cove only had room for six couples, which gave them plenty of privacy in the elegant dining area. She grabbed her purse and pulled out a candy bar, tossing it to him. Maybe it would shut him up momentarily.
"You carry candy bars with you?" he asked in surprise and ripped it open.
"What, now you wanna make a smart remark about that too?" She frowned when she realized he still hadn't moved over. "You do realize we're supposed to act like a couple for this thing, right?"
"How can I forget that, sweetheart?" he teased.
She made a face at him. "You were doin' a damn good job at the airport."
"Huh?"
"Huh?" she mocked. "You were actin' like..." she motioned to him. "You!"
"Nothin' wrong with me," he told her stubbornly.
"I didn't say there was anything wrong with you... just that we're supposed to be a couple on the most romantic weekend of the year," she said stressing the last six words, "and you're not exactly Mr. Romantic. I can't imagine anyone buyin' our act as a couple on a romantic weekend getaway."
"You think I can't act like a romantic idiot?"
"Why is it that a man who displays his affections in romantic settings is an idiot?" She shook her head at him once again. God, at this rate her head was gonna fall off of her shoulders.
He leaned forward to look at her. "I can be the romantic jerk we need for this weekend," he told her. Oh, yeah, he would prove it to her.
She snorted. "Dr. Jekyll, meet Mr. Hyde," she muttered under her breath.
"I'm gonna go grab a shower," he decided and rolled from the bed, stripping off his shirt as he went.
She couldn't have stopped her eyes from tracing over every inch of skin he had just exposed if her life had depended on it. "We're supposed to dress for dinner so I hope you brought somethin' appropriate to wear." She had never seen him in anything but jeans, khaki pants and tee shirts. Not that there was anything wrong with that because he looked hot in anything he wore and she happened to like the way he looked in jeans, but dinner was a semi-formal occasion.
He turned to glance at her, satisfied when he saw that her gaze was locked on his bare chest. "You're gonna be surprised, Deluca."
"I doubt it." She stuck her tongue out at him as she wondered if he would completely embarrass her by wearing one of those tee shirts designed to look like the upper half of a tux. God, he had done that at the awards banquet last year and he had just grinned when Max had nearly had a coronary.
*****
Maria stood at the bottom of the wide staircase, mentally chastising herself for going to all the work to get ready for dinner when her partner in this insanity was going to come slouching down in a pair of jeans and a tee shirt any minute now.
If he came down at all
, she thought morosely.
Well, no, that wasn't true. The man would not miss a meal.
The other guests had started to wander down, heading for the dining room and stopping to exchange a few polite words as they passed her.
Michael had decided to take a nap while she had taken over the bathroom to get ready, assuring her all he needed was five minutes, ten tops, and he'd be ready. As promised, the alarm on his cell phone had gone off at ten minutes before six and he hadn't bothered to so much as open his eyes when she had told him she was going to head downstairs and would just wait for him there. He had waved her off and for all she knew he had gone right back to sleep.
She heard the clock strike 6pm, the chimes ringing melodically through the foyer. Of course, they were going to be the one couple who walked in late. Something that would be acceptable if their reason for joining the others late was because they had been busy between the sheets. But no, their reason wasn't nearly that interesting. Or satisfying. They were going to be late because her 'husband' was busy sleeping. She sighed in irritation and glanced up at the top of the staircase, her breath lodging in her throat when she saw the god standing there.
How the hell had he managed that?
A crisp dark blue shirt, open at the collar was tucked into a pair of dark dress slacks. He had even foregone the ratty work boots he wore all the time for a pair a nice dress shoes. A dark blazer that showed off his shoulders completed the ensemble and she swallowed hard at how easily he wore the clothes.
Michael smirked at the shocked expression on her face.
Served her right for thinking he was just a slob all the time
, he thought, satisfied. He took a moment to let his own gaze wander over her and he suddenly realized just how dry his mouth was. He had no idea about the different dresses women wore, but whatever she wanted to call it, she was hot. It was a little black strapless number that fit her like a second skin, showing off her curves but in a way that wasn't tacky or cheap. He didn't know the words, but he knew the difference.
Damn, now that's one hot little number
. His eyes widened slightly. He hadn't just said that aloud had he? He sighed in relief when she didn't go off on him, a clear indication that he hadn't just opened his mouth. He thought it was a compliment, but chances were good she would've taken one of her high heels and shoved it down his throat. He took his time making his way down the steps and he paused in front of her. His gaze raked over her for a moment. "Not bad, Deluca." He offered her his arm. "So, ready to do this?"
She had trouble catching her breath and hiding her surprise. "Sure," she nodded and laid her hand on his arm lightly.
He fought back the urge to tug at the collar of the shirt. It was uncomfortable and stiff but he could dress up when it was necessary. At the entry to the dining room they were greeted by the hostess and shown to their table. The dining room was arranged to give couples privacy and the table they had been given was in a secluded corner with a view of the ocean. He could feel Maria's shock when he held her chair for her before taking his own seat.
"Anything I can get you to drink?" a server asked politely after they had both sat down.
Michael glanced at Maria. "May I?" He was certain by the end of the night she would be mute from shock.
She nodded. "Sure."
"Are you having pasta or steak?" he asked as he glanced over the wine list.
"Pasta."
He studied the wine list for a moment, finally selecting a bottle of Beaujolais. Perfect with pasta and low in alcohol. He handed the list back to the server and nodded when she said someone would take their orders after they'd had a few minutes to peruse the menu.
"Do you drink wine normally?" she asked when the waitress was out of earshot.
"No, I prefer an ice cold beer and hot dogs at the ballpark over things like this," he answered honestly.
"Then how'd you know which wine to order?" she asked because honestly... she would have no clue.
He shrugged and picked at the lace tablecloth with his right thumb. "My parents know their alcohol," he muttered.
She had a feeling it wasn't anything he wanted to talk about. "You look better than I expected."
"It's not what you're thinkin', sweetheart," he said, with a smirk. She was redirecting the conversation, probably assuming he'd had some sort of traumatic childhood.
Which made sense after his lead-in
, he realized.
She frowned. "Huh?"
"My parents are winemakers... who divorced when I was about 13. An ugly divorce for sure, but that's about as far as it goes." It was also the reason for his negative view of marriage.
"That's why you don't believe in relationships?" she asked quietly.
He shrugged and after a moment he nodded. "My parents were happy together and then all of the sudden things just went south. 17 years of marriage, a successful business, and a 13-year-old kid who worshipped the ground they walked on... what else did they need?" He cleared his throat.
Damn, he never told anyone that much about himself.
Maria shrugged, not knowing the answer.
"So anyway... that's my sad story." He lifted his chin. "What about you? Your parents still together?"
"No, my dad ran off when I was only four," she told him.
Why did I tell him that?
He fell silent when a waiter came by to take their orders, waiting until the man had left them alone again before he continued their conversation. "But you buy into all this stuff," he said, motioning to the romantic setting around them. "Why?"
"My mom found someone else," she said with a shrug. "Sometimes it doesn't work out for a lifetime, but that's no reason to be lonely in my opinion."
"Huh." He took a drink of water and leaned back in his chair. "Never really thought about it like that. Most women either buy into that whole happily-ever-after bullshit or they're just out for a good time." He stared at her for a moment. "I like the way you think though. There're no guarantees in life, so I can appreciate your view. It's real, ya know?"
"I know."
His lips turned up in a smirk at her know-it-all tone. He laughed suddenly, shaking his head. "Who would've thought the two of us would ever be sittin' in a place like this havin' an actual conversation?"
"Yeah," she sipped her water. "I can't believe it either."