Double Dare
Author(s):
Double Trouble aka Angel & Steffi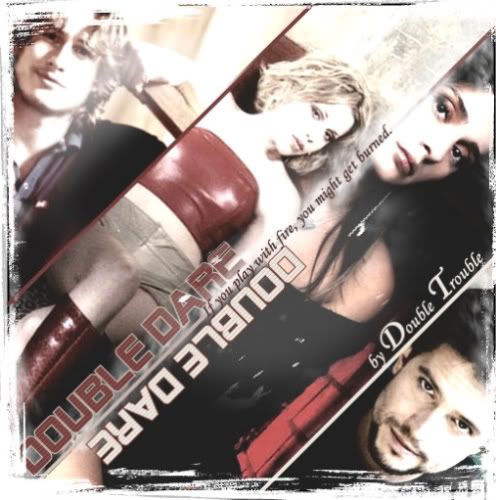 Banner by:
Us
Rating:
Adult
Category:
AU without Alien
Pairing:
M&M / M&L
Type:
Comedy and a bit Drama / Smut
Disclaimer:
All characters and plot lines that appeared in the series or in the books are not ours. The concept of Roswell does not belong to us either. They all belong to Melinda Metz, UPN, yada, yada, yada…
Summary:
If you play with fire, you might get burned.
Link to our trailer – made by us:
DOUBLE DARE
Part 1
The setting sun cast its orange glow over the ocean, giving it a fiery hue and making the girls sitting on the beach squint behind their sunglasses. California really was the place to be. The long, sandy white beaches stretched as far as the eye could see on either side and behind them was a row of beach houses. The short blonde reached up to shade her eyes when her friend's quiet sigh reached her ears.
"What's up, Liz?" Maria Deluca asked as she turned her head.
Liz Parker brushed her long dark hair back over her shoulder before turning to mimic her best friend's pose, one hand raised to block the sun from her eyes. "David broke up with me."
Maria bit back the response that immediately leapt to her tongue, knowing that an 'I told you so' wouldn't be appropriate for the moment. She had never cared for the guy, but Liz had been into him so she had tried to be supportive. "I'm sorry, Liz." She ignored the blinding sunlight to lean over and hug her friend. "Did he give you a reason?"
Liz snorted to downplay her sadness. "He said I'm too boring."
"What?" Okay, maybe Liz wasn't the most adventurous person out there, but to tell her she was boring was just downright mean.
Liz glanced out at the ocean and rested her chin on her knees, pulling her arms around her bent legs. "Maybe he's right."
"You think you're boring?"
"Sometimes... I mean, not boring by all definitions, just... hell I don't know."
"Did he elaborate on how he thinks you're boring or just tell you you're boring in general?"
"I'm pretty sure he meant the sex and partying parts."
"Hmm... do you think you're boring in those areas?"
"I don't know..." Liz glanced at her friend. "Do you think I am?"
"Well, I've never had sex with you," Maria said with a teasing grin.
"Ha ha," Liz mumbled, not feeling able to laugh honestly.
"C'mon, Liz, don't get down on yourself like that. Look, maybe you're not that adventurous in bed... not everyone is. Maybe he's just a dick."
Like I told you he is
, she thought but didn't say. "And maybe he's just not the guy who's gonna bring that out in you."
"You don't understand, Maria," Liz said, grabbing a handful of sand and throwing it at her friend. "I know you don't like him, but we were together for a pretty long time and I want him back."
She did her best not to make a face at Liz's declaration. "Okay," she brushed sand from her bare thighs, "fine, if you want him back and his only complaint was that you're boring and you're pretty sure he meant it about sex and parties... there's only one thing to do."
"And that would be?"
"You're willing to do whatever's necessary to get him back?"
"What're you up to?" Liz asked uncertainly. If Maria had that challenging tone she was really in trouble.
"Well, you need to experiment... we'll find a guy who's pretty knowledgeable and you can practice on him."
"Practice on him?" the brunette asked, shocked. "Are you suggesting I should have sex with a stranger to get more... adventurous?"
"What? No! Just... ya know, you can just make out with him."
Liz bit her lip while she thought about it. "That's just ridiculous."
"Why is it ridiculous?"
"Do you really think that'd help me get him back?"
"Well, maybe another guy could show you some things."
"And who would you suggest? It's not like you can just pick someone out," she rolled her eyes. "Well, maybe you can. The men love you."
"Well..." Maria leaned back on her hands and looked around at the activity on the beach, discarding most of the guys right off. Her eyes settled on a group further down engaged in a very competitive game of volleyball. She watched as a tall dark-headed guy took a drink from his beer before wedging it back in the ice chest and hurrying back to snatch up the ball. "Max Evans," she stated.
Liz almost choked when she took a sip of her cold drink. "Yeah, right."
"What? The guy would be perfect. He's like the campus Casanova."
"Yeah, but he can have any woman, so why would he even be interested in me?"
"Okay, number one that is the wrong attitude to take. And number two you MAKE him interested in you."
She turned her head to take a look at the guy in question. He guy looked good, but she couldn't imagine he could be interested in her. He was out of her league.
Maria rolled her eyes. She could practically hear every argument Liz was building in her mind. "You're gonna make me do it, aren't you?"
"Do what?"
"I dare you to hang out with Max Evans... go to... hmm... at least three parties that he's at and you have to make out with him."
"You dare me? No, Maria, not a dare again," the other girl whined.
"Yes, Liz... a dare. Trust me, you'll thank me later. And the last one was NOT that bad."
"The last one was stupid," the other girl laughed. Maria had dared her to wear a nun's dress during their flight to Tijuana for Spring Break.
"Fine, I'll even be generous... you can dare me to do something."
Easy one
, she thought.
She loved Liz, but her dares generally lacked much of a daring quality.

Could she do it? Could she flirt with one of the most popular guys on campus without making a fool of herself? She wanted David back, so maybe a bit of practice would be good?
"Oh... okay, let me think."
Maria smiled in satisfaction.
Easy as pie
, she mused as she closed her eyes and turned her face up to the sun.
"Oh," Liz shouted after she had watched the guys playing volleyball for a while.
Maria jumped, not expecting the shout. "What?" She looked up and down the beach, trying to figure out what had Liz's attention.
"I dare you to get Michael Guerin to go out with you," Liz said, pleased with herself. "Oh, and not just go out. I dare you to get a kiss from him. With tongue... at his parents' house."
"What?" She turned back to the volleyball game and let her eyes linger on the guy high-fiving Max. "Guerin, really? C'mon, Liz, the guy's a big question mark. No one knows anything about him, he plays Mr. Cool on campus, but there's something about him... And, kiss him at his parent's house?"
Liz chuckled. Michael Guerin was the one guy Maria couldn't get interested in her. She had tried before and lost the battle. "I think that's a really good damn dare."
Leave it to Liz to suddenly come up with a really daring dare. She'd rather chew on a jar of nails than try anything with that ass again.
"So? Are you in, DeLuca?" Liz teased. If her friend said no then she wouldn't have to go after Evans either.
Maria snorted. She sooo knew where Liz was going with her taunt. "You're not getting outta this that easily." She reached up to toss her hair back over her shoulder. "I can get Guerin to go out with me and anything else I want him to do. I just wasn't that invested before."
Liar!
The other girl laughed. "Oh, that'll be fun to watch."
"Yeah, as much fun as watching you make out with Evans."
"So we got a double dare?" Liz glanced at her friend with a challenging gleam in her eyes.
"Sure..."
"Okay," she brushed some hair out of her face and looked at the guys. Their bodies were sweaty from their exertions in the sun. Yummy. "Now what?"
Maria chewed on her thumbnail as she let her gaze wander over Michael's toned body. Faded jeans, bare feet, and bare from the waist up.
The guy really was perfection on two legs but he was just so defective in the personality department. Ungh