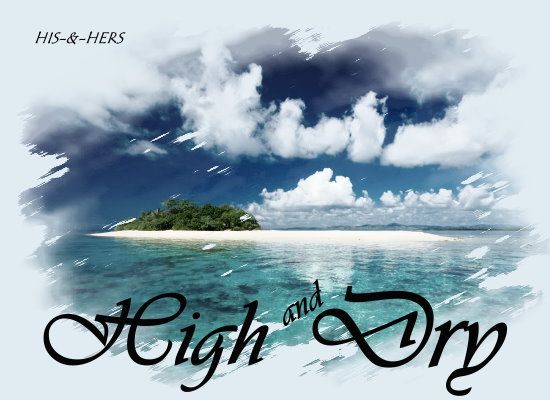 HIGH

and

DRY
Authors:
HIS-&-HERS
Couples:
M&L; M&M, K&T; A&I
Disclaimer:
We don't own anything but the idea for the fic.
Rating:
Adult
Summary:
Most people have high expectations and great plans after graduating high school. But what if your dreams are never fulfilled or they turn out to be not enough? Sometimes a simple trip with old and new friends can lead to a lot of chaos, fun, anger, hurt and last but not least… unexpected love.
Prologue
Liz Parker walked through the semi-dark hallway of the luxurious 4 bedroom domicile located in the Fisherman's Wharf district in San Francisco. The house was ridiculously large, the property way too over the top for the two people who lived in it. The sounds of her slow steps on the tiling echoed loudly, increasing her feeling of loneliness even more.
Candlelight illuminated the room she stepped into and her gaze roamed sadly over the romantically set table. "Should I warm up the chicken, Ms. Parker?" Elenore Sanders, the housekeeper asked carefully while she exchanged the too-warm bottle of red wine with a newer, chilled one from the refrigerator.
"No, Elenore, thank you," Liz said quietly and lifted one foot up to rip the pump from it, then repeating the same move with the other. "I think you can call it a day now."
The older woman looked at her in surprise but nodded, glad to go home earlier than expected. "I'll wrap dinner up and set it in the refrigerator before I leave," she said and went to do that.
"Sure," the brunette nodded and sat down on one of the two chairs at the table. She leaned back against the rest, while her perfectly manicured fingernails drummed against the dark wood surface of the table in a rhythmic and slightly aggressive manner.
Her eyes wandered through the large glass doors, which lead out onto the terrace and garden, but all she could see was her own lonely reflection and the dark night. She straightened up when the headlights of a car could be seen from the street near the house, but a moment later she realized that it had stopped in the driveway that belonged to their neighbor.
Where the hell was he?
she thought bitterly and stood up again, walking towards the windows and pulling on the curtains furiously. She was suddenly feeling observed from outside, like she was some trophy fish in a glass aquarium for all to look and gawk at.
"Asshole," she muttered and went back to sit again, grabbing the wine glass and emptying half of it at once. The effect of the alcohol could be felt after only a few seconds, a good sign that she hadn't eaten anything for a while.
Yeah
, she thought and snorted,
I would have if he had been here on time for once.
The sound of another car had her listening up, but she didn't go look this time.
Past 9pm
, she thought and leaned back in the chair, picking at the hem of the tight black dress she was wearing before crossing her arms over her chest.
She listened to the heavy iron gate outside as it opened and closed automatically, the sound of the engine of the car turning off, and the key being inserted into the lock on the huge double doors at the front of the house. "Honey?" he called, his voice echoing through the hallway. "I'm home."
"Honey, I'm home," she mocked quietly and rolled her eyes, not giving him a sign to let him know where she was.
"Honey?" he called again and walked further down the hallway, while ridding himself of his coat. "Liz, honey, where are you?" A moment later he passed the entrance to the dining room and stopped in the doorway when he saw her sitting in the room that was only illuminated by candlelight.
"Liz… what?" he asked right at the same moment that realization hit him. "Our anniversary," Dean groaned and rushed to her side. "I'm sorry, honey. I had this huge meeting today about the Nelson project and it took longer than expected."
She didn't so much move an inch or blink while he rambled off his excuse for forgetting their third anniversary. Three years ago today they had been out for the first time and somehow those happy days seemed like a lifetime away. Her gaze lowered to her hand when he took it in his. The engagement ring he had given her fourteen months ago was sitting there comfortably, blinking in the candle light and still holding his promise of marriage.
Will he ever find the time to marry me anyway? Hell, would he even show up on time for our WEDDING?
"How about we have dinner now?" he asked gently and ran his fingers over the soft skin of the back of her hand. "I haven't really eaten anything and…"
She ripped her hand away from him. "I'm not hungry anymore."
"Liz," he tried. "I am sorry. I just had a very busy day at work."
Her eyes narrowed on him and she couldn't hold her anger back any longer. "It's nice to know where I rank amongst your priorities, Dean. You see I also work hard, but unlike you I am able to have a private life and care about the people around me."
He got up and ran his hands through his hair. "Are you saying I don't care about you?"
She stood as well, hands on her slim hips, and Dean couldn't other but to think how sexy she looked in her black dress. "You certainly aren't showing it."
"I would've been home earlier, if…"
"This isn't only about today," Lit said through gritted teeth. "On my birthday you were on a business trip," she enumerated. "On my mother's birthday I had to drive alone because you had an oh-so-important meeting that couldn't be postponed, and then today you forgot our anniversary." With each new fact her voice rose higher. "Last week I told you I might get the position as the floorwalker in the lab, but you didn't even ask me once what came out of it."
"Well, uh…" he stuttered, "did you get the job?" he asked lamely.
She rolled her eyes while she got rid of her heavy earrings and slammed them on the table. "It's too late for that now," Liz told him, disappointed.
"Honey," Dean tried again and reached for her, but she flinched out of his reach.
"Good night," she growled. "I am not sharing a bed with you tonight."
"What?" he asked, offended when she started to leave him. "Hey, this's my house."
"U-huh, then I guess you know you have plenty other beds to sleep in tonight," Liz said coldly, proud of herself for not giving in to his apologies this time. It wasn't that she didn't love him anymore, not at all, but he was just so wrapped up in his job all the time that it was hard to get his private and loveable side out.
****
Liz glanced into the mirror, looking at herself and the slight puffy eyes from spilling a few tears as soon as she had gotten away from her fiancé. She leaned forward and spit the rest of the toothpaste in her mouth into the sink, rinsing it with water and wiping her mouth on a towel.
"Fantastic," she muttered when she noticed the white foamy spots on her black satin nightie. She wiped them off with her hand, only to spread them further over the fabric.
She walked back into the large bedroom she usually shared with Dean and pulled the heavy violet curtains closed to block the sunlight the next morning would bring.
"Liz?" She heard his muffled voice through the door in addition to the soft knock. "Can I come in?"
For a moment she really considered it. There had never been a time she had slept alone in this bed and it sure as hell would be weird, but would it change anything if she gave in so soon?
"No," she decided and spoke it out loud at the same time. She heard him sighing, but a moment later the sound of a door being opened could be heard and she was positive that he had taken the bedroom across the hall from hers.
"What a day," she sighed and opened her walk-in closet to find a book she had bought a while ago. "Where the hell are you?"
It wasn't like she had much time to read most days. Her job was usually very busy and it would only get busier now that her boss had told her she would be getting the new and better paying position of floorwalker in the lab soon. Sure it would mean even more hours at work, but considering that Dean was never home before 7 pm anyway it didn't bother her and she could finally contribute more money to their relationship as well.
Liz stood on her tiptoes and reached out for a carton high on the shelf over the closet door. "Come on," she panted and stretched higher, jumping up slightly to get it. Sometimes it sure did suck to be short.
"Shit," she squeaked and jumped to the side when her uncontrolled movement knocked off a few other things from the shelf as well and they all fell on the ground with a loud shattering sound. "Great, Parker."
A few batteries from a flashlight rolled across the floor, coming to a stop when they bumped noisily against a small metallic box. Liz frowned when the thing looked familiar to her and a moment later her face lit up when she remembered it. "Oh my god," she breathed and bent down to pick it up.
She walked over to her bed, leaving the rest of the mess on the closet floor where it had fallen. "How could I have forgotten about you," Liz whispered to herself, looking at the small box in her hands as she crawled up on the soft mattress. She threw a few pillows against the headboard and snuggled against them, the little box on her thighs.
For a few minutes she just looked at it, lost in the memory of a distant but happy time. She lifted it up and shook it, not surprised that she couldn't hear anything at all. The little combination lock, which prevented anyone else from discovering the content of the box was heavy and showed four small dials with numbers from 0 to 9.
Easily, Liz remembered the combination of the correct numbers to unlock it. 6 – 6 – 0 – 7.
It stood for June, 6th 2007 – Graduation day….