In The Course Of a Lifetime: A Christmas Story
Author(s): Double Trouble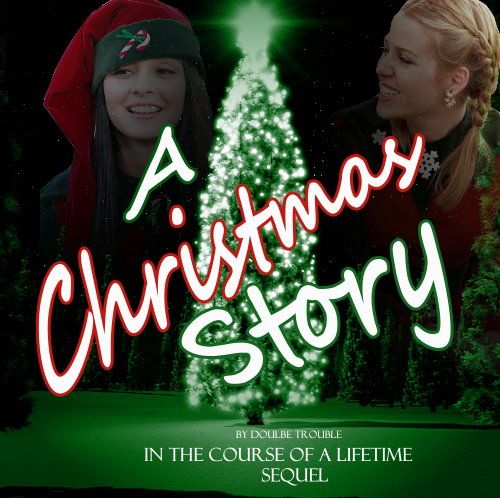 Banner by: Us
Disclaimer
: All characters and plot lines that appeared in the series or in the books are not ours. The concept of Roswell does not belong to us either. They all belong to Melinda Metz, UPN, yada, yada, yada…
Pairings
: M&M, M&L, K&T, and A/I
Rating
: Probably Mature to Adult
Summary
: Just a reunion of our beloved characters to see where they are at Christmas about five years or so after ITCOAL left off.
Posting every Wednesday and Sunday!
Merry Christmas, Everyone!
Part 1
THE
metallic blue Dodge Ram pulled off of the highway and the driver lifted his foot off of the gas, letting the truck coast to the stop sign at the bottom of the ramp. He adjusted the sunglasses that weren't necessary in December and grinned at his reflection in the rearview mirror as he let off the brake and stepped on the gas. The sun shined year round in southern California and he was so accustomed to the feel of a pair of sunglasses that he just naturally picked them up if he was going out during the day.
He rolled his shoulders as he lowered the window, waving to an elderly couple walking along Main Street. There was a significant difference in temperature too. He shifted and the jacket he didn't normally wear settled more comfortably. The stores and streets were decorated for Christmas and people smiled and waved as he passed. He smiled when he heard a woman walking out of a store cheerfully holler a "Merry Christmas!" back at the storekeeper. Yeah, he was home.
Life in small town America moved at such a different pace than life in the big city,
he thought as he parked next to the city park and opened his door.
He dropped to the ground and stretched, his gaze moving over the park that would come alive with Christmas lights as soon as dusk fell. Grandma was one of the organizers and he could see her touch in the design. His whole family would've been involved in one way or another, working together to create this work of art. He kinda missed that although he wouldn't admit it.
He turned his head when flashing lights reflected off of his glasses and he turned to look at the SUV pulling to a stop behind his truck. The emblem of the Sheriff's Department caught the weak sunlight and he couldn't stop the grin when he saw the man stepping out of the vehicle. The Sheriff walked around his truck, lowering glasses he hadn't worn five years ago to look at the license plate attached to his front bumper.
"We've got a city ordinance about disturbing the peace, young man."
"You gonna write me a ticket?"
"Well," the Sheriff mused as he rubbed his jaw, "I suppose I could let you off with a warning this time. You college boys in California disturb the peace all the time?"
"Not all the time." Andy Evans grinned and shook the man's hand, laughing when he was pulled into a bear hug. "How's it goin', Grandpa?"
Jim Valenti leaned back, releasing the younger man as he shook his head. "Good, things are goin' good. Phone started ringin' off the hook when you blew through town. Your mom probably knows you're home already."
"The gossip line in a small town moves faster than anything I've ever seen in the big city."
"She's real excited about you comin' home for Christmas this year."
"I know she was disappointed about last year."
"Um-hmm, spending Christmas at some ski resort with that young woman you were dating? You'd best be planning to stay through the first of the year after that stunt."
Andy just laughed. "C'mon, Grandpa, all that matters is I'm home this year." He sobered and inhaled deeply, drawing in the clean, fresh air. "Hey, everybody come back for the holidays this year?"
Jim leaned back against the truck and reached up to adjust his glasses. "Anyone specific you're askin' about?"
"Nah," he shrugged, "just askin'. I know Justin didn't make it back last year either." Of course, his cousin had been going through a divorce and preparing for a custody battle for his six-month-old son at the time too.
"Looks like everyone made it home this year. I think it's the first year you've all been home for Christmas since you went off to college."
"Yeah. I know Mom was pretty stoked. Michael said Christmas dinner's gonna be at our place this year 'cause Thanksgiving was at Aunt Liz an' Uncle Max's place."
"They trade off every holiday." He chuckled and reached for the radio clipped to his belt when it crackled to life.
Andy listened as his grandfather took the call, assuring the dispatcher he would be back at the office as soon as he'd escorted his grandson home. "You're kidding, right?"
"Oh, no, you get the full treatment. Flashing lights, the whole deal." He grinned and slapped the younger man on the back. "Let's go. Your mom's holding dinner and you'll wanna get there before you starve the poor woman."
"You're not gonna stay for dinner?"
"Not tonight. Your grandmother's already made plans with Maria and we'll be having a family dinner tomorrow evening. They want you to have plenty of time to settle in before bombarding you with a bunch of people."
"That's good. 24 hours should do the trick." He rolled his eyes. "I've been craving some home cooking so let's go." He'd missed the big family dinners and get-togethers; missed the chaos and craziness that went with having so many people under one roof. It'd be good to see everyone again. He rubbed his eyebrow with his thumb, unconsciously mimicking his stepdad. "So, dinner… everyone gonna be there?"
Jim hid a smile. "Well, I did hear that Sam Whitman was flying in tomorrow evening so her folks won't be there because they'll be going out to pick her up at the airport. Other than that I think everyone's gonna be there."
Sam was coming home. They hadn't seen each other since that last night before she had left for college back east. After numerous discussions and arguments about the subject they had finally agreed that a long distance relationship wouldn't work, especially at their ages. Too much could change while they were away at college at opposite ends of the country. It had hurt but they had known it was the best decision.
They had managed to avoid seeing each other any time they were home at the same time after that. It hadn't been intentional but somehow their schedules had just never meshed and they'd agreed that calling and staying in contact would make it harder to move on. He'd dated of course, and he'd dated a lot, but he'd never found anyone like her.
"You comin', boy?"
He shook himself out of his thoughts. "Yeah, let's go."
*****
"Max hates asparagus," Liz said and shook her head, "but we could go with beans and bacon instead as a second dish of veggies."
"Yeah, sure, why not," the blonde woman next to her agreed and scribbled something down on the notebook with the increasing list of things to buy. "Michael likes them."
"I like what?" someone asked as the door swung open and heavy boots could be heard on the floor.
"Ungh, Michael," she made a face, "I just cleaned up the kitchen, couldn't you guys have used the front door?"
He looked down at the floor and the puddle that was beginning to seep from under his boots. "Sorry, I'll clean it up, alright?" He gave her a sheepish smile and took another step inside to kiss her cheek.
"You'd better," she rolled her eyes but couldn't be really mad at him. "You got a tree?"
"The PERFECT tree," he told her. "Max's unloading it from the truck right now. I came to ask where we stored that stand."
"Garage," she mumbled while she went over the list of food and looked at him when he didn't move. "Well? Was there something else, Mister?"
He hadn't had the chance to answer when Kara squeezed into the house from behind him along with Theo.
"Kara, I told you to – " Liz started but Maria waved her off when her shoes as well as the dog's paws left more dirty tracks on the tile.
"Since Michael offered to clean up, it doesn't matter now anyway." She looked at her husband with a wink.
"I'm sorry, Aunt Maria," the girl next to them apologized anyway and turned to her mother. "Where's Jenna?"
"Down for her afternoon nap, but we need to wake her up soon or she won't sleep tonight," Liz said when she realized how late it had already gotten.
"Want me to?"
"Sure, but take your shoes off first and clean up."
"Okay," the almost-nine-year-old said and got rid of them immediately, leaving them right next to the door, before she started to hurry up the stairs.
"And be gentle," her mother called after her and rolled her eyes when she heard the pounding footsteps. "Our lives are chaos."
"Chaos is the right word for it," Maria agreed and then smiled. "But I wouldn't have it any other way."
"When's Andy arriving?" Michael asked as he grabbed the leash from the chair next to the door and whistled for Theo.
"He hasn't called since last night but he said it'd probably be sometime this evening."
"Good, he can help get that tree up, it's huge." He whistled again. "Mojo."
"You sure he'll move his lazy ass when it's all comfy in front of the fireplace?" Maria asked with an eye roll. "That's one lazy dog."
"He'll come," he said and looked at the swinging door, grinning when the big and unhurried dog walked into the kitchen after almost a whole minute.
Liz shook her head at the dog when he finally reached Michael and sat down in front of him, waiting for the expected rubdown. The man gave in to his wishes and rubbed him for nearly a full minute before the back door opened again and her husband pushed in behind him.
"Hey, I thought you were gonna gimme a hand with this tree you decided on?" He glanced at his wife and grinned. "You only thought you'd found the biggest tree in Roswell."
"I hope we don't have to cut a hole in the ceiling to make it fit," Maria said.
Michael shook his head and decided to let that comment go without a response. He shrugged when Max looked at him. Good grief, he knew how high their ceiling was! "C'mon, I'll go get what we need outta the garage and then we can haul that monster off the truck."
"Men," his wife said when they both left and there were just the puddles from their boots left on the tile to indicate they'd been there.
Liz nodded in agreement. "I'll help you clean that up." Chances were good Michael would conveniently forget to mop up the mess they'd made.
"Let's focus on that list again so I can make it to the store early in the morning. You know how packed places are around the holidays. It's like everybody thinks there won't be an after the holidays anymore."
"Are the guys gonna go with you?" she asked as she made a note on the side of her paper. "You're gonna have a LOT of groceries once this list is complete."
"I'll make them go."
"And you're sure you don't wanna split the list up?"
"Nah, most likely we won't get it all at one store and what's the point in both of us running to different places? Tomorrow your house will be full of kids so you're gonna have your hands full anyway."
"That's true." She smiled. "I can't believe they're both gonna be home this year! And you'll finally get to meet Jeremy." She still couldn't believe her youngest son had already made her a grandmother but she had taken to the role with all of her heart.
"Is Justin in a good place right now?" Maria asked. "He seemed to be so out of place the last time he was home."
"Now that things are finally settled with the custody arrangement he's doing a lot better." She didn't have a lot of good thoughts about her ex-daughter-in-law. The girl hadn't been interested in being a wife and mother and as soon as playing house had begun to bore her she'd decided she wanted out. The only reason she'd fought him for custody in the first place was because she'd thought she'd get more money out of him.
"That's good. It'll be good for him to be around family. So young and alone with a baby isn't easy, especially not for a boy. You can be so proud of him."
"We are. He's been doing so well. I know it's hard on him and I wish he'd consider transferring closer to home but," she sighed, "I know that has to be his decision."
"That's true, I guess. And if it helps, my son's not that far away but I hardly ever see him."
"I know we can't just keep them with us forever, but do they have to go so far away? I know California's not that far away compared to the east coast, but still..."
Maria chuckled and closed the cookbook in front of her. "Is Nick coming with Sarah for Christmas dinner?"
"Yeah, and they're getting into town tomorrow. They're having dinner with her parents on Christmas Eve and they'll be with us on Christmas Day."
"We'll have to count the chairs so there'll be enough."
"I'll do the final count on my end and let you know. And if you need us to bring some I'll have Max get them out of the garage."
"I think we're good. Not everyone's bringing as many kids as you," Maria winked. "And rumor has it my son's charming the whole campus so I doubt he'll bring anyone."
Liz laughed. "The campus Romeo, huh?"
"Apparently," she smirked. "Well, he has his father's good looks, so the girls can't be blamed."
"Blame it on the gene pool, that's the way to go."
Loud clattering could be heard from the front of the house when the front door was pushed open. "I hope they don't plan to stick that tree in its stand in the living room," Maria said, horrified at the thought that they'd do the necessary cutting right there in the house. She got up and hurried for the door.
"Mom, I'm home," Andy called loudly when he dropped his bag on the floor. He grinned widely when his mother burst through the kitchen door.
Maria froze for a moment when her eyes landed on her son and as soon as she had collected herself she ran across the room and threw herself into his arms. "You're home!" she exclaimed.
Andy chuckled deeply and caught his mother, even lifting her up a few inches. "Hey, Mom."
"I thought you weren't planning to be home until later?" She leaned back to look at him, reaching up to frame his face in her hands. "You weren't speeding, were you?"
"No," he rolled his eyes slightly. "I just left earlier than expected. Was planning to take a friend halfway with me and take a slight detour to drop him off in his home town, but the dude got a plane ticket from his family at the last minute and cancelled."
She shook her head at him. "Well, I'm glad he did. Liz and I were working on the list for Christmas dinner but we're almost finished. And Max is here helping Michael with the tree." Her eyes moved over him and she sighed with a huge smile she couldn't suppress or even tone down. "You look so good and I'm so glad you're home."
"California, Mom," he held his arms out at his sides. "It's like Florida without the stupid hurricanes."
"Or the humidity," she said and laughed. There was no denying southern California had near perfect weather. She patted his cheek. "Must be nice to have that perfect tan year-round."
"It is nice and women love it," he chuckled and leaned around her to glance at his aunt. "Hey."
"How are you, Andy?" Liz asked. He did look good. It wasn't surprising and it was, she mused. They wanted their children to be well and to have a good life, but somehow it always seemed like a small shock when they came home after being away for so long and they looked like they were doing great.
"I'm damn fine," he told her and glanced at the stairs when Kara appeared, holding a small hand in hers and he could hear his youngest cousin's babbling even though she was completely hidden by the railing.
Kara looked up just as her cousin hollered up at her and she rolled her eyes at the nickname from so long ago.
Short stuff
, she thought and shook her head at him. "I'm not that short any more, Andy," she insisted.
He chuckled and moved forward to meet them at the end of the stairs. "You're more than two feet shorter than me, that makes you short stuff and her mini stuff." Andy ruffled her thick hair and leaned in for a hug before he picked Jenna up in his arms.
She hugged him even though he was annoying. She wouldn't admit it but she still enjoyed the affectionate nicknames her cousin and older brothers had called her since she was little.
"Your brothers here yet?"
"Not yet. Nicky's supposed to be here tomorrow if there're no delays with his flight and Justin's gonna be here tonight if there's no bad weather."
"Bet you're excited to have your brothers around again, huh? And little Jeremy."
"Yeah, it'll – "
"The baby's little," Jenna said as she looked up at her cousin through her eyelashes.
"Yeah, you're not the youngest anymore, mini stuff."
She wrinkled her nose as she thought about that. "He's too little. He can't do nothin' but cry an' sleep." She made a face. "That's not fun."
Andy chuckled. Justin's son was about 18 months old now so he was doing a little more than just crying and sleeping. "It'll get better eventually." He turned when he heard heavy footsteps at the front door and he grinned when he saw Michael and his uncle. "I'll be back okay?" he told his little cousin and set her down again before he went to greet the others.
"Hey, Michael," he greeted the man who had been something between a good friend and a father to him over the past year.
"Andy, you made it just in time," Michael said as he hugged the younger man. "Got that monster tree your mom wanted and it's gonna take some work to get it in the stand."
"Good thing I work out a lot then," the boy said and fisted his uncle with a grin. "Hey, Uncle Max, you look tired."
"Wonder why," he said with a glance at his youngest. A recent bout of nightmares had kept her up and running into her parents' room almost every night. He refocused on his nephew. "You don't… wonder why." He laughed and shook his head. "Keepin' those girls on the run out in California?"
"Hey, I'm still young."
"And the implication there would be that you're not," Michael said and slapped Max on the shoulder.
"Neither are you."
"I'm not ready to be put out to pasture just yet."
Maria rolled her eyes. "Why don't you all take your shoes off and we'll have some coffee and tea?"
"As long as mine's coffee," Andy said as he leaned over to unlace his boots.
"Look at that, he's all grown up," his mother teased and pinched his cheek.
He frowned at her when Kara and Jenna started laughing. "Ungh, Mom, stop that."
"You'll always be my little boy," she whispered to him and then walked back into the kitchen.
He looked at Michael. "She seems a little... I don't know... off. Everything okay?"
"You know your mom," he told him. "She gets emotional over the holidays and it's worse when she's planning Christmas dinner."
"Yeah, okay." His gaze stayed on the door for a moment, wondering if that's all it was. He looked down at Kara. "You wanna gimme a hand with my stuff?"
She giggled. "Andy, that's too heavy for me."
"You sure? 'Cause I've got some presents in the truck and I thought maybe you could carry some of them inside, but if you don't think so..."
"Presents?" Her attention was all his.
*****
It was almost 10pm when Justin pulled into the driveway of his childhood home. He leaned his head back against the headrest and sighed tiredly. He glanced in the rearview mirror and watched his sleeping son for a few moments.
His son
, he thought and wondered when that phrase would stop amazing him.
Jeremy was the result of a drunken one-night stand and sometimes when he stood next to his crib and watched him sleep at night he wondered how he'd answer his boy's questions when he got older and started to become curious about his mother and where she was. He'd been raised to take responsibility for his actions and when Trina had told him she was pregnant he'd immediately proposed.
Looking back now he knew he'd jumped the gun. There were other ways to be responsible and care for your child without marrying someone you didn't love. And he hadn't loved her. He'd been so sure that if they got married they'd eventually come to care for each other and then it would grow into love. Boy had he been wrong!
They had fought about everything and before he was 19 he'd already been married, fathered a child, and gotten divorced. And that was all before completing his first year of college. Now he was a single father to an 18-month-old baby boy. Sometimes he wanted to pack Jeremy up and run right back home. He knew Mom would love it and Dad would too, but Dad understood that he had to stand on his own two feet and make things work. He kinda thought Mom understood it too, but not the way Dad did. It was a man thing.
He reached for the keys dangling from the ignition and cut the engine, not surprised when the sudden silence caused Jeremy to stir. The front porch light came on and in spite of the late hour his parents were dressed and before he could open the door and tell them not to come out they were on their way down the driveway.
Justin opened his door carefully and stepped out into the cold night air to greet his parents. "Hi, guys," his voice was quiet in hopes that Jeremy wouldn't wake completely. Travelling home had been exhausting for both of them and he really wanted to just sleep right now.
"My boy, you're home," Liz said with tears in her eyes as she went to hug him tightly.
He smiled and hugged her back, leaning down while he looked over her shoulder to meet Dad's eyes. He was standing back slightly to give them a few moments, his eyes soft. "Mom, you're crushing me," he teased.
"Sorry," she laughed. "I'm just so happy you're home." Her gaze shifted towards the baby in the backseat and a heartbeat later she was reaching out to open the door to greet her grandchild.
"Let her fuss over him," Max said and approached his son, pulling him into a bear hug as well. "Good to see you home and in one piece, Son."
"Yeah, I'm glad to be here, Dad. It's been a long ride."
In more ways than one
, his father thought. "Let's get the most important stuff inside and the rest we'll take care of tomorrow morning." He went to open the trunk, smirking when it was packed to the top. Traveling with a baby, he knew how that went.
There were no words to describe how proud he was of Justin. No matter what kind of mistake had brought him to the situation he was in now, the boy was dealing with the consequences like a real adult and he didn't feel sorry for himself.
"The black one has the stuff I'll need for Jeremy," Justin explained. "And that's mine," he took a large black one out. "I guess the rest can wait."
Meanwhile Liz had crept further into the car and loosened the seatbelt around the baby's car seat. She grabbed it carefully and pulled it out. The baby in it moved slightly, but his eyes stayed closed for now. "Isn't he the cutest thing, Max?" she whispered in amazement when they had closed up the car and were walking back inside.
He chuckled and looked down at Jeremy. "You say that about every baby, but yes, he is. Looks a lot like his father," he admitted and squeezed Justin's shoulder with his free hand. God, it seemed like it was only yesterday that they had carried the twins inside the same way and now his boy had a child who wasn't much younger than his youngest daughter.
He was getting old.
*****
"I can't believe we're stuck in freaking Lincoln, Nebraska," Nick complained as he threw himself down in the chair next to his girlfriend. He glared at the armrest when it shifted with his weight and drooped to one side. "How do you start off on the east coast and end up in the middle of nowhere? I can't believe they even have a runway big enough to land that plane."
"If Roswell's airport can handle planes I'm sure Lincoln has no problem getting them on the ground," Sarah said as she flipped the page in her magazine. "You're just cranky because that flight attendant interrupted us before we joined the Mile High Club."
"That old crab's probably made it her life's work to ruin the moment for every couple that's ever had that intention on one of her flights."
"Like she's never done it in the air." She rolled her eyes. His mood had momentarily improved after they'd landed and he'd spotted the sign for McDonalds, blowing her off when she'd insisted they should check on a car rental first. And had there been a single rental left by the time they'd made it through the line? No. Now he was in a mood and griping about every little thing he could find to complain about.
"Please, they didn't have planes when she was our age."
"I'm sure you're right, Nick." Agreeing with him was the quickest way to diffuse one of these moods. Disagreeing with him only dragged it out and she wasn't the slightest bit interested in getting stuck with him in this mood.
"Mom's gonna be upset if we don't make it home for Christmas." He crossed his arms over his chest and closed his eyes as he dropped his head back against the window behind him. When she didn't say anything he cracked one eye open to look at her. "Alright, I'm sorry I'm bein' an ass."
"I didn't say anything."
He snorted. "Yeah, and you didn't say it very loudly." He was just closing his eyes when a page came over the PA system and he turned his head to look at Sarah. "Did he just call us?"
Her eyebrows lifted. "Yeah."
"Wonder why? I mean, I called and talked to Dad, told him we were stuck here until who knows when but I can't imagine he'd call and have us paged." He got up when she poked him. "Right." He grabbed the majority of their luggage, leaving the two smallest for her to carry and they made their way to the location that had been called out. They were probably several dozen yards from their destination when they recognized the girl waving at them from beside the ticket counter. "Sam, what're you doin' here?"
"My flight got rerouted to Omaha of all places," she said as she ran over and hugged them. "I hit the rental counter and then called Dad. He told me you guys had gotten stranded here so I thought I'd see if you wanted to split the drive time with me. I figure we're about 14 hours from home and if we split it into three shifts we can be home in time for dinner."
"So you have a car already?" Nick asked.
She rolled her eyes.
How did he think she'd gotten from Omaha to Lincoln?
"Yup, some kinda SUV since the smaller cars were all gone when I asked."
"Works in our favor," Sarah grinned and elbowed her boy. "I think we're in, aren't we, Nicky?"
"Hell, yes, I was already seeing us having Christmas dinner at McDonalds this year. There're no cars left to rent in this hole in the wall city."
"I see," Sam chuckled while she tried to get over the shock of just how much of a man Nick had become. He even had a slight five o'clock shadow. She jingled the keys in front of him. "Ready?"
"Definitely," he agreed and took the keys from her. "I'll take the first shift." Maybe he'd take two shifts, that way they'd get home faster – not that he was planning to tell the girls that.
"Sure. You can pack your stuff on that baggage cart," she gestured to a lone cart waiting nearby.
"So where's Noah?" Sarah asked and wanted to bite her tongue when she recognized the sad look on the other girl's face.
"We're spending Christmas vacation separately," was the short answer.
Nick and Sarah exchanged quick puzzled looks. "Oh, well, at least you'll have plenty of family around," he said. He didn't want to pry anything out of her if she wasn't ready to share yet.
"True enough. C'mon, I parked as close as I could but we're still gonna have to make a run for it because it's freakin' cold here!"
"What, 28 degrees too cold for you, Whitman?" Nick teased.
"Yeah, and I make no apologies for it, Evans." The automatic doors opened and the cold wind hit them like an icy brick wall.
"I hope you've got the heat on high," Sarah said when she saw that the car was running.
"As cold as it is in this frozen state you can't keep it on anything less."
Nick unlocked the doors and pointed at them. "You two get inside. I'll get the luggage put away and be with you in a sec."
"See why I just love him?" His girlfriend grinned at him as she and Sam dove into the car and slammed the doors shut. Grumpy moods aside, she really did love him.