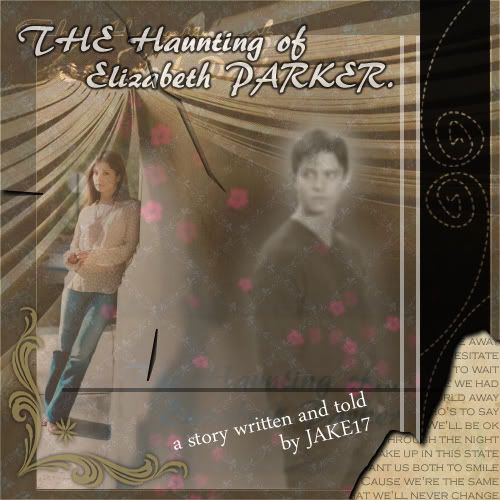 thank you Ping for the amazing Banner!!
Title: The Haunting of Elizabeth Parker
Author: jake17
Disclaimer: I own nothing Roswell
Pairings: M/L
Rating: Adult
Summary: Needing to escape the big city, Mystery writer Elizabeth Parker rents a house far up in the woods in a tiny isolated town in Maine. Not knowing the horrifying history of this abandoned old farmhouse she believes it will be a perfect quiet place to work. Little by little she realizes that she is not alone in this seemly serene charming home. Will she be brave enough to try and discover what terrifying secret haunts this house or will she run as far as she can away, even if it meant leaving him... forever.
Author's Note: OK so it's so close to Halloween I just had to write a scary romantic Max and Liz story. My muse just won't leave me alone. I still blame Jason…

Chapter 1.
As we speed down the rolling hills of this pretty much non existent town I hope that I can finally get the peace that I've been craving for after leaving the city.
"So what brings you to these neck of the woods?"
'Ok so we don't always get what we hope for.'
Driving me to the house that promises me the seclusion I desperately need is a very bubbly blonde girl who looks to be around my age. She obviously is very happy to have someone young to talk to and is making the most of the long trek up to what I hope will be my place of refuge.
"Well I recently decided to leave the firm I was working for to work on a novel."
Her eyes light up and I can see the curiosity rising up in her as she taps the steering wheel to the music on the radio.
"A novel? Wow that is so interesting? What kind of novel?"
I breathe a sigh of relief as I notice the dirt road we've turned onto to, we must be here. Hoping I can get out of answering any more questions. I ask about the house.
"So are we almost here?"
I see a noticeable change in Maria's expression as soon as I mention the house that is starting to come into view.
I sink into my seat, as the reality of the description I read about and the actual appearance look nothing alike.
"Wow"
Maria flashes a little smile while consciously avoiding eye contact with me.
"It just needs a little cosmetic work, a little gardening, painting it'll be fine."
Pulling my luggage out of her back seat I push back the doubts that are creeping into my brain.
"It will do just fine. I'm not here on vacation, I'm here to work."
Maria grabs one of my suitcases and walks me up to the faded red door and promptly sets it on the ground and hands me the keys.
"Aren't you going to come in?"
Walking backwards Maria suddenly becomes very nervous as she stutters and trips to her car.
" I have so many house to show today I really must be going. The station wagon in the driveway works the keys are on the ring I just gave you. There is a hardware store and a small food mart in town, if there is anything you need my number is on my card I gave you earlier. I really have to go I'll check on you later in the week."
I watch confused as the blue SUV peels out of the driveway leaving a wake of flying dust and dirt.
'Don't freak Parker it's a small town. It will just take some time getting used to.'
As I open the door a strong musty damp odor hits me right away. It's quite evident that this house has not been lived in for years.
I look around at the spacious rooms that are covered with cobwebs. There are dusty white sheets covering all of the furniture. Big brown shutters with long dark emerald green heavy drapes cover the tall large windows that are too few and far between leaving the house very dark.
The walls are covered in antique flowered wallpaper with framed black and white pictures of people that look less than happy with life are scattered about.
As I go into the kitchen I get an instant headache. They could have at least cleaned before renting the place I complain to myself as I look at the dingy floor and counter tops.
What is really peculiar is that the table is set and there are dead flowers in a vase on the counter. It almost appears as if some event happened in this room and everything was just left undisturbed.
'Ok relax Parker what did you expect renting an old farmhouse in the middle of a desolate town in Maine. Stephen king couldn't write a better set up for a horror movie.'
As I make my way upstairs I spot an old stuffed animal. Picking it up I smile as it reminds me of Mr. Behr, a stuffed teddy bear I still carry around with me.
Spotting what seems to be the master bedroom I throw my suitcase on the bed. This house needs tons of work but all I can think about is a hot shower and a good night's sleep.
A wide smile spreads across my face as I see an old fashioned huge white bathtub big enough to fit two of me in.
'Perfect'
I turn the water on as I start to undress throwing everything on the floor too tired to worry about neatness at this point.
As I step into the steamy hot bath my body instantly relaxes as I ease my way down and close my eyes.
'Finally peace and quiet' I whisper as I sink deeper into the soothing warm water.
As I start to wash my arms and neck with the soapy washcloth I hear something off in the distance.
I freeze and cover my chest with the tiny towel as I listen more intensely,
It sounds like someone is breathing. The disturbing part is it sounds like it's close to me, almost next to my ear.
I start to shake unable to think or move.
Then as quickly as it came the sound disappeared.
A laugh to myself thinking how exhaustion can really play tricks on your mind, obviously I needed to get away.
As I close my eyes again dismissing the whispering as an overactive imagination and the reminisce of the incredible stress I've been through I start to calm down.
As I slip into a sleepy state of relaxation I am once again jarred awake by the door slowly closing. I stare at it knowing this is definitely not my imagination.
The horrible squeaking sound it makes as it slowly closes sends shivers up my spine.
In a flash I am out of the tub and in my robe. Sitting on the edge of my bed I contemplate what to do next. It's pitch black outside and there is no way I would be able to find my way back to town.
I could call my realtor Maria but it's so late, and really what am I supposed to say. I'm the crazy person from the big city who thinks the house you rented me is haunted.
Yeah neither option sounded feasible.
Pulling my nightgown over my head and brushing out my damp hair I start to think rationally.
This is an old house, it's bound to make unexplained noises and as far as the door closing, this house is huge. A large draft could've been responsible for that.
Feeling a lot calmer I climb under the covers on the huge four-poster bed and move to my side.
'Don't worry Parker tomorrow will be better. You have to just give it a chance.'
Just as my eyes are about close something catches my attention on the round antique nightstand.
It's a picture of a young man. Possibly about my age, he is dressed in a suit and tie. He is indescribably handsome with dark short hair with bangs that brush over the most beautiful eyes I have ever seen. He has a look of intense sadness almost painful loneliness as he looks back at me as if he is gazing right into my soul.
He looks so kind and sensitive as he stands there alone in front of the house that at the time looks sparkling new.
I can't help to wonder why he is so sad and why he stands alone.
As I close my eyes my thoughts remain of the mysterious stranger that has somehow stayed with me as I slowly fall asleep.
In the middle of the night I am wakened by a soft gentle caress along my long hair that is lying across the pillow.
As my eyes flutter open it suddenly stops.
Thinking that I must be dreaming I quickly drift back as I curl up and wrap the blankets tighter around my shoulders.
I smile as I imagine it's that beautiful man in the picture staying with me making sure I'm protected.
~~~~~~~~~
Should I continue?