Winner-Round 13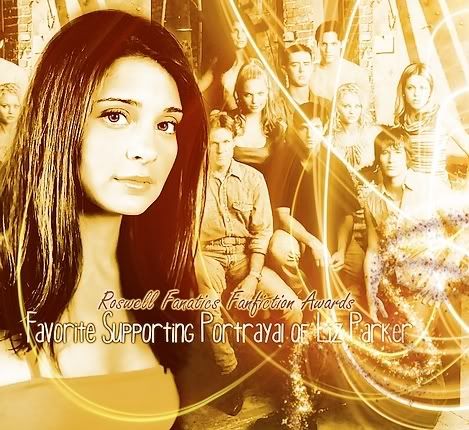 Double Date
Author(s):
Double Trouble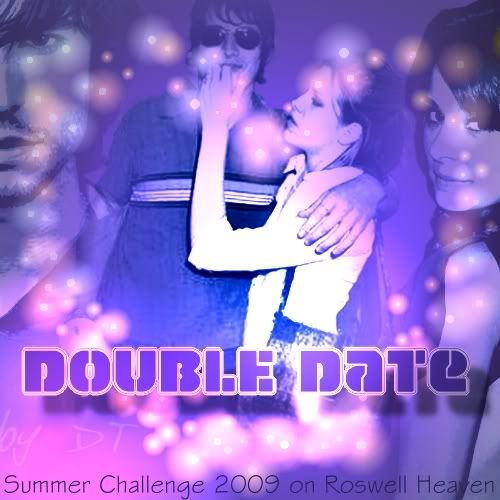 Banner by:
Us
Rating:
Adult
Category:
AU without Alien
Pairing:
M&M / M&L
Type:
Comedy / Smut
Disclaimer:
All characters and plot lines that appeared in the series or in the books are not ours. The concept of Roswell does not belong to us either. They all belong to Melinda Metz, UPN, yada, yada, yada…
Summary:
What happens when two friends from college spend the summer together and they brings their best friends along with them?
Link to our trailer – made by us:
http://www.youtube.com/watch?v=cVMV_pOE ... annel_page
*****
Author´s Note:
The fic is based on the Summer Challenge on Roswell Heaven. (Challenge rules:
http://roswellheaven.yuku.com/topic/4652
)
Vote for us!

*****
Part 1
The alarm clock blaring at five o'clock in the morning was a rude reminder that summer break wasn't all about being lazy and having fun, but Maria DeLuca rushed for no one and that included Father Time. She hit the snooze button and rolled back over, easing into sleep without the slightest hesitation. She repeated the process two more times but before sleep could embrace her again her cell phone rang and she made a blind grab for it. She flipped it open, brought it up to her ear, and mumbled something that the caller recognized as what passed for a 'good morning' in the DeLuca language.
"G'mornin', Sexy."
The deep rumbling voice, gruff and filled with affectionate amusement, traveled through the phone and straight to every desire she had where he was concerned.
"Michael! Why're you callin' so early?" He snorted and she could practically see his 'are you kidding me?' look.
"I'm hopin' you've come to your senses and you're gonna be flyin' home later today." He sighed when she didn't automatically jump to give him the answer he wanted. "C'mon, Maria," he begged. "You left me here with Max and he's threatenin' to drag me out to some stuffy, boring, waste of time art thing that's in town."
"You don't go anywhere you don't wanna go so don't give me that bullshit."
"Fine." She knew him too well for him to get away with a lie.
"I told you, Liz is my best friend and her dad needs the help over the summer and it'll give me time to spend with her; we haven't seen each other since we left for college."
"Thought I was your best friend?"
"You're my best guy friend and you're completely irreplaceable," she assured him. "Now, why are you really callin'?"
"You said you start your job this mornin'… I figured I'd wait until you'd hit the snooze button two or three times before I gave you a call."
His laughter sent waves of heat rushing through her body and she shivered as she immediately recalled the steamy dream he'd had the starring role in just minutes before. She had gotten used to her attraction to him and instead of ignoring it completely she carried on an incredibly incendiary relationship with him in her subconscious.
"What time is it?" she asked, not even bothering to look at the clock.
"California time or your time?"
"I really have no need of California time right now, you ass," she muttered, her tone teasing.
"You said your shift starts at six, right?" He nodded when she grunted into the phone. "Uh-huh, let's just say you'd better get your ass in gear."
Maria rolled out of bed and glanced at her reflection in the mirror over her dresser, making a face at herself as she headed for the bathroom. "My ass is officially in gear, Michael. You never get up this early, so go back to bed." She started the shower and went back to her room to grab her things.
"Think of me when you're shakin' your ass for tips today."
"It's a small town diner, you dirty-minded perv… there won't be any ass-shakin'." His laughter sent shivers down her spine.
"Talk to ya later, Sexy."
Maria tossed the phone on the bed and glanced at the clock before hurrying to shower and get ready so she could get to the diner and help out with the morning crowd.
*****
Michael Guerin ran a hand through his hair and dropped his phone on the bed beside him as he went over the conversation in his head. He didn't know why he kept doing this to himself, but she was like an addiction he couldn't shake.
And didn't really want to
, he admitted silently.
Even in a different time zone all it took was her voice over the phone and his traitorous dick leapt to attention. "Bastard!" He tossed the insult at the offending body part as he tried to figure out his next course of action.
What the hell was he gonna do all summer without her around to flirt with and tease?
Hell, he could flirt with any girl, but there was just something about her that made it so much fun.
A sound from the front room in the apartment caught his attention and he got out of bed, knowing his temporary roommate was suffering from insomnia again. After a quick and painfully frigid shower he went out to find Max moping in the living room.
"Okay, look, Evans, you've been draggin' your ass around here for the past week and it's time to snap out of it."
The dark-haired man slouched down in one corner of the couch glanced up at his friend and he shrugged one shoulder.
"I realize your roommate hooked up with your sister and you came here so you wouldn't have to worry about walkin' in on them while they're getting it on – "
"Michael," he protested.
God, he did not need that image in his head!
"Look, man, I'm just sayin' I realize that would make any guy wanna lose his lunch, but this whole I'm-depressed-and-I'm-gonna-bring-the-rest-of-the-world-down-with-me mood is fuckin' killin' me! So, just, tell me what happened or I'll call Isabel and ask her."
Max glared at him because he knew Michael would call his sister without another thought. "Rebecca dumped me."
"And?"
"You wouldn't understand."
"What's to understand? The girl was a bitch and nobody liked her anyway." He shrugged. "You dodged a bullet if you ask me."
"And I didn't ask you, did I?"
"You're mopin' around in my apartment. That entitles me to not only have an opinion, but it gives me the right to express said opinion."
"That is one more reason why you're single."
"I'm single because I choose to be."
"You're single because you've got a serious hard-on for your best friend – "
"My apartment, Max," Michael interrupted. "You're allowed to have your own opinion, but you don't have any right to express it." And that was the end of that conversation. "I'm gonna go get somethin' to eat; you wanna go?"
Max shrugged and got to his feet. "Lemme grab a shower and get ready."
Michael relaxed once he was left alone and he suddenly remembered he needed to find his shoes so they could leave.
*****
Maria entered the restaurant through the back entrance and she looked around at the employee's lounge.
Some things just never changed,
she thought as she put her stuff into her old locker.
"Maria!"
A large smile spread across her face as her best friend from childhood hurried through the swinging doors. "Hey, Chica!"
After lots of happy screaming, excited squeals, and exuberant hugs the two girls stood back to look each other over.
"Livin' on the West Coast definitely agrees with you," Liz Parker declared.
"It does, doesn't it? You can't go wrong when the sun shines year-round though. What about you? How's the East Coast?"
"The winters are freezing! I spent half the school year freezing my ass off! Not to mention there's an extreme shortage of hot guys!"
"Told you to choose a school in Cali, babe, but did you listen? No."
"Alright, bust my chops over that later. The breakfast rush is startin' so we need to get to work. Let's hit the club tonight and catch up."
"Sounds like a plan."
Maria was so glad to be home for the summer. She needed some time to clear her head and she desperately needed her best friend's advice in regards to a certain spiky-haired man who refused to stay out of her dreams.
*****
The Club, as it was called by locals, was located at the south end of Main Street and as the only nightclub in Roswell it was packed on a nightly basis. Since it was Thursday the music was being handled by the deejay, but on weekends they always had a live band. The temperature in the building was only slightly cooler than it was outside due to the number of bodies squeezed inside. The music was loud and pounding, the dance floor was jumping, and the conversations were carried on at a decibel that rivaled that of the music pulsing through the club.
The girls pushed their way through the crowd to get to the bar, settling on a couple of stools at the end of the counter and ordering drinks from the man tending bar. Liz lifted her eyebrows in surprise when the man openly flirted with Maria and she didn't respond in a similar manner.
How weird was that?
She ordered a Tequila Cosmo and Maria ordered a Blue Margarita before they settled back to watch the bartender mix the drinks. Liz let her gaze slide over the man, letting her thoughts wander into fantasy territory for several minutes before an unsubtle nudge from her friend brought her back to reality.
"Seriously, Liz?" Maria muttered. "The man has to be in his thirties."
"Maybe, but you'd never know it by that body." She rolled her eyes when Maria just snorted. "Okay, age aside, why aren't you mentally undressing him? Or at the very least, flirting with him?"
Maria shrugged. "Not my type," she said dismissively. She glanced at him again.
Was something wrong with her?
The guy was definitely hot, but she wasn't interested in flirting with him.
"Not your type?" Liz turned to look at the man in question again.
He was hot! He was ripped, toned, fit, and she'd be willing to bet you could bounce a quarter off of his tight ass!
"You're an imposter! What the hell have you done with Maria?"
The other girl laughed and nodded in the direction of the bartender when he placed their drinks in front of them. "Tonight, my friend, I just want to spend time with you and not with a man. Okay?"
"Uh-huh," Liz said doubtfully. "I think you've got some talkin' to do, so start spillin', DeLuca."
"Well, where should I start?" Maria asked with a big grin. She couldn't wait to tell her best friend every small detail about the past year and Michael was a really big part of it.
"I think you should start with whatever – or, maybe I should say whoever – put that big smile on your face."
"Well, you know the first couple of weeks were so boring and lonely when I got there last year. And you would know 'cause I called you almost every night and cried into the phone that I missed you. Sorry about that again, it was a little crazy... I know." Maria grimaced when those memories came back.
"Oh, please... if you recall you weren't the only one crying into the phone. It took some time to get used to bein' in a different state, different culture, and bein' so far away from home... I know all about that!"
"I told you about a guy named Michael, right?"
"Um-hmm... the campus flirt, right?"
"Well, yeah, he was at first. But we're actually really good friends."
"How good is 'really' good?"
"I would say he's my best guy friend."
"So, no makin' out, no sex... just friends?"
"What?" Maria choked on her drink. "Of course we don't make out!"
Liz laughed when her friend hurriedly grabbed a napkin to wipe her mouth. "But you want to," she said in a sing-song voice.
"NO!" she denied, but it didn't take long for her to give in. "Well, he's hot!" She glanced at the bartender again. "Much hotter than him, by the way, but I decided to keep it on a friends-level basis only."
"You decided to keep him on the friend leash," Liz mused slowly. "Okay, what's wrong with him?"
"Well, he tends to be superficial... with women at least. He doesn't bother to get to know any of his little flirtations any better. He just wants to get laid and then move on to the next girl."
"So, your basic horn-dog... and that is a problem why exactly? I thought you weren't lookin' for anything serious while you're in college?"
"Right… and I'm not lookin' for anything serious. But, he's fun, Liz. I like his manner and the way he lives his life. We had a lot of fun during the year and I would've been bored shitless if he hadn't been there. If I had just jumped his bones in the beginning... then he would've just turned away afterwards like he does with every other girl."
"Sounds to me like you like him... more than just a friend. You've kept him from his usual hi-and-goodbye by becoming his friend, but you want more." She pulled the little straw out of her drink and chewed on it thoughtfully. "Do you fantasize about him?"
Damn, she should've known that Liz would see right through it.
"Sometimes," she admitted.
Almost every night,
she added silently.
"Sometimes," she repeated slowly. "You look awfully flushed for just the occasional fantasy with this guy."
"What do you want me to say, girl? He's fuckin' hot."
"Tell me you've got a pic."
Maria fumbled around in her bag until she had found her cell. "Of course."
She held the phone up, showing off the pic she had taken a few weeks ago.
Liz took the phone and turned it slightly to get rid of the glare from the overhead lights. "Mmmm, he is hot; a little more rugged than I like in a man, but definitely hot." She scrolled through some of the other pictures and stopped on one of the guy, shirtless and carrying Maria piggyback. "What's the story here?" she asked, handing the phone back to her friend.
Maria glanced at her phone and laughed as she remembered that day. "We were at a beach party and it ended up being so boring that we decided to go swimming and I stepped on one of those sea urchins, so he had to carry me home."
"Well, you don't look to me like you're in any pain, girl."
"It just hurt when my foot made contact with the ground."
"Uh-huh... and bein' wrapped around all of that naked skin?" Liz glanced at Maria knowingly. "Tell me you didn't enjoy that."
Maria rolled her eyes. "Of course I enjoyed it."
"So, you want him but you won't go for it because you think he'll dump you afterwards, right?"
"Kinda," Maria admitted and took a huge drink of her margarita.
"You think he feels the same?"
"No."
"You don't think he's attracted to you?"
"No, I think he is attracted, but he's also attracted to a lot of other blondes on campus, too."
"And you guys have never done anything?"
"No, never. We almost kissed once, shortly after we met."
Liz flagged the bartender down and ordered another drink before letting her curiosity take the lead. "So, you've had one almost-kiss? That's it? What happened? Why didn't it even make it to a real kiss?"
"We got interrupted and a few minutes later I saw him flirting with another girl. That's when I decided to keep him on the friend leash."
"Minutes later? After almost kissing you?" Liz took a drink and shook her head. "No wonder you haven't let anything happen." She paused, listening to the music for several minutes. "Okay, but you've hooked up with other guys since you met him, right?"
"A few times, yeah, but most of them weren't even worth a second date. What about you? There have to be a few hot men on the East Coast."
"Well, you know Kyle and I broke up a few months after we started college... the long distance thing just didn't work well for either of us. I tried to just focus on school for a few months and not worry about guys, but after a while I just had to break loose and shake things up. So, yeah, there have been a couple of guys... nothin' serious, but they were fun while they lasted."
"Uh-huh," Maria grinned at her friend. "You know, the good thing is we'll have the whole summer to hang out together. No guys to worry about."
"True... no confusing relationships or confusing guys... just the two of us getting our heads on straight." Liz sighed as she stirred her drink. "You ever wonder if there actually is a Mr. Right out there, Maria?"
"There probably is," Maria said and picked her drink up. "Cheers to that."
Liz clinked her glass against her friend's and took a long drink before glancing around the club. "Well, one thing's for sure; we're not gonna find Mr. Right in Roswell, New Mexico."
"No, but maybe a couple of guys will find us," Maria said and nodded in the direction of Billy Darden and one of his friends, who were making their way through the crowd to join them.
"Ewww, Maria... Billy and his friend? Are you kiddin'?"
"Come on, Billy's lookin' pretty hot here lately."
"Okay, well, he's not a total zero or anything, but..." She glanced at the phone Maria had left lying on the bar. "You're goin' from Mr. Fantasy to Billy Darden?" she asked, her voice dripping with disdain.
"That's the best that Roswell has to offer and seriously, I'm not spendin' months here without having sex."
Liz shoved the phone towards Maria. "Then for God's sake, girl, call Michael... I said Billy wasn't a total zero, I wouldn't recommend having sex with him."
"Well, what about some dancing then? 'Cause they're gonna talk to us pretty soon."
Liz shuddered at the thought of dancing with Billy's friend... and she already knew she would get stuck with his friend because Maria was watching Billy like a hawk.
Ungh! The things that she was willing to do for a friend.
She had to force down her feeling of revulsion when Billy started a smooth conversation with Maria and introduced his friend, Chris. They had all gone to high school together, so introductions weren't really necessary.
She was tempted to grab Maria's phone and run to the ladies room to make an emergency call to this Michael guy that Maria was friends with. She didn't know him, but she'd be willing to bet he'd come running if he knew about this turn of events. Something about him spoke of a possessive personality, but unfortunately she was being dragged out on the dance floor before she had the chance to put her plan into action.
Chris was like an octopus with no rhythm,
she thought as she shoved his hands away from her ass.
"So, Billy, what've you been doin' this past year?" Maria asked while dancing with him.
He shrugged, not really interested in making small talk. "Not much."
He let his hands brush against her sides, testing the water to see if she was receptive to more. "How's California?"
"It's fun, I'm glad I decided to go there."
Billy controlled the urge to move in closer when she edged back a step or two. He just hated it when women made him work to get laid, but he should've known she wasn't gonna make it easy. "You home for the whole summer?"
"Uh-huh. Yeah, I missed Roswell and my friends from the campus all went home for the summer break, too."
"So, we've got plenty of time to get to know each other." He smiled crookedly. "I'm lookin' forward to spendin' some time together."
"Well, you might get lucky with that," Maria answered and smiled saucily.
Oh, he was counting on it!
Billy thought. He smiled back and kept his thoughts to himself. "Got any plans this weekend?"
Liz was in dance floor hell as she removed Chris' hand for what had to be the tenth time. "If you do not keep you hand off of my ass, I'm gonna rip your arm off and beat you with it!" she threatened, growling indignantly.
Maria glanced at Liz and recognized that she definitely needed some help. She wasn't enjoying dancing with Chris and it was obvious why. The guy was a total zero on the dance floor and he was all hands. "Hey, wanna get a drink?" She ignored his earlier question in favor of changing the subject.
"Sure, a drink sounds good." Maybe if he could get a few drinks in her she'd be... friendlier.
"C'mon girl, let's let the guys pay for a few drinks," Maria said to Liz.
"If this guy puts his hand on my ass once more, Maria, I'm outta here."
"I'm not gonna leave you alone again, I promise. I've aroused Billy's interest, that's all he's gonna get tonight."
Liz laughed and the girl's gave each other a high-five as they reached the bar and ordered another round of drinks.