Warrior Chicks of Aswam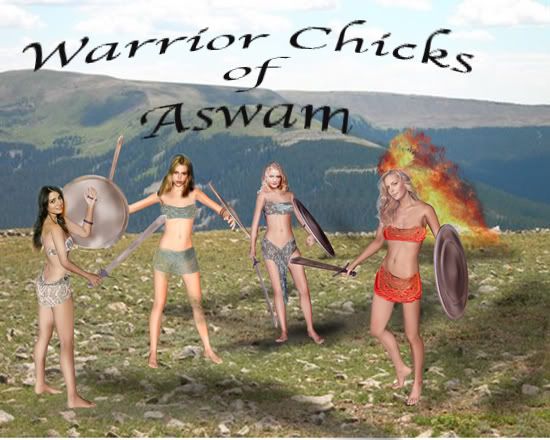 Warrior Chicks from Aswam
Author: ken_r, AKA ken242, AKA Kenneth Renouard
Rating: Adult for content and implied violence
Couples: CC
Disclaimer: no possession of characters is implied. I am using them to tell a story.
Genera: Au with or without aliens. Max makes one statement in the middle of the story about Roswell aliens. It doesn't matter. The story takes place in a dream world.
Summary: The four couples watch a very bad Sci-Fi video. It is one of those 40s or 50s movies of Bug Eyed Monsters. Somehow, the four girls are getting sucked up into the universe of the movie. Can they break away?
I was reading the story "Calendar Girl" by mary mary or Ginger. She found that all the starlets of Roswell have posed for sexy pictures. I used the DAZ 3D program to manip pictures. I wanted to see if I could make tasteful pinup pictures. Somehow after making the pictures, I placed weapons in their hands. The story went from there.
Author's note: If you believe you alone know the path to heaven, if you believe that you alone know what are the rules of the universe, then this story is not for you. If you believe there might be some scary things that we don't understand out there, you might enjoy my little tale.
Warrior Chicks of Aswam
In retrospect it had been Kyle and Alex's fault. Well, no, it could have been Tess and Isabel's fault. Kyle and Alex had brought that terrible video, "Warrior Chicks from Aswam." That was when the dreams had started. Well, the boys had only brought that movie because Isabel and insisted they all watch, "Love Story," "Pretty Woman" and "Message in a Bottle," the week before. Isabel claimed those videos were only retribution for the three hour original, "Sparticus" followed by "Braveheart," for the umpteenth time. What had started out as a group movie night had become a battle zone.
The eight young people were all going to college in Las Cruces, New Mexico. None of them had pledged the Greek Houses and even though Max and Isabel had appeared to have more money than the rest, none of them had much money to waste on frivolities. Don't get me wrong, Las Cruces has plenty of nightlife. The nightlife mostly included getting drunk and spending a lot of money. When you are determined to keep your grades as high as possible and your budget under control, your friends agreeing to make Friday, that night of college adventures, limited to videos and microwave popcorn, seems like a great idea.
The dream, Liz couldn't bring herself to call it a nightmare yet, was disturbing. Weren't nightmares supposed to be scary? What Liz was seeing was, in fact, exhilarating. Walking around barefooted, dressed in clothes, what little they were, that she would never wear in real life and, get this, Liz had been carrying a sword and shield. Wrapped about her waist was a lace of unbelievable softness. Liz could feel it wrapped between her legs to circle her hips and knotted in front, the ends hanging in front of her. She didn't feel self conscious or embarrassed even though there were several others with her. She felt her breasts bound tightly against her chest, not through modesty, but to give her support as she ran and fought. Liz had been fighting?
Liz didn't consider herself a complete geek. She had taken the mandatory four years of Physical Education required for graduation. Her normally optimistic disposition made her not the last one chosen in Intermural teams. She wasn't like Kyle over whom the teams fought to have him on their side. Kyle was good at every sport. She wasn't like poor Alex who took the one option to avoid PE and that was marching band. When Alex was cornered so he had to participate in sports, dodge ball was about the only choice. Here he was the target for all the jocks who couldn't even count as high as Alex's IQ.
In the dream, Liz felt proficient. The proof was that she was alive and the blood on her weapons testified that many who fought against her, weren't.
Las Cruces was in the southern part of New Mexico, but right now, it was suffering an artic attack that might have been brought from Michigan. In the dream, the weather was balmy, Liz didn't feel a bit cold even though, she wore heavier clothes in bed than she was wearing now. Liz had grown up working in a restaurant where the most prominent sign on the door read, "No shirt, No shoes, No service." Her occasions in being barefoot were limited to stepping out the back door to throw out the trash in the early mornings, before pickup. Now her feet were battle hardened so she scarcely felt the grass, rocks or sticks in the field where she stood. In her dream, Liz had looked down at her feet. They were dirty, but the scary thing was, they were also covered in blood up to her knees.
It had been Alex who found that video. Kyle would hardly know how to navigate himself through the Sci-Fi section of the video store. Leave it to Alex to entice Kyle in his vengeance against the chick flicks of last week, by showing him the half-naked women on the cover of the video. The original movie had been made in the 40s or 50s, Liz was sure. Liz was also sure that the original movie had probably never made it on the US screen. At that time, censorship was being argued in the US movie world. The rest of the world, getting over the terrible war, was a lot more laid back. That night, they had hooted at the acting and the "Bug Eyed Monsters." The actresses, though willing to shed most of their clothes, still were almost prissy as they walked in the grassy field. One of the comments from Isabel was, "How do they do all those things and remain spotlessly clean?"
One of the actresses had stumbled as she swung her sword and Kyle hooted loudly, "Grass burr."
None of the movie women showed great muscle tone, yet they wielded the swords and shields as if they weighed nothing. Both items had to be props, cardboard or balsa wood probably. Liz felt the comfortable weight of her sword now, as she sliced the enemy and the solid feel of her shield as it turned the enemies blows. Somehow, the props in her dream were real. The thought of "slicing her enemy" bothered Liz. She couldn't imagine what she had been doing.
Liz saw Max twice during the weekend. They didn't get a chance to talk until Sunday. For Saturday they all had their weekend chores. Laundry, and cleaning their apartments, at least for the girls, took up a lot of their day. The guys, one load of laundry each, no matter if it was colored or white, eventually, it was all the same shade of gray anyway. The vacuum cleaner was treated as if it was a leaf blower getting most of the crap on the floor out the door. This allowed the boys to finish several hours ahead of the girls. In the brief encounters with her girlfriends, Liz hadn't seen fit to mention the dream. She was way too embarrassed to say anything to Max. What would he think of her parading around, dressed like that, even if it was only a dream? She couldn't imagine what Max would say about her bloody sword. Bloody sword again, what had she been doing?
In their day-to-day life in Roswell, they all had different religious faiths. Here at the university, they attended a non-denominational service, more as social, and for their boyfriends, a civilizing event. Liz could call home and say, "Yeah, mom I went to church this morning." A least for a time, the guys cleaned up their language.
That brought a lot of comfort to her parents she knew. It was scary for parents to envision their children in hedonistic orgies away from home for the first time. Those comforting words, "I went to church this morning," brought a lot of peace to all of the people, young and old.
Sunday afternoon, they had planned a picnic in the park. The boys had been playing ball as the girls readied the blanket spread out with lunch baskets. They hadn't yet migrated into paired couples. The boys came back from the ball field and were stealing looks in the baskets to see what fare would be offered. Hands were slapped as the girls set out the food. None of the girls had mentioned the movie in their conversation. With the guys, Kyle was heard to say, "That blonde chick, one tug of that wrap and she would be stark naked. Now, that is something to fight for."
Michael had growled, "Kyle, she would probably have whipped your ass, with or without clothes."
Alex smiled, "I told you Kyle. You can find some pretty good stuff in the Sci-Fi section if you know what you are doing. Can you imagine that much skin without going 'X' rated?"
Max chuckled, "Yeah, and if you brought an 'X' rated video, can you imagine spending the rest of your college time with that room mate of yours. None of the girls would have let you into their living rooms, much less any further."
As the picnic progressed, the couples slowly came together and when the dinner was finished someone took the basket back to the car. The park had no woods so the couples slowly migrated to parts of the park, which were relatively private. No, the Sunday afternoon at the park didn't allow blanket Bingo, rather they just sat and whispered sweet nothings. No one brought up the subject of Alex's video nor did Liz share about her strange dream.
During the week, there were reoccurring episodes of Liz's dream. Except for the presence of the other three girls in the dream, nothing much happened at first. Liz was now standing with Isabel, Tess and Maria. They all had swords and shields. Since the other girls just stood around, their view slipped from her dream. They were all dressed in similar costumes, if you could call the tight binding about breasts and the length of lace about their loins, costumes.
One time as Isabel stood in front of Liz, she was trying to wipe the blood off her face with her shield hand. Liz had thought, "That is what happens when you hit an artery close up. Isabel had blood dripping all down her front.
It can be imagined with this reoccurring dream that Liz was loosing focus in her school work. Her advisor had sent her to the student infirmary to see a counselor.
"I am having this dream over and over," Liz told the lady.
"Is it exactly the same dream each time?" the counselor, Vivian Cross had asked.
"No, it is a little different each time," Liz answered.
"What is the dream about," Vivian asked. She, through the years, had heard so many hallucinations and dreams that she ought to write a book. Liz and her friends were known for being a pretty clean group. Vivian didn't, at this time, think there was anything chemical connected with this dream.
"I am standing in a field with a binding about my breasts and wearing some sort of a loincloth. I am holding a sword and shield; my body is covered with blood. I don't think any of it is mine."
This was a surprise for Vivian. "What brought this on!" she exclaimed.
"Oh, on video night, one of the boys brought an early Sci-Fi video called 'Warrior Chicks of Aswam.' The video was terrible. The dialog was stilted and the actresses acted like they were from a sorority house. It was one of those movies where you throw popcorn and hoot at even the serious parts. The boys did it to get even with us for choosing too many chick flics," Liz explained.
"Oh, my," Vivian breathed. "Maybe the dreams are some guilt feeling for watching trash like that. This week, why don't you stick with 'Bambi' and 'Dumbo.' Let me know if this dream persists in returning."
That afternoon as Liz returned to her apartment, she ran into Maria. "What's in the bag?" Maria asked pointing to the plastic bag labeled "Blockbuster."
" I picked up 'Bambi' and 'Dumbo'. After 'Warrior Chicks from Aswam,' I dare the guys to refuse anything like this," Liz stated.
Maria shook her head, "I was thinking more like, 'Fast Times at Ridgemont High.' It is a funny story and there is enough skin for the guys. Liz this ratings war has got to stop," Maria stated.
Liz thought for a minute. "Maybe, you and Michael can choose the movie together next week. This week, I need something like Disney," she said.
Isabel caught up with Liz Friday at noon. "What did you choose for a movie?" she asked.
"Maria isn't too pleased, but I picked up 'Bambi' and 'Dumbo.'" Liz stated.
Isabel sat down beside Liz. "That's good, I am having some trouble with that movie my boyfriend chose last week. I didn't want to say anything, but I am having strange dreams after that movie," Izzy stated.
Liz looked up surprised. "So am I. I find myself as one of those warriors, but it isn't like the movie; this is so real. I am holding a real sword and a real solid shield," Liz said.
"Yeah, and I can feel the grass against my feet and I am covered with blood," Isabel added. I believe one of the unbelievable things about the video was how clean the warriors were.
"In the dream, I have blood on my feet and I saw you try to wipe blood off your face. Nothing is so sterile like in the movie, this is so real," Liz said.
"I remember that. In the dream, I have memories. I struck someone when they were close. Blood spurted everywhere. I saw you laughing while watching me try to wipe away the blood. Whatever that was around my chest was dripping in blood. Somehow, I wasn't repulsed by the blood, like this was something I did every day," Isabel stated.
"Ask Alex not to get mad, but we both need something real 'G' rated this weekend. That video he had last week was just too much!" Liz exclaimed.
Alex must have spoken to the rest of the guys as there were no groans when 'Bambi' loaded up. Liz had already spoken to Maria so the only girl who was surprised was Tess. Tess shrugged, she had a good cry when Bambi's mother was killed and also when Dumbo's mother was chained. Kyle was watching Tess closely. She was showing the domestic side of her. Kyle had to think, was he ready to face this side?
Before any of the guys could gripe, Maria explained that she and Michael would go together next week to pick out the movie. There were no complaints and the rest of the weekend went as normal. Monday came and Liz had had three good nights of sleep. She hadn't talked to Isabel, but seeing her in the distance, Liz thought she looked better, also.
Monday night came and so the dreams returned. In her dream, Liz was again standing in the field. The open field, maybe, was on a mountain top. The surroundings were clearer than before. They had been standing on a field of bones. Something horrible had happened here a long time ago. Liz had reached down and taken the tails of her loin cloth and was wiping her sword clean on the cloth. Isabel was standing nearby and she had wiped the blood from her eyes, but her face was still covered in dried blood. If Maria was there, she must have been standing still. Liz didn't have any memory of her in the dream. The strip of cloth around Isabel's breasts was still dripping blood and it was running down her body to be caught in what ever covered her hips. Isabel could feel the wrap going between her legs, but then it wrapped around her hips like a short skirt. Now, it was catching the blood that was running down her body.
As the two women were standing, Tess walked up. In the first dream, Liz remembered Tess standing there doing nothing. Liz couldn't even remember what Tess was wearing. Tess was now dressed much like Liz. She was carrying a shield and a sword. Her feet and ankles were bloody, but the rest of her body was relatively clean. Her sword showed no sign of being bloody. Nothing was said. They just stood around looking at each other holding their private thoughts. When Liz woke up Tuesday morning she again was tired. She stumbled through her first class and was sitting in the Student Union. Isabel came in and sat across from her. "Another rough night," Isabel said both as a statement and a question.
"Yes, but there was one difference," Liz replied. "Tess was there this time."
"Isabel looked up. "Speak of the devil," she said as Tess sat down.
Tess had been crying. "I think I am going crazy," she whimpered.
"Dreams connected to Alex's movie?" Liz asked.
Tess nodded. "They are so real. I see both of you covered in blood. I see Isabel, her face covered in dried blood as the blood continues dripping down her body. You are laughing as you remind her that hitting an artery spouts blood. I am carrying a sword and swinging it like a pro. With the weight of that much steel, I doubt that I could even lift. The shield is even heavier, but I get comfort in its strength. I am barefooted in the grass and my legs are streaked with blood. I have no idea where I have been, but wherever it was, there must have been a lot of blood. The clothes all three of us are wearing are ridiculous. We would all be put in jail if we dressed like that around here. The swords, the shields and the clothes are so natural in the dream. In the video, even I thought those actresses were not much as warriors. In the dream, we are walking around in the fields of blood; like that is what we are supposed to do. I can't remember killing anyone, but killing seems to be what we do. The feeling is so foreign to me. In the dream, I look at both of you and I know you have killed many more times than I. I feel that I must try harder. Can you imagine that, wanting to try harder at killing people. Liz, Isabel, that isn't me. I don't think it is you, either," Tess informed them.
"Tess, Isabel and I are having the same dream. We both saw you last night. I have been having these dreams all last week," Liz said.
Knowing that others are having the same problem as you is not always comforting. They had no explanation to give her, so Tess went on to class. That night, Liz was almost scared to go to sleep. Sleep held terror, not comfort. Maybe, now, she could call it a nightmare.
The tails of Liz's loincloth were now covered in blood wiped from her sword. Isabel had pulled some grass and was trying to wipe some of the blood from her face. This time when Tess walked up they saw an almost blank expression on her face. Her sword was covered in blood as was the arm which held it. "I killed both of them," Tess murmured. "They were the same age that I am. The boy was trying to shield the girl. They were the enemy and I killed them because I was supposed to."
When Liz woke up, there was no way she was going to class today. Liz would go to the university because she wanted to talk to Tess and Isabel. There had been something that was attacking the three women. None of them were killers and none of them could be compared to those tip-toeing starlets from Alex's video. This was too real. It was too violent. Something they had no defense against was sucking them into some distant universe. Liz had called Alex. She wanted him to go back and find that video. There must be something in the video or maybe, on the box that might help her find an explanation.
By the time Alex found Liz, both Tess and Isabel were with her. Tess was openly crying and nothing seemed to help her. "I killed them, I killed them," was all he heard from Tess.
Liz tried to explain. "Alex, I started having dreams right after I watched that video. It is as if I am really in the video, but not in the video we watched. I was in the real place the video represents. I am one of the real warrior chicks of Aswam. After a few dreams, I met Isabel. She was having the same dream as I. We have had some sort of violent battle. There is a lot of blood and we all have been fighting for our lives. Night before last, Tess appeared and last night she said she had killed two people. I think this is all happening some place else. I need you to get that video again. We need to see if there is something on it that is causing these dreams," Liz explained.
Alex went to the store, but they informed him that Carlos Vargas had been the clerk on duty. The video "Warrior Chicks from Aswam" was not on their lists. "Hey, man, come back at eleven tonight and talk to Carlos."
When Liz finally fell asleep that night, everything and everyone was already on the open space. Liz had cleaned her sword on the tails of her loincloth. Isabel had wiped most of the blood off her face and Tess was crying about the horror of killing. It was seen that a woman slowly walked up to the group. She was stumbling with every step. It was Maria. Like Isabel, her loin cloth was tied like a skirt after threading itself between her legs. Maria had a terrible gash across her middle. She was trying to stop the blood by holding the wound with her shield arm. There was no way that Maria would drop her shield or her sword. When Liz saw the wound, she sliced off a large part of her loincloth. Tearing it into strips she made a binding to go around Maria's middle. Tess touched Liz on the shoulder and handed Liz a pad made from Tess's own garment. Liz collected several hands full of grass and stuffed them into the wound. She bound the pad Tess had given her with the long strip from her clothes. Even in the heavy cloud of the dream world, Liz's mind asked what kind of bacteria did those clumps of grass hold. Somehow, what she did seemed to be the right thing for the time and the place.