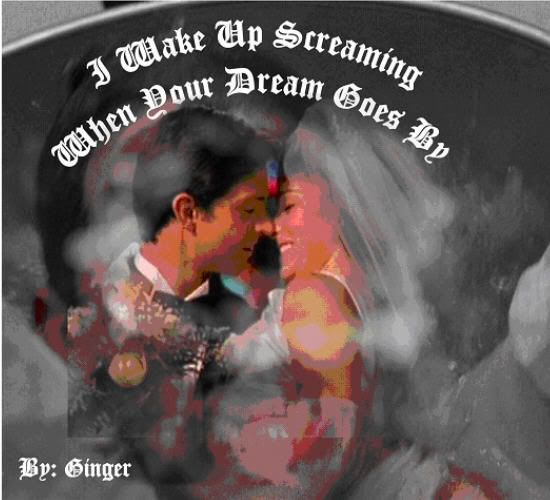 Title: Wake Up Screaming
Author: Ginger
Genre: A/U C/C Mature
Disclaimer: I have nothing to do with the show Roswell or any of its constituents…I have merely borrowed the names of the characters because I like them.
Summary: Max met Liz many years ago when she worked in her Uncle's little café for a summer where he developed a very deep crush on the girl. She would have nothing to do with him…it's now many years later and they have been reintroduced and some surprising news is brought to light.
*~*~*~*~*
Wake Up Screamin'
By: Gary Allen


Used to sleep through the night peacefully
Not a care in the world got to me
But now I lay me down to sleep
I'm afraid of what I might see
I wake up screamin' when your dream goes by

Used to feel like a man in control
Unaware of the storm in my soul
The sight of you took away my breath
Look so good it scares me half to death
I wake up screamin when your dream goes by

Now in this dream I'm in a room
All dressed up just like a groom
Watches shadows dance on the ledge
Suddenly you then appear, whisper in my ear
And I jump right over the edge

Just a dream that I seem to recall
Can't you tell me which doctor to call
Tell him please I'm not feelin too well
Every night I'm hearin weddin bells
I wake up screamin when your dream goes by

I lay there in a an ice cold sweat
Sheets are torn and they're soakin wet
I wake up screamin' when your dream goes by
I wake up screamin' when your dream goes by
I wake up screamin' when your dream goes by
Chapter: 1
Max Evans walked into the busy hospital reception area and asked where he might find Michael Guerin who had been moved since he had left the hospital that morning. The cute little candy striper sitting at her station asked how to spell his name and shortly Max was on his way to the surgical ward to find his friend. He stepped off the elevator on the third floor, looked around, and there with her head bent over a tray of blood samples, Max was met with a vision from somewhere he thought he would never go again. He felt it was his imagination playing with him; he stopped dead in his tracks. It couldn't be! He had been dreaming of her for years and there she was in the flesh…No! She couldn't be the cause of his nightmares for all these years. It just wasn't possible, there's no way this was happening.
*
Three days earlier, at peak traffic, Michael Guerin was driving in the far left lane of the Golden State Freeway, making his way through a downpour, headed to a meeting with Producers to discuss his client and best friend's negotiations for his new TV series. He had left his office in plenty of time to be there by 6:00 but the down pour was slowing traffic to practically a dead crawl…visibility was almost nil in some spots when suddenly Michael met the rear end of a small Volkswagen that was literally stopped in the fast lane of a major Los Angeles freeway. He later found out that the woman driving the vehicle couldn't see so she stopped…when she stopped she also stopped several other vehicles behind her, many vehicles as a matter of fact and Michael was one of those vehicles.
Many, many emergency vehicles had to be dispatched to the scene, taking people to various hospitals as quickly as possible. The female wasn't hurt at all naturally but the number of casualties her insurance company was going to be responsible for was going to be phenomenal, Michael's claim right in there among the rest of them. Michael had multiple contusions and abrasions from broken glass but the main concern was his leg, which had been wedged into a position so that they had to pull the door off and then cut the side panel out to remove his body. He was lucky to have survived. The impact to the vehicle in front of him wouldn't have been so bad if it hadn't been for the vehicle behind him pushing him into the median wall of the freeway as all the vehicles behind that one kept on coming. The force of the vehicle that hit Michael was like a wave that kept gaining momentum as it traveled forward. They were lucky to have been able to save his leg altogether but his rehabilitation was going to be quite extensive.
To say that Max was in a state of shock over his friend's accident was an understatement. He was just sick to think that this happened over a meeting regarding him. Michael wasn't conscious enough to realize what his friend was doing to himself but he would set him straight when he was thinking straight and not all drugged up.
In the meantime Max had spent the biggest part of Michaels stay in the hospital right at his side. The nurses were getting used to seeing him sitting by his friend's bedside and the novelty was wearing off for them to stop making excuses to go into Michael's room just to look at the handsome young actor.
"Max buddy, you look like hell." Max heard and he jumped, literally jumped, to his friends side, grabbed his hand while he had this huge smile on his face. He was so relieved to hear Michael's voice that he almost forgot the man was in horrible shape.
"Damn Michael, I am so sorry man…so sorry. You'll never know how sorry I am that this happened." Max was practically in tears for many reasons, happiness, guilt, relief…he was feeling them all right along with Max only for different reasons…he didn't want his friend feeling so badly and it was tearing him up.
He could see all of these emotions running across Max's face and he had a vague memory of what occurred but not that clear just yet.
"What the hell are you talking about Max? What are you sorry about?" Michael wanted to know.
"I'm sorry you were out in that weather on account of me Michael." Max was feeling rotten…
"Max buddy, I'm not remembering a whole hell of a lot right now but what I do remember was I was doing my job, which I am well paid for by the way. So the way I see it you have nothing to be sorry for. I'm sure it will come back to me when I have time to think about it and I'm not so doped up but I do know you had nothing to do with me being here. How did the meeting go anyway, did you guys reach any decisions?"
"Ah, you know how they are; push everything to the limit before we're labeled a show for sensationalism instead of something that has some substance. I think I'd rather produce it myself, hire some good writers and put something out there that the age group over 40 might enjoy. I know the biggest complaint of my mom, even my grandmother, is that they can't find anything worth watching anymore. We'll give it a chance and if it looks like it's going into the toilet maybe I'll just take over the production and see how that goes."
"You might be onto something there Max, let me know what you decide; I might just join you on that. Now, besides the fact that I think I hit a brick wall what the hell happened out there and how long ago was it?"
"Well buddy, it seems the lady in front of you decided she couldn't see very well and stopped. "
"You're shittin' me. She just stopped in the fast lane of the freeway! Jeezus Criminy, where the hell did she buy her driver's license? I can't believe it! How many of us bit the dust?" Michael was in shock at this revelation.
"Well, the evening news reported 23 cars with seriously injured passengers and God knows how many more vehicles just had some minor damage. The visibility caused it to be worse than it should have been. People heard it before they saw it. It's a little hard to wrap your mind around right now but the good news is the broad that stopped got a little scratch above her eye, that's it. You pushed her out of the way when you hit her but then the car behind you and the one behind him just kept pushing you forward it wasn't pretty Michael."
"Boy, it doesn't sound like it that's for sure. What the hell happened to me anyway…what did they have to do to fix me up?"
"Well, aside from the contusions and abrasions you had some serious damage to your leg and will need quite a bit of physical therapy, which I understand will start very soon. They don't want you getting all locked up and nothing working so they'll probably start that tomorrow. In the meantime you're doing very well according to the doctors. Can I get you anything?"
"No man, I can't feel anything, honest. They must have me on some pretty good stuff here because I really don't feel anything."
Max got a little concerned, what did he mean he couldn't feel anything?
About that time a doctor came in to check on his patient and was shocked to see Michael awake and carrying on a conversation…
"When did you wake up Michael?" The doctor asked as he nodded to Max whom the doctor expected to see there; the man hadn't left the patients side since he was notified of the accident.
"About half an hour ago, wouldn't you say Max?"
"Yeah, that sounds about right." And the doctor and Michael noticed that Max seemed preoccupied when questioned and this was unusual…
"Well how do you feel?" The doctor asked.
"Actually pretty good, I can't feel a thing." Michael answered.
The doctor frowned and then caught a glimpse of Max's face and knew immediately what was bothering the young man.
*~*~*~*