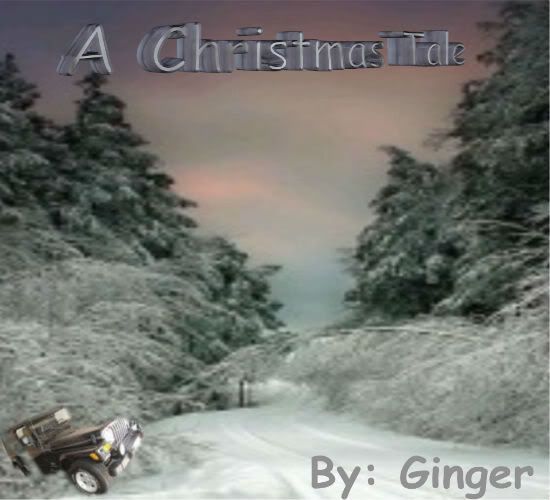 A Christmas Tale
By: Ginger
Genre: A/U C/C Mature language
Summary: An accident in the snow
Disclaimer: I have nothing to do with anything pertaining to Roswell or any of its constituents, I have borrowed the names of the characters because I really like them, a lot…well some of them anyway.
Oh, and here's a biggee, I take authors license with a lot of this emergency equipment so just go with it! But keep in mind Ashland, Oregon is a beautiful town not far from the California border and it is a ski resort town as well as being known for its' Shakespearian Festival every year. Oh, and great balloon rides; beautiful balloons!
*~*~*~*~*
Chapter: 1
Max Evans was headed home from his ski lodge in the Siskiyou Mountains, hoping the roads had been cleared since that last snow fall earlier that day. It was a real winter blizzard regardless of what the news report had said.
Those reporters should have to visit these mountain roads before making their weather reports, this was downright dangerous. And as he was chastising the newscaster in his mind he rounded a curve, saw a deer, hit his brakes (a natural instinct) and started into an uncontrollable slide and wound up in a snow bank on the side of the road.
His airbag deployed at the thrust of the jeep which caused him to be thrown back into his seat and now he was stuck there in the snow, off the road, unconscious. No one was around, no one but Max Evans would have even tried to drive in these conditions.
No one ever believed the weatherman when it came to these back roads on these mountains including Max but it was Christmas Eve and he promised his folks he would be home for Christmas Eve dinner. And then it started, the sky turned blacker and the snow started falling like a blanket being thrown on the ground, floating to its destination and it would soon have everything covered.
Liz Parker was just hanging up her jacket as she prepared to get rid of her EMT uniform and get dressed for the Christmas party being hosted by her parents at the local pub they owned in the community center of their small town when one of her fellow EMTs informed her that a call came in from the owner of the ski resort up at Ashland regarding his partner.
"Liz, a Michael Guerin just called in and asked us if the police had reported any accidents on the old highway down from Ashland. Have you heard anything?"
"No Maria, why would he call here? Why not the highway patrol?"
"I don't know Liz. Honestly I think the man is just so upset he's not thinking straight. It seems this Max dude was supposed to call in when he reached the main road and that was three hours ago."
"Well, I don't know what he expects us to do about it. I'm headed on out Maria; did he leave a number?" Maria looked at her friend and understood exactly where she was coming from but she had an uneasy feeling about this….
"Yeah, Liz, he did. But what am I supposed to tell him even if I do call him."
"Maria, it's still snowing out there, the roads to that side of the mountain are probably closed and I have no idea what to tell you. My parents are expecting me and I'm outta' here. Call him or call the highway patrol but I can't do anything about this." And Liz Parker grabbed her long down coat as she finished changing her clothes and made herself scarce.
Maria made a call back to this Michael Guerin to see if he had heard anything from his friend and the man was close to hysteria.
"Ms. DeLuca, I have called the highway patrol and they said that no one had reported any accidents on the old highway. I don't like it Ms. DeLuca, I don't like it at all. I'm going to grab a snow mobile and head down there."
"Mr. Guerin, first off it's snowing like hell. Secondly the name is Maria for right now you don't sign my paycheck. Thirdly, it's going to be hard enough to locate this Max; we sure as hell don't need to be trying to find you as well. Now will you please try to relax? It's dark out; we wouldn't be able to find him even if we did go out looking in this storm so just settle yourself. Where are you right now anyway?"
"I stayed up at the lodge for the rush of Christmas skiers coming up here to try out their new gear; Max promised to go home and visit his folks for Christmas Eve. They are over in Jackson. Not all that far from the ski resort but a whole lot closer via the old highway."
"Of course they are." Maria answered sarcastically. "You stay put Mr. Guerin and I'll see what we can do from here, which I doubt is very much in this weather. You were warned to stay off the highways."
"Yes, but those people never know what they're talking about."
"Well, I don't think they needed any instruments or satellite pictures for this. All they had to do was look out the window. Jeeeezus man, just how stupid is this Max anyway?"
"He's quite intelligent actually, he just wanted to get home and keep his promise."
"Well, right now I think his intelligence is a matter of opinion. Now you stay put until I contact some people."
"I will, and thank you Maria."
And they hung up.
Maria grabbed her phone and called her cousin Sean who was head of the snow removal crews in and around Ashland, Oregon which extended all the way down to the California border where the state of California took over with the problematic snow covered mountain roads. It didn't happen too often but when it did it created an awful mess.
*
"Sean, what are the crews up to and how soon do we see any relief up here in town?"
"Maria, what can I tell you…this freak storm is almost impossible to keep up with; why the question in the first place?"
"We have a possible victim up on the back side of Ashland and no way to get up there without tractor treads. We, The EMT's, are operating with a skeleton crew and none of us can operate the thing without authorization."
"You want authorization to take the tractor up onto the backside of the mountain and try to find a possible wreck?" Sean couldn't believe what his cousin was suggesting,
"Yeah…" Maria sort of slipped out with a sigh.
"Damn, who's going with you?"
"Liz." She hoped…
"Shit! When?"
"Soon as possible."
"Let me get back to you."
"I'll be here Sean."
"I don't doubt it for a minute; anyone with half an ounce of sense is staying put."
*
"Liz, have they lit the tree yet?" Maria had called her friend even though she knew better deep down…
"What's up Maria?" Liz knew Maria wouldn't be calling her to find out if her parents had lit a Christmas tree.
"Well, Sean is getting an authorization for us to take the tractor up the back side of the mountain and to look for that missing guy, Max."
"Maria, are we even sure the man is missing?"
Maria thought about that for a minute and then took into account her conversation with that Michael Guerin before answering.
"Yes Liz, we are."
"Okay then…" Liz resigned herself to the fact that they would be climbing that mountain tonight. "I'll be back there in 20 minutes. Let me give mom and dad a heads up and wish them a Merry Christmas. I'm sure I won't be seeing them for a couple of days. Maybe New Year's if I'm lucky."
And Liz Parker sighed heavily , she'd never let a person freeze to death no matter how impossible the odds.
"Oh come on Liz, you know better than that." Maria didn't want to show her emotions but she was about to jump up and down with joy…
"No Maria, I don't. Have you looked outside lately? You get everything ready that we might need including portable heaters and food. I'm on my way, be ready!"
And Liz hung up on her old friend.
In the meantime, buried in a snow bank and getting buried deeper Max Evans remained unconscious.
*~*~*