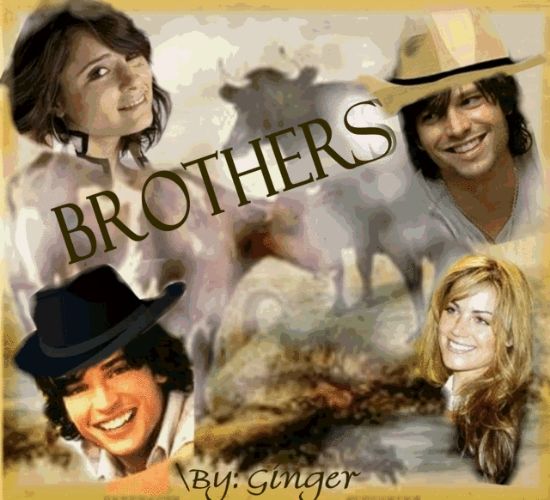 Title: Brothers
Genre: C/C - C/L, M/L
Rating: Mature
Disclaimer: I am not affiliated with the show Roswell or any of its' constituents. I have borrowed the names of the people because I like them.
If there is any similarity to any persons living or dead is purely coincidental.
Summary: Clark and Max Evans manage the family cattle ranch together, Clark having a degree in business and Max a degree in animal husbandry. Liz is a microbiologist at one of the more prestigious pharmaceutical research labs in Montana and her very good friend Lois is in research and development at one of the breeding grounds near Liz's company and also has her doctorate in veterinary medicine; she specializes in animal husbandry and is a very "hands on" person.
Although the two women are the best of friends Liz is the demonstrative one of the two. Lois is a little, but not much, more reserved but loves just as deeply as her friend.
The Evans' parents were killed in a mysterious accident when the bridge they were crossing on their ranch was "washed" away in a freak flood. Let's hope I can give you some mystery along with my fluff.
And a cast of thousands…I've never worked so hard at keeping track of people in my life!
Now, before we begin let me give a special thanks to Michelle in L.A. for her great suggestions and valuable help with this fic. She was also full of positive encouragement in trying to get me to finish this thing and all of this going on while recommending all of those "Outlander" books. The woman is insatiable!
*~*~*
Chapter: 1
It had been a very long day for the Evan's men, they had laid ten miles of fence and they were nothing short of exhausted; Max had been digging the post holes as Clark unwound and stretched the reels of barbed wire, not an easy job when done manually; the men on the other end of the ranch had the post hole diggers so Clark and Max were working it the old fashioned way, not that it was going to hurt them any in the long run.
"Hey, what're the girls going to think of those crummy calloused hands of yours Clark? Don't you think you might ruin some of that silk those women wear in that town?"
Max loved chiding his brother; they loaded the postholes and remaining barbed wire from the roll they were working with onto the big truck they were using for range work. They had done two miles more than they had planned today and their bodies were starting to protest no matter how good of a shape they were in.
"Just you never mind about the callouses Max, I don't think they care…it's just something for them to fret about; makes me more appealing." Clark grinned.
"Yeah, callouses are so appealing. How're those new gloves holding up anyway?"
Clark removed the gloves and frowned. Joe at the hardware store talked him into these new super strength work gloves, guaranteed to prevent blisters on the working man, and as Clark took one look at his hands he wondered what kind of "working man" Joe had been talking about. These sure weren't for any working men he's ever known; if anything his hands were in worse shape now than they were before.
"They don't seem to be as good as the old ones I had Max…how're yours holding up?"
"Oh hell, I took them off hours ago…they seemed to be slowing me down. Too much sweat and friction; it was easier to work without them. I hope Joe doesn't ask for a written testimonial or something because I'd really like to tell him where they belong."
Clark smiled at his younger brother by two years and nodded…
"I understand, I should have taken them off too but I guess I really would have some incapacitated hands then wouldn't I? Torn and calloused."
Both men laughed as Max jumped down from the back of the pickup and headed for the passenger side to hop in.
They took off for the main house to get cleaned up and to get ready for their visit to town; each packing a bag for the weekend. It was a family tradition, each third Thursday of the month the family would go into Missoula, spend three nights, do all of their shopping for the month and return home late Sunday. Now that the two young men were the only ones left to run the large cattle ranch they were ready to raise some hell so to speak, well Max would anyway; Clark had other plans of course.
*~*~*
A phone rang in a lab right on the outskirts of Missoula and a beautiful dark haired young woman answered…."Hello, Liz speaking" and then she smiled as she heard the voice of the caller.
"Hey Liz, it's me; how about meeting up for some dinner and a couple of drinks after work today. It has been one hellacious bull after another and I think I'll scream if I see another cow."
Lois was all but yelling at Liz who was trying to stifle her laughter over her friend's dilemma. Who wouldn't want to scream after extracting semen from bulls and inseminating cows all day? That would drive anyone to drink, but the upside of Lois' job was the baby calves she delivered. That part she didn't mind at all.
*
"Hey Clark, have you ever thought about breeding some of the cattle by artificial insemination? You know we could probably improve our livestock by 50% with better breeding and we wouldn't have to keep track of which bull shagged which cow last season."
Clark laughed at his brother; always thinking…that damned animal husbandry was going to be the death of them if he didn't quit worrying about how the animals were gettin' it on…
"Max, how could it improve our livestock? We get top dollar for our cattle now and that artificial insemination crap just costs money. Let the damned bulls we have just do their jobs, they're having fun and we're making money."
"What the hell do you mean 'they're having fun'…There's no fun to it, they get a scent, they take a ride and then they're done. What kind of fun is that?
"We keep the damned bulls penned up so to speak and turn them loose on the poor unsuspecting cows once a year. What the hell kind of fun is that?
"You know we're running out of breeding stock Clark…we can't be letting daddy's breed their offspring. We either need to buy some new cows or a couple new bulls, bulls being the better way to go. We'll be getting some pretty strange looking cattle if we don't do something."
Clark looked at his brother as if he'd grown a third eye…
"You're serious aren't you?"
"Damned straight…none of those animals are enjoying this Clark…if you don't want to inseminate them then we need to buy some new bulls and sell off the one's we have, then when it's time to breed we just sort out some good breeding stock and sell off everything else. We're really running out of breeding stock Clark, all of the new breed we kept are 95% offspring of the bulls we have, even the bulls we've saved will be impregnating their mothers or sisters if we're not careful."
Clark looked over at his brother with a semi frown, noticed he wasn't kidding, and kept on driving while he was deep in thought. He was glad Max dealt with this part of the business…he really wasn't that into keeping track of which bull sired which offspring.
His dad used to do that and mom kept the books. How they managed to keep track of all this shit was beyond him. Now he knew what all of those volumes and volumes of ledgers were in the office off the barn.
His job was to worry about the money and it wasn't all that bad. Of course, if they started inbreeding the stock that could change rather quickly.
*