Redemption, but Was it needed?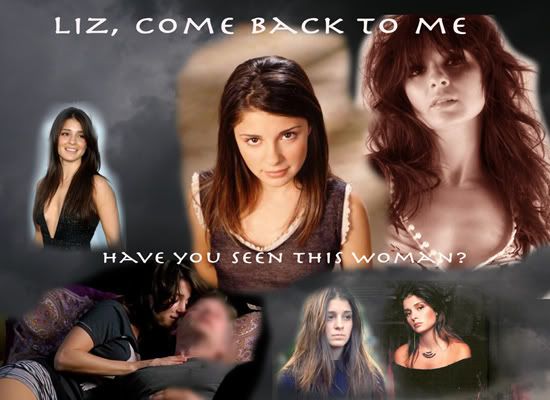 Title
: Liz, Come back to Me!
Author:
ken_r AKA ken242 Aka Ken Renouard
Rating
: adults that have a big enough heart to understand about loosing everything and trying to survive.
Couples:
This is a Max Liz story, but they have the support of all their friends who for the most part are conventionally coupled. There is a big M/M sequence. The story is also all Roswell crowd helping each other.
Disclaimer:
The characters are of the Roswell TV series. I only took implications that had been made during the series and extrapolated further to see what I would get.
Summery:
Everything happens just like the series. They leave as in Graduation. They are hounded, like so many fic writers have written, by FBI alien hunters. They are, finally, hit by the FBI rogue unit. Isabel is wounded and Max grabs her. Michael grabs Maria and runs. Kyle and Liz are left to make their own way. The reason that Liz was left is discussed in the story. Kyle rejoins the group but Liz disappears. Even the feeling she shares with Max disappears. As Liz is recalling what happened to her, she also, is recalling buried thoughts and memories of her high school relationship with Max.
WARNING
: This story will end dreamer friendly. Liz is taken to the white room. I do not describe rapes and other things in detail but they did happen to her. Make sure you are strong enough to read this and to understand the desire to keep living when all you hold dear has been lost.
Liz,Come Back!
Michael sat at the bar. He was nursing a beer. The bartender scowled at him. Michael was used to this. Even though the law was very clear and a bar could loose it license for serving a drunk, they were in the business of getting customers a bit loaded. The fact that he would never order more than one beer was not helping business.
Michael had come to this bar every evening for two weeks. He would sit on the last stool at the bar and nurse his one beer until almost quitting time. This was a place where he could observe the entire room and all who entered. Occasionally, he would call the bartender over and give him a twenty-dollar bill. Then, he would ask for information on one person or the other. This was what probably kept the bartenders attention and the reason they did not start ignoring him, hoping he would go away.
Michael had a photo in his pocket. He had flashed the picture to almost everyone he talked to. The picture was of a pretty young woman. In the photo she had a smile and bright, sparkling brown eyes. Her face was framed by long soft brown hair, though of course, the true softness could not have been felt in the picture. A lot that Michael saw in the photo was put there, by his association with the woman, for so many years.
He had been doing this for two years. Occasionally, he would go home to his lover and she would passionately fill him with tenderness as he drained his love into her body. She didn't mind his obsession with the woman of the photo. In fact, she was one of the driving forces that kept him going. The woman of the photo had been her childhood friend.
Michael would stay home for a few weeks. Then, he would return to take up the trail. Michael had found many leads. He followed all of them and some of them even turned out to be what he was looking for. So many though, just led to another woman, who when he found her, only slightly resembled the one he was seeking.
Michael had traveled through out most of the southwest. That was the area that he knew best and the location he believed the woman also would be most comfortable in. As he talked to so many who had met her in passing, Michael learned she didn't want a place that gave her comfort. She seemed to be bent on punishing herself by loosing everything that she had known in her past. The reason for this would be one of the things Michael needed to learn. How could a person leave the group where she was so loved and supported to end up as he was learning in such a retched situation?
For a while, Michael had trailed her in California. She had flirted with the movies. Trying for parts in various productions. After a time, she had fallen to the smaller studios who were after fresh meat and didn't care if she had any ability or not.
She had left a trail of movies that still disturbed Michael. Seeing the girl, that he had known in high school, first half naked with some dandy who was all cock and no brain, then finally, seeing her stretched out on a bed as she was mounted by actors with permanent hard on's, greatly disturbed Michael. Maybe, if he had been younger, with a bunch of horny guys and the person on the screen had been some chick he didn't know, Michael could have, at least, pretended interest. Now, it was just heart breaking to see.
Somewhere in this land of pretend, he lost her. All of a sudden, there was no trace. He hit the porn shops and, even some of the custom places, who made movies that the porn shops wouldn't handle. Michael feared every time he heard of a new "snuff film," where they actually filmed the murder of a young girl, that he would see her brown eyes and long soft brown hair.
It still filled his heart with horror when he finished the film, knowing that somewhere a missing daughter would not be coming home. Michael was still relieved that, so far he hadn't seen the woman he was seeking in one of these horror films.
Michael finally returned home. It was weeks later when a call came to his lover. The woman only talked for a minute. She seemed to only want to hear the voice of someone she knew. The call was very short, but the phone company records said it was a cell phone call from a town outside of New York City. The town was Leonia, New Jersey. Michael was confused when he looked at the travel atlas because the whole area looked like one big city.
Once again, Michael left the bed of his lover and the comfort of the area in which he felt most at ease. Michael traveled to the town where the call originated from and canvassed every bar the town had. Most of them were up scale, but a few were of a seedier nature. Several of the bars had favorable answers.
Yes, they had seen the woman in the photo. She would come in, have a drink and, then, leave with some man. The men were different every time. The bartender remembered that most of the men were married and getting them to talk would be difficult. Michael, finally, cornered a traveling salesman who being far from his home consented to discuss the little woman.
"Yes, I remember her. We settled on $100. We went back to the hotel and she asked me what I wanted. I was a little confused because she didn't talk like a common whore. A whore would have had a price for everything she did, including how much of her clothing she removed. This little woman considered that the $100 paid for the night and whatever I wanted from it," he explained.
The salesman ordered another beer which Michael paid for. "Since I didn't readily make any demands, she just sensuously began to remove her clothes.
It took me awhile to figure it out. It wasn't the skill she used disrobing, but rather the innocence with which she did it. It was almost like voyeurism, spying on an innocent young girl next door. When she was undressed, we went to bed and she was so pliable. She was opened to anything I wanted. She just complied without comment.
She stayed most of the night and when we were finished, she took her hundred and left, without another word.
These comments hurt Michael. You would have thought that he would be immune to them by now. They were no different from the porn movies or the other tales he had heard.
The salesman suggested that she probably was going to the city. That was what Michael feared. What did a boy who grew up in New Mexico know about the big city? What did a boy who only had loved one girl in his life, know about chasing a woman whose tracks were lined with sexual indiscretions? One night when he was home and in the arms of Maria, his lover, he asked the same question.
"This isn't her, Michael. We do not know what happened, but this isn't the way she would react. She would never just do what someone said without having a reason. Liz questioned everything," Maria crooned as she was nibbling his ear.
Michael didn't know. Maybe, they didn't really know Liz anymore. Did anyone really know another? Didn't every person have secret places that if they retreated there, it would completely change their character?
No one knew what had happened to Liz. They had been ambushed by the FBI. The group was broken up. Isabel had been shot and Max had thrown her over his shoulder. Thinking that Liz was right behind him, he had taken off in a hail of bullets. Max took one of their cars and seeing that Liz was no longer with him he just hoped that she had been able to leave with one of the others. It bothered him that the connection they had always shared since high school, was severed. He ran for several weeks, hiding as he tried to heal Isabel. Then, again going on the run when he felt the feds were getting too close.
They had arranged sites to meet in case of something like this. Max found the first site had been compromised. He lay in wait for a day watching to see if there was any movement at the little cabin back in the southwestern woods.
Isabel was better. She just needed rest now. Max had healed most of her wounds. Max had left her back in a small town some distance from their rendezvous site. He was fixing to return and fetch her. Nothing had been seen at the cabin. Just as he was getting ready to crawl back from his vigil on the hill top, a black car drove up to the cabin. Max stopped. One man came out and, though Max couldn't make out what they were saying, it was clear that this was a trap.
Max left the vicinity, quickly. Isabel would have to rest in the car. Max changed cars every so often. He always made sure that the salesmen didn't see Isabel. Max's black beard had hidden most of his recognizable features and his slovenly appearance hid as much of character his as was possible.
Max had found that many little car lots were just fronts for illicit activity. The margin they made with legitimate transactions would be padded by secondary, off the record, sales of stolen property. He had learned to recognize when a dealer would make a slightly illegal transaction, if the price was right. Max was sure that none of the paper he carried on his vehicles was any good, if stopped, unless the officer gave a lot of attention to them, they would pass.
Max wasn't satisfied with the safety of the second site either. Finally he had staked out their third site. It was three of five. Max was becoming worried that they had lost all their meeting places. If this one was compromised they only had two more left. Max staked out the house for two days. He found nothing to cause him worry.
When Max entered the house, he looked for the signs they had prepared to show if anyone had entered since they had last been there. Matchsticks were properly still wedged into the edges of closed doors. Books, in order of their copyright date, were still stacked carelessly in chairs. Finally, Max felt comfortable in retrieving Isabel and waiting for the others.
Michael and Maria arrived in two weeks. They, likewise, had observed that the first two sites were compromised. Max felt relieved , finally, have company. Isabel was better and he had healed her physically, but the strain of this adventure had taken its toll on her. Maria, who was always the diva and the domestic, took over running the house. Max was worried because he had hoped that Liz had gone with Michael. Michael was right behind him when leaving. Max had a hard time getting Isabel out of there. The FBI didn't seem to be trying to capture them. It was like at Graduation when they had been set up to be killed. Max now could only hope that Kyle and Liz the two missing humans were together.
It was another week when Kyle finally stumbled in. He had been shot, but for four weeks he had hidden out. He tried to self medicate his wounds and even though he feared infection he had hidden from any contact. It took him some time to make his way to the third safe house. It was late when he knocked on the door. Michael and Max were at ready. They were terrified that the feds had, finally, caught up to them. When Kyle fell in, it was a relief along with concern about his wound. Max started to work on Kyle immediately. Kyle, when he was well enough to talk, hadn't seen what had happened to Liz.
There was still no sign of Liz. That connection had never reformed. The effect of the severance of the connection that had sustained Max, since he had saved Liz in the Crashdown, so many years ago, was devastating. When the shooting had started, they all scattered. When Max saw Isabel fall, his reaction was to grab her. Liz was human and probably in the least danger. The attention given to Max and Isabel, by the shooters, made Max think that being with him would be the more dangerous, anyway. Most of the shooting seemed to be directed at them. It was left for Liz and Kyle to make their own way.
Michael had grabbed Maria, and with her over his shoulder, he had power blasted his way out of the small motel. Michael had stolen a car and he was off. There was nothing he could do for anyone but Maria. He could only hope the others got away also. He had warned when they first left Roswell that it might be necessary to scatter. At least some of them might get away.
Max felt devastated. Grabbing his sister had been reflex. It, for a second had even eclipsed his love for Liz. Then, the reflex was replaced with the knowledge that he was the center of the danger. As the weeks turned into months, and the months were on their way to becoming a year, Max was now having a break down. He had replayed every moment of that night. He just couldn't figure when he first noticed that he no longer had a connection with Liz. Max had lost the only love of his life. Liz hadn't been heard of since that fateful night. Having no connection with Liz led Max to fear that she might have been killed, there were bullets flying everywhere. They were all out of touch with news, to the point, that they had no information if Liz had been killed or not.
Kyle's father had made a few political acquaintances. He along with Philip Evans, were pursuing the theory that the Roswell crash was now approaching 60 years old. There had been no invasion. The Air Force always had insisted that the incident was just a secret weather balloon so there was no reason for the FBI to spend money, chasing aliens. If aliens existed, give them amnesty like they did all other aliens in America. Give them a green card, teach them to drive taxis, and forget about it.
The special unit was finally disbanded again, even though it had been disbanded officially over a two years ago. Those involved were dispersed and the records seized. There was one record that was disturbing. One Female, name concealed, had been held at an intensive laboratory facility. She had disappeared. What was found to be most disturbing was that this female had been the center of the raid. If this was a record of Liz, the raid was not to capture Max, Michael or Isabel but to grab Liz. The alien hunters were now willing to kill the aliens. They wanted to study a human who had been in close association with them. Who the person in the record actually was or what was her final disposition, was not recorded.
Five of those on the run were now able to return to Roswell. Of the five, only Michael and Marria had been able to retain their full sanity. Isabel had been having trouble ever since Alex died long before they had to flee. She had her marriage to Jessie, but that, in itself, was something she and Jessie had to decide if they wanted to salvage.
Kyle had been drifting for the years since Max had taken Liz away from him. Everything else he did had been prone to failure. Kyle, the super stud, hadn't had a successful relationship since his loss of Liz. Girls who he before, would have picked up with his reputation as a super jock, did not have whatever he was seeking. Briefly, he had tried to find something in Tess, only to be betrayed. Tess, the murderess of Isabel's high school love, had fled in a strange ship.
Kyle had briefly thought of Isabel. First, she was too distraught to consider romance or even sex. Secondly, Isabel had always moved in social circles that were never open to him. Given time, the stress of being the only unpaired ones in the sexually charged atmosphere of Max/Liz and Michael/Maria, as they fled the feds, Kyle and Isabel might have given into an accommodation of convenience. The raid precluded that event.
Now Michael and Maria were the only couple to survive. Max, Kyle and Isabel were in the same funk. They were all ridden with guilt and alone with out their loves.
Now that they were no longer running for their lives, Max had become almost comatose. Since there no longer was a need to be the leader, he was just lost. He searched and searched for something to feel of Liz. It wasn't there. He would go over and over his actions.
Just like before, he couldn't tell when she disappeared. He could, like a Monday night quarter back, think of alternate things, he should have done, game plays he could have attempted, but, at the time, his reflexes had made their choices. He had chosen what his instincts told him to. Since he felt that he and Isabel were the center of the bullets, he hadn't pulled Liz into that range.
Max would just sit and stare at the sky. He seldom talked. Kyle and Isabel were not that much better. Max, over and over played the ambush in his mind. He could see Liz standing beside him and he saw Isabel fall. He had reached for Isabel and the bullets started hitting all around him. Then, when he was leaving, he could not see or sense anything of Liz.
Isabel had talked to Jessie. They decided that they should wait awhile before attempting to get back together. If Isabel had known the part that Jesse had played in the destruction of the special unit, she might not have had so many reservations about her life.
As it was Isabel knew that saving her had cost her brother his true love. They had no indication, of what had happened, to Liz. Isabel was worried that Max was not going to survive. He was in such a depression.
They didn't have the convenience of going to a shrink, or psychiatrist and really telling him things that he could use to help them. They also didn't have the privilege, of turning to anti depressants. No one knew what these drugs might do to their bodies.
Kyle just sat in front of the television. He watched whatever was on the set. His father, Jim, had turned off the TV once and Kyle still just sat there staring at the blank screen.
Jim thought that that was just too weird, so he turned it back on and went to work. Kyle had helped care for his father when he was out of work. Now, Jim would take the best care of his son that he could.
They all knew that there were still some aliens, or half-aliens to be correct, out there. Rath and Lonnie were somewhere. Max thought they very dangerous. They had tortured Tess the one time they had her in their control. There was still Ava, the dupe analog of Tess. Max had no idea of where she fit into the scheme of things.
Tess had been killed at the Air Force base when she returned with what she had claimed as Max's baby. Her destruction probably led to the attack at graduation. Tess, even in death, had brought ruin to the group. The baby had been given up for adoption so Max purposely did not know where he was.
Maria thought that, maybe, if Ava could be found, she might help find Liz. But so far, they had found no sign of her. Michael was the only one, mentally, in good enough condition to go looking for Liz, if they found any leads. Maria was the mental caregiver for the other three, even though they each resided at the homes, of their parents.
At first, there were a few phone calls to her folks. They were from various places in the southwest. Every time Jeff would receive a call, he would tell the deputy sheriff, Jim , and Jim would tell Michael. Michael would be on a plane, bus or even a car if it wasn't too far.
Every time when he arrived, he would find signs of Liz but she would have been long gone. The calls to her father were cryptic. He could never make anything out of them. As he told Jim, it was as if a stranger was trying to talk to him in a foreign language.
Two years later: Maria and Michael had gone to a movie. It was an action adventure where the hero was great in fighting and, also, in bed. Briefly for a second, Maria caught sight of Liz. She was an extra in the crowd. That started Michael on his quest to California. The California quest gave them a lot of information about Liz, but they were unable to make contact with her.
Then there was the call to Maria, it was made to Maria's cell phone, a number she had kept from childhood. The voice was strained and it didn't allow Maria any time to plead or get much information. There was something about forgiveness. Maria couldn't understand. The call was only for a few minutes and, then, it promptly was stopped.
This led Michael, the boy from another planet, one who grew up in the southwest, to be sitting in a bar drinking one beer, in New York at night, and paying for information.