Double Christmas Wish
Author(s):
Double Trouble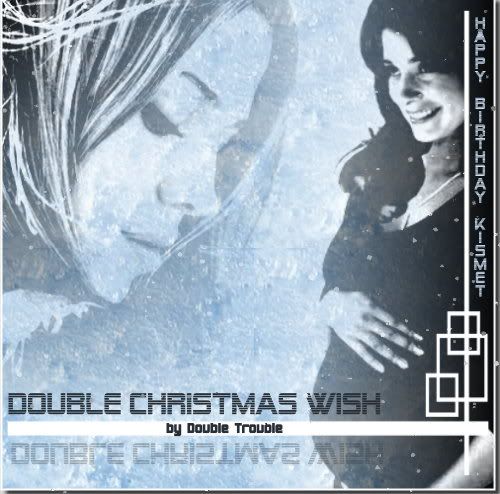 Banner by:
Us
Disclaimer:
All characters and plot lines that appeared in the series or in the books are not ours. The concept of Roswell does not belong to us either. They all belong to Melinda Metz, UPN, yada, yada, yada…
Pairing(s):
M&L & M&M
Rating:
Mature
Summary: (Post-Grad)
Several years after the gang left Roswell, Maria and Liz are alone in a strange city, preparing for a lonely Christmas.
Author's note:
This fic was written for Kismet – Happy Birthday, Girl!

Part 1
The icy wind whistled through the openings in the window where the old wooden frame wasn't sealed properly and the faded curtains fluttered in response. The apartment's occupants barely noticed the noise, but the cold air eventually penetrated the fog that surrounded them and the blond-haired woman grabbed an old newspaper on her way to the window. She tore several strips off, folding them and wedging them into the spaces to block the wind before tossing the paper on the table next to her. Her green gaze stared down at the street, not seeing the snow that was turning to a dirty slush as daytime traffic melted it down.
The petite brunette sitting on the ratty couch across the room stared at the small television in the corner without seeing it. She was lost in thought as she so often was when she wasn't otherwise occupied with work. The fingers of her right hand plucked at one of the many loose threads on the ancient piece of furniture and when it pulled loose she dropped it and reached for the next one. Her other hand rested protectively over her protruding belly and her thumb constantly worried the rings on her third finger.
"Tomorrow's Christmas Eve…"
The two women looked at each other across the ridiculously small space that separated them as if they weren't sure which of them had dared to say the words aloud.
Four months and three cities had come and gone since their significant others had been captured by the FBI. They had followed the plan they had created after being on the run for almost a year and it wasn't the first time that they had been separated, but it was the first time that any of them had been caught.
Salina, Kansas wasn't exactly a booming metropolis, but it had been next on the list of cities they would move to, so when the time had come to pack up and move they had followed the plan. The guys would know where to find them; they just had to be patient and wait for them to show up. Until then they were just doing whatever they needed to do to survive, but it wasn't easy and every time they had to move it only got harder.
"What ya want to eat for dinner?" Maria asked to change the subject again. It was too painful to think about a Christmas without their men.
Liz sighed, relieved when they swerved away from that particular minefield.
If it weren't for the baby I wouldn't even bother,
she thought. "Doesn't really matter... there's not that much to choose from anyway."
"I can go downstairs and see if Antonio has something for us." Antonio was the cook at the restaurant on the first floor. Maria and Liz both worked there and earned enough money to survive until it was time to leave for the next town.
"That sounds good. I won't turn down the opportunity to get out of cooking tonight." She barely had the energy to shower and change after work most nights.
Maria nodded and grabbed her coat because it was already freezing cold in the hallway outside of their apartment. "Lock the door behind me. I'll knock four times when I get back."
Liz waved to let Maria know she had heard her, but her gaze was already locked on the television again.
So much time had already passed and they hadn't heard anything. Max didn't even know that he was going to be a father... and she didn't even know if he was still alive.
She shook her head stubbornly and reached up to brush her tears away.
Stop thinking like that!
A few minutes later Maria was on her way back upstairs, bringing a sack of burgers and fries with her that some customer had ordered but never picked up. She turned around furiously when someone opened the front door of the building behind her and the cold wind blew through her hair for a short moment.
A moment later she relaxed again. It was only the weird guy from the apartment above them. He looked at her skeptically when he hurried upstairs and past her. She stood froze at the bottom of the stairs for a few more seconds, glancing at the now closed door that led to the street.
Will he ever come back to me?
she wondered and shook her head sadly when everything stayed quiet around her.
With a deep breath she climbed up the rest of the stairs and knocked at the shabby door to her apartment. Four times.
Liz glanced up when the expected knock came, her heart pounding in spite of the knowledge that it was the agreed signal to let her know it was Maria. She grabbed the arm of the couch and pulled herself up, looking down and wondering if she would ever see her feet again.
Before her body had started to change with the pregnancy she had never understood comments she had overheard from pregnant women. Things like never seeing their feet again or feeling as big as a house...
well, she sure as hell understood them now!
And she hated it... hated everything about it.
She and Max were supposed to be together for this,
she thought angrily. They were supposed to be together and safe, not separated... not living in some shitty, rundown apartment that was drafty and falling apart while he was someplace with people who only wanted to hurt him.
She brushed her tears away angrily and reached up to unlock the door for Maria, pulling it open and shuffling back out of the way.
The other girl could sense something was wrong the moment Liz opened the door. She dropped the sack of food on the floor next to her and kicked the door shut with her foot before hurrying to get her best friend over to the couch, taking her in her arms and whispering into her hair. "Liz, sweetie," she started when her friend's sobbing became stronger. "You have to breathe, okay?" Her hand came up to caress her friend's back.
Liz tried to fight back the emotions that were suddenly so overwhelming, but it was useless. Everything was wrong. She had never expected to be living her life running from the FBI, but she had accepted it because it meant she had Max in her life. And Maria, too. It had helped so much for them to have each other to help them to adjust to the nomadic way of life they had been forced to undertake in order to keep the men they loved in their lives.
"You're not alone, Liz. I'll always be with you, okay?" Maria tried to calm her down. She knew that Liz wasn't just missing her man, she was also scared about the fact that she was pregnant and in her fifth month, running from the FBI, and the permanent danger they were in didn't help matters either.
She knew Maria would never leave her alone, but she missed Max horribly and she was scared for him. "What am I gonna do, Maria? I need him... I can't do this without him." She clutched at her best friend's shirt as another bout of tears flooded her eyes.
"Yes, you can," Maria insisted. "And someday he'll come back, okay? And as long as he's away I'm here with you and we're gonna be just fine. I promise you."
She hoped she sounded at least a little more convincing than she felt. The truth was, Maria didn't know how they would manage their lives once the baby was born, but she had to be strong, strong for her best friend who needed her.
Liz reached for a tissue from the box on the coffee table, huffing irritably when it tipped to one side because one of the legs was shorter than the others. "I'm sorry, Maria... I know you're missing Michael like crazy and you're worried about him."
Maria stayed silent. She couldn't talk about Michael and most of the time she tried to push every thought of him far away and concentrated on helping Liz.
"So, what'd you bring for dinner?" she asked when Maria deliberately ignored the opening. Maria was always quick to console her and help her when she was down, but her friend stubbornly refused to allow her to help her the same way.
"Burgers and fries... again, sorry."
Liz shrugged. Nothing seemed to have any flavor anyway. "Hey, it's food, right? That's really all that matters."
Maria snorted. "At least I convinced him to make us a good Christmas dinner for tomorrow. I'll bring it with me when my shift ends."
"It's not very festive in here, is it?" she asked as she looked around the dreary little apartment.
Maria made a face. "No, not really."
"Antonio said we could have that scraggly little tree in the break room." She finished drying her face and laughed quietly. "Maybe we could get him to bring it up in the morning and I'll fix it up a little bit before your shift is over."
"I think he'll do that, yeah," Maria said and stood up to get the food.
"Okay." She felt a little bit better so she decided to eat before the depression came back.
"Oh, and look at that." Maria grabbed something out of the bag she had carried upstairs and grinned. "I've got ice cream for dessert."
"Vanilla?" She couldn't help it, vanilla was her favorite flavor.
"Of course," Maria answered, playfully shocked. "What else d'you think I would bring?"
Liz made a face at her. "Just checkin'."
Maria walked over to the little kitchen in their apartment and put the food down on the small table that was only big enough for two people to sit together comfortably. "Are ya coming over here, Mommy?"
"My ankles are swelling again... why can't I be one of those women who just breeze through pregnancy?" She followed Maria over to the table, her movements so slow she felt like was barely moving.
"Well, other women aren't carrying an alien baby."
"I suppose not... you'd think alien DNA would make it simpler though," she grumbled as she tried to find a comfortable position in the chair. She had gotten big enough that she couldn't sit up close to the table anymore.
Maria watched her best friend and frowned. "You think an alien baby maybe grows faster than a normal human baby?"
"I have no idea. The doctor seems to think everything is normal, so..." She shrugged. She went to the free clinic a few miles away, a place where no questions were asked and services only cost the bare minimum. She knew she couldn't risk going someplace that would want a lot of personal information, but she also didn't want to jeopardize her baby's health.
Maria sighed. "We should probably read some stuff about giving birth at home, huh?"
"God, what a scary thought!" Liz poked at her hamburger, taking the top bun off and reaching for the bottle of hot sauce on the table.
"I know." Maria sat down on the other side on the table and stared on her food. She didn't feel like eating anything.
"I don't even know if I'm having a boy or a girl." Liz doused a pickle with hot sauce before putting it in her mouth and chewing on it thoughtfully. "Dr. Starnes gave me the sonogram picture when I went last week, but I didn't look at it."
"You didn't? Why?"
Liz fished another pickle off of her burger and repeated the process. "I don't know... I'm not sure how much more real it can get," she said, motioning to her stomach, "but... I just... it didn't feel right to know without Max being there, too."
Maria placed one hand over Liz's on the table. "But we can have a look at it together if you want to."
Liz bit her bottom lip uncertainly. "I know I'm gonna have to eventually. We don't have a lot of money and we'll need to know... Max will understand that."
"Well, if ya wanna wait it's okay. We can buy yellow and green stuff, those colors work for a girl or a boy."
Liz nodded, but remained silent. "I appreciate that, but I think I'm gonna wait a little longer, Maria." She stared at her burger, wishing she had an appetite. "I also think I'm gonna go lay down for a little while after dinner."
"Yeah, okay, I need to get down and work for another three hours at eight anyway."
"Ungh, again?" She knew they had to take whatever hours were available, but sometimes it just sucked more than others. "What time do you have to work tomorrow?"
"10am to about 6pm I guess."
"I can't believe they're open on Christmas Eve."
"Yeah, I know. But I'm gonna get extra cash for workin' tomorrow, so it's gonna be fine."
"I wish I could work more hours to help out, Maria... you do so much..."
The other girl shook her head. "No, you need to rest, Liz. And I'm okay with this." Honestly, she wanted as much work as she could get because she needed the distraction.
Liz didn't have the strength to argue with Maria about the situation and there was a part of her that was envious of her friend's ability to take on the extra hours because she knew it occupied her mind.
*****
Maria opened the door to their apartment quietly and slipped inside. Her shift had taken longer than expected and it was already after midnight. Her feet hurt and she felt exhausted – hopefully she could get at least a few hours of dreamless sleep. She walked around the room in the dark, just the lights from the streets outside offering her some light to guide her way.
"Maria?" Liz asked quietly, once she was sure it was her friend and not some stranger, who had been tracking them.
"Yeah, why are you still awake?" She walked over to sit next to her friend on the edge of the bed.
Liz shook her head and silently cursed the way she was so emotional anymore. It was only getting worse the further she got into the pregnancy. "I can't get comfortable," she said as she shifted for the hundredth time since lying down. "My back hurts." She sighed. "My feet hurt, my ankles are swelling, I feel like I've gotta pee every five minutes..."
Maria brushed a strand of her away from Liz's face. "Let me just have a quick shower and then we're gonna do the 'let Maria rub your back until you fall asleep thing', okay?"
"Okay," she said tiredly. "How was your shift?"
"Busy. That jerk from last week was back again and tried to flirt with me."
Liz smirked softly. "I'm sure you put him in his place... again."
She rolled her eyes. "Of course I did."
"Uh-huh." She rested against the pillows and watched Maria as she stood and started gathering what she needed for her shower. "What'd you do?"
"Huh?"
"Last week you dumped his order in his lap... which you ended up havin' to pay for. Granted, I'd have done the same thing if he had grabbed my ass like that, but that's not the point."
Maria shrugged with a saucy grin. "Put some stuff in his drink... tabasco for example."
Liz giggled, knowing from firsthand experience what it was like to take a big drink of soda and not expecting it to be mixed with hot sauce.
Maria laughed. "He's definitely no alien."
"Just a mere human, huh?" It felt good to laugh.
"Yeah, ya should've seen his disgusted face."
"Ungh, I remember the first time that happened to me... tobasco in cherry Coke..." She shuddered at the memory.
"Yeah... it's not really anything you want to taste."
"No. Although I have started craving it on my food."
"But you've got a good reason for it. Your baby has alien genes."
"It has to be the baby," Liz insisted. "I can't possibly like that combination." She made a face. "I had a bowl of ice cream after you went to work and I put tabasco sauce on it!"
"Ewww!" Maria made a face.
"See? The worst thing is I enjoyed it! All I've got to say is it had better be the pregnancy."
"Alright, alien-girl, I'll be right back." Maria walked into the tiny bathroom and closed the door. She shivered slightly. The room wasn't really warm even if it didn't even have a window. She turned the shower on and started to strip down to nothing, glancing at herself in the mirror in front of her. She looked awful. Her eyes seemed to have lost any life, her skin was pale and she had lost almost ten pounds since the day Michael had been ripped away from her.
She stepped into the shower when the water began to warm up. It would never actually turn really hot, but she had already gotten used to that. As soon as the water hit her body, her thoughts went back to the day almost four month ago. It had been raining heavily when Max, Liz, Michael and she had run through the streets of a small town in the state of New York. They had been discovered by some FBI agents when they had gone out for some stuff they had needed, clothes, food...
After running criss-cross through the town for several hours, they had realized that there was no way to get rid of the agents if they all stayed together. Maria could remember the moment all too well when Michael had grabbed her arm to pull her into a dark alley. "We have to split up," he had told her, breathing harshly from the running.
She had shaken her head wildly. "No, no, we can't..."
"Maria, listen to me, we can't get rid of them this way. I want you to take Liz and you head this way," he had gestured further into the dark alley. "Max and I are gonna distract them so you can get away safely."
Maria had held his head in her hands. "But what about you? They'll get you. I can't live without you, Michael."
"You won't," he had promised. "Max and I will find you in a few days." He had glanced around the corner. The agents weren't far away anymore. "You need to go now. Promise me you'll follow our plans, Maria. No matter if Max and I are back in time, you go along the plan, do ya hear me?"
Maria's tears as she recalled that memory mixed with the water running down her body. He had given her one last brief kiss before he had called Max and they had gone in a different direction and she'd had to pull herself together and to be strong for Liz and keep moving.
She had done what he had asked of her, even though every new town meant getting further away from him... wherever he was right now. Maria bit her inner cheek to keep herself from sobbing. She didn't want Liz to hear her falling apart. She had to be strong for her, give her the feeling that they could survive. The truth was, she was scared like hell and the thought of the fast-approaching time when the baby would finally be born was scaring her even more.
Where would they go with a baby? How would they find a way for Liz to give birth to the baby in a safe place?
Maria turned the shower off a few minutes later, after she had washed her hair and calmed down enough to control the tears again. She glanced at the mirror again and shook her head at her reflection. "You've gotta pull yourself together," she told herself and started to dry off.
Liz grabbed the other pillow and tried putting it under her back... which worked for a few minutes. She was so frustrated with the lack of comfort she was experiencing and it was only compounded by her worry. She tried a new position and glanced at the strip of light visible beneath the bathroom door.
Maria thought she kept it hidden so well hidden, and to everyone else she did, but Liz knew how devastated she was over Michael's capture. There was only one reason to spend so much time on an extra-long shower when the water was barely warm enough that it couldn't be called cold. It was the only time she let her emotions really take hold and she allowed herself to think about what had happened.
By the time the water was shut off she was certain that the shower had long since turned cold, but she didn't comment when Maria finally came back into the bedroom.
"I have a feelin' the damn water gets colder every night," she muttered as she walked over to the small closet to get a shirt she could wear overnight.
"Yeah, I guess we should be glad there isn't a window in there... damn shower would probably have icicles hanging off of it from the draft."
"Yeah." She walked over to Liz again. "Okay, move."
"You're so bossy," Liz grumbled. She didn't really care, but she had to keep things on a level that Maria was comfortable with.
"What ya want me to rub first?" She sat down on the bed and stuck her feet under the blanket.
"My back... please."
"Okay, can you turn to the side?"
Liz snorted and shifted, moving her pillow so she could rest against it. "That's about as far as I'm gonna make it."
Maria chuckled and moved further down under the blanket. "Alright, I'll see what I can do."
They had slept in the same bed more than once lately. The apartment was a tiny one bedroom efficiency and everything was contained in three small rooms. It was so much nicer to sleep that way, rather than alone. The room was always kind of cold and it felt less lonely with Liz next to her.