The Regent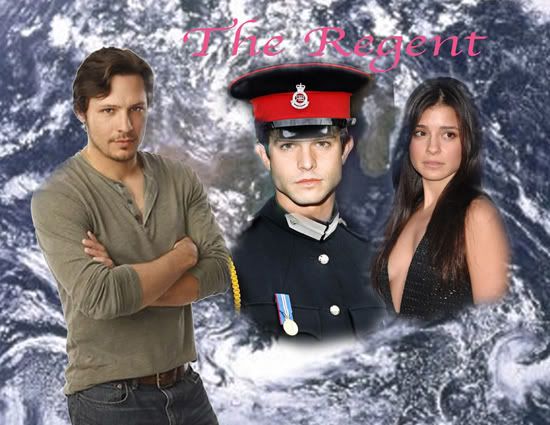 This is a Max and Liz story
WARNING, WARNING
There may be content that offends some readers. If so, please give me the respect to go somewhere else to read and let me post for those who do like what I write. kr
Title: Regent
Author: ken_r AKA Kenneth Renouard
Couples: Max/Liz Kyle/Liz
Alternate Universe with aliens, unconventional couples, but this is a Max/Liz story
Rating: adult
Disclaimer: None of the characters are mine. I am suggesting that if Max was a king and loved Liz there might be complications.
Summary. In this story, Max knows he must leave. He is not sure he can return. Liz has a four-year-old child. Max is determined to leave someone to care for her. Kyle is charged with being the regent. He must stand in place for everything until Max returns, including making sure that Liz is given a chance for a larger family. When the king returns, he wants what is rightfully his. The king cannot stay long. What happens to Kyle during this time?
After making every promise in the universe to Liz, Max becomes, in someway, indispensible to his people. The topic of how Max goes to what he considers his responsibility and his relationship to Liz is fertile ground for writing.
I Heard You Calling
This was an attempt to show Max leaves for 40 years and then tries to return to Liz. Even I, thought this very irresponsible.
http://roswellheaven.yuku.com/topic/842 ... e-complete
can probably be found on RF, but I couldn't find it. This story has Max returning after walking out on Liz the eve of their leaving for college. Anne only makes Max leave for 10 years.
Here is another suggestion. It flies against most of our social conventions, but a king might find this suggestion to his fancy.
Regent
Kyle had hurried home from school. There had been a time in his life when he would have said the game was the most important thing. That was before he took on the mantle of Regent. Kyle, now, was the first to say that home, family and responsibility was what was dearest to him. When he was young and the glory of being in the big leagues had faded, all Kyle could think about was to someday coach a state winning team. The time that coaching stole from his family just made that dream fade into the past.
As he opened the door and a small blue-eyed boy with brown hair ran to him yelling, "Daddy, daddy, hey mom, daddy is home," more than made up for the roar of the crowd and the thrill of victory. Kyle now, taught boys and co-ed Physical Education at Roswell High.
Liz came to the door with her arms full of toys, that she had been picking up and leaned toward Kyle to give him a welcoming kiss. "Did you hear anything from Evans?" was the first thing that Kyle asked.
"Yes, the security officer from Antar dropped by and said that his ship was a week out," she stated.
About that time another boy, about 14 years old, came in. "Hi Kyle, hi mom," he said. He had light brown hair and light amber eyes. AlexZander had told both his mom and Kyle that he was too old to be hugged any longer. Kyle extended his hand. "Hi Alex, did you have a good day?" he asked.
Like most 14-year-olds, getting useful information about the school day was like pulling teeth. "Yeah, I guess I did," was the reply.
"AlexZander, you and Jimmy go wash up. I will fix you both a snack if you hurry. Kyle and I have something we need to talk about," Liz command.
"Come on sprout. I will race you to the bathroom," AlexZander yelled.
Jimmy followed his half brother with, all the admiration that a younger brother has for his older sibling, the admonition of their mother, "Boys, no running in the house." was lost.
Liz turned to Kyle. "Are you still worried about Max returning?" she asked.
"Well, I am living in his house and I am sleeping with his wife, I have fathered a child with her. Yes, I am concerned," Kyle stated.
"Kyle, Max knew that it would be 10 years or more before he could return. He made you regent. He talked all that over with you before he left," Liz explained.
"Yes Liz, I know. It is still hard for me to understand. "Kyle, old buddy, I am gonna be out of town for a while. I want you to take my house and fuck my wife while I am gone. That is still so strange for me," Kyle said.
"Kyle, Max never explained it that way. He saw that you had no prospects, you had almost lost your way in life. If you tied up with any new girl, you would have to let a complete stranger into our world. Max knew that you had history with me. Leaving me to find another man, who had no knowledge of our alien relationship would have been dangerous, also. Max did not want me to have to live most of my life alone. He had already seen the changes starting in you. The changes in both of us would have been difficult to live with unless we had support. Bringing any a stranger into our family would have been difficult. He tried to offer both of us the best deal for he knew how." Liz knew of Kyle's worry. She also knew her husband and she understood that Max always tried to have everyone'a best interest when he made his decisions. That was what made him a king and that was what took him away from her.
The six of them, in that worthless piece of hippy junk that Jesse had found at the last minute, had just encountered their last battle. For a year, they had run just ahead of the "Special Unit." All six of them were becoming battle hardened. For a time, the battle was all one direction. The Unit had used bullets, bombs and sometimes more sophisticated weapons against them. They had managed to survive, not that they didn't suffer wounds many times. The healing power of Max had been taxed from the beginning.
For Kyle, the worst wound came, not from their enemies, but from within. Early in their flight, Max and Liz had taken time to be officially married. The other couple, Michael Guerin and Maria DeLuca had been sleeping together since the first time Tess had left. Max and Liz's honeymoon was, the other four sitting out side the van around a campfire, while the vehicle rocked to the passions of the newly weds.
From the first, Kyle had been an outsider. Kyle only left with them because, he had also been named by the Special Unit, for study. Kyle had also received the curse/blessing from Max of being healed. There might be a time when he would sparkle like tinfoil in a microwave. Liz already was showing changes in her body and in her mind. These were changes which needed to be monitored by Max. Only Max would be able to care for her if the changes became too great. Now with Max gone, she surrounded herself with those not from around here.
Moaning his own bad fortune, Kyle could only think how much worse were the conditions for Isabel. Kyle felt tuggings at his groin, while listening to the moans from the back of the van. Max had curtained off the rear seat of the van so the two couples could have privacy while the van kept up its almost unceasing travels. Michael and Maria took turns with Max and Liz making love behind the curtains while the un-joined members could only sit and shudder.
For a high school kid, Kyle had had a fairly active sex life. He was a sports hero and there were plenty of honeys who would spread their legs for him. Dating and then losing Liz to Max had been the end of Kyle's social life. Kyle had never made it with Liz, but he was sure that it was only a matter of time. Liz wasn't a girl to just casually spread her legs. As far as Kyle could tell, she had been a virgin. He was still sure that his charm would open her up to his seduction. He was sure that is, until Evans came by.
Isabel Ramirez had lost one boyfriend through tragedy, he being murdered by one of their own. Tess, the fourth hybrid, had also been an outsider because she hadn't been raised close to the other three hybrids. She had been tutored to believe she had the connubial rights to the king, Max. In an effort to take those rights and deliver the other three hybrids to their enemies on Antar, Tess had pushed Isabel's new boyfriend to mental efforts until his mind broke. Isabel then married, some say to quickly, Jesse Ramirez, only to lose him as the special unit attacked their group. Isabel would not let Jesse leave his productive life to become a fugitive like the rest of them, but there were many nights when Maria's sighs were heard behind the curtain that Isabel would have given anything to have a naked Jesse in her arms.
Kyle wasn't, at that time, into married women and Isabel took her vows seriously, so they just sat in sexual frustration as the other two couples found relief for theirs.
In the last battle, they had caught most of the leadership of the special unit in the fortress of Eagle rock research facility. It had been just two weeks before that a bomb, meant for them, had gone off in a park killing three children. Max just shook his head. "It stops here," he stated. The unit, trapped within its own fortress, while the three aliens began to pour energy, through their power blasts, into the edifice. It was only a matter of seconds that Kyle and Liz, their beginning powers becoming visible joined in the effort. In the end, it was only Maria who was untouched by alien power. As she made love to Michael, all wondered when it would be her turn.
Isabel, now, was returned to Jesse. The other two couples were married again before their families. Kyle was, now, the only outcast. For him to have someone, it would be necessary to let someone new into their group. Even Kyle was hesitant about this.
Then, that fateful day, word came from Antar that Max was needed to control the rebellion. Neither Isabel nor Michael were any longer wanting to return to a place of which they had no knowledge. Nor, were they willing to leave the love they had recently found. Kyle was taken aside by Max.
"Kyle, I may not ever come back or I may return when they allow me. It would still take ten years or more to accomplish this. Liz has a four-year-old son and neither of them could survive the trip to Antar. It would please me if you would take this ring of regency and take my place, caring for my family and for my friends." Max placed a ring on Kyle's finger. It would cost a fortune if it had been crafted on earth.
For a time, Kyle felt that he had only taken on a responsibility to look after Liz and AlexZander. Liz soon made it clear, "Kyle, Max wouldn't want either of us to remain celibate while he is gone. With her encouragement Kyle returned to school to get his teaching degree and he came to her bed to satisfy their carnal needs.
For a while, Kyle tried to be careful and as he made love to Liz, he always used a condom. Finally, Liz informed him, "Kyle, I want more children." She convinced him to throw away the condoms. Kyle and Liz, now, made love like an old married couple.
When little Jimmy was born, named after Kyle's father, Kyle asked, "Do you suppose Evans will be angry that now he has a son who is not his own?"
"No, Kyle, Max loves children. He will cherish Jimmy just like you love AlexZander. Like you, he will not supplant Jimmy's father, but he will always praise and bring Jimmy up to love both of you," Liz stated.
Liz was visited often by hybrids from Antar. There was a bodyguard around herself, her children and also around her consort, Kyle. How good this security, was shown in the fact that none of the bodyguards were ever seen by any of the household.
Liz was also in contact with officials who guided her through this unusual relationship. Liz was given a household allowance that more than covered their needs. Kyle, likewise, was given a salary. He was confused about this. "Liz, am I being paid to service you? Am I just a male whore?"
"No, Kyle, you are an employee of the Antarian government. You are a direct employee of the king. Your job is to stand in place of the king until he returns. They sent you back to school so you could be a role model for our children. The money is yours to do whatever you want with it." Liz tried to have explanations for Kyle, although some of them she didn't completely understand herself.
Liz managed the household with the help of two ladies who were hybrids themselves. The ladies often took time off to return to their own devices and every couple of years, they were exchanged. Not only did they assist Liz, but they also advised her.
"The king is required to sire an heir who can live on Antar. The woman he chooses there will, in no way, supersede you in authority or in position. She would be unable to ever see earth just as you could never see Antar," Kaitlain told Liz.
For a while, Liz was hurt. Yes, he had sent her to Kyle, but that he must take another woman and sire a son with her, was a little hard at first. Liz remembered a saying of a navy wife. "I don't care what he does as long as it is more than one thousand miles from home port."
Liz guessed that Altar fit that description. It was millions of light years away. That was when Liz became more comfortable with her relationship with Kyle. Kyle liked being a teacher. He saw the value of showing his two sons the necessity of a vocation and the joys of a job well done. He had all the money he could ever want, but he learned to live almost like he would have done normally. Well almost. Kyle did buy a new pickup every two years.
Marcie, the other lady who assisted Liz, said one day, "The king will take a furlough on earth in six months. You and your consort are to prepare for this."
"Marcie, what am I supposed to do?" Liz inquired.
Marcie just shook her head, "I don't know, my lady. I have just been told to tell you to prepare for this." With that, Marcia went back to laying out the fresh laundry.
That night after the children had gone to bed, Liz came to Kyle and sat in his lap. "I have been informed that Max will return for a brief period of time. I was told that we had to prepare for this."
Kyle looked at her, "Does this mean I am thrown out?" he asked.
Liz shook her head, "Kyle, I am just as confused about our actions as your are. I think that the king does not follow the same rules as everyone else."
"Liz, I love you. I, also, love AlexZander and Jimmy. Do I just give way for the king whenever he desires it?" Kyle asked.
"Kyle, I love all of you. I also love Max. I don't know what we are supposed to do." Liz replied.
Kyle had taken to stopping by for a beer after school. The first time he did it, one beer led to two, which led to three. Kyle, was brought home by two men, who introduced themselves as Ralph and Eddie. They parked Kyle's pickup in his driveway and carried him inside the house. "Don't be too hard on him, Liz," Ralph said. "Kyle is still getting used to Max returning."
Liz knew immediately that these men must be part of the security force who guarded Kyle.
For a whole week, Kyle came straight home every evening. Almost every night, he and Liz made love. It was as if Kyle was trying to store up images to sustain himself, while Max was back. It was a week later when, again, Kyle returned to the bar. He sat down and ordered a pitcher of beer. He barely noticed when two men sat on either side of him. They all three began telling stories. "This football coach used to always scream to the half back when he wanted him to pass, 'Throw him the chicken, throw him the chicken.' Well one day when I was playing, I heard him shout his favorite saying. Glen, one of the other backfielders, slipped me a rubber chicken. I threw it. The receiver was laughing so hard he forgot to run and the coach was so mad. All of us ran laps for two hours. We puked our guts out at the end, but it was worth it."
Ralph stood up, "Kyle let's move to a booth." They sat there just nursing Kyle's one pitcher while they each told stories to top the other.
Eddie looked at his watch. "Kyle, its late. We better get home. Do you think you can drive?" he asked.
"Yeah, I don't know how many beers I have had, but I feel pretty good," Kyle having only had one glass from the pitcher, two hours ago made it home in top condition. Liz didn't say anything about the beer on his breath. She knew that he was having trouble adjusting.
This went on for some time. The time at the bar was shorter and shorter until it was just a stop for one beer with the guys. Then for some reason, Kyle just stopped at a coffee shop and had an espresso. He was surprised that Ralph and Eddie also stopped by. They all told jokes for a brief time. Then, Kyle laughed, "Guys I gotta go. The little lady works hard to have supper ready for me. I don't want to disappoint her.