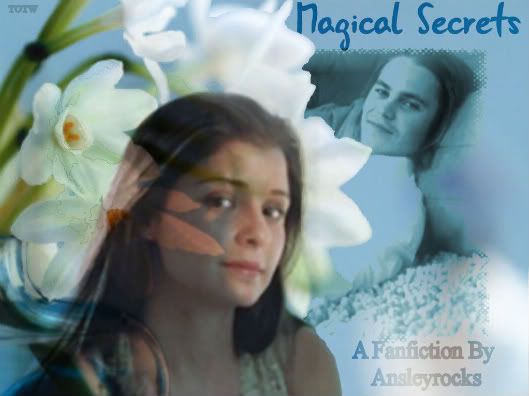 Title: Magical Secrets
Author: Ansleyrocks
Disclaimer: I do not own Roswell or the Covenant!
Rating: Mature-Adult just to be safe
Couples: Liz/Pogue, Maria/Reid, Caleb/?, Tyler/?
Category: Crossover/ Roswell and the Covenant
Summary: It started with a tingling in the back of her mind and when she realized what was happening her heart slammed against her chest painfully; they were dead. Liz Parker and Maria Deluca came off to their friends as pathetic humans but when two old friends drop by with bad news their secret life comes crashing into reality. Time is running out and the girls must turn to the sons of Ipswich for help.
Added Note: In the Covenant this takes place right after the movie, in Roswell this takes place after the Harvest and from there the story goes in a whole new direction. For the sake of this fic, the timeline in Roswell is pushed up a year so Liz was shot junior year. Also a huge thanks to Touch of the Wind for the amazing banner!
Prolog
She ran as fast as her legs would carry her hating the stinging feeling in her chest from her quick intake of breath. Her destination loomed in front of her like a lighthouse at sea spurring her on faster. Blasting the front gate open she ran down the drive towards the front door; pounding on the solid wood door with all her might ringing the bell continuously.
"What?" A gruff voice barked before gasping.
"Caleb." She chocked falling into his arms, he looked around before he pulled her limp body inside.
"Caleb?" Sarah asked coming into the foyer followed by his mother.
"Oh my god!" Mrs. Danvers gasped. "Serena." She choked out rushing towards the girl on the floor in her sons arms.
"You have to help them" Serena wheezed.
"Help who?" Caleb asked.
"The others…they are too strong I did not see them coming." Serena sobbed.
"Serena what happened?" Caleb asked looking into her green eyes begging her to help him.
"I was attacked, it was the Horaci." She gasped out feeling Caleb go rigid.
"The Horaci?" He whispered.
"They are after us, they are going to go after the others next. Please you have to help them, Lizzie and Maria are all alone." Serena suddenly started coughing, blood escaping from her mouth.
"Damn." Caleb groaned.
"Is there anything we can do for her?" Sarah asked.
"No the Horaci injected me with their blood." Serena wheezed.
"No!" Mrs. Danvers sobbed.
"Help them Caleb please, don't let my sisters die." Serena said searching his golden eyes for help, she coughed violently again before she lay motionless in Caleb's arms.
"No." He whispered feeling for a pulse but he found none, he knew there was nothing he could do.
Roswell
Liz hated having to work on the weekend, she would much rather be out having fun with her friends but no she was stuck there working at her parents restaurant as usual, but at least she had Maria to keep her company. For as long as she could remember it had been her, Maria and Alex but lately with all of the alien craziness Alex had been pulling away from them leaving Maria and Liz by themselves. She hated all that was happening around her, she knew the other's secrets but her and Maria were not allowed to share their own; bound by an ancient code.
Liz suddenly stood up gaining the attention of the entire café which consisted of the aliens and Liz's parents. Clutching her head she started screaming falling to her knees. "Liz!" Maria screamed running over to her best friend followed by Alex and her parents.
"No. Please no…" Liz sobbed.
"Lizzie what is it?" Jeff asked grabbing his daughter's face forcing her to look at him, none of them noticing the four aliens that crowded around them.
"It's Serena…she's dead." Liz sobbed into her father's shoulder. Maria shook her head vigorously not wanting to believe her best friend who was shaking on the floor of her parents café. "Daddy it hurts so bad she hurts so bad!" Liz screamed out her small form convulsing in her father's arms. The aliens stared in awe as their strong friend cried her distress.
"Lizzie…" Jeff tried to get his daughter to look at him.
"She is dead…"Liz suddenly went still her head falling backwards. Jeff and Nancy shot a look at each other and then Jeff quickly got up off the ground carrying his daughter out of the café faster than the others had time to comprehend with Maria trailing behind. Alex was left to keep the aliens from following.
Upstairs Jeff set his daughter on the couch and stood back as his daughter's body began to glow green and a black pentagram glowed on her forehead four of the points glowing brightly, the fifth gone with Serena. Maria and Nancy lowered to one knee in front of Liz bowing their heads.
"Hail to the eldest daughter, leader of the Scions." They chanted.