Title:
Numb
Author:
Traitor
Category:
DA X-over, X-tremer
Timeline:
Post-Graduation, Post-Love in Vein
Rating:
Adult for strong language and dark subject matter
Disclaimer:
I do not own nor do I have any association with anything Roswell or Dark Angel related. Don't sue…cause I have no money and that would be bad.
Summary:
Tragedy and heartbreak have followed the Pod Squad for to long. Two years ago, after the group had been on the road for a year, Maria and Liz went to Seattle. Now their just trying to get by…Liz more so than Maria.
Authors Note:
I began posting this story over 5 years ago on RoswellFanatics, but real life got ahold of me for a few years and I was never able to finsh it. I'm starting over posting and I promise I will finish it this time!
Dedication:
For everyone who read this and gave me so much support the first time around. I'm finishing this for you.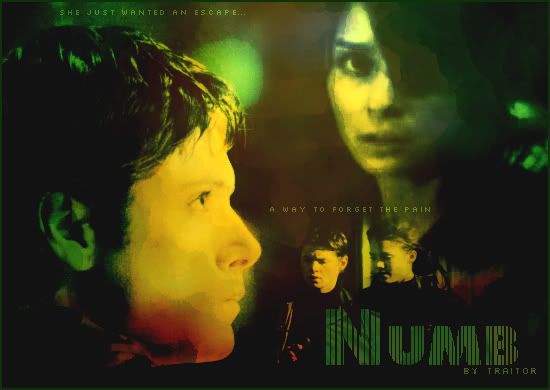 Roswell Fanatics Round 14:
Prologue: Not what I seem
Gotta keep running.

I can hear the crunch of the snow beneath my heavy boot-clad feet. It hurts to move, it hurts to breathe but I force myself onwards, never looking back.

One step, then another.

I'm a goddamned solider! Running through the snow shouldn't be this hard. In fact, it should be a piece of cake, a walk in the park. But of course, the fact that I have a gaping bullet wound just millimeters above my heart could attribute to my unusual sluggishness.

Yet still I press on – pushing past the blazing white fire burning in my chest – and never once do I look down. If I look down, I know I'll see the snow under and behind me, absorbing the dark crimson of my blood…and that would make this whole thing real.

Numb.

My whole body is becoming numb from a combination of hypothermia and blood loss. I know that it will be over soon. At least then I can see Jack and whoever else didn't make it out tonight.

Wait though.

Do Transgenics go up to the Blue Lady or are do we simply…disappear?

The gun that I've been holding tightly in my left hand suddenly becomes to heavy and it slips from my fingers, disappearing under the mountain of snow.

My knees give away.

My eyes get heavy.

I feel like my world is going up in flames. My dreams of freedom are fading too, dying with me.

The snow caves in around me as I fall to my knees.

Every breath feels like fire scorching my lungs.

Then suddenly I'm on my back, looking up at the star covered sky. Faintly, I can hear the sounds of gunfire on the other side of the perimeter fence. I wonder how many are dying right now. Just like me.

I can feel the blood and snow soaking my clothes. Damn…it's so cold.

I blink heavily.

At least I'll die like a solider.

With one last shaky breath, my world implodes around me.
-------------------------
"Liz! Liz!"
Liz Parker bolted upright, sweat dripping down her face and into her eyes, stinging on contact. Her hair was stuck to her face and shoulders, soaking wet. Maria DeLuca, Liz's best friend and roommate, sat across the room on the edge of her bed, staring at Liz with obvious concern. She had been awakened by her friends screams to 'Make the pain go away'.
Liz eagerly gulped air into her oxygen starved lungs. The memory of her dream flashed back into her mind. Despite how unbelievably hot she was, Liz shivered.
"Are you okay, Chica?" Maria asked, her eyes trained firmly on Liz's shaking form.
Liz couldn't help but let out a dry chuckle. Was she okay? Now that was a loaded question. She supposed it depended on what your definition of okay was.
"I'm peachy, 'Ria." Liz reassured her friend. "It was just a nightmare…a really bad nightmare."
Maria raised an eyebrow and shot Liz a knowing look. Liz flinched underneath her fierce gaze, giving Maria all the conformation she needed.
Maria turned over and grabbed a green pill bottle from her nightstand, one of the many that lined the table. She glanced at the label, just to make sure she had taken the right one, and then threw it across the room to Liz. Liz caught it in her hand and smiled.
"Just don't take too many this time." Maria warned, before she rolled over and fell back asleep.
Liz rolled the bottle in her hands, loving the way the pills rattled in their container. Before long she heard the heavy even breaths coming from Maria and she smiled. Now she was alone in the dark with nothing but bad memories and those blissful little pills.