Winner - Round 8
Title: Denial Ain't Just a River...
Author: Lindsay
Category: AU M/L + CC
Rating: ADULT
Disclaimer: The characters of Roswell belong to The WB, Melinda Metz, and UPN.
Summary: Maxwell Evans and Elizabeth Parker. Best friends, roomates... and lovers?
Author's note:
Some of you might remember this fic from ages ago. Well...I'm back to complete it for a couple of different reasons. One, the overwhelming response from you guys. Two, my original plans to try and market are on hold until I finish a few other things up first. And third, it's been eating at me to complete for you guys. So...I'll be reposting it and then continuing with new updates. I hope you all enjoy it as much the second time around! Peace...
<center>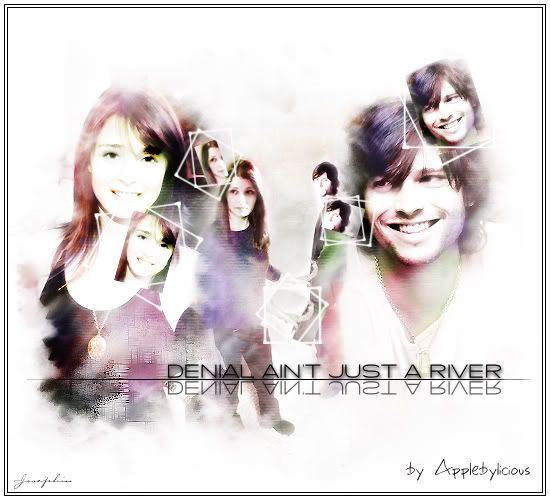 </center>
Denial Ain't Just a River...
Chapter 1
When life hands you lemons, make lemonade.
Elizabeth Parker snorted as the optimistic expression flitted through her mind in a voice that sounded disturbingly like her first grade teacher.
Lemonade, indeed.
Given her present state of mind, she was more apt to throw the lemons back in Life's fat face. She was
that
irritated. The fact that the object of her irritation lay not twenty feet away in the next room did
not
help her mood.
Maxwell Evans. Known to all his friends and family as Max, he was intelligent, gorgeous, and Liz's best friend since childhood. And she was in love with the big idiot. Of course, Max didn't have a
clue
as to his best friend's true feelings and to be fair, why should he?
Elizabeth was well known for being blunt to the point of brutality and she'd never shied away from a confrontation in her life. Given these facts, it was no wonder Max didn't suspect that she was hiding a secret from him. And wasn't that the whole crux of the problem? Liz hated, absolutely
hated
hiding anything from Maxwell. But at the same time, she was scared to death for him to find out that she wanted him.
Aside from the humiliation it would cause - because she had no illusions that Max suffered any kind of secret feelings for
her
- she couldn't stand the idea of ruining their friendship. So she tried to pretend that what she felt was simply lust – pure and simple. And since Maxwell was quite possibly the best looking guy in town, it seemed to be justification enough for her.
But all this was normal for her, it was something she'd been dealing for as long as she could remember. No, the
real
cause for her irritation was that until now, Maxwell had been off limits to her, therefore keeping any crazy urges she had at bay.
Until now.
She groaned and burrowed further under the blankets as she recalled the conversation she'd had with him just last week in the apartment they had shared since graduation from high school six years ago. She'd been sitting on the couch watching one of the dozens of reality shows that were so popular these days, wondering just where they managed to find so many desperate people to fill in the casts. Max had been with his long-time girlfriend Pamela at her place.
Liz had tried to ignore the sick feeling in her stomach as she'd recalled the determined look on Max's face as he'd left their apartment that night. He'd been acting strange all week, distracted and edgy at home and work. Assuming that he was simply in a bad mood, she'd given him a wide berth and hadn't questioned his behavior. But now thoughts were niggling in her mind, and none of them were pretty.
She'd tortured herself with images of Max, on his knees in front of Pamela, slipping a ring on her perfect finger as she cried perfect tears of happiness from her perfect eyes. She hadn't realized she was gritting her teeth until she felt the ache in her jaw. Red welts brusied her palms where she'd restlessly dug in her nails. That was when she realized that she had been unconsciously waiting up for Max to get back and torment her with the tale of his successful proposal to Pamela.
So, she forced herself to turn the television off and go to bed. After a good hour of staring at the ceiling, she'd drifted off to a light slumber, only to be awakened minutes later by the sound of Max's deep voice.
"Liz… are you awake? I need to talk to you."
At the time, she'd been expecting to hear excitement and bliss in his tone, so she'd prepared herself to act surprised and happy when he broke the news. But one look at his flat, resigned expression had her sitting up in worry.
"What happened?"
Then he spoke the words that would continue to haunt her every minute of every day that followed.
"I broke up with Pam."
She hadn't had to fake her expression of shock. As far as she'd known, Maxwell and Pamela had been happy to the point of making her ill. She'd always been jealous of the beautiful blonde who had captured her best friend's attention in college. Pamela was the epitome of every man's dream – tall, elegant, and possessed of a super-model's body.
She was also a good lay, or so she'd overheard Max saying to their mutual friend Michael Guerin. The two had dated off and on for months before they'd settled down to happy coupledom. Liz had determined to remain polite despite the fact that Pamela obviously disliked her and didn't bother to hide it.
She assumed that Pamela didn't approve of the fact that Max was living with another woman, but even when Max had moved out temporarily to live with
her
, she'd still remained cold and nasty to Liz. Liz didn't care. She was just as rude and aloof to Pamela. It was something of a joke to Max, who laughed about having two women fighting over him. But deep down Liz knew it bothered him that the two women in his life hated each other.
Liz hadn't wanted to cause trouble, so she'd made sure that she wasn't around whenever Pamela was. She'd thrown herself into her bookstore, gone out with other friends and generally stayed out of Max's way.
That was when she met Kyle Valenti. Tall, suave, and Italian, he'd walked into her store one day while she'd been mooning over Max and Pamela and had distracted her from her gloom with his confident flirtation. He was sexy and funny, and had managed to wrangle a date out of her before she'd known what was happening.
Later as she'd been getting ready to go out, she'd come upon Max looking very put out. He and Pamela had evidently had a fight and he had come home looking for sympathy. When he'd discovered Liz's plans, he hadn't been happy. They had gotten into a rare fight that had ended with slammed doors and Liz driving off in a temper.
The entire night she'd been awful company, but for some reason Kyle hadn't been dissuaded. In fact, he'd called the next day to secure another date, which Liz had agreed to merely to spite Max who had been standing over her in disapproval.
She had enjoyed spending time with Kyle, but she couldn't delude herself to the fact that she was simply using him to keep her mind off Max. Eventually they split, but had remained friends and Kyle had made it clear that anytime she wanted to pick back up where they had left off, he was willing and eager.
With Max and Pamela on one of their breaks, she'd played the part of the sensitive friend and spent hours talking with Max about his relationship. Then the unthinkable had happened.
She had suggested that they stop moping and go out, and Max had surprisingly agreed. So they'd gone to one of the clubs that they used to frequent together back when they were both single. They'd spent the night dancing and drinking and it had been like heaven to Liz, who had sorely missed her best friend.
It had taken awhile for her to realize that Max was behaving differently that night, holding her closer during the slow songs and grinding against her during the faster ones. She'd chalked it up to the alcohol and resolved to simply enjoy it while it lasted, but as the night wore on she noticed that Max had stopped drinking, but he hadn't stopped his scandalous behavior.
As Max called a cab, she'd stood outside the club, enjoying the light breeze, her heart beating quickly as she tried to make sense of what was happening between them. Then he'd been there, his arm around her as they rode silently back to the apartment. She'd felt Max's gaze on her several times during the short ride, but she'd been too nervous to look over.
Once they reached the apartment, she'd reached inside her purse with trembling fingers to find her key, when he'd stopped her by whispering her name.
"Liz."
She'd jumped and turned to face him, eyes widening as she realized he was right behind her and she'd backed herself into a corner. He'd stared at her with an expression she couldn't name, but it sent tingles of excitement through her as he'd reached out to brush her long hair back.
"We need to talk."
He'd breathed the words so softly that she wondered if she'd imagined them. Then his lips curled up in that familiar smile and her breath left her lungs in a soft whoosh. The effects of the alcohol hadn't completely left her system, and she'd found herself standing on shaky legs and leaning towards him… when the door opened.
"Oh, Max… I'm so sorry. I've missed you so much, baby."
She'd stared in shock as Pamela pushed past her from inside the apartment and threw herself into Max's arms, sobbing wildly. Max had appeared as surprised as she, and he'd caught Pamela against him as she'd began kissing him and murmuring words of apology in between.
It had the effect of a bucket of cold water, and Liz suddenly found herself completely sober and shivering in the warm summer air. She'd turned to walk inside, when a hand clasped around her wrist. She'd turned to see Max staring at her, a sniffling Pamela standing behind him.
His golden eyes burned into her before he'd opened his mouth.
"Wait…"
She heard the hesitancy in his tone and for a split second she'd hated him for it. But she automatically forced a smile on her lips and gently broke away from him.
"It looks like you have things to take care of,"
she'd spoken softly, looking away.
His hand had tightened before he let her step away. She'd looked back at him and caught him staring at her again with that strange expression. His lips turned downwards and he looked ready to speak again, so she quickly turned and walked away.
After shutting the door to her room, she'd heard Pamela's seductive voice begging Max to let her 'make it up to him'. Ignoring the pain in her heart, she picked up the phone and called the frst number that came to her mind. While she made plans with Kyle to spend the night at his place, she'd heard the sound of the couple in the living room heading towards Max's bedroom. Her eyes closed against the tears springing to life and she'd hung up and started packing a bag.
After a night of watching movies with Kyle and sleeping in his guestroom, she had returned home to find Max waiting. One look at her bag and Kyle standing behind her, and his face had turned hard as he correctly assumed where she'd spent the night. He had walked out and minutes later she'd heard him on the phone with Pamela.
After explaining to Kyle that the previous night hadn't meant she was ready to resume their relationship, she changed and headed to the store to work off her misery and frustration. Max and Pamela had eventually reconciled, and she and Max had silently agreed to never mention that night.
In the long run, Liz had discovered that it was easier to hide her feelings for Max as long as he and Pamela were together. Since she never again wanted to experience the possiblility that she might make a fool out of herself as she did that night, she decided to try to support his relationship with Pamela, no matter that Pam continued to treat her like garbage and that a part of her withered every time she saw them together.
Still, she'd just begun to resign herself to the idea of Max and Pamela together… forever…? And then those fateful words...
"I broke up with Pam."
She remembered staring at Max, wondering if the joy she was feeling was plastered all over her face. Then horror had filled her expression as she recognized the urge to throw herself in his arms and beg him to love her. To want
her
. To see
her
.
The rest of the night was a blur as she listened to Max explain that this time it was
finally
over between him and Pamela. She had nodded and stared in silence as he complained that he didn't know why he had spent so much time involved with her.
The next day, he'd been carefree and cheerful, like a giant burden had been lifted from his shoulders. He flirted with her at every turn, teasing and casually brushing against her when they walked past each other in the hallway.
He was driving her crazy.
Not that he realized it. No, Liz knew that he was oblivious to the inner turmoil he was causing her, but she still felt herself growing anxious whenever he was around. And he was around a
lot.
It seemed like she couldn't breathe without running into him. He visited her at work, he stayed at home on his nights off and offered to rub her feet. He turned down offers from gorgeous women at the bar, and came home to ask her about her day.
Liz had expected him to return to his normal behavior before Pamela, to go out partying with friends and flirt with every woman in sight. Instead, he seemed determined to spend time with Liz whether she liked it or not. She figured that he was still inwardly pining for Pam, and didn't want to get involved with anyone else so soon, so he was expending his flirtatious nature on a safe target: her.
Well,
it was driving her crazy!
The sound of her blaring alarm further disgruntled her as she reached over to turn off the offensive device. Once again in blissful silence, she laid back and stared at the ceiling. Today she had plans to stock her latest shipment at the store. And Max had offered to help her. Liz wasn't sure if she was up to spending an entire morning in such close quarters with Max as they sorted and labled romance and erotica novels.
She closed her eyes as if in pain. Well, no sense in prolonging the inevitable. Dragging herself out of bed, she brushed her teeth, pulled her curly hair back into a neat ponytail and took a deep breath before going to the door that connected Max's room to their shared bathroom. It was unlocked, as always.
Ever since the time that Max had unknowingly walked in on her while she was getting dressed, she had faithfully locked her door from the inside. But Max either forgot to lock his, or didn't much care if she caught him naked.
Brushing aside thoughts of Max naked, she placed her hand on the doorknob. The door fell open and she shook her head at the sight of his clothes lying on the floor. Max never seemed to be able to make it to the hamper.
Stifling a smile, she bent and retrieved the pile of clothing, dropping it into the laundry basket as she stood to glance towards the window. Her breath caught. He lay asleep on the bed, one arm wrapped around his stomach and the other back behind his head. His dark hair was tousled, and a lock fell across his forehead. Liz's fingers positively itched with the desire to brush the wayward strands back.
He'd never outgrown his tendency to toss and turn in his sleep, so the blankets were tangled around his legs, and one bare thigh was visible in the early morning light. She swallowed at the sight, trying not to stare at the lean line of his hip. She drew her bottom lip between her teeth and nibbled, allowing her imagination to mentally draw the sheet down just a bit more…
He groaned and his hand fluttered on his abdomen. The movement drew her attention to his lap and her eyes widened at the obvious tent under the sheets.
Oh, dear God. He's dreaming about Pamela!
The thought of Max's gorgeous ex-girlfriend threw a damper on Liz's already dark mood, but she forced herself to ignore her disappointment. After all, what right did she have to blame Max for not realizing how she felt about him? It wasn't as if she'd ever had the courage to walk up to him and say, "Hey, big boy. I've seen what you're working with, and I gotta admit, I'm interested. What do you say I show you what you've been missing all these years?"
Yeah, right. He'd probably laugh her out of the state, after he got over his initial shock.
A puff of air blew from his lips as he shifted on the bed, and Liz held her breath as the sheet pulled tighter against his muscled form.
Just a little lower…
"Mmm…oh, yeah…" Max breathed heavily, and the timbre of desire in his sleep-roughened voice sent a shiver down her spine.
Enough of this.
Determinedly, she walked over to the bed and reached out for his shoulder. Ignoring the heat radiating from his sleek skin, she gently shook him. "Max, get up."
He moaned and thrashed his head against the pillow, a jumble of unrecognizable words flowing from his throat.
She shook harder. "Maxwell, it's Liz. It's time to get up."
It happened so quickly, that she never had the chance to scream. One moment she was standing, and the next she found herself flat on her back, pinned to the mattress by close to two hundred pounds of prime male flesh.
Naked
male flesh.
She stared up in shock, and found herself gazing into the heavy-lidded gaze of her best friend. His tawny eyes smoldered as he leaned down and brushed his lips against hers. His tongue licked the seam of her mouth. She stiffened and struggled not to moan as he nipped her jaw gently.
"Max!" she hissed, her hands falling to his shoulders as he pressed himself against her. "What are you…"
Her words died as his big hand came up to squeeze her breast. Her nipples hardened into aching peaks and this time she did groan as his fingers molded her flesh, pinching and tugging. Their legs tangled as he began rubbing against her in a blatant sign of arousal. Liz sucked in her breath, her mind dizzy with desire as he bent to take her mouth again.
"God, you feel so good… I missed you, babe…" he breathed, a scant instant before their lips met.
At that blatant reminder, Liz went rigid and her brain skidded to a halt. At the same moment, Max froze as his eyes cleared of their sleepy haze. They stared at each other in shared horror and Liz's mind raced to come up with an excuse.
Before she could speak, his lips curled into a half-smile and he chuckled. "Uh… fancy meeting you here, Liz."
At his words, she felt her face erupt in flames and she scowled in an attempt to hide her mortification. "Get off me, you ass!"
She slapped his hand away from her breast and kicked her legs out from underneath him. Max laughed again and rolled over. She immediately jumped to her feet and straightened her tank top, refusing to meet his eyes.
"Hey, you should know better than to interrupt a guy in the middle of a dream," Max purred. "And it was a damn good one, at that."
"You're such a perve," Liz snapped, embarrassed beyond belief at the way she'd acted. God, did he know how much she wanted him now? He couldn't have missed the way her body had responded to his touch.
But instead of questioning her, Max merely stretched, yawning deeply. Liz watched him out of the corner of her eye, grudgingly admiring the way the early morning sun highlighted the raven strands of his hair and bathed his skin in its golden glow.
He moaned suddenly, and Liz turned to face him. "Damn, Elizabeth, it's only seven o'clock. I just got in a few hours ago," he complained, sticking his lower lip out in a pout. It should have made him look young and silly, but instead it only intensified his masculinity.
Whiskers shadowed the strong edge of his jaw and highlighted his sharp cheekbones. His hair was rumpled and several strands stuck up as he ran a hand through the thick mass. The muscles in his arm and shoulder bunched and shifted with the movement.
God, he's beautiful.
Unaware of how hungrily she was staring at him, Liz's eyes trailed down his broad chest, traced the ripples of his abdomen.
Six pack, indeed
. She licked her lips.
Max groaned again, snapping her out of her daze as her eyes flew guiltily to his face. His eyes burned brighter than usual, his lids lowered. His breathing was heavy and his cheeks were slightly flushed as he stared at her… mouth?
"Liz?" His voice was gruff and held a note of longing that shook her. For what seemed like hours they stared at each other in silence, but in reality only a few seconds passed.
He's aroused.
Liz almost snorted at her inner voice.
Yeah, he's aroused and on the
rebound.
Right now he would probably take a one-legged prostitute if it would get his mind off Pam for even five minutes.
Once again, the thought of perfect Pamela Troy and her hold on Max broke the spell. "You said you would help me stock the shelves this morning," she reminded him, determined to get back to neutral ground.
Hi eyes flashed with what seemed to be disappointment. Liz refused to ponder that significance. Once he'd awakened, that disappointment would turn to relief that she hadn't reacted to his momentary, sleep-induced encouragement.
"That was today?" he asked, scratching his chin thoughtfully. "I thought that was supposed to be on Wednesday."
"It
is
Wednesday."
"Oh," he sighed. "Sorry, long night at the bar. I've been getting my days and nights mixed up ever since we lost one of the waitresses to maternity leave. Been short-staffed," he muttered.
Liz sighed knowingly, stomping down the relief that he had been working all night, instead of out drowning his sorrows with a willing female as she had originally assumed. "What time did you get in?" she asked sympathetically, mentally going through her list of friends to find one who would be willing to help her at this time of the morning.
"Well…"
Her eyes narrowed as he drug the word out. Sympathy died and suspicion took its place. "Where were you Maxwell Evans?" she demanded, stalking over to stare him down. "And please tell me it didn't involve Pamela."
He winced and Liz felt sick to her stomach. Fighting back the urge to scream, she sat on the edge of the bed and placed her hand over his. "What happened?" she asked in her 'best-friend' tone. If it sounded a little flat, well, she could only hope he didn't notice.
"It isn't what you're thinking," he sighed, turning to stare out the window.
Sure it isn't. And I suppose next you'll be telling me that you aren't in love with Pam after all, that your heart belongs to me
. She closed her eyes against the longing that rose inside her.
"Pam showed up at the bar last night."
Her eyes flew open. "What? Why?"
Max shrugged, lifting one massive shoulder as he absently played with her fingers. "She was with a guy," he said softly, squinting against the rising sun.
Despite herself, Liz felt a wave of compassion for him. "Oh, Max… I'm so sorry," she murmured, squeezing his hand. "But you aren't together anymore," she pointed out gently.
He turned towards her, and her breath caught as she realized how close their heads were. The corner of his mouth lifted and she silently sighed in appreciation.
"Believe me, I know," he murmured. "And if I had any doubts, Pamela made sure to clear them up for me last night."
"Oh no."
"Oh yes," he laughed wryly. "Alex and I walked in on her and her… boytoy… in the bathroom around closing time. It didn't take a genius to figure out what was going on."
Liz felt a surge of outrage on Max's behalf. "She did not! In the bathroom? What a slut!" She slapped her hand over her mouth, remembering that Max had been in love with the woman for over a year. But he just laughed.
"Yeah, well, it wasn't the first time something like this has happened," he admitted with a tired sigh. "I never told you why we broke up."
Liz's eyes widened. "You mean she… oh my God, Max! Why didn't you tell me?"
"Because you already hated her, and I didn't want you running off and getting yourself worked up on my account."
Liz frowned, but silently conceded the point. "I want to punch her lights out," she seethed. "How dare she…"
Max's lips pressed against hers, effectively cutting off her speech of righteous indignation. It was quick and seemed more like a kiss her brother would give her, but there was no denying the spark that filled her as he pulled away.
If he felt it, too, it didn't show as he smiled at her. "Thanks, Liz. You've really been there for me through all this crap with Pamela. I don't know what I would have done if I hadn't had my best friend."
His arm came around her and squeezed affectionately. Liz rolled her eyes and punched him, hiding how happy his words made her.
"Look, why don't you go back to sleep and I'll just call up Kyle and see if he can help me this morning?" she said, standing to leave the room.
Max's hand tightened on hers and she came up short. "Kyle?" he growled, and Liz's eyes widened at the barely restrained anger in his voice. "What the hell for?"
Liz stared at him. "To help me stock the shelves," she said slowly, trying to comprehend his sudden annoyance. "Max, what in the world is the matter with you?"
"I thought you broke up with him," he grumbled, crossing his arms over his chest. One thick brow rose as he stared at her in accusation.
"Not that it is
any
of your business," Liz snapped, poking her finger into his chest, "but we happen to be friends. And if he would be willing to get up this early and help me stock shelves, then you can bet your sweet ass that I'll be calling him."
Max's brow rose higher. "Sweet ass?" he murmured thoughtfully, appearing to seriously consider her comment while Liz's cheeks filled with blood. "Hmm… sweet ass…"
She groaned and threw her hands up. "I'm outta here," she began, but once again Max pulled her up short.
"Liz, wait!" he laughed, his eyes filled with mirth. "I promised I'd help you, and I will. Just give me a few minutes to… get myself together."
Liz frowned at his statement, then followed his gaze to his still-visible erection. She quickly looked away. "Yeah, whatever."
As she practically ran from the room, she could have sworn she heard Max chuckling behind her.