Winner - Round 9
Title
: So Here We Are
Author
: Sweetbrowneyes a.k.a Tiffany
Category
: M/L
Rating
: MATURE
Disclaimer
: I again own nothing.
Summary
: Max and Liz are days away from their wedding and are happily in love. But because of a misunderstanding they call it off. What will it take for them to get back together? Short five parter, told mostly through flashbacks.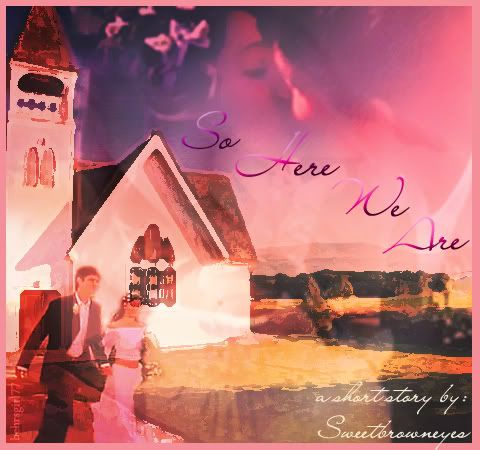 Banner by Behrsgirl77. It's the cute one

<center>
Chapter 1
</center>
The annoying buzz of the alarm sounded early in the morning. Liz stirred, smiling before she even opened her eyes when she felt her fiancé's arms around her waist. She blindly reached to switch off the alarm before turning in his warm embrace.
His eyes fluttered open just as she ran her fingers through his tousled hair. He answered her bright smile with one of his own.
"I don't want to leave," she muttered against his arm. "I won't see you until tomorrow afternoon."
"Then stay." He ran his fingers through her hair, combing out the tangles that had formed during the night. "We can stay in bed all day. I'll even make breakfast."
"Hmm, that's tempting but I have to go. We're doing the last fitting before the wedding." Then her eyes brightened and she perched herself on her elbow. "Why don't you come with me so I won't have to make the drive all the way to Chicago on my own?"
Max immediately cringed. The thought of being surrounded by all those women, fussing over frilly dresses was not his idea of spending his day off. "Maria, Isabel and Tess will be with you."
It was a five hour drive from Detroit to Chicago, Liz's birthplace and where the wedding was going to be held. Instead of making the drive twice in one day, she opted to stay over night, which meant she was going to be sleeping alone.
She pouted. "But I'd rather be with you."
"Sorry baby. I have plans today."
"And they are?"
He shrugged. "I thought I'd see what Kyle and Michael are up to today."
"And that's more important than making sure your fiancée's dress fits right for
our
wedding?" She raised her brow expectantly.
"No. I just…" His features contorted into a pleading pout. "Please don't make me go. Besides, your mother has forbidden me from seeing the dress before the wedding."
"Fine." He relaxed, smiling in satisfaction. "I really can't wait to become Mrs. Max Evans."
His smile widened as she stretched on top of him. "Give me some sugar, sweetness." Not wanting to be the one to displease, she gladly joined her lips with his, sighing when she immediately felt the familiar tingle up her spine. His kisses were like a piece of heaven to her and she wouldn't mind spending the rest of her days like this with him.
His eyes fluttered open, heavy with contentment when she pulled away. "How many more days do I have to wait until you're officially my wife?"
Her brow crinkled in a frown as she tapped her chin with her finger as if she had to really think about it. She had been counting down the days to their wedding ever since they'd set the date.
"We have exactly four days until you're legally mine and I can have my way with you."
His eyes twinkling with mischief and desire, he rolled on top of her, pinning her beneath his warmth. "That sounds promising." His voice took on that husky tone that always succeeded in making her shiver. "But, why do we have to wait until we're married for you to have your way with me? I'm a willing participant right now."
"Of that I'm sure, but right now I have to get ready."
"You don't
have
to do anything right now but let me love you." Hoping to distract her enough so that she wouldn't leave him, he slid his knee between her legs and settled between them. His growing erection poked her stomach through his boxers.
Pleased when she wrapped her arms around him, he, peppered light kisses on her neck. "How are you already horny and you just woke up not two minutes ago?"
"Because I'm waking up next to you sweetness," came his smooth reply. He traveled to her jaw and up to her ear, smiling when she giggled as he blew in her ear. "All you have to do is breathe and I'm turned on."
Enjoying his ministrations, she sighed. "Of course. You're a guy. What else do you do
but
get turned on?"
"Have sex with you."
Her jaw dropped. "Max, you make it sound like I'm easy."
He shrugged and trailed a finger down the smooth skin of her arm. "I don't know Liz. Those legs always open for me."
"Only because you look so cute when you're desperate."
"Come on baby," he whispered against her lips, "You know I'm irresistible to you."
She tried to ignore the wonderful sensation his lips were creating when his lips moved to the sensitive spot behind her ear. She couldn't help but shiver in pleasure.
"M-Max, that's so not fair," she sighed even as she buried her fingers in his hair as he continued to hit her spot. "You k-know I can't…" she shuddered, her eyes closing in sweet bliss. "You know that's my spot."
His hands crawled beneath her shirt as he cackled wickedly. "Caught onto my plan huh?"
Max hovered above her with an unmistakable look of lust in his eyes. "Max, my mom's expecting us around ten and I'll never make it on time if you…" her sharp gasp sounded around the room as he dipped his tongue around the rim of her ear. "Max."
Max smiled with his achievement. She wasn't going any where now. He gazed adoringly at his angel, amazed that such a small woman could capture his heart and take complete control over him. He had never known what it was like to be taken so completely until he met her.
Liz smiled, never tiring of the way he looked at her. He always made her feel special. From day one, though she used to see him as a pest, he always made her feel as if she was the only person he saw. But she was determined to resist him.
At least this once.
Pushing at his chest, she managed to push him off her. "Max, I have to go. My mom…"
"She can wait," he muttered, already making a reach for the hem of her panties.
"Max!" She fled from the bed, knowing if he got his hands on what he wanted, she'd never get to Chicago. "My mom already thinks you've corrupted her precious virginal child…"
Max sighed, realizing he wasn't going to convince her to stay. "You weren't a virgin when I met you."
"Yeah but she doesn't know that," she declared as she searched her drawers for something to wear. "If it hadn't been for
you
wanting to have sex every minute when we visited my parents last month…"
"Me?! Um, excuse me Ms. Let's Sneak Up to My Room for a Second I believe it's
your
fault that
your
parents walked in on us that time. I, my beautiful vixen, am the corruptee in this situation."
She smirked as she turned to regard him. "So I'm malicious now?" She couldn't stay away, not when he was laying there looking like some kind of god. As she eagerly hopped on top of him, he caught her easily.
Max let his hands slide up her hips to the curve of her waist. "Walking around with this body and not letting me have anything is just down right wrong and you know it."
Liz laughed, teased him with a sensual kiss before disappearing into the bathroom. She returned seconds later, poking her head into the room.
"Well? Aren't you going to join me in the shower?"
The speed at which he jumped out of bed could have broken records.
**********
"I can't believe my baby's all grown up," Nancy cooed as Liz stepped out in her wedding dress.
"I know. We did a good job raising her huh Nancy." Maria smiled while her best friend pranced around, twirling and giggling like she was five again.
"I just wish you would move closer to home," Nancy pouted. She had been prodding and plotting to try and get Max and Liz to move to Chicago every since Liz graduated from Wayne State University, but she was starting to realize her effort was in vain.
"Mom, we've been over this before…."
"I know, I know," she sighed in defeat, "You two have your lives there. Your jobs and apartment, but… I just miss my baby girl."
"Mom."
Nancy waved it off as she dabbed at her misty eyes. "I'm just so happy you found someone that treats you well. Max is such a good boy. You two are just adorable," Nancy squealed.
Liz's brow crinkled in confusion. "You mean that you forgive him for corrupting your little girl?"
Nancy snickered. "Oh Lizzie, Max makes you happy. You both glow when you're with each other and I've never seen you like that with anyone else. Another who can make you smile like that is in my good books."
Fighting back tears, Liz stepped into her mother' embrace. "Thank you Mom. I love you."
"I love you too." Nancy pulled away and smoothed down her daughter's dress. "Besides, I know you're no virgin."
"Mom!!" she shrieked in horror while Maria burst into laughter. "Why does everyone think I'm easy?"
"I didn't mean it like that sweetheart. Besides, your father's the one that doesn't like Max."
She sighed, the stress of planning a wedding weighing down on her. "I thought you said you were going to talk to him. I love Max and he can't be angry just because I'm willing to give myself to him intimately."
"Which is the nice way to say you two were humping like horn dogs."
"Maria!" Her cheeks burned bright red, Liz rushed into the dressing room.
*********
Max smiled as he looked around his apartment, meeting the faces of all his close friends. After getting shot in the ass, legs and chest while Max, Alex, Kyle and Michael went and played paintball, the guys had brought him back to apartment where a surprise bachelor party was waiting.
Now his living room was full with ten loud, drunken men and Max couldn't be any happier.
Kyle appeared beside him and slung his arm around his friend's shoulders. "Well my dear friend. These are your last days as a free man. I hope you enjoy your last hours as a bachelor."
Max laughed and gestured to Michael to throw him another beer. He had passed his limit a few cans ago, but since Liz wasn't there, he had no reason to be sober. "Kyle, you make it sound like a jail sentence."
"Isn't it?"
Max rolled his eyes. "No. I love Liz and I can't wait to get married to her."
Kyle frowned. "You, Max Evans, just had your man card taken away. You are so whipped."
"I know, but I'm in love and that's the price."
Alex stepped in and dragged Max over to a lone chair placed in the middle of the room. "Well for right now, we have a little surprise for the man of honor."
"What?"
"Hey fellas, shut the fuck up so we can get this started will you?" Michael growled at the rowdy crowd. "Now, in honor of our man here," Michael clapped an appreciative hand on Max's shoulder. "We all pitched in and got a little surprise for you. Alex. Kyle."
Kyle dimmed the lights while Alex turned on the stereo. The front door burst open, revealing a curvy red head, clad in white wings and a long white coat. Though he was drunk, it didn't take much to figure out there was next to nothing beneath it.
"Max, meet Angel."
Max reached for another drink as she approached. "You got me a stripper?" he barked at his hooting friends. "Liz'll kill me."
He couldn't tear his eyes away when she began to gyrate to the music. The men around him interrupted into a loud roar when she peeled off her coat, revealing a sparkling white garter belt with matching g-string. She swayed around him, leisurely pulling off her top as she went.
Max, who was close to panting, fought to look away. He had a fiancée. He loved her and this woman had… large breasts that she was now thrusting in his face. It was all in fun. This was her job, he told himself. Besides, Liz was gone until tomorrow.
Angel climbed onto his lap, moving her hips, rubbing her thighs against his. Max gulped and tugged at his collar.
Before he knew it, the door was opening. He knew he wouldn't be able to handle another stripper. But a shriek over the music caught his attention and his eyes widened when he saw the love of his life, standing shocked in the doorway.
The room grew suddenly silent while Max sat dumbfounded with the scantly clad stripper perched on his lap.
In a calm tone, Liz asked, "What's going on in here?" Max wasn't fooled by her seemingly coolness. The way she impatiently tapped her foot was a dead give away and he knew he was in for it.
Alex snorted. "You'd think that be pretty obvious."
Liz's sharp gaze whipped to sting Alex, who shrunk away under her stare. "Max?" She returned her attention to her stricken fiancé, nothing that he had yet to remove the shirtless woman from his lap. "What's going on here?"
Max blinked, finally shaking himself back into reality just as the guys scrambled from the room, knowing that Liz could blow any second. "Liz," he pleaded as the stripper fell to the floor when he got up to go to her. "I can explain."
"You'd better and it better be good Max." She stormed into their bedroom, not waiting for him to follow.
Max stumbled in her wake and shut the door behind him. He was immediately overcome by her anger.
"Max I can't believe you! I just… What the fuck were you thinking?!"
Max winced. "I wasn't. Liz, I'm drunk."
"Oh, I'm sorry and that's supposed to make it okay for you to be sucking another woman's enormous breasts!! What? You wanted to experience bigger ones because you'd be stuck with mine in four days?!"
Max sighed and leaned against the door. "Liz you know it's not like that. The guys wanted to throw me a party. I had no idea about it."
She snorted, collapsing onto the bed with her arms folded stubbornly across her chest. "Here I am driving hours just to get back to you, and I find this."
"It was just a lap dance."
"Just a lap dance? And did you enjoy yourself Max? How would you feel if you caught me with some male stripper? You'd be pissed and testosterone would be all over the fucking place. What made you think that I would be okay with this Max?"
Max shrugged, growing annoyed with her by the second. "It was just a lap dance," he reiterated. "You act like I was fucking her on the carpet."
Her jaw dropped, appalled by his audacity. "You might as well have. Max, she was practically naked!! We're engaged to be married and you're up here with a sleazy stripper and you see nothing wrong with that?!"
"Liz they threw me the damn party. What was I supposed to do?!"
"You could've told them that you didn't want the party. You could've…"
"Jesus Liz! I was just having a little fun!"
"Yeah you really looked like you were enjoying yourself there you asshole!"
"Why are you being a bitch about this? I was just doing one last thing before we get married!"
She fumed. "What being single?! Being free from me? Cause that's what it looked like you were doing Max. Why do you feel you have to do anything before we get married?! You act as if you don't want to get married in the first place."
"Maybe I don't if you're going to act like this!"
The pregnant silence that followed was suffocated with regret. Max watched her face fall and even through his clouded haze, he knew he'd just crossed the line.
Swallowing her pride, Liz tilted her chin up in defiance. "Fine Max," Her voice cracked as she headed for the door. "You do whatever you want. You go be with whoever you want."
Max fell to the floor, when she pushed passed him on her way out. It wasn't until he heard the front door closing that realized what'd a mistake they'd just made.
TBC………