Winner - Round 11
Winner - Round 10
Maria and Max
Winner- Round 9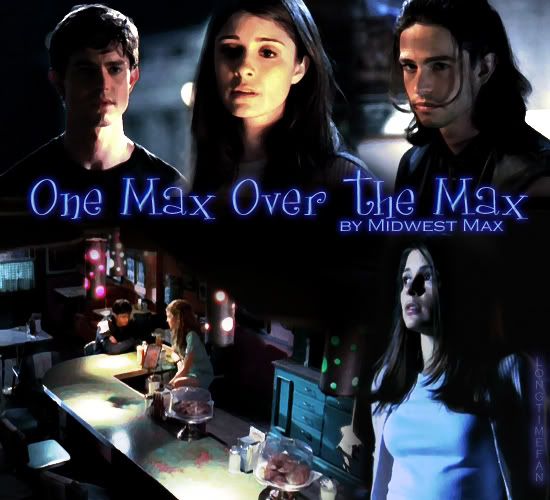 Title:
One Max Over the Max
Author:
Karen
Disclaimer:
The characters of "Roswell" belong to Jason Katims, Melinda Metz, WB, and UPN. They are not mine and no infringement is intended.
Pairings/Couples/Category
: AA – ALL
Rating
: Teen
Summary
: What would happen if Future Max got stuck in the Roswell of his past? How would the others deal with having more than one Max?
Author's Note
: Yeah, it's supposed to be fluff. No one dies, no cliff hangers. In other words, a departure for me

This won't be real long, maybe five parts or so. Suspend the belief that Max couldn't meet face to face with himself, because that will probably happen eventually. Oh, and the first part has some GZ undertones. No, I won't remove them.

Special thanks to LongTimeFan for the beautiful banner, excellent as always!
Part One
Maria Deluca scrubbed the counter with all of her might, putting more concentration on the round coffee stain than she had anything all day. If she focused on the ring, maybe she could ignore that he was looking at her…pleadingly.
But there was no ignoring those eyes. Kicked. Wounded. Pitiful.
Sighing, she dropped the sponge and put a hand to her hip. Of course, he'd been talking the whole time – there'd been no ignoring the mournful tone of his voice, either – but she'd been trying her damnedest to block him out. Not that she needed him to repeat himself. She knew what the problem was. It was always the same problem and she mused that maybe if he could find something else to be sullen about, she wouldn't mind his presence so much.
"I don't know what to do," he finished, staring despondently into his coffee.
Maria drew in a breath and reminded herself that Max was sensitive – she couldn't just start screaming at him to give Liz some space like she wanted to. In her heart, she really just wanted him to take her advice for a change, instead of making her repeat the same advice over and over and over until she felt frustrated and ready to smack him. Smacking only worked on Michael; if she were to smack Max, there would be years of therapy in his future.
"You could order lunch," Maria offered with a smile, searching for neutral ground. Any ground, really, that didn't deal with Liz…or their current "situation."
No dice. Max looked up with those kicked-dog eyes and frowned. "Like I could eat."
"Well, everyone's gotta eat sometime!" she attempted again. "And we make great sundaes!"
Max's cheeks bulged out slightly and his hand went to his belly. Maria let out a sigh and deflated visibly. As annoying as his brooding could be, she still felt sorry for him. He didn't ask for any of this. He certainly didn't ask for the "guest" Liz had hiding out in her bedroom. Or maybe he did. Since it was him, after all. Well, another version of him. Maria shook her head – she'd never get the dynamics straight. It was all too confusing.
Reminding herself that she was supposed to be a supportive friend in times of need, she reached across the counter and put her hand over Max's. He raised wounded eyes to hers, questioning.
"Being here doesn't help, you know," she said gently. She lifted her eyes meaningfully toward the ceiling, toward the Parkers' apartment.
Max nodded and let out a sigh. "Yeah, I know. I just have a hard time staying away. Even after you've told me to give her up."
Maria glanced sideways to see who might be in earshot, found no one. "Because now you know that you don't ever give her up?"
He nodded solemnly.
"I have a stupid idea," she announced, drawing his attention. "Why don't you go upstairs and ask him?"
Max withdrew slightly, his eyes widening. "Ask him what?"
"Ask him how you won her back."
He looked a little uncertain. "Isn't that against the rules or something? I mean, I would be revealing my future to myself." He paused at the confusion of that statement. "Besides, I'm not sure I want to talk to him."
"Why not?"
"What if he lies? Just to protect himself or something?"
Maria laughed at the irony. "Well, Max, if you can't be honest with yourself, then who can you be?"
Max frowned, withdrew his hand and rose to leave. "I don't want to talk to him. Not yet."
She let out another sigh, tipped her head in sympathy. Rounding the counter, she reached up and put her arms around him, giving him a tight hug of comfort. His return embrace was less than enthusiastic and Maria knew that Max didn't want any woman in his arms besides Liz.
"Listen," she said as she pulled back from him and straightened his jacket. "Give this some time. It's bound to resolve itself, right?"
Max didn't look convinced. "What if it never does? What if…he's here permanently?"
Maria paled, imagining how confusing birthdays would be for the two of them. Would Future Max actually lose years as Present Max gained them? What happened when they finally became the same age? Would they become one person or two really messed up people? And, most importantly, would she be expected to buy presents for both of them?
Max gave a helpless snort, acknowledging the weight of her non-answer. "I'm gonna go."
"Yeah, sure," she said, rubbing his arm. "You take care of yourself. Call if you need anything."
Maria watched him walk away, his shoulders slumped, head hung. Kicked. Wounded. Pitiful.
The bell at the kitchen window dinged and Maria went to retrieve her order. On the other side of the small opening, Michael met her gaze. As normal, he was chewing a toothpick, his expression cocky.
"Having Max troubles?" he said, gesturing with a tip of his head toward the front door.
"Bite me, Michael," Maria answered as she lifted the plates onto a tray. "I haven't forgiven you for sucking face with Courtney."
He blinked, then regrouped, ready for the confrontation. Before he could speak, however, Maria held up her hand.
"
And
for being close enough to peel off her skin. Until you can find some way to make up for that, I won't hear any of your barbs about Max. End of story."
She didn't look back as she moved to deliver her patrons' order. She didn't even look toward the window as she reclaimed her spot behind the counter. In fact, she went back to her malicious scrubbing, trying anything to avoid his eyes. Screw Michael and his double-standards. In fact, she hoped he got the wrong idea. She hoped his imagination had given him some nice visions of her and Max together, kissing like porn stars. She hoped he got visions of her with
both
Maxes.
The evil thought made her grin.
Until a shadow passed her periphery and stopped before her. Without looking up, she knew who it was and her insides deflated.
"Hey," came a soft voice.
She had no choice but to look up. She found the same eyes – kicked, wounded and pitiful – in an older face. In the days since Future Max had been stranded out of his era, Liz had managed to clean him up a bit. His hair hung loosely to his shoulders instead of being pulled back in that cheesy Tom Cruise
Magnolia
-esque ponytail, and he'd managed to put on a shirt that had sleeves and wasn't made of leather.
"I need to talk with you," he said, that ever-present desperation in his eyes.
Maria let out a sigh and dropped her sponge. "Are you supposed to be down here?"
He looked around, like it was ridiculous she should even ask. "Why not?"
"Because you just left!" she hissed, leaning toward him to deaden her works. "Not two minutes ago!"
He looked toward the door, then back to her. "I did?"
"Not you!" she said, waving her hands in exasperation. "The
other
you!"
"Well, I guess he can go wherever he wants." He gave a slight shrug of indifference.
Grunting in disgust, Maria rounded the counter, grabbed him by the arm and ushered him to the break room. She avoided Michael's stares and tried to ignore the firm bicep beneath her fingers – she would not be distracted by a future hot body.
Once safely in the back room, Maria released him and whirled to face him. "What are you doing downstairs?" she demanded, pointing toward the wooden staircase, her tone that of someone reprimanding a puppy for soiling the carpet.
At that, he cracked a grin and laughed lightly.
"You think it's funny? What if someone sees you?"
"Maria, will you calm down? People have already seen me. No one has phoned the authorities."
"Eventually, someone is going to stop buying your story of being Max's long lost uncle." As emphasis, she made finger quotes around the last word.
He shrugged. "No one has questioned that yet."
"And you haven't run into his –
your
parents yet!"
The door to the back room swung open as one of the waitresses lugged a pan of dirty dishes toward the kitchen. Maria cut off her words and looked to the floor until the girl had disappeared into the next room. Then she looked up and felt the fight inside of her taking flight. He was looking at her sullenly, like a man who had lost his last friend and on some level Maria believed that to be true. Sure, they were all his friends in this timeline - but in the future, he'd watched all of them die. She couldn't help but feel a tug of sympathy.
"What was it you wanted to ask me?" she questioned, her tone resigned and a little softer.
"It's Liz."
"Of course it is," Maria sighed. It was always Liz with him, no matter the age.
"She won't talk to me."
"How can she not be talking to you? You're living in her bathroom. She at least has to talk to you to ask you to leave so that she can pee." A thought hit Maria and she recoiled slightly – unless Liz was comfortable peeing in front of him.
"That's not what I mean," he said. "I want to talk to her about us, about what is going to happen."
Interest sparked inside of Maria and she perked up. "Yes, let's talk about what's going to happen," she agreed eagerly.
He cocked his head to the side and gave her a humorously reprimanding look. "Maria," he said sternly.
"I've got it, Max!" She took a step closer to him, moving into his personal space just enough to make him uncomfortable. "You tell me something and I'll tell you how to get Liz to talk to you." She couldn't believe after all those years of being married to her that he hadn't figured that out yet.
"You know I can't tell you anything," he said in a hushed whisper.
"Why not? From what I can see, the future has already changed, so anything you might tell me probably isn't going to happen anyway, right?"
"I'm sure changing one thing doesn't change
everything
," he shot back hotly. "And keep your voice down!"
"You're the one who wanted to talk in public, dude. Just tell me, does Michael remain a jackass? Or does he find some way to redeem himself?"
Finally he took a step back, away from her intruding into his space. His eyes were sorrowful for a moment and she knew that he was reliving Michael dying in the future that he'd changed.
"Forget it," he said dejectedly. "Forget I asked. I thought you'd help me, but I guess I was wrong."
All of the spunk rushed out of Maria as she watched him leave silently via the back door. He moved stealthily, like a cat, and she wondered if a lifetime of hiding had honed that skill. Inside, she felt a little overwhelmed. He was right – she should be helping him and she didn't know why she could be understanding with Present Max but so impatient with Future Max. Then again, how was she supposed to help both Maxes at the same time? It was simply too much to ask of one person.
Letting out a sigh, Maria turned and looked up the wooden stairs that led to the Parkers' apartment. It was time she and Liz had a talk.
tbc