Winner Round 11
Title
:Best of Me
Author
: Sweetbrowneyes a.k.a Tiffany
Category
: M/L
Rating
: Mature
Disclaimer
: Nothing is mine but the story idea.
Summary
:Okay, okay, I've done one of these before, but I can't get enough of the concept of Max and Liz being best friends. They make great friends and even better lovers


A/N
: This story is written in a different format than my other stories. I'm in a writing runt right now and I thought it'd help if I tried something different. I've always admired authors that wrote in this style. Also, the entire story won't be as depressing as the first part makes it out to be lol
And thanks to everyone who gave me some imput over on the Sneak Peek at Chronicles.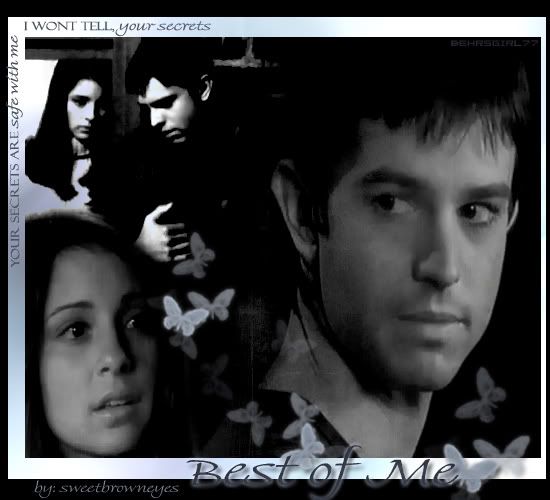 Banner by Behrsgirl77. Thanks sweetie!
Part 1
He's standing on the other side when I open the door.
"Max?"
It's four in the morning. It's raining. And his eyes are bloodshot.
"He didn't make it."
My nightshirt becomes drenched when he falls against me.
I almost fall to the floor under his weight.
I hold both of us up.
It's my job as the best friend.
"I'm sorry, baby."
I bite back my tears as his drop against my neck.
It was
his
father.
It's his time to grieve.
I'll get my time later.
He shivers in my iron grip.
I worry and step back.
His eyes are tired. Vulnerable, open to every emotion.
It's unusual for him.
To everyone but me.
He follows without question when I tug his hand.
It's a deep running trust.
My room is my comfort zone. I hope it brings him some tonight.
How do you soothe the pain of losing a parent?
He's wet. He's shivering.
I mean really, teeth clattering
shivering
.
Can it be that cold in California?
I pull off his jacket.
He watches through heavy tears.
His shirt is next to go. In its absence, I place a dry towel around his shoulders.
His socks and boxers are the only dry things he has on.
I cup his cheeks. I want to tell him that everything's okay.
I don't like lying.
I wipe away the tear stains.
New tears replace them.
I leave him to change my shirt.
When I return, I choke up at the sight of him.
Sitting in his boxers and socks a towel dangling on his slumped shoulders. He watches his tears as they fall and collect in a puddle on his thighs.
He draws in a breath. He doesn't want to be vulnerable, I know.
His attempt to collect himself fails when he sees me.
His sobs tear me up.
It's rare that he's moved to tears.
He's never been in my bed before.
But now, safe in my arms, his head cradled on my chest, I let him grieve.
I rub his back.
I don't know how to soothe him.
"How can I help?"
His eyes are tired. He looks so worn.
"Be here."
I've never let him down before.
He's told me that my voice soothes him.
So, I sing to him.
Lay your head on my pillow
Here you can be yourself
No one has to know what you are feeling
No one but me and you

I won't tell your secrets
Your secrets are safe with me
I will keep your secrets
Just think of me as the pages in your diary

And only we know what talked about baby boy
I don't know how you can be driven me so crazy, boy
Baby when you're in town why don't you come around, boy
Be the loyalty you need you can trust me, boy

I won't tell your secrets
Your secrets are safe with me
I will keep your secrets
Just think of me as the pages in your diary
I don't stop until I lull him to sleep.
I call Isabel at the hospital.
She already figured he was here.
His sleep isn't peaceful. I watch over him.
Soon, the sun rises. I've lost sleep.
I don't mind.
He'd do the same for me.
We're best friends. It's what we do.
I hope his girlfriend understands that.
TBC…..
Lyrics Alicia Keys "Diary"
Let me know what you think.