Winner Round 14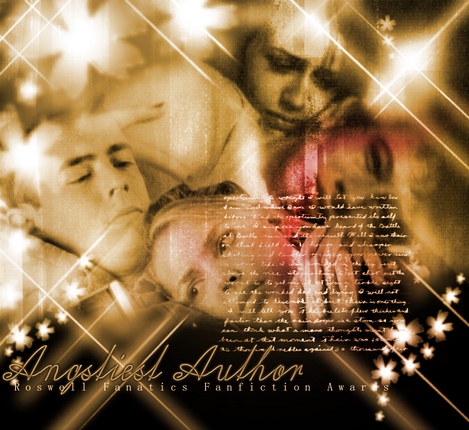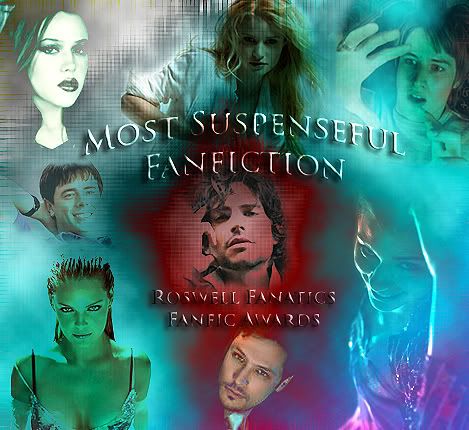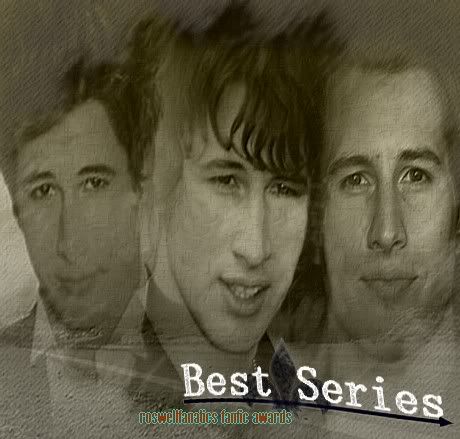 Winner Round 13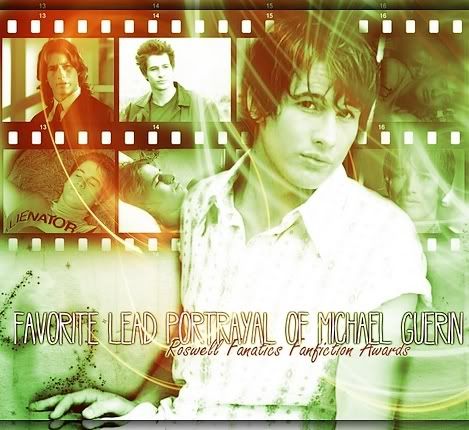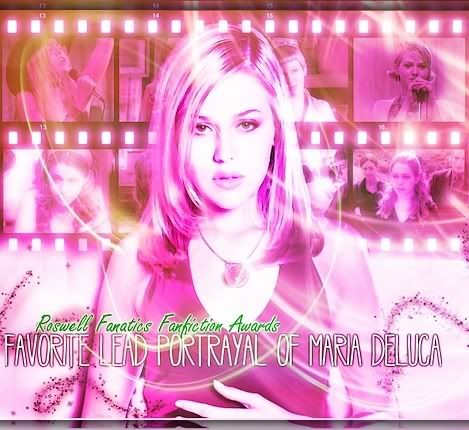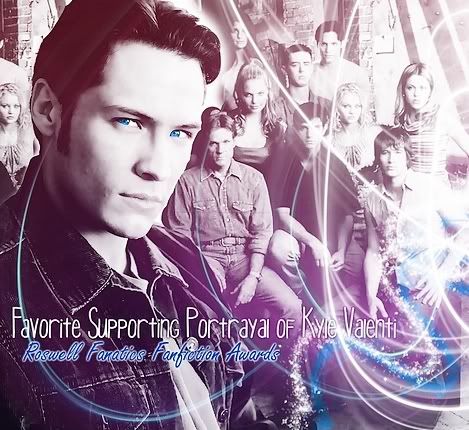 BILLY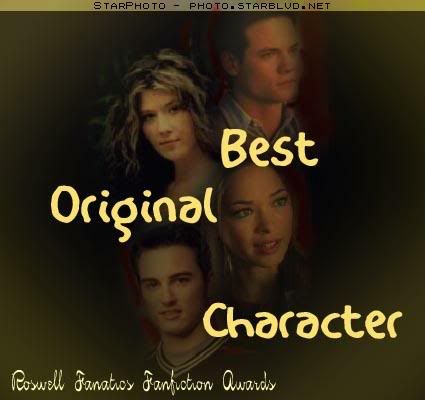 (old banner)
MARTY
(old)
Kyle and Michael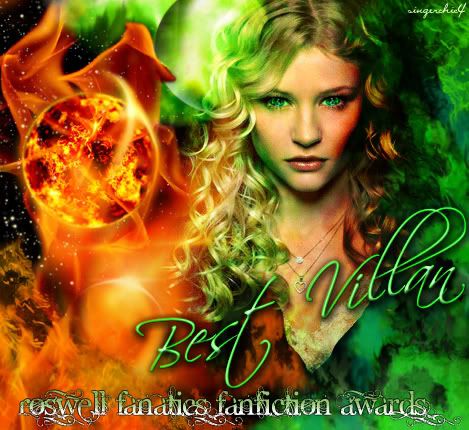 Isabel
Wonderful banner made by Sarah! (girl afraid)
Title: 521

Author: April

Disclaimer: Usually I try to be humorous with my disclaimers, but sadly, right now, I've got nothin'. Including no affiliations to Roswell. Suck-fest!

Summary: Maria DeLuca and Tess Harding are best friends, but the two constantly clash when it comes to Tess's boyfriend, the ruthless and self-absorbed Max Evans. When wild-child Maria moves out of their apartment and in with their responsible, introverted friend Michael Guerin, everything changes.

Category: Michael and Maria (and other CC/UC couples) AU without aliens (This is NOT Alien Abyss material.)

Rating: Adult (language and sexuality)

Warnings: Some UC elements for certain couples (But it's still not Alien Abyss material.)

Trailers: You can find all 3 trailers and all 6 character promos on my Youtube channel here: http://www.youtube.com/user/April7739 (I believe that audio was disabled for one of them. That really grates my cheese!)

Author's Note: Ah, my first post-Passion fanfic! This is going to be another lengthy one, folks. I didn't intend to write this story so soon. In fact, I had another one in the works, about 144 pages of it already written. But I was in the mood for humor, and something about this idea called to me. I really love feedback, so please let me know what you think. Have fun reading!
Part 1
Maria DeLuca pushed open the door to her apartment, and horror engulfed her. Pink walls. Used to be white. Now they were pink. Maybe
some
people thought it looked good, but . . . no. It looked horrible. She had been expecting this, sure, but expecting it didn't make it any less shocking when she actually saw it. Apartment 315 was now officially the worst looking apartment in The Links apartment complex. Had to be. And it was all her roommate's fault.
"It's like a pink nightmare," she muttered, shaking her head in disgust. How much longer could she take this?
"Max, is that you?" Her roommate, Tess Harding, came out of her bedroom, all smiles and pigtails, but when she saw Maria, a frown robbed the smile of its place. "Oh. You're not Max."
Maria grunted in disdain. "Thank God for that."
Tess crossed her arms over her chest, glaring at her. "So I
suppose
you don't like the new décor."
"It feels like Candyland," Maria informed her. "Why don't you just go out and buy a bunch of rainbow lollipops and make this place look even more preschool?"
"It does not look preschool!" Tess exclaimed in outrage. "It looks better than it did before."
"No, it doesn't."
"Are you kidding me? You actually liked those drab white walls?"
Maria shrugged. "At least they were normal."
"They were sickening," Tess insisted. "I've got a plan for this place. I'm gonna make it look like--"
"Candyland?" Maria cut in.
"Would you quit with the Candyland? It's not Candyland!" Tess yelled in a rush. "It's gonna be a beautiful Parisian atmosphere. I'm trusting my interior designer instinct, and so should you."
"Because that always goes well." A few months ago, at the end of summer vacation, Tess had decided to renovate the bathroom. Needless to say, a flood had ensued.
"Shut up, Maria!" Tess snapped. "I'd like to see
you
do any better."
"I could."
"No, you can't. You don't even pick up after yourself. If it was up to you, this place it would a pig-sty. Oh! And then you would fit right in, because
you
. . . are a little pig. That's right."
Maria raised a questioning eyebrow, trying to decipher exactly what that meant. "Is that supposed to be insulting, or--"
"Little pig!" Tess yelled again.
Maria grunted and wrinkled her forehead, trying to concoct a good comeback. "Well, you're a . . . big pig," was all she could come up with.
Tess gasped and immediately rested both hands on her stomach. "Are you calling me fat?"
"All I'm saying is, you might wanna stop eating all those cookies you have stashed in the cupboard and think I don't know about."
Tess stood in silence for a moment, a moment in which she was
visibly
thinking, and then she denied it all, just as Maria expected. "What cookies? I don't own any cookies."
"The
cookies
, Tess!" Maria stomped into the kitchen, reached up into the cabinet, and rummaged around for the Oreo cookies Tess had stashed in the very back. "Aha! Right . . .
here!
" She took them out of the cupboard and tossed them at Tess.
Tess actually dove onto the floor and caught them like a mother catching a child. "What do you think you're doing, tossing around my cookies like that, Maria?"
"So they
are
your cookies."
Tess grumbled something under her breath and stood back up, carefully setting the cookies down on the arm of the couch. "You're just jealous," she said matter-of-factly.
"Of you?"
"Oh, yeah. You're jealous because I have bigger boobs than you."
Maria grunted, trying to cover up the fact that that was true. "Well . . . you're jealous because I have longer legs than you."
"You're just jealous because I have a boyfriend and you don't!"
"
Oh!
My god!" Maria shrieked, now at the end of her very-short-to-begin-with rope now. That did it. "That is the most ridiculous thing I've ever heard! You don't have a boyfriend; you have Max Evans, who, by the way, is the most
despicable
person I have
ever
met in my
entire life!
"
"Why have you always hated him?"
"Uh, let's see, shall we? A) He acts like he owns this apartment. 2) He acts like he owns you. C) He flirts with everything that breathes . . . and some things that don't. And 5) He's just a jackass."
"How is he a jackass?"
How is he not?
Maria thought in astonishment. "Tess, you're really perpetuating the dumb blonde stereotype right now, you know that? The guy dumped you last year for no apparent reason at all."
Tess shifted uncomfortably and mumbled, "He was indecisive. So? Does that make him the devil or something?"
"Yes!" Maria exclaimed. "The devil. That's the perfect way to describe him. Can we get him two little red horns so he can wear them all the time on top of his head and let all the other crushed-out girls know what a douche-bag he is?"
"What about your boyfriends, huh?" Tess asked aggressively, turning the tables on her. "I swear, Maria, you've got a new guy every week, and each one's worst than the last."
"That's not true."
"I don't know how it's possible to find such losers, but somehow you've made an art form of it."
"And somehow you've managed to find the biggest loser of them all." Maria smiled. "And he's gay."
"
Max
is
not gay!
" Tess said adamantly.
"Tess, he waxes . . . everything!"
"Hygiene's important in a relationship. Max understands that."
"But it's a girl thing to do."
Tess rolled her eyes and said, "Fine, he's metro sexual! Burn him at the stake!"
Maria smiled. "Now there's a happy thought."
"If you wanna talk gay, how about your brother, the
actual
gay one?"
Maria stiffened when Tess said that. "Marty's been through a lot," she ground out.
"
Marty's
been through a lot? Oh, please!
I've
been through a lot!" Tess claimed. "He made me listen to Celine Dion's 'The Power of Love' for
twelve hours straight
, Maria!"
Upon that remark, Maria immediately burst into the song. "
'Cause I'm your lady!
"
"No!" Tess cried, pressing the heels of her hands against her ears in desperation. "Make it stop!"
"
And you are my man!
"
"Stop it!" Tess barked. "Just stop it!"
The only reason Maria stopped is because she didn't know the rest of the lyrics.
"You are evil," Tess said, pointing an accusing finger at her. "Pure evil!"
"That's my brother's favorite song, Tess. What's he supposed to do, just not listen to it ever again?"
"He's supposed to not listen to it for twelve hours straight. That's what he's supposed to do."
"You think listening to that's rough? How about listening to you and Max moaning and groaning all night long?"
"At least my guy makes me moan," Tess retorted.
Maria's mouth dropped open in shock. "Are you saying I'm a faker?"
"I'm saying you have to be since, let's face it, the guys you bring home . . . itty-bitty. Max, on the other hand . . . extra large."
"Ugh." Maria cringed, hating herself for the nasty visuals that appeared in her mind.
"Guess what?" Tess said. "The other day, while you were in class, he came by and we had sex in your bed."
"What?" Maria shrieked. If it was possible, she had gone to an even scarier visual place.
Tess nodded proudly.
"In my . . . in my
bed?
" That was so wrong on so many levels. "Why?"
"Well, last time we tried to do it in my bed, the headboard fell down on top of him. You don't want him to get seriously injured whilst he's inside of me, do you?"
"
Whilst?
" Maria echoed. "Oh my—oh my god. You know what? Never mind. I don't think I'll be sleeping in that bed anymore."
"Well, where are you gonna sleep?"
"Not here," she decided. "Not anywhere near you. I've put up with you for twenty-one years, and I can't do it anymore."
"What're you saying?" Tess asked. "Are you moving out?"
"Yes," Maria replied hastily. "I'm . . . totally moving out."
Tess looked shocked to hear that. "But . . . you can't make it on your own. I pay the rent for us. You don't even have a job."
"I'll get one."
"Where, a strip club?"
Once again, Maria's mouth dropped open in disbelief. "Bitch!" she shouted.
"Slut!" Tess shot back.
"Max-slut!"
"Random guy-slut!"
"
I
will find somewhere else to live," Maria proclaimed emphatically. "And I'll be perfectly happy never talking to your fugly face again."
"Oh! One thing we have in common."
Maria seized Tess's cookies and stormed down the hallway to her bedroom. "Fine, stay here with your
pink
walls and your
pink
bed and your
stupid pink curtains!
" she screamed. "I'm packing up and leaving tonight."
"Fine!"
"Good!"
"Perfect!"
"Great!" Maria slammed the door shut and imagined how happy she would be when she got out of there and got away from her ex-best friend. For over a year, this roommate thing had worked. She and Tess had been best friends all their lives, but nowadays, they were just too different. They weren't compatible roommates anymore, and they never would be again. No question about it.
But there
was
one question she couldn't help but ask herself:
Where the hell am I gonna go now?
~*~*~*~*~*~*~
Michael Guerin turned up the volume of his stereo (not too loud, but not too soft, either), and the sounds of piano music filled his living room. He smiled. Usually, soft rock music was his thing, but when it came time to painting, there was no background music like classical music.
He made his way over to his easel and began to pump himself up. His inner artist was his inner Rocky Balboa, and his brush was his boxing glove. Once he let loose, there was no holding back.
He swung his head to the left and rolled it back to the right, then shrugged out his shoulders and shook his arms and legs. What a great, relaxing Sunday evening this would be, just him and a new painting. No distractions, no interruptions.
He surveyed the paints and brushes lined up on his table, and even though he wanted to dive right in, he wanted to paint a masterpiece more, so he picked up a pencil and began to sketch lightly, the faint outlines of mountains, the pale shape of a tree. He was just about to pick up his brush and palette and start to mix a perfect shade of sky blue when there was a knock on the door.
He sighed in frustration, hating the fact that someone was interrupting his artistic flow, but he set his palette and brush down, turned off the classical music, and made his way over to his door, expecting to come face to face with his neighbor and friend Kyle Valenti when he opened it. But he saw a different friend instead, a much blonder, more feminine friend.
"Hey," he said.
Maria smiled at him. "Hey, Michael."
He just smiled back at her, not sure what to say. He wasn't used to seeing her on weekends. Usually she partied until Monday or Tuesday morning.
"So Tess and I had a little falling out," she told him. "I kinda moved out, and now I need a place to stay."
Where's she going with this?
he wondered worriedly.
Please don't let her say . . .
"Can I stay here?"
He knew he should have said something. Anything. 'No' would have been a good word to use, but instead, all he did was stand there and say, "Uh . . ."
"Great!" she chirped, apparently accepting that as a 'yes.' She slipped past him and entered his apartment.
His
apartment. She cast a glance over her shoulder and said, "My bags are out in the car. Be a dear."
What the hell?
She wanted him to go get her things? She wanted to move in with him? Was she crazy?
He stood at the door, dumbfounded as he watched her make her way over to his radio and turn it on to some pop station. He really wanted to say something, but no words came out.
Maybe he was the crazy one.
TBC . . .
-April