Winner - Round 14
Winner - Round 7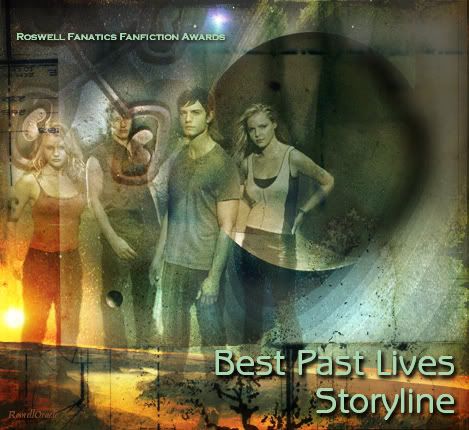 Title: A Month Of Sundays
Author: Cherie
Category: A/U Past Lives Fic
Rating: ADULT
Disclaimer: I own nothing. But I do like to borrow these characters on occasion.
Summary: Just my take on how the Granolith came to be on Earth, who brought it, and the chance meeting of two strangers.
~~~~~~~~~~~~~~~~~~~~~~~~~~~~~~~~~~~~~~~~
I am starlight and moonbeams and whispers of wind
I am a ghost in your dreams, the touch on your skin
I am fire in the rain that falls on the grass
I am slivers of wood and shards of glass
I am roses and thorns, blood red and white
I am Autumn and Summer, high noon and midnight
I am the one moment you'll never forget
I am pain and passion, and tears that are wet
I am alien and earthbound, I am remnants of stars
I am hurt and wounded, I am bruises and scars
I am thunder and lightning born of the storm
I am kisses on lips, and arms that are warm
I am rings for your fingers,and ribbons of lace
I am silk for your hair, and the smile on your face
I am sorrow and laughter, I am lies and regret
I am dust from a sun that will never set
I am lost, and lonely and the prayer to be whole
I am the beat of your heart, part of your soul
I am dance, I am music, I am generous and greed
I am words and language, hunger and need
I am life, I am death, consumed with desire
I am ashes of love on a funeral pyre
I am a piece of the past that should have been
I am journey unending until I find you again
~~~~~~~~~~~~~~~~~~~~~~~~~~~~~~~~~~~~
A Month Of Sundays
Chapter one
JULY, 1944
Her eyes flew open at the sound, the awareness of where she was not coming to her immediately. Somewhere between darkness and light, she reasoned, squinting her eyes to adjust to the quiet dim grey that surrounded her.
She shivered. She was in a cave, she knew that much. Lying on the cold hard ground. Staring straight ahead, the pits and cracks in the wall that loomed before her were lit up sporadically with tiny bursts of light that skittered across the granite. The sound sharpened. It wasn't an unpleasant sound. It was almost musical. Like wind chimes dancing with the breeze.
She struggled to rise, but her head ached. No, it more than ached. The dull throb beating against her temples was pure agony. With a great deal of effort, she shifted slightly to see where the sound and the flickering light was coming from.
The man had his back to her, bending over a small cone like device. Sparks illuminated the cave momentarily casting a silver arc across the high ceiling. She imagined it must be a welding machine. She lifted herself using her arms and feet to propell herself backwards until her body rested in a sitting position against the cold stone wall.
"Are you feeling better now?" the man asked, never turning his head. She was surprised at the softness of his voice as it echoed across the cave. And she knew..no.. she felt that the man was genuinely concerned about her.
"I'm alright, I guess, but my head hurts." she told him, brushing her hand across her forehead feeling the clump of blood that had dried there.
She couldn't explain it, but she wasn't exactly afraid of the man. And she didn't think he had caused her injuries. But she was curious. She sighed. That was her biggest problem. She was just too damn curious. Somehow, her penchant for flirting with danger and defying all the rules had put her in a precarious situation. She couldn't remember how she had ended up in this cave with a soldier who was welding, or how she had been hurt.
A memory flittered across her mind. Something her Father had warned her about.
*Never pick up hitch hikers.*
*But why, Daddy?*
*Because they sprinkle wanderer's dust in your heart. They make you dream of places you'll never be able to go--and sights you're not meant to see.*
Maybe she should have listened to her Father, she thought. Not that it mattered anymore, he was long dead and buried. How odd that she could remember that conversation from years ago, but not the events of tonight that had placed her here.
"Where am I?' she asked the man, barely recognizing the sound of her own voice.
Turning, the man walked toward her with a catlike movement that was fluid and graceful. He knelt beside her and she tried in vain to back further against the wall. His face was hidden by shadows, but she could tell he was examining her wound.
"Don't be afraid." he whispered, placing his hands on her forehead, She felt the warmth as he pressed ever so gently while rubbing her temples with his fingers. There was a sudden rush of --what? Electricity, pin-pricks, tingling? She couldn't describe the feeling, but it was almost like a caress from the inside. When he took his hands away, the headache was gone. And her memory returned with sudden clarity.
The rain. That's what she remembered. One of those warm summer desert rains that came without warning. Leaving behind cleansed air and the sweet smell of sagebrush and wildflowers.
She had always been a dreamer. And after her shift on the Base as a volunteer for the USO, she always drove to her special spot in the desert to watch the stars. To wonder about life out there. Again, her Father's words came back to haunt her.
*You shouldn't go out there alone. In the dark. You shouldn't be wandering around so late at night.*
*But, Daddy, that's when all the stars are the brightest. When the Milky Way is in all it's glory. Maybe the people who live up there are watching us, too, and wondering who we are.*
She loved the stars. And the tales of other wordly creatures. She pondered the mysteries of the Universe, and the meaning of life. And always, she felt empty and left wanting for more. It was almost like a piece of her was missing. That she didn't truly belong here on Earth. Somewhere out there, she had often thought, was a part of her soul, her spirit.
When the rain had begun, she had gathered her telescope up and ran for the car to begin the drive back to Roswell. Good old Roswell. Population: next to nothing. Opportunities: even less. Only the Army Base kept this little town from shriveling up and dying.
As she watched the wipers scoot back and forth across the windshield, she had been trying not to think of the news that she had recieved that afternoon. So when the man appeared on the side of the road in the glare of the headlights, she had almost hit him. She had jerked the wheel, hit the brake and skidded to a sudden stop, the old Ford shuddering as the engine died.
While her knees shook, she waited as he approached the passenger side of the car. He was dressed in the clean crisp khaki that identified him as a soldier. She sighed in relief. One of the boys from the Base. Probably stationed with the 509th. The soldiers always hitch hiked around here, and she often gave them rides.
But it struck her as strange for a soldier to be out on the road this time of night. And he wasn't heading for the Base, but away from it. Towards Pholman Ranch and Vasquez Rocks. Towards Roswell.
Still..he looked so cold and the rain was coming down really hard.
"Need a lift?" she said, rolling down the window just a fraction.
"Sure," he replied. "if you wouldn't mind."
TBC