Winner Round 7
Thank you Hybrid Angel for my banner!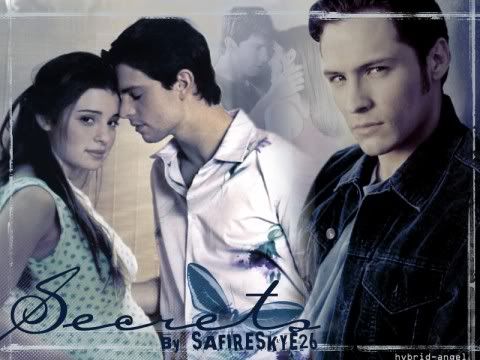 Author:
SAFIRESKYE26
Coupling:
M/L
Rating:
MATURE
Disclaimer:
I WISH I owned Roswell, but I don't
Summary:
Amazing Challenge from
Babylisou
! Liz is 17 yrs old and has been dating the Sheriff's son and All-State Quarterback, Kyle Valenti, for 2 years. While she does care for Kyle she is not in love with him and is shocked when she finds out she is pregnant. After Kyle's less than flattering reaction to her news and a betrayal Liz leaves Roswell, New Mexico. Liz has always dreamed of the ocean so she heads towards California. Once there she finds more than her heart ever bargained for.
PROLOGUE
"Kyle, slow down!" Liz gripped the handle above her seat just to keep herself steady. She hated it when he drove this fast and considering her current condition this was no time to be taking chances. "Please." She continued to plead with him. "Kyle, please slow down." Liz was almost in tears by this point. Her life already felt like it was spiraling out of control and a high-speed joyride was the last thing she needed.
"What's wrong, Lizzie? You're usually up for a good time." Kyle continued to race down the old highway without a care in the world and as fast as his Mustang would go.
"Stop the car, Kyle." Liz waited for a moment but he didn't seem to be decreasing their speed at all. "Stop the damn car!" Liz knew Kyle would never hurt her intentionally but at the moment he was being far too careless.
Kyle began to slow his speed but didn't stop at her request. "Lizzie…what's the matter with you? You've been acting like a bitch all night."
The words stung more than she cared to admit. She was frightened enough about what she had to tell Kyle and his insensitivity wasn't helping. "Kyle, we need to talk…maybe we should pull over?" She's been dreading this moment for two weeks but it couldn't be put off any longer. She knew she should've told him sooner but it never seemed like the right time. She was far from being in love with Kyle, but after dating for two years she owed him the truth. He deserved to know and truth be told Liz needed someone to go through this with her.
"Look, Lizzie…you're being king of a drag…is it that time of the month?" Kyle asked, slightly disappointed that he wouldn't be getting laid for a few days.
Liz knew why Kyle sounded disappointed and the thought made her blood boil. She had been living in hell for two weeks now and Kyle's only worry seemed to be his overactive libido. "Fine. You want to know what's going on?" It was purely a rhetorical question but Kyle always had to say
something
.
"Well, yeah. You're acting kind of strange. You know you can tell me anything, Lizzie…you're my girl." He winked at her. Sure that it was probably nothing.
Liz was starting to lose her nerve. It was now or never. "I'm pregnant, Kyle and before you even think of asking, yes it's yours." For a moment Liz wasn't completely sure that Kyle had heard a word she'd said, but then the color immediately started draining from his face and his eyes were blinking faster than normal. He was in complete shock. Liz realized this too late as his Mustang flew off the side of the road and down an embankment. Luckily Liz was still conscious when the car finally came to a halt. Unfortunately, Kyle was not and the gaping wound on his forehead was pouring blood all over the steering wheel. Liz quickly dialed 911 but once she knew help was on its way the personal attack on her conscience began. She brushed one hand gently across his pale cheeks and whispered. "What have I done?"
Liz sat on a gurney in the Emergency Room, having already been checked out herself, waiting for any news of Kyle's condition. As she sat there she held her stomach. The doctor had said the baby was fine but was that really good news? She pushed the thought out of her mind instantly. Regardless of Kyle's reaction she wanted this baby. Liz was lost in her own thoughts when the sheriff finally approached her.
Jim Valenti had been there for over an hour but had waited to speak to Liz Parker until he had something to tell. His head was hung low and he appeared very pale. How could he tell her this? He'd never been sure of exactly how serious Kyle and Liz's relationship had been but he'd heard Kyle mention on more than one occasion that he was going to marry Liz Parker someday. Thinking of that now made his heart ache. "Liz…" he didn't know how to say this…there was no easy way. "Kyle's out of the first surgery but the surgeon working on him believes they'll have to go back in immediately." He choked on the words as he spoke. This was his son.
"Sheriff? What is it? Please tell me the truth." Liz felt like she had been holding her breath since the moment Sheriff Valenti had stepped into the trauma room.
Jim began to cry openly, not wanting to be the bearer of this awful news, but he had no choice…he owed this to Kyle and Liz would need to be prepared. "Liz, the head trauma was severe…he lost a lot of blood but he has regained consciousness thank God."
Liz could tell he was holding something back. "Sheriff, please? What is it you're not telling me?"
Jim took in a deep breath. "He doesn't remember anything, Liz. He doesn't even remember me…he has amnesia." Jim collapsed on the floor. The hard sobs rocking his body. Kyle was all he had.
Liz's heart sank. She couldn't help but feel like she was to blame. She knew the news of her pregnancy would hit him hard…she should've waited until they had stopped. She held the sheriff's head for a few more minutes as he continued to cry but then a doctor came out to speak with him. He composed himself quickly and retreated back through the double doors once again. Liz just stood there frozen in time. Not wanting to believe what the sheriff had said, but knowing all the while it was the truth. When she finally turned to go outside so she could call her parents she ran into Tess Harding. She had obviously been crying. "Tess? What are you doing here? Is everything ok?"
Tess didn't speak right away. Considering the circumstances she wasn't quite sure what she should say. "I came because…well I came to see Kyle." There was no point playing games with Liz any longer. The truth was going to come out.
"Kyle? But why would you…" Liz didn't even need to finish her question. The guilt on Tess Harding's face was enough to finally make her see. Kyle had been distant for months and now she knew she was standing face to face with the reason. "Oh my God…you're…" Liz felt like she was going to be sick. "Fine, Tess. You've wanted him…he's all yours!" Liz ran out of the Emergency Department feeling like she needed air before she would suffocate. She was carrying Kyle's child and he'd been sleeping with Tess Harding. She'd seen it on Tess's face…she no longer needed proof. "I have to get out of here." Right now all Liz wanted was to get the hell out of Roswell, New Mexico.
TBC