Round 1 Winner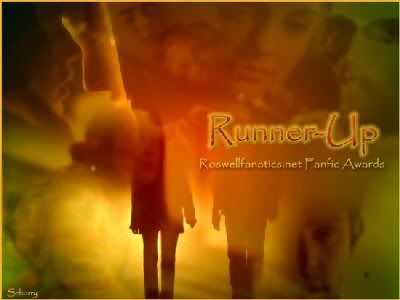 Runner Up for Best Future Fic
Title: Everything
Background: Future Fic…
Category: M/L…what else is there?
Rating: Teen/Mature
Author: Anne
E-mail:
dreambehr@yahoo.com
Disclaimer: They're not mine. The characters of Roswell belong to Melinda Metz, the WB, Jason Katims, and all the wonderful people who we all love for starting this wonderful story. I'm just borrowing them!
Thanks to Kath for hosting my beautiful banner by EmilyLuvsRoswell!
Everything
Find me here speak to me
I want to feel you I need to hear you
You are the light that's leading me
To the place, where I find peace again
You are the strength that keeps me walking
You are the hope that keeps me trusting
You are the light to my soul
You are my purpose
You're everything

And how can I stand here with you,
And not be moved by you
Would you tell me how could it be,
Any better than this?

You calm the storms, and you give me rest.
You hold me in your hands you won't let me fall
You still my heart when you take my breath away.
Would you take me in take me deeper, now

And how can I stand here with you
And not be moved by you
Would you tell me how could it be
Any better than this?

Cause you're all I want
You're all I need
You're everything,
Everything

How can I stand here with you
And not be moved by you.
Would you tell me how could it be
Any better than this?
Part 1
She walked down the streets of San Francisco, shivering as a cold wind blew, stinging her nose, and bringing tears to her eyes. It was always cold on the Embarcadero, especially on foggy evenings like the present one, but she still enjoyed taking the long walk from Ghiradelli Square, through Fisherman's Wharf, where she sucked in the strong scent of fresh fish, past Pier 39, the tourists running rampant, shopping and taking, and all the way down to the Ferry Building, cutting through Justin Herman Plaza, and down Market Street, where she hopped on Muni and rode the train all the way back to her little apartment on Castro Street.
She chuckled as she walked down the rainbow-lined street. Liz Parker always found it amusing how she was probably the only straight girl living in the Castro District, but she liked it there, and she was comfortable with her life in San Francisco.
Liz had been living in the Bay Area for 10 years now. First 4 years of college at Stanford, where she got her teaching credential in biology, and then an internship, which eventually led to a comfortable job teaching at San Francisco State University.
In that entire 10 years, Liz had never once returned to her hometown of Roswell, New Mexico. She couldn't go back…the entire town was filled with memories, images…everything there reminded her of him.
It had been 10 years since she had seen him…since she had heard his voice whisper soft, loving words in her ears…since she had felt the gentle touch of his skin, tasted his sweet lips…
They were supposed to go to college together, she and Max. They were supposed to spend the rest of their lives together.
He had been accepted to Stanford as well, and with a great deal of excitement, they had planned the next four years of their lives together, everything from where they were going to live, what classes they were going to take… They did everything they could possibly do to protect their relationship. Together they had agreed that nothing was worth jeopardizing their love for one another…
Nothing…except for what actually happened that is.
Everything was destroyed when a week before they were to move to California together, Max had to leave.
That was when the message came, from his home, begging him to come save them. Max couldn't ignore the pleas of his people…so he went.
Liz begged to come with him, crying about how she needed him and she couldn't live without him, but Max refused, insisting that she stay. It was too dangerous, and he couldn't live with himself if something happened to her.
So they both left Roswell on the same day…Liz to California, and Max to some planet millions of light years away.
The first year had been the hardest for Liz, as she had a single dorm room. They had planned it that way, so that she and Max could have a place to go alone. In reality, it isolated her from the world, giving her a place to drown herself in her misery and loneliness. She cried herself to sleep every night, sobbing and begging the stars to return Max to her…but her plea fell on deaf ears. Liz used to sit out on her balcony late at night, staring up at the stars for hours on end, wondering which one was his.
She almost flunked out of school that year…which was when she realized that she needed to pull her life together. She wasn't Liz anymore…she wasn't the girl that Max Evans had fallen in love with…just a shell of the person she used to be.
So Liz Parker summoned up all of the courage within her, and decided to start fresh. She made some new friends, began to socialize, and explored the entire Bay Area. Her grades shot back up to the top. The school that once seemed as a prison to her, suddenly brightened into a whole new world of possibilities.
But she never dated. Not once.
Maybe that was why she finally settled down in the most prominently gay neighborhood in the state of California…because in the Castro District there was no sexual pressure on a single, straight woman.
Liz made her way up the three flights of stairs to her apartment, unlocked the door, and stepped inside, taking in the soft evening light filling the simple rooms that she called home. Immediately she went through the motions of finishing off her day: making dinner, washing the dishes, getting ready for bed, and eventually crawling between the sheets early, hoping to get a few extra hours of sleep for the big day ahead of her in the morning.
The fall semester of the year 2012 was starting in the morning…summer was now over.
Butterflies of excitement filled Liz's stomach as she anticipated the next day. A new semester meant new students. Liz loved meeting new people…especially in a culturally diverse city like San Francisco…everyone was so different and so interesting.
Liz was young for a college professor, and often times she had students who were her peers, and even those that were older than her. She loved interacting with her students…getting to know them on a more personal level. Some of them, Liz related to all too well…while others made her feel old. It wasn't unusual for her to develop close relationships with a number of them, though. She had made quite a few friends and acquaintances, just in her classes.
She never slept well the night before a new semester, and this night was no exception, as she tossed for hours after turning in. Tonight it wasn't just the normal jitters though…something else had her mind alert as well.
Every time Liz closed her eyes, she was plagued by Max's face in her mind's eye. . It wasn't unusual in and of itself…Liz thought about Max often…constantly even…but tonight it was something more than the usual loneliness. She was plagued by the image of his deep, dark eyes, soft hair, rough skin…at times she could almost smell that familiar scent of him, that she had gone so long without. Liz could feel his presence…almost as if he was there with her, or somewhere nearby.
Liz sighed, and crawled out of bed, slipping into her robe and slippers, and heading to her balcony, the chilly night air hitting her face as she slid open the glass door, and softly closed it behind her.
As she stared up at the few stars twinkling dimly through the blanket of fog, Liz chastised herself for the feelings that were possessing her mind. It was impossible of course, that Max could be anywhere nearby. He was up there, millions of miles away, on some distant planet, near some distant star…and for the millionth time, Liz wondered if one of the stars she could see tonight was his…
Liz sighed, overwhelmed by the loneliness buried deep in her heart. She would never see Max again….she just needed to accept it and move on with her life…
The problem was that she couldn't. When she was sixteen years old, a handsome, kind, loving alien saved her life, captured her heart and claimed it as his own…he had changed her whole life…and she could never go back. Max would always be a part of her…whether they were apart for 10 years, or an entire lifetime.
For the first time since her freshman year of college, when Liz swore to never let her loneliness take over her life again, unwelcome tears began to rain down Liz Parker's cheeks, and Liz allowed herself to swim in the full out anguish that she felt every time she thought of her lost lover.
Part 2
Liz breathed a sigh of contentment as she stepped out of her apartment building and breathed in the cool, moist morning air. In comfortable clothes, with her briefcase by her side, she leisurely made her way the three blocks to the Castro Street Muni station.
It was still early, and the fog had yet to burn off… Liz liked it that way…it was such a contrast to the desert that she had grown up with. She chuckled to herself at the thought… Liz loved everything about San Francisco…even the fog…especially the fog. Some people might call it dreary, but Liz thought that it was beautiful…it created this eerie atmosphere that Liz found intriguing.
Commuters went rushing by her at top speed, rushing around left and right to get to their jobs downtown, and Liz shook her head sadly at them, wondering how anyone could stand to not just relax and enjoy the beautiful city that they called home. They were just wasting their lives away…
Liz yawned slightly, and shook her head at herself in frustration. After having such a restless night of sleep, she was eager to take a step in the right direction now, by keeping her mind away from Max Evans, and concentrating on her new students instead. With Max on the brain, she'd never be able to get through the day…especially with that feeling that kept plaguing her…why did it feel like he was so close? It was just like the connection that had formed between them back in high school…they had grown so attached in high school, so in love, that they knew when each other were near…at times they could almost read each other's thoughts, because they were so completely in tune with one another.
That was why Liz felt so empty when he left. It was like loosing her right arm… Max was a part of her.
SFSU was already busy when she stepped off of Muni, and crossed the street to enter the campus, with students rushing left and right to get to class on time, or some impatiently waiting at the coffee stand in front of the school.
Still, Liz just strolled leisurely into the campus, acting as though she didn't have a care in the world.
She had spent her entire time as a student rushing around from class to class, stressing over her tests and papers…it was just so hectic. Now that she had settled down, she insisted on planning her time so that she could just relax and enjoy life.
Her entire life, Liz had never given herself a chance to mellow out. She was always absorbed with something from the time that she was very young, whether it was school, or friends, or waitressing.
Later, when she was in high school, it had been Max…keeping his secret, protecting him from the FBI, helping him discover who he truly was, fighting beside him against their enemies…
Liz smiled softly to herself. If only Max could see her now…he would never believe that she, Liz Parker, was actually carefree…and almost happy…
The tall, skyscraper-like buildings that made up the school where she taught were such a contrast to Stanford, where she was a student, as it was a widespread campus, while SFSU covered only a square mile. Both campuses were very different places: Stanford was as conservative as SFSU was liberal, but Liz loved them both.
Stanford was so elite and exciting to her at the time that she attended there, but the state school was so laid back and easygoing, which was exactly what Liz needed at this point in her life. She was sick of control and order…it reminded her of Max.
Liz mentally cursed herself for thinking of him. She sighed softly, and reluctantly gave in as the familiar feeling of his presence that had possessed her soul the night before swept over her again.
As she cut across the main quad, heading towards her office, Liz studied her surroundings, nodding and smiling occasionally to her ex-students or coworkers…but her breath caught in her throat, and she stopped dead in her tracks as a sole figure heading into the bookstore caught her eye.
Liz gasped aloud. No! It couldn't be…it just wasn't possible. Her mind was playing tricks on her, that was it. It was the damn feeling that she had been absorbed with the past few days…it was making her see ghosts.
Liz desperately tried to shake the image from her head as she headed into the biology building…but she couldn't forget that for the briefest moment, she could have sworn that she had seen Max Evans at San Francisco State.
Part 3
With confidence in her stride, Liz entered the lecture hall, making her way to the desk in the front of the room, and setting her briefcase down, before turning and smiling at the class.
She held back the laughter that was threatening to explode from inside of her as she took in the shocked looks on some student's faces as they eyed their young teacher.
"Hi there!" She greeted her class with a friendly smile. "Yeah, I know what you're all thinking right now…there's no mistake here. I'm your teacher, Liz Parker. This is a General Biology lecture lab mix, with the lecture portion at this time ever Monday and Wednesday, and a three hour lab on Friday afternoons. Is everyone in the right place? Okay then…let me tell you a little about myself. I'm 28 years old…I know I look a lot younger! I was born and raised in Roswell, New Mexico, home of alien themed tourist traps, and not much else… From high school I moved right here to the Bay Area, attended college at Stanford, where I graduated with a degree in Biology, a minor in Education. Right out of college I started working right here at SFSU, and I've been here ever since! It's a great school. So that's me…I hope to get to know each and every one of you this semester, and with that I'll go ahead and take roll! Let me see… James Bailey?"
Liz started reading down the roll list, marking people present or absent, but she wasn't even halfway down the sheet when she paused, staring at the next name in agony. "Parker Evans" the sheet read. Suddenly, Liz's sad attempt at a cheerful mood slipped away, as it seemed as though the whole world was laughing cruelly at her pain today. Elizabeth Parker Evans would have been her name one day if Max hadn't left. Memories of him, little reminders, seemed to be popping up all over the place today. Plus mixed with that weird feeling of him…
Liz sighed, and then pulled herself back together, remembering that she was standing in front of a class full of people.
"Parker Evans?" She called out, cringing slightly as her voice cracked with emotion.
"Here." A soft, even response came from the back of the room. Liz's body started to quiver at the sound of the voice…a familiar voice…one that she hadn't forgotten, could never forget, even after 10 years.
She looked up and searched the room for him. He had been slumped down in his seat in the back, trying to avoid notice…it was a second nature to him, she always knew.
Their eyes met, and for a moment the rest of the world faded away, and they were the only two people in the room.
Suddenly everything made perfect sense to Liz…she had been feeling his presence the past few days as if he were nearby…because he was nearby…in her very city.
Max was here. In San Francisco. Sitting in her classroom. Enrolled in her class. A class filled with students waiting for her to continue.
The realization shocked Liz back to reality. She was a teacher and Max was her student. And she needed to keep her composure in front of the class. They couldn't know about her and Max's history.
But a little voice peeped up in the back of her head asking her. "Is it really history?" She smiled at the thought. Max was back.
She flashed a big smile at his corner, desperately trying to make things appear normal.
"Nice you have you here, Parker." She greeted him.
"Thanks…actually, I go by Max…It's, um…a nickname." He gave her a slightly amused smile, knowing that they shared a secret joke that no one else would understand.
"Okay…Max…um, Andrea Foster?"
The 50 minute lecture period seemed to drag on forever to Liz, as she went over her class policies, and the agenda for the semester, and started in on the most boring lecture of the whole year: How To Write a Lab Paper.
When the clock finally hit 9:50 a.m. it took every ounce of will power inside of Liz not to jump up and down and scream in excitement. One by one the students began to file out of the room, while others crowded around her desk asking her questions and trying to add in…Liz thought that they would never leave, but finally the last student was gone, leaving Liz with Max walking towards her slowly.
This time, when she stood face to face with him alone, Liz couldn't hold back the tears as they flowed freely down her cheeks.
Max thought he had died and gone to heaven, when he saw her walk into the classroom and set down her briefcase.
Everything had happened to him so fast…he had only registered for school a few days earlier, so he didn't have much of a choice in classes. He was amazed that he got any good classes at all…and Biology was on the top of his list. It had always been one of his favorite sciences since high school…it reminded him of Liz.
When he had seen the name "Parker" on his schedule as his biology teacher, a rush of pain had flown through his already tainted heart. This biology class was going to drive him absolutely crazy…he wouldn't be able to talk to his teacher without thinking of the love of his life… Never once did it occur to Max that Ms. Parker might be Liz.
He couldn't breathe when he lay his eyes on her for the first time in ten years. She had changed…he could tell that for certain. She looked a little older, and a little more mature. That was to be expected though…a lot can change in ten years. He studied her every motion, and noted that even though she smiled and laughed with the class, he could see a sadness hidden deep within her eyes. She hadn't changed so much that he couldn't still read her mannerisms. They were as clear as day to him.
As she began to recap on her life to the class, Max's heart pounded in fear. He dreaded the words that he was certain that he would hear. Sometime in that time she had moved on, forgotten about him. She had a boyfriend, or worse was married.
But when she called his name in roll, and their eyes met…Max could already feel the connection between them, that hadn't died, or even faded at all over the years.
For the first time since he returned to earth, Max Evans felt as though he had truly come home.
It had been a difficult ten years that he had been away, filled with struggle, pain, and loss. There were a number of times where Max wasn't sure that he'd ever make it…where he thought that he couldn't go on, but then he thought of Liz. He would sit there and dream of the touch of her skin, the sound of her voice, the way the sun shined on her hair, and the way her whole face would light up whenever he was near…and he pushed on, motivated by his need to return to her.
Two weeks before, he finally made it back home. The war was over…his people were free again, and immediately he expressed his desire to return home, and they let him go. His first order of business: to find Liz.
Max was devastated when no one was able to help him find her. She had cut herself off from everyone when she moved to California…no one had heard from her in ten years.
Max knew that she had gone to Stanford. They were supposed to move to California together the same day that he left for home, so he decided to relocate to San Francisco, and continue his search for her there. He found himself an apartment in the city, and enrolled in college, wanting to start his new life on the right foot.
And now he had found her…
Fate seemed to have a way with him. Ever since they were kids, it seemed as though the whole world was pushing them together, and now it had helped them out yet again, letting them stumble on each other, rather than having to search her out.
And now the class was out, and he was slowly making his way towards her, drinking in the image of her. She was still as beautiful as the day he left…more so even. The years had been good to her.
Max's heart cried out as the tears started flowing down her cheeks, and it only took an instant before she was in his arms, clutching to him as though her life depended on it, as he stroked her silky, soft hard, whispering comforting words in her ear, in a desperate attempt to calm the storm which was sweeping through her tiny body.
"It's okay." Max whispered softly. "It's me…I'm here. I'm not going anywhere…ever again."
Slowly Liz's breathing became even again, and she pulled away just a bit, as Max cupped her cheeks, and brushed the last tears away with his thumbs.
"God, Max…I thought I was never going to see you again. I've missed you so much...so much."
"God I've missed you too. I thought about you every day that I was away…I wanted to come back earlier…but it's taken me this long to fix things back home…it was really bad there, Liz…worse than I ever imagined…but it's over now, and I'm here. I'm not going anywhere ever again, Liz…assuming you'll let me…"
Liz silenced him with a finger pressed to his lips. "I've waited ten years for you, Max. And I'd wait another hundred if it meant I'd get to see you again."
"I've missed you so much…" Max whispered again. His hands left her cheeks, and began to roam her face, caressing every inch of skin, running lightly over her eyes, tracing over her nose, tickling her ears ever so slightly. They roamed through her hair, coming his fingers through the silky strands. Was her hair this soft before? Or had he just forgotten…
"It's so good to see you again." Liz moaned softly as his hands sent sparks running through her body…sparks that Liz thought she would never feel again. She closed her eyes, and just let herself feel his hands, as they stroked from her shoulders down her body to her hips and then back up again, finally wrapping around her and pulling her back up against his body, as he just held her close to him and reveled in the feel of the only girl he'd ever love, back home in his arms.
Part 4
Liz was so frustrated she wanted to scream, as she watched the hands of the clock inch their way around it's face. Time was passing entirely too slowly, and it was diving her nuts!
Liz had always loved her job…in the years that she'd been teaching, she had never been so desperate for a day to end in her life.
It had been so hard for her to delay her reunion with Max…but she didn't have a choice. Liz Parker had always been a responsible individual, and as much as she desperately wanted to throw all reason out the door, and spend the whole day wrapped up in Max's arms…she had a full day of classes on her agenda, the first day of classes, and she couldn't cancel them…no matter how much she wanted to.
So, reluctantly Liz had forced herself out of Max's embrace, asking him to met her at the end of the day, and going through the torturously slow motions of the rest of her day.
When the clock finally hit five, signaling the end of her final lab class of the day, it was all Liz could do to keep herself from exploding with happiness.
Quickly, Liz answered the lingering student's questions, and signed a few add cards until finally they were gone. She shoved her books into her briefcase, closed it, and practically ran out of the classroom.
The moment she stepped into the hallway, strong arms grasped her from behind, pulling her to a halt. Liz smiled softly to herself, as she was pulled back against a hard body, and warm arms wrapped her into a familiar embrace…one that although she hadn't felt for years, still felt as natural to her as the last time he had greeted her the exact same way.
Lips pressed down on the side of her neck, and Liz tilted her head, allowing him more access, as he smothered her with love, making sure not to miss a single spot.
Liz closed her eyes and moaned softly, as she lost herself in the sensations surging through her body.
The world melted away…and for a moment it seemed like she was seventeen again…in the hallway of West Roswell High School, where Max had just met her after Lit class, and was about to take her home, with a quick detour on the way for some down time alone together.
For a little while, Liz could forget that they had just reunited after being apart for ten years…it all just came back to her so naturally, it seemed like they were never apart at all.
Liz twisted around in Max's embrace, sliding her arms up around his neck. She pulled his lips down to greet him with a soft kiss…
Their eyes met, and Liz froze, moments before their lips connected…hypnotized by what she saw lurking in the darkness of Max's pools of emotion.
His eyes…they had changed. Only slightly…they seemed older, more mature, and there was a darkness to them, a slightly haunted look. The Max Evans standing before her had seen horrors like Liz knew she could never imagine.
His face had changed too…there were new scars, and weary lines that Liz was unfamiliar with. She traced the new lines lightly with her fingers, studying him, and reacquainting herself with the man who had gotten away so many years earlier.
One thing stood out clearly to Liz as she gently ran her fingers over his face…the complete, open love that swam openly in his eyes…and Liz knew hers returned it.
They weren't seventeen anymore…they weren't in Roswell, but regardless of everything that had changed over the past ten years, one thing had remained unscathed: their deep, unending love for each other.
Liz leaned up and closed the final distance between their lips, connecting them in their own unique way: body, mind, and soul. Reverently, Max caressed her lips with his own, while pouring all of the love he felt in his heart into their connection, desperate to make her see that in ten years, his feelings for her had not diminished in the slightest, rather grown to an intensity that he previously couldn't even begin to imagine. Liz returned his love with a powerful surge of her own, desperate to make him see that she had waited for him, that she knew without a doubt that there would never be anyone for her besides him.
Their first kiss in a decade was more than just a kiss to the two reunited lovers…it was a promise, an oath to stand by each other's side for all time, to wait for each other for an eternity if necessary.
It was as if in an instant, they pledged themselves to each other for the rest of their lives, in a humble act of complete and utter devotion.
Reluctantly they pulled back from their kiss, still clinging to each other, needing as much contact as possible to make up for all of the lost time.
"We have so much catching up to do." Liz marveled, as she languidly stroked the back of Max's neck. "There's so much I've wanted to share with you…I don't think we'll ever be able to catch up completely."
"We will." Max promised. "We have the rest of our lives to make up for lost time."
Liz looked up sharply at Max's words, her eyes shining brightly with emotion. "Does that mean?" Liz breathed in amazement.
"I'm back for good, Liz. I'm not going anywhere…never again…not without you."
At his words, Liz clutched herself tightly to Max's body, as the tears fell openly from her eyes. Tremors racked through her body, as she sobbed openly against Max's chest.
"I'd always dreamed that you'd come back for good…but…I always thought it was too much to hope for…that something would take you away again and I'd get you back only to loose you again." She cried, as Max desperately tried to soothe the storm that surged through her body.
"Shhh…you don't need to worry about that anymore. I'm here for good. And I'm not leaving you, not ever again. I swear to you, Liz. I will be by your side forever. I can't leave you again…it was too hard the first time."
"I believe you." Liz whispered as she regained control of her emotions.
"I'm so sorry." Max sighed. "I'm so sorry I had to leave you at all…I never wanted it to be this way with us, Liz. I wanted us to go to college together, to make our lives together. I never wanted to leave your side. The past 10 years…every single thing that I did, I held you close to my heart as I did it. Every battle I won, I survived with you on my mind. I had to endure everything, to get back to you. All that mattered to me was you, Liz. And it was all worth it…because we're here, together, now."
"Thank you…for coming back to me, Max."
"Thank you, for waiting for me."
Liz smiled lovingly up into his eyes. "Come on…lets go to my apartment. I'll make us some dinner, and you can tell me everything you've been through."
Max flinched slightly at her words. "Do you really want to know everything?"
"Yes, Max." Liz insisted. "I need to know what you've gone through…what we've suffered for. Please don't keep anything from me."
Max nodded. "I will…it'll be hard, but I'll tell you everything I can."
"Good…and I have something to give you too…something I've kept for you all these years."
Part 5
Max followed Liz up the stairs of her apartment building with an amused grin plastered onto his normally solemn face.
"This is where you live?" He asked with a laugh, as he observed their surroundings in amusement.
"Well, yeah!" Liz protested. "The guys here aren't exactly trying to hit on me! It makes it very easy for me to stay single in your absence."
"Yeah, I'll bet." Max cracked. "But how am I going to manage coming to see you everyday? I'm going to be like the new, fresh meat on the block."
"Very funny...they'll keep their hands off." Liz promised.
"Well I should hope so!"
Liz laughed and pulled Max into her home. He smiled softly, as he turned around and studied the place that Liz had called home the past few years. It was small and homely, neat and tidy...there was nothing fancy about it, but at the same time, it just felt comfortable.
"It's you." He said simply, turning back to Liz. "I like it."
Liz beamed at him. "God, I still can't believe you're here. It all seems so surreal, like something out of a dream. I keep expecting to blink my eyes, wake up, and you'll just fade away, disappear, and I'll find myself completely alone again."
"You won't...I swear to you Liz, this is just as real as it feels."
"God, Max....there's so much I want to know! Where's everyone else? Michael? Isabel? Tess? Did they come back too?"
"No...actually they decided to stay."
"Really? Why?"
"Well...you know Michael and Tess...they were always more alien than human. They never really felt like they belonged here...they didn't have what me and Isabel had: the family, the love. Going home...it was just that to them. For the first time in their lives they felt like they actually belonged somewhere...and they liked it. They didn't want to leave. For Isabel the decision was a lot harder. She loves our human family and our life here so much...but it had been ten years, years that she had spent bonding with our alien family. In the end she felt that she couldn't abandon that."
Liz nodded in understanding...but she couldn't help wondering...
"What about you, Max. It had to be hard for you to go. You just said that you had a family there...you were there for ten years...you had a life there. I can't believe you could just give all that up so easily...just for me."
Max smiled gently at her apparent insecurity.
"Liz, as hard as it may be for you to believe this...the decision was that easy for me. I hated it there...so much, because you weren't there. I missed you, felt our separation every single day that I was away. No matter what they gave me, the love that you gave me is just so much more important to me. The entire time that I was there, the only thing that mattered to me was doing what I was there to do, so that I could get back to you."
Max slid his hand into Liz's and squeezed it softly, emphasizing his love for her. He led her over to the couch and sat, pulling her down to sit beside him. Sliding an arm over her shoulder, Max pulled her against him, letting her head rest comfortably in the crook of his neck.
"What was it like, Max?" Liz asked softly. "Your home, I mean."
"What was it like?" Max replied with a sad sigh. "It was a planet that had been overrun by warfare for a century, Liz. It was a mess. You could almost say that when we got there, it was hell brought to life. It's not as bad now...they've begun to rebuild, reflourish, but it took nine years of fighting to end the war, and then we spent another year organizing the reconstruction and forming a new democratic government," Max laughed softly, "One that wasn't completely based on my leadership so that I could leave. But that's all my life has been for the past ten years, Liz. Fighting...more fighting. Death, destruction, pain, loss, mourning...that's all I've known since I left you."
Max tightened his grip protectively around Liz, clinging to her as if his life depended on it, and she let him, knowing that he needed her comforting.
"Liz...before I left, you begged me to take you with me, and I refused. That's the best decision I've ever made. We may have been miserable, but at least we're both alive. I would never want to put you through what I went through, Liz. I would never want to risk your life the way I had to risk my own. You deserve better than that, Liz. You deserve a normal, happy life. I'm so sorry that I wasn't able to give you that life before, but I'm here now, Liz, and I intend to spend the rest of my life making sure that you get all of the happiness that you deserve."
Liz wiggled around and sat on her knees, so that she could look up in Max's eyes. With one hand engulfed in his own, Liz brought her free hand up, and lovingly caressed Max's jaw, as she lightly brushed her lips against Max's own.
"Just having you here gives me all the happiness I need." She sighed against his lips.
Relaxing back down, Liz lay with her head in Max's lap, as he languidly combed his fingers through the silky strands of her hair.
They stayed like that for hours, silently taking pleasure in each other's presence. No words were needed...they were content to just feel each other.
Together Max and Liz fell asleep right there on the couch, in each other's arms, both of them sleeping restfully for the first time in a long, long time...because they were together.