Under NO circumstances can anyone under the age of 17 read or participate in this RPG. NO if's, and's or buts...
Title: The Wedding Disaster
Rating: Adult
Authors: MadRoswellfan
Disclaimer: I don't own anything from Roswell, period.
Couples – CC with small bits of UC on the way but DEFINITELY ending CC
Aliens – semi canon.
Okay, everything up to the point where Tess entered the show happened, EXCEPT Alex DOES NOT know about the aliens, and although he knows they're keeping secrets from him, he decides he can live with that.
It's now five years later. Max and Liz are still together. Michael and Maria split up two years ago when she left to follow her musical career. (Maria is currently in town as although she was doing quite well she dumped her label after they tried to make her a pop diva. Isabel has never been in a long term relationship. Alex has now become ordained as a minister, and in his spare time is building up a software company. Kyle is now a deputy for his dad.
Today(the day we start this rpg) is a very special day for two reasons.
1) Tess (WITHOUT Nasedo) has finally tracked down the other aliens and has come to Roswell.
2) Max plans to propose to Liz tonight.
Liz says yes… but this is where the trouble starts. Everyone starts to have a reason to stop the wedding.
Max/Tess – Tess tracks down Max and the other aliens find out about her. She will then start to tell Max of her memories and they will start to get… closer.
Liz/Kyle – Kyle (not knowing about the aliens) has pretty much left Liz and the others alone these past few years. But when he hears of the wedding, Kyle goes on a mission to get Liz back… which isn't helped by Max's parents inviting him to the wedding.
Maria – Maria is going to be the chief bridesmaid. She truly believes Max will end up breaking her heart many times like Michael did to her. She wants to show Liz she can do better.
Michael – Michael (the best man) is determined to either win back Maria or to cut her loose. He doesn't think that Max and Liz should get married unless he can have his happy ending too.
Isabel – Isabel never really trusted Liz. Sure, shes an okay human, but Isabel doesn't want her brother getting hurt. She wants to dissuade him from this 'madness'.
Alex – Alex is going to be the minister for the wedding. But recently hes started to see more and more strange behaviour and its questioning his belief in God. He's determined to get to the bottom of it once and for all.
Couples – Start
M/L
End – all CC
Note – ML may break up for a SHORT time but ultimately they WILL make it down the aisle.
Cast:
Liz – MadRoswellFan
Max – Isabelle
Michael –
Maria –
Alex –
Isabel –
Kyle –
Tess –
Others (like Jim, the Evans' parents etc) can be used by everyone.
Rules:
1) Long posts (at least two paragraphs) with expression.
2) This is meant to be light and flirty. Imagine a comedy/romance film if you will!
3) No rushing!
4) If you aren't going to be a round for a while, please say so we can arrange a temp.
5) I'm asking for bios, in the format of mine below, as samples. If I haven't confirmed anyone as that part you can still send a bio too as long as you let me know you intend to audition too. (Please reply to this thread!)
Bios
Liz Parker – 22 – MadRoswellFan
After Graduation, Liz made a decision. The aliens didn't want to go far from Roswell in case something happened, so Liz decided to stay for them. She never went to Harvard and although she still often dreamt about it, she never admitted it to Max.
Liz's Parents were in a car crash the day after graduation, and her father didn't make it. Her mother, who had been driving, felt wrapped with guilt, and Liz had to put her in a clinic for the insane. (Same place as Kyle's grandfather.)
Liz took over the reigns at the Crashdown, and looks upon it as her duty to stay working at the Crash forever – no matter how much she wants to fly the nest.
Her one real joy at the moment is Max. She doesn't know how she would still be standing without him. It's a common fact that Isabel and Michael will barely make small talk with her. She's so glad Maria's back in town, even if she won't admit to Liz why.
Recently Liz has started to feel very stuck in a rut. Can she find a way to get out of it?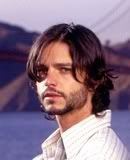 Max Evans – 22 – isabelle
Max has stayed in New Mexico with the rest of the pod-squad, never sure of what what going to happen. Still, he tried to make a life and plan for the future, attending college locally. He's seen Michael falling in and out with Maria and he's worried about Isabel's frustration in finding anyone. Meanwhile, he's been with Liz, falling deeper and deeper in love with her.
Max is still concerned about the fact that he's different and knows that the FBI will always be looking. He knows that Isabel and Michael don't approve of his relationship with Liz because she's human. Part of him worries that they're right. That it isn't fair to ask her to put herself in jeopardy, but in spite of all that, he's made a decision. He can't go on without Liz. He needs her. Tonight, he's going to ask her to marry him.