Winner--Round 14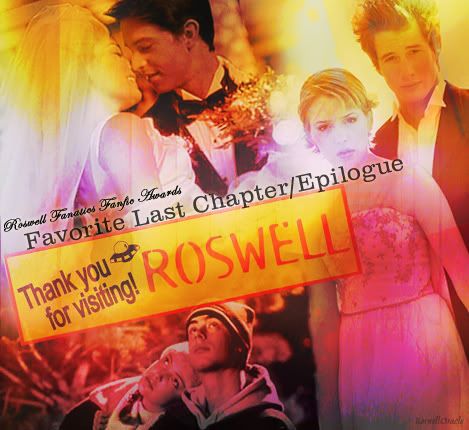 Winner--Round 13
Double Trouble
Author(s):
Double Trouble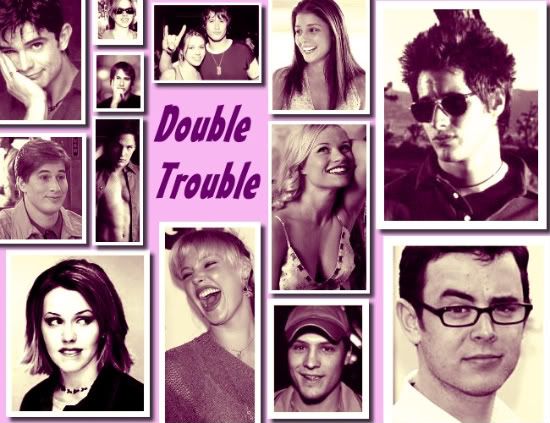 Banner by:
Us
Disclaimer:
All characters and plot lines that appeared in the series or in the books are not ours. The concept of Roswell does not belong to us either. They all belong to Melinda Metz, UPN, yada, yada, yada…
Pairing(s):
M&M, K&T, A&I, M&L
Rating:
Adult!!!
Summary: (AU without Aliens)
In Long Beach, at the California State University, four girls who thought they had all the answers in their lives learn that what they really have are more questions… when they meet four guys who thought they knew what they wanted out of life and who are about to find out that they really don't have a clue.
Author's note:
This fic is intended solely to entertain; there are underlying issues for the characters, but for the most part it's a happy fic. Readers should be reminded that the fic is rated Adult for a reason – be warned that there will be plenty of (at times, kinky) Candy scenes within these pages!
Author's note 2:
This fic was written in response to a single question, asked by one of us during a conversation a few months ago. We hope you'll enjoy reading it as much as we've enjoyed writing it.
Link to our trailer – made by us:
http://www.youtube.com/watch?v=AnVW_Bopb3Q
Part 1 – Moving In
The weather forecast for southern California had promised beautiful, clear skies and a comfortable 84° for the high and as the first rays of sunlight fell over the young women eagerly peering through the window on the plane it looked like the perfect day for moving. After the plane landed they waded through the sea of people in the terminal to claim their mountain of luggage.
"Can you believe we're finally home?" Tess Harding exclaimed as she led the way, her demeanor that of a woman on a mission.
"I'll be glad when today's over and we can really say that," Maria DeLuca said, following her excitable friend.
They finally reached the luggage carousel and Tess surveyed their luggage as it passed by them on the conveyor belt. "Okay, that's just way more than we had when we left." Her blue eyes twinkled with purpose as she glanced around, seeking a willing participant for her plan. "I'll be right back," she said, blond curls bouncing as she took off after her unsuspecting prey.
Maria just shook her head, green eyes amused when her friend set her sights on a young man nearby, minding his own business and definitely no match for Tess as she went into full-out flirting mode. She brushed her blond hair back behind her ears and crossed her arms over her chest, unable to stop the quiet chuckle when the guy shot up from the chair he had been comfortably sprawled in. He hurriedly removed the cowboy hat he was wearing, holding it to his chest as his shocked gaze locked on the woman talking a mile a minute and shaking his free hand.
The poor man opened and closed his mouth several times without a single sound being made, unable to get a word in edgewise as she explained the situation. She retrieved a cart for their luggage and dragged him with her to the carousel, pointing out their bags and smiling when he dutifully collected them and loaded them on the cart.
"Can I take these to your car for you, ma'am?" he offered in a slow Texas drawl.
"Oh, aren't you just the sweetest thing," Tess gushed, glancing up at him through her eyelashes. "Our roommate's meeting us and she's bringing her boyfriend to carry all these heavy old bags." She let the fingers of her right hand trail along his arm, fully aware of what she was doing. "But, if you could just push this heavy thing out front…"
He pushed his hat back and hurried to do her bidding, carefully moving the overloaded cart through the crowded terminal. As they stepped out through the automatic doors and into the cool, early morning air, the sound of a blaring horn in combination with two distinctly different female voices shouting out greetings, announced the arrival of their roommates.
Isabel Whitman opened the back door of the pickup truck and rushed over to embrace her friends. She was tall with dark brown eyes and long blond hair, and she loved to have a good time. She had broken up with her boyfriend from high school recently and she was enjoying being single for the first time in a long time.
Liz Parker was the last to join them; short with brown eyes and long, dark hair, she was the most serious of the roommates. She was focused on two things – her studies and her fiancé, Sean Harrison. The girls had known him their entire lives; they had grown up together in the small town of Roswell, New Mexico and the couple had gotten engaged the year before when the girls had taken a weekend trip to Long Beach to check out the California State University campus where Sean had been a freshman.
Maria and Tess were a year older than Isabel and Liz, and they had graduated the year before and then spent the first few months of freedom just hanging out. They had all wanted to start their first year of college together and Maria and Tess had been perfectly fine with taking a year off. They were just arriving back in the States after spending several months in Europe where Tess had made it a point to date her way through the male population.
Maria had played along for a while, but knowing that none of the guys were going to be around for very long had eventually caused her to grow bored with the whole thing. She was looking for someone who would stick around, someone who wasn't like every other loser she had ever been with. She had finally figured out where she was going wrong. It was the type of guys she was attracted to: bad boys, rough and tough, believed that the rules were made for everyone but them, totally sexy, and didn't give a damn what anyone thought about them. It was Liz's excited voice that brought her back to the present and her friends surrounding her.
"I can't believe you guys are finally here! Sean agreed to help move all of your stuff from the storage unit," she said, oblivious to Isabel's eye roll. "He borrowed the truck from his roommate's older brother and he kept the entire day free to help us get settled."
Maria and Tess exchanged an amused look and Tess quickly turned back to the young man standing with their luggage. She was going to start laughing at any second and she didn't want to hurt the younger woman's feelings. She thanked him for his help and sent him on his way, smiling as she handed him a small piece of paper as his flight was announced and he hurried back inside.
"I know you did not just give him your phone number," Isabel said, shaking her head.
"No, I didn't." Tess looked down as she dropped her pen and the small notebook back in her purse. She lifted her head and grinned impishly at the tall blond. "I gave him yours."
"What?!"
"He was very sweet, Isabel, and besides, you're single now."
Maria shoved her elbow in Tess' ribs at the tactless reminder and quickly picked up the conversation before more damage could be done. "She did not give him your number, Iz; she gave him her old cell number."
Isabel nodded, clearly relieved that she wouldn't be receiving any unwanted calls from some cowboy she wasn't interested in anyway. She had broken up with her long-time boyfriend over the summer and she wasn't ready to take a dip in the dating pool just yet. She and Logan had been together for three years and out of nowhere he had decided that he wanted to start college as a single man so he would be free to date whomever he wanted.
"Welcome back, ladies," Sean greeted warmly as he moved past them to start loading their luggage into the back of the pickup. He was tall, blond-haired, and had green eyes that stayed locked on Liz any time she was in the vicinity.
Cow eyes,
Maria thought, laughing to herself. The way the two of them mooned over each other was a constant source of amusement between her, Tess, and Isabel.
"We should probably drop this stuff off at the apartment first," Sean said as he reached for the last bag on the cart. He grunted under the weight of the heavy bag and had to sit it down on the curb to take a deep breath before hefting it up onto the tailgate. "Geez, Tess, what've you got in this thing?"
"Did you smuggle some hot, European guy back, Tess?" Liz asked, giggling.
"No." She grinned unrepentantly. "I thought about it though; there were a couple of guys who would've been worth the risk, but a couple of dates and they think it's serious so they had to stay there." She sighed dramatically and patted his shoulder as she walked past him. "Be a sweetie and take the cart inside, Sean."
"But, there are people who – "
Tess waved him off. "Go on now, Sean, otherwise I'm gonna ask completely embarrassing questions about you while you're standing right here."
He needed no further encouragement.
"So, Liz, give us details, girl!" she insisted as soon as he was out of earshot.
"Details?" Liz choked out, but the trapped look on her face said that she knew exactly what Tess was fishing for and what the other girls were waiting for.
"You and Iz have been in the apartment for a month now, so… what's going on with you and Sean?"
"You know what's going on," she insisted, busying herself with looking for her fiancé. "We're engaged and we're taking things slowly."
"Meaning you
still
haven't had sex?! Girl, you two are going so slow you're gonna start moving backwards pretty soon."
Maria and Isabel started laughing when Liz turned bright red and looked like she wanted the ground beneath her to just open up and swallow her whole.
"We're waiting."
Maria hugged the youngest member of their group and patted her shoulder in a consoling gesture. "It's okay, Liz, it's… sweet, that you guys are waiting." She bit her bottom lip to control the urge to laugh again. "So, when's the wedding?"
"Well, we both think it's very important to get through college first…"
The rest of them tuned her out when she went into the
'four year plan'
as the others had already dubbed it. She had been perfecting 'the plan' since entering high school and she was determined that nothing was going to throw her off of her set course. She was interrupted when Sean came back and held the door open for her, holding her hand as she slid onto the front seat.
"I'm upping my bet up to a hundred bucks," Tess said.
"You're on," Maria challenged, grinning as she slid into the backseat.
"Hey, if you guys are upping your bets, I'm upping mine, too," Isabel insisted.
The three of them were betting on whether or not the engaged couple were going to make it through college without having sex. Tess and Isabel were certain that there was no way that Liz would make it through another four years as a virgin, and Maria was betting that she would. She had taken the opposing side of the bet because for one thing, they couldn't all be betting on the same side, but also because if anyone was going to make it through college with their virginity still intact, it would be Liz Parker.
Their first stop was the apartment and the girls rushed inside, leaving Sean to carry the luggage in by himself. The girls had gotten together and picked the apartment out before Maria and Tess had left for their European vacation and the two older girls had moved their stuff into a nearby storage unit for easy access when they returned. They had already staked their claims on the bedrooms, drawing straws for the two larger rooms, so that had been settled before anyone had started to move in.
Tess and Isabel had taken two of the rooms with a connecting bathroom at one end of the apartment and Maria and Liz had taken the other two with their own connecting bathroom at the opposite end.
Something that was bound to work out much better since Tess could be loud with the guys she brought home,
Maria thought with a chuckle.
Poor Liz probably would've passed out if she had gotten the room next to Tess.
Under normal circumstances, she would've worried about scaring Liz half to death herself because she wasn't a shrinking violet where sex was concerned either, but she was determined to take a different approach this year. She was going to find a decent guy who didn't have a single bad boy bone anywhere in his body and who would rather die than cheat on her or treat her badly.
At least she had gotten one of the larger bedrooms!
She wandered into the bathroom that connected her bedroom with Liz's and smiled when she saw the neat, orderly way that the younger girl had arranged everything. There was plenty of space for all of Maria's things without the two of them having to fight over equal space.
Which was good because equal space was so not going to happen!
She was certain that there would be a war over space in the other bathroom because Tess and Isabel were going to both demand adequate counter space for all of their things, and for them that meant the entire bathroom.
"You didn't leave room for any of my things!"
Ah, the war had already started.
Maria hurried out through her bedroom and down the hall to the other bedrooms, already knowing that Liz wouldn't be able to referee if it came down to that. Tess and Isabel had faced off on opposite sides of the bathroom, arms crossed over their chests as they glared at each other.
"Okay, you guys; what's the problem?"
Tess gestured at the bathroom, her movements erratic as she attempted to convey her irritation with a loud huff. She was indignant as she stomped her right foot and pointed at the counter that was filled to capacity. "There's no room for my stuff!"
Maria cleared her throat, determined to try the diplomatic approach first. "Okay, well, Isabel, you're gonna have to give up some of the counter space."
Isabel's expression turned mutinous. "I can't possibly give up any space. You can see how much – "
So much for diplomacy.
Maria scanned over the counter, taking in the bottles, tubes, and vials taking up all five feet of the counter space. "This's easy enough to fix," she muttered, quickly sliding everything from the left side to the right. "Your room's on this side, so you get the space on this side of the sink."
"Now it's all jumbled up," Isabel complained.
"Find a guy who can build some shelves on the wall on your side." She grinned when the tall blond just glared at her, unable to believe that Maria had shoved all of her things together. "You might wanna consider getting laid sometime soon, too, because if this pissy mood is gonna be a constant, it's gonna suck for all of us."
Isabel stuck her nose in the air and stalked out of the bathroom, slamming the door behind her.
"I can't believe you said that!" Liz hissed.
Maria and Tess exchanged a quick glance and laughed. "Liz, honey, you'll understand one of these days. And Iz knows it's true!" she shouted over her shoulder.
"C'mon, let's go grab something to eat and then get over to the storage unit so we can get our stuff moved," Tess said, leading the way through the apartment. "It'll be so nice to sleep in my own bed tonight."
"I second that," Maria agreed. "Where's the nearest Starbuck's? We should stop and grab something to go before we start moving furniture."