Winner Round 12
Winner - Round 11
Winner - Round 9
Winner - Round 8
Alexis Rae Parker
Title:
Wings of an Angel
Author:
Tanya
Category:
M/L AU
Rating:
Mature/ Adult - Mature for the most part. Since some sections seem to lean towards Adult, I have amended the rating of the fic, but will still post warnings before those specific parts that I think might be a bit much for Mature.
Disclaimer#1:
I do not own rights to Roswell or it's characters. I will use them, abuse them and put them back happy.
Disclaimer# 2:
The idea for this story is not mine...it's based on a challenge by
Raychelxluscious
Disclaimer #3:
(this is far too many Disclaimers for one fic lol) I just want to put this out there for everyone; I am the second person to accept this challenge and therefore just wanted to let you know that I am aware another story exists and will just let you know this story will be different

Link to Challenge
-
Here
Read if you want to be spoiled

<center>
*If you don't want to be spoiled...here's my summary*
Max Evans
, football star...athlete of the year and every girls dream and living the good life.
Liz Parker
, single mother struggling to survive in a world that is cruel and heartless at times.
Alexis Rae Parker
, five years old...apple of her mother's eye, and diagnosed with a life threatening disease.
When tragedy strikes the lives of these three people, what will come of it?
Do you believe in
miracles
? I do...see if you
believe
.</center>
<center>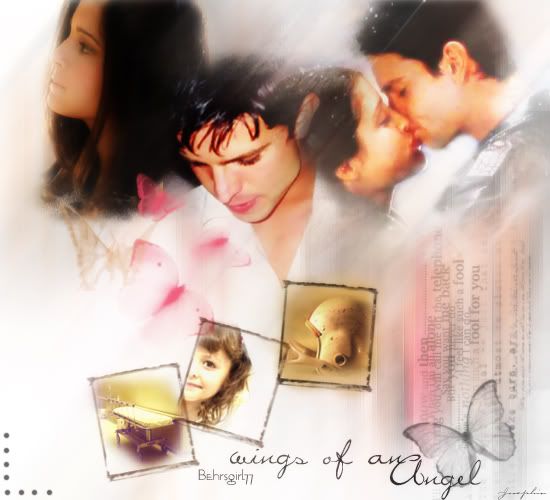 -
Banner by max and liz believer; thanks so much Jo!
</center>
Prologue
1 Year Ago
"And when I get bigger I'm a swim with the dolphins under the water, right mommy?" Big brown eyes blinked up at Liz Parker and she couldn't help the smile that formed on her lips.
"That's right sweetheart. When you grow up you can be whatever you want to be." Liz reached out her hands and pushed back her daughter's hair away from her face.
"Stop it mommy, I'm a big girl. I can do it all by myself." Alexis Rae Parker was very independent just like her mother.
"Oh no, look who woke up to play with you now sweetie?" Liz stood up and crossed the room to open her daughter's bedroom door.
"Riley!" Alexis' entire face lit up when she saw her puppy run into the room. Riley immediately jumped on Alexis' lap and began to lick her.
"Yuck!" Liz couldn't help but laugh at her daughter's expression. They were identical when it came to their facial mannerisms. Another thing Liz Parker was grateful for.
"Oh, he's just showing you how much he loves you."
"I don't like it mommy... I don't like his spit!" Alexis placed Riley on the lavender plush rug and began to wipe her face off with the back of her hand.
Liz couldn't help but stand in the doorway watching her daughter interact with her new puppy. Just two short weeks ago, Alexis had asked her mother for a puppy and Liz had been against her daughter having any type of pet. Mainly because Liz knew she would be the one that would have to take care of it. However, when they were in the mall last week they passed by a pet store and there was Riley wagging his tail and he caught Alexis' eyes immediately. Needless to say, Liz Parker could deny her daughter nothing and so a short hour later, they left the pet store with puppy in tow.
"Mommy, I'm hungry." Alexis walked over to her mother and wrapped her tiny arms around her mother's waist as best as possible. She then tilted her head upwards and batted her long brown eyelashes.
"Okay, what do you want to eat?"
"A hot dog!" Liz shook her head. She wondered if there would ever be a time when she asked her daughter that question and the answer wouldn't be, hot dog.
"Alright, stay here and I'll be back in a few minutes to get you."
"Okay mommy. I'm a play with my dolly now." Liz smiled and placed a kiss on her daughter's head before stepping out of the room.
Alexis turned to Riley who was wagging his tail ready to play, but she wasn't having that right now. She wanted to play with her dolls.
In the corner of her room sat a large pink and white dollhouse. She loved that dollhouse. She had gotten it on her birthday last year and her mommy played with her every night before bed. She crossed the room to stand in front off the dollhouse before turning to a small box sitting next to it on the floor. She pulled out her favorite doll, Sally. Sally had long brown hair and she was beautiful. Alexis thought Sally looked just like her mommy.
"Okay Sally, now you have to go in the kitchen and cook." Alexis walked behind the dollhouse and kneeled in front of it before placing Sally inside the kitchen area of the house.
"Now I'm a go get your boyfriend, John." Alexis stood up and bounced back over to the box that held all her dolls but when she turned around she eyed Riley sticking his little nose in the window of the living room on the house.
"Riley stop it or I'm a tell my mommy on you!" She yelled out and Riley turned and ran out the door.
Alexis stopped for a moment in front of the dollhouse to watch Riley leave the room and then quickly turned back to look at her house to make sure Riley didn't break it.
"Now I can finish playing." She smiled to herself and walked around the house when suddenly she felt dizzy.
<center>*~~~~~~~~~~~~~*</center>
Liz Parker was just about finished with her daughter's lunch and was cutting up some watermelon, her daughter's other favorite food, when she heard Riley making his way down the hall in a hurry. She had to laugh to herself, knowing that her daughter was the reason why Riley was running like the devil was after him.
She turned her attention back to the watermelon and that's when she heard her daughter's cry.
"Mommy!" Liz dropped the knife and ran down the long hall to her daughter's room. When she reached it, her heart stopped and things began to move in slow motion.
Lying in the corner of the room was her only child and underneath her was the dollhouse she loved so much, which appeared to have broken her fall.
"Alexis!" Liz ran over and quickly lifted her daughter and placed her on her bed.
"Baby, wake up, honey…it's mommy. Wake up. Oh God! No!" Liz jumped off the bed and ran back into the kitchen to call for help.
"911 what's your emergency?"
The operator asked mechanically.
"It's my daughter…she's fell down…and she won't wake up." Liz's entire body shook and tears streamed down her face. She ran back into her daughter's room and saw Alexis lying there motionless and unconscious, she cried harder.
"Okay miss, just calm down, we're sending someone right now."
"Hurry…you have to hurry…she's all I have. Lexi…baby wake up…its mommy…please…" The next few minutes seemed like a lifetime for Liz Parker, her worst nightmare was coming true and she was defenseless to stop it.
<center> ~***************~</center>
Present
"Hey Evans good game!" Someone shouted down to him as he walked through the throng of people crowding his massive living room.
"Yeah isn't it always? Don't be jealous cause you can't be as great as me!" Max Evans, star quarterback of the Saints, shouted back to one of his teammates. Every guy wanted to be like him and every girl wanted to be with him.
"Hey Maxwell, I see you're blowing smoke up your own ass again." Michael Guerin, Max's best friend came to stand next to him holding out a beer.
"Thanks, I was just making my way into the kitchen for another." Max grabbed the beer and chugged down half of it.
"And for your information, when I'm stating actual fact, it can't be called blowing smoke up my ass." Max smirked at his best friend before a tall blonde caught his attention.
"I'll be back, I've got some business to handle." Michael turned to see what new piece of business Max was referring to. "Right, so when you gonna give up all this shit?" Max turned and looked at him confused.
"What?"
"The girls Max, when you gonna settle down?"
"Settle down? Michael those words are not, nor will they ever be a part of my vocabulary. Now, if you'll excuse me, Cynthia requires my assistance in my bedroom right about now." Max winked and made his way upstairs towards his room.
<center> ~***************~</center>
"Awesome party man!"
"Don't I know it." Max turned to his teammate Ricky and gave him a hi-five before grabbing his helmet and making his way out of the locker room and onto the field.
A few minutes later the game was in full swing and Max was calling out the next play before breaking up the huddle.
He took his position and once the ball was in his hands he looked out on the field for his teammate. Once he found him, he lifted the ball into position ready to be released, but soon realized the play was no good. He would have to run the ball half way down the field.
He pivoted and began to run, but before he knew it he was being tossed in the air and was falling back to earth, hard.
"Maxwell…you okay? Maxwell can you hear me?" Michael leaned over and tried to wake him up. Max opened his eyes and soon realized something was wrong, very wrong.
"I can't move my legs. Michael...I can't…move my legs!" Max was terrified. This could not be happening.
"It's going to be okay Max…it's going to be okay."
TBC…