Title
: Time After Time: Endless Summer Fades (1570-1600)
Author
: Selena
Rating
: TEEN
Disclaimer
: Roswell is the sole property of its owners. Romeo and Juliet is the sole creative property of William Shakespeare, etc. All quotes used will be specified and claimed as not my own.
Summary
: It's 1595, and Maxwell Henslowe is a worker at the famous The Rose Theatre in Southwark, England. He keeps himself unnoticed, invisible. But one person notices him, and his innocent obsession with a certain daughter of a powerful Baron and Baroness. What happens when a man tries to help along a love that should not have been? He ends up inspired to write one of the most famous tragedies of all time.
Time After Time
is a series of loosely linked stories throughout history. Each story will feature Max and Liz in a CC relationship. Most of the other pairings will be CC, but it is not required (meaning that mild UC is a possibility, but will be identified). Nor is pairing the other characters with anyone necessarily going to happen. The stories in this series can all be read independently, but will be connected by Max and Liz's relationship, and by one other trend. See if you can pick it out! The stories may end happily, or not. This is at the discretion of the author. The backstory in each fic might be different. These stories are not necessarily canon based. The events of the TV show Roswell are just another link in the time after time chain.
A/N
: Thank you to Jo,
max and liz believer
, for the beautiful banner. Thank you to
Fred
for the ingenius idea for the challenge, I hope that you enjoy this and find it worth your time!!! *smooches* And an endless thank you to
Kath7
, who has gone through all the trouble to make us all a thread, to organize us, and to inspire us with her wonderful fic, Destiny's Circle, another part of the Time after Time circle. Lissa, my little beta, I miss you terribly, and I can't wait until you get back. Hopefully you'll enjoy this just as much.
Ok, here goes nothing... ::sighs::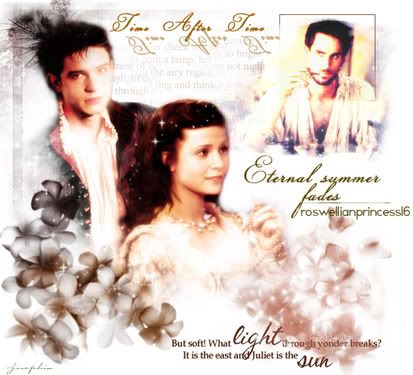 Time after Time: Endless Summer Fades
"Shall I compare thee to a summer's day?
Thou art more lovely and more temperate:
Rough winds do shake the darling buds of May,
And summer's lease hath all too short a date." - Sonnet XVIII, William Shakespeare
ACT I. SCENE I:
Invisible.
It was a word that best described Maxwell Henslowe's existence. Despite being the son of a businessman and one that owned a particularly well known Theatre in Southwark, Maxwell himself had never gotten involved in many of the great business ventures his father took on. He simply watched from the side, examining others as life went by, day in and day out.
It never bothered him so much, he generally kept busy at The Rose, building the sets to whatever new show would be playing, or tearing them down after they were over. He also managed to keep the place when his father was away, making sure there were no foul accidents and that it all remained intact.
But many usually wondered about him, asking his father why he had such a "strange boy". His separation from the world was one reason why he appreciated his invisibility. Everyone knew he was the son of Philip Henslowe, but no one knew who he was. No one truly knew Maxwell Henslowe at all. And that was just fine by him.
In fact, being invisible had served as a protection. Maxwell very well knew that he had a secret that no one else could know about. That even if they knew, they very well could not believe. And blending into the background had allowed the privacy he needed to explore his secret and to try to figure out his place in life.
He smiled to himself as he hammered another nail to the wooden plank. It was ironic really, after finding out the true meaning of his existence, he had been compelled to laugh. The people who sent him had been smart. They had sent him and hid him in plain sight, among the generally common people of Southwark, England. Granted, his father was a reputable businessman, but the Theatre business was temporary at best, as new places opened up every few years, forcing others to shut down.
Now here he was, from what he understood in the writings, ancient royalty and yet he was standing in the sun, hammering together a replacement plank for one of the stage walls, as the world continued to pass him by. It was pure luck on his part, that Khivar had not come and annihilated him. Then again, he probably had no idea where he was hidden. Maxwell had always been so thankful for his invisibility. Until now….
His eyes drifted up as he placed the last part of the wall frame atop the stage floor. Thankfully, he would have it fixed in no time, and then he would get the supplies together to paint it. It was a warm day, warmer than he liked, but none of it seemed to bother him as he watched her.
She sat on the balcony, beneath the ceiling covers, hiding in the shadows. Her bright, green gown seemed to shine like a gem among the dusty theatre. Everything was brown or white or just seemed to look so plain. Even the bold colors of the stage walls seemed no match for the light that radiated off of her. And it wasn't just her dress that seemed to light up the room, it seemed her whole being radiated a soft and pleasant glow, an aura that captivated him as he watched her.
She wrote calmly in a small leather bound book, tipping the pen into the ink pot. He didn't know what possessed her to bring her writing out into the dusty confines of the theatre, but he was grateful for her muse, because everyday, past noon, he waited expectantly to see her again. It was like the sun didn't even rise until past noon, until she sat herself up in the balcony, and started writing the mysterious words in her book.
It was days like that, days when he watched her from his spot on the stage, that he wished he wasn't quite as invisible. When he wished she'd look down at him from her spot in the balcony above and smile, that beautiful smile that lit up the dim room and the dark places in his heart which seemed to have gotten lost on his journey to Earth. And then he'd remember that he wasn't even from Earth, and his heart would sink and his eyes would drop back down to the stage. It simply could never be, a voice in his mind challenged. But his entire being seemed to think differently and it continued to look up, taking in the temptation hungrily.
"Good day, young Henslowe." Maxwell looked up, startled out of his reverie. He smiled as he came face to face with the man who had been his father's best investment yet.
"Good day." He said politely, as the man looked up to follow his gaze toward the balcony.
"She truly is a sight, isn't she?" Maxwell looked over and felt his ears heat up. Had he seen him staring? Did that mean that she knew he was staring as well?
"Who?" He asked, hoping to steer the conversation.
"Lady Bethany. You cannot tell me that you have not noticed her gracing the theatre seats. She is after all, the most pleasant thing to feast your eyes upon."
Maxwell could not help but smile. At least he was not the only one enthralled by her beauty.
"Master Shakespeare, have you begun work on your new production?"
He watched amused as the man before him sighed. He had such an easy going way about him, and yet he was so truly passionate. Maxwell could not help but wonder if he even realized how complex a character he himself was, much like the people who graced the pages of his scripts.
"Unfortunately, the muses seem to have escaped me. Your father is demanding a new show in a few weeks time, and I cannot even get a basic premise done. I honestly am completely baffled by my creative darkness."
"I'm sure it will come. Perhaps all you need is the right inspiration." Maxwell smiled, and looked up toward the balcony one last time. She was packing up her supplies, right on time, ready to leave and live the luxurious life he was sure she was a part of.
"Why don't you go and bid her a good day?"
"I could not, I have much work to do." Maxwell shook his head vehemently denying that it was even a possibility.
"It would only take a moment. I'm sure she would appreciate the courtesy." Maxwell looked up at her longingly, then his eyes drifted to the writer before him.
"I cannot Master Shakespeare, she seems to be rushed. But perhaps another day…."
"Carpe diem, young Henslowe. Today is the day." With a little push, Maxwell found himself beneath the balcony stairs, as he heard the repeated thud against the wood and froze at seeing her appear directly before him.
"Good day, Lady Bethany."
"Good day, Master Henslowe. Lovely job on the stage." She said with a smile, as she looked at him innocently. Maxwell felt his stomach fall. This woman was bewitching. Her eyes were the richest brown he'd ever seen and it took all of his will not to let himself get lost in them.
"Do you need any assistance?"
"No, thank you. I will be heading home now. I cannot wait until the next production. Sir Shakespeare truly is a genius with his words. I expect great things from him."
"Yes, since 'Titus Andronicus' we have been asked what his next project will be. I hope there will be something to report soon."
"Well, good luck to you all. And good day." Maxwell nodded as she walked out of the theatre and into the carriage awaiting outside the doors. He quickly exhaled the breath he was unaware of holding.
"See? Not so bad after all."
Maxwell smiled at William, standing behind him with a grin. He turned around to face him and nodded.
"I suppose you're right. Now I must get back to work. Feel free to sit and make yourself comfortable Master Shakespeare. As always, it is a pleasure speaking with you again." Maxwell excused himself and headed toward the back room to get the paints for the wall. His head was stirring, much faster than he could care to stop it. He had spoken to her and she had known his name. Not only that, she had been kind and interested in the job he'd done on the stage. She must have seen him staring at her. He sighed in contentment. Carpe diem, he thought to himself. Shakespeare had been right, today was the day. And whether he knew it or not, he had made it one of the best days Maxwell had ever experienced.
<center>***</center>
William smiled as he watched Maxwell walk toward the back of the stage. He was obviously smitten. And William could not contain the excitement that was building within his stomach. There was something incredibly powerful about seeing the lustful dance of love in action, something that was always moving on a very internal level.
Maxwell was completely lost in her eyes, and Bethany De Parquee could not even see it. Partially, because she was enchanted, completely taken by the mysterious man that stood before her. Not that he could blame her, Maxwell Henslowe was one of England's greatest mysteries. He was smart and kind, hard working and obviously incredibly shy. But his eyes always seemed to hold a secret, and he was the type of person most people could easily forget after one meeting.
Thankfully, William knew he was not most people. Maxwell had created a very deep impression on him, one that he found hard to wipe away. Maxwell had such a dignified air about him, like that of maturity and stature that were both way beyond his years. Strangely enough, he always envisioned him as a prince of sorts, an heir to wealthy family. A man of power and loyalty and full of passion. But what he didn't understand was why Maxwell felt compelled to hide within himself at all other times.
It seemed to him the only time he ever saw the true man behind the mask was when he caught the secret glances toward Bethany, glances that spoke of deep feelings and battling emotions.
William smiled as an idea began to form in his mind. Perhaps he found the inspiration he needed after all.